Making The Disney Wish: Disney's Newest Cruise Ship is now streaming on Disney+. This National Geographic documentary takes a look at how the Disney Wish was designed, constructed, launched, and then made magic for its first guests. Earlier this week, members of the media were given the chance to chat with the filmmakers about this documentary. The conversation was with Chad Cohen (director, writer and producer) and Bethany Jones (producer and writer), who both shared their observations and experiences they had about the making of this film.
Chad Cohen has been working with National Geographic since 2000. During his career with National Geographic, he has worked on documentaries Egypt, Oceans, Dinosaurs, and Cruise Ships. This obviously set him up perfectly for making a documentary about the Disney Wish. However, he had never been on any of the Disney Cruise Line ships for a cruise. His first was aboard the Disney Fantasy to prepare to make this documentary. Bethany Jones has been with National Geographic for about a decade. She has done a lot of work on projects involving animals and science, she said this was the first time she worked on a documentary about Engineering. She also said it was their first experience as being a part of the Disney company. She seemed genuinely thankful to be welcomed into the fold and to get to have such a great project be their kickoff as a part of The Walt Disney Company.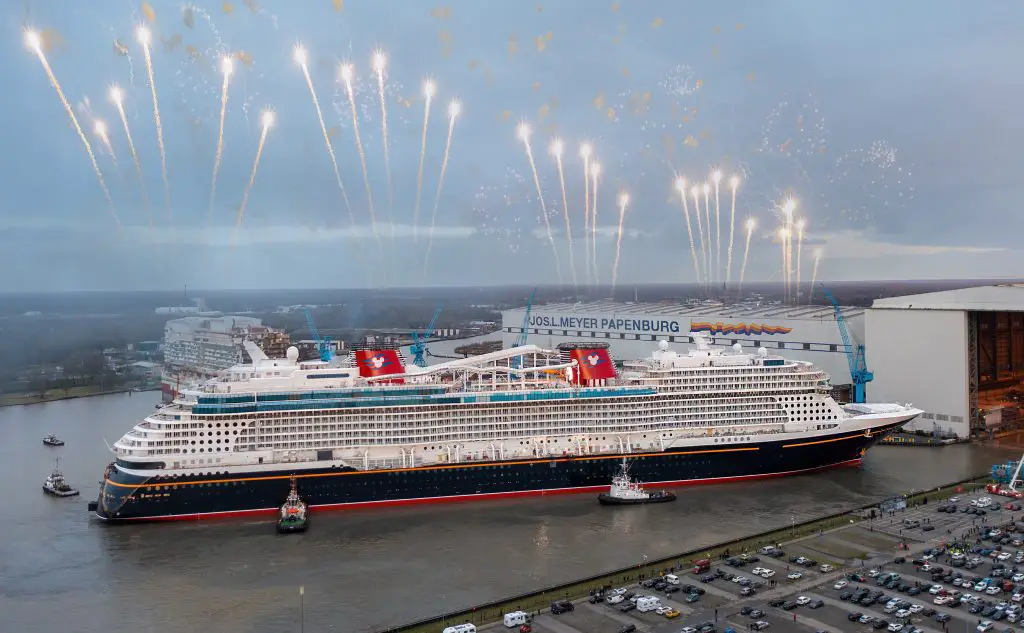 The process for making the documentary did not include the entire process of building the ship. The duo shared that they arrived in Germany to start filming about a year before the ship crossed from Germany to Florida. During this process, they saw the ship transform from a construction zone into a beautiful ship that is now a part of the Disney Cruise Line Fleet. All of this was done under the backdrop of a global pandemic that brought about even more challenges than already exist when building a ship.
With a small team that included of about five, they began to document as the Disney Wish came to life. Cohen shared that they did this through capturing scenes, and not necessarily having a shot list they are married to. He shared that "we definitely have plans, we have shot lists, and we have scripts as much as we possibly can. We are also prepared to throw them away and that happens all the time." It appeared that a lot of the process was being flexible to what was happening around the ship and being ready when something happened. He also shared that quite often, the big things happened at night when there were fewer people around and it was safer to move large objects. While there was a lot going on, he shared that "there's a lot of waiting." The team would wait and then be ready to go when something happened. One example that was shared was how the rolling out of the beautiful rug found in the Grand Hall was a ton of waiting and was done overnight. The cameras were ready to go but the process couldn't happen until after all heavy equipment had been moved.
Cohen also shared that they wanted to make sure this was a documentary that wasn't just about construction and engineering but also about the people who make things happen. After all, it's people that truly do bring the magic to life! He shared that "there's a legitimate story here with passionate people and cool stuff." They really wanted to show how people worked hard to bring this ship to life and do it in a way that would be relevant to their National Geographic audience. The result is a beautiful documentary that shows how a ship came to life, and not an advertisement to go on a Disney Cruise. A byproduct of this is that it will make people want to go aboard this ship. I know it did for me, having never been on a Disney Cruise before.
The story for Making The Disney Wish: Disney's Newest Cruise Ship really came together quite naturally it seems. Cohen shared how they could have talked about the six week delay but, " the drama of building the ship was already enough, and the innovation" Watching the documentary, it is easy to see that there was enough going on to see this is very true. The whole process was a race to the finish, particularly with the crossover. Cohen stated that added the delay into the film "would have been an artificial storyline that wouldn't add very much." 
Making The Disney Wish: Disney's Newest Cruise Ship is a documentary that shows the ups and downs of making the newest ship in the Disney Cruise Line fleet. Thanks to the work of Chad Cohen, Bethany Jones, and their team, viewers can now see just how much magic is packed into Disney Wish, and how much heart and elbow grease it took to make that happen. This documentary was made by a small but mighty team that collected a ton of content, took it into the editing bay, and then pulled together the story. This is a story that is now available to watch on Disney+ and definitely is worth watching.
Have you seen Making The Disney Wish: Disney's Newest Cruise Ship yet? What did you think? Have you cruised aboard the Disney Wish? What were your experiences? Share your thoughts and opinions in the comments below. Read Daps Magic's review of Making The Disney Wish: Disney's Newest Cruise Ship here.