Mobile ordering continues to be offered at more dining locations around the Disneyland Resort. It is now available at Rancho del Zocalo Restaurante in Frontierland at the Happiest Place on Earth! The quick service location offers Mexican cuisine and a wonderful location right next to Big Thunder Mountain Railroad.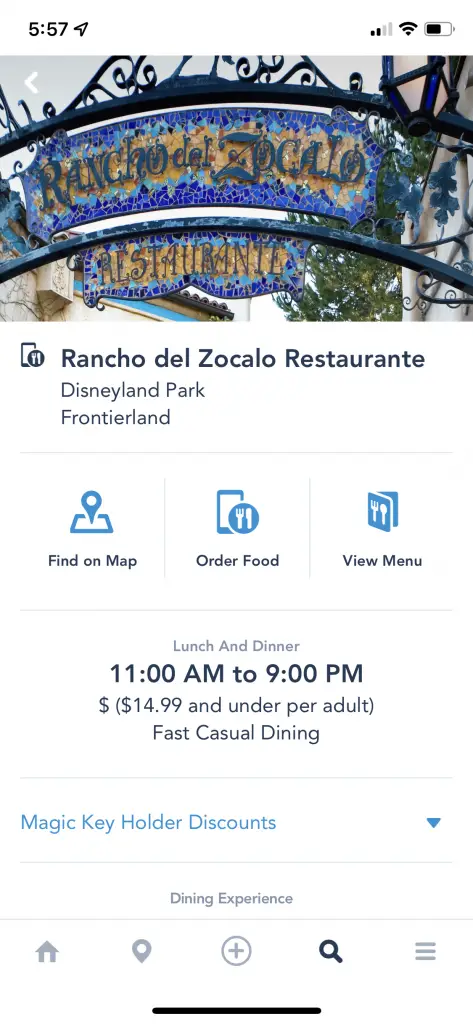 Rancho del Zocalo Restaurante Description
Colorful painted tiles, soothing fountains, adobe archways and hanging plants adorn this peaceful Spanish-style oasis. Take a welcome break in the shade or eat inside under the gentle glow of star-shaped Mexican glass lanterns.

Enjoy a tasty tostada salad or select from entrées especiales like our red chile enchilada platter, trio of street tacos, cauliflower tacos topped with cabbage slaw and a variety of authentic burritos. Los niños can enjoy a chicken taco or a bean and cheese burrito.

Before you bid us adiós, treat yourself to something dulce such as our cinnamon crisps.

What's in a Name?
The literal English translation of Rancho del Zocalo is "Ranch of the Square." ¿Por qué? The open area at the entrance to Frontierland was once called "El Zocalo," or "the town square," making this quick-service cantina the town square ranch. Authentic Mexican specialties everyone can enjoy make it delicious. Be there or be square!
Rancho del Zocalo Restaurante is generally open from 11:00 AM to 9:00 PM. Check the Disneyland app or website to confirm operating hours before visiting the restaurant.
What do you think of this location getting added to the mobile order offerings? Are you excited about it? Share your thoughts and opinions in the comments below!