Rancho de Zocalo Restaurante Serving Comfort Food All Day
Just past the "Frontierland Shootin' Exposition," a decorated arched walkway leads to the entrance of Rancho de Zocalo. This restaurant is the only location in Disneyland serving up Mexican style dishes.
Rancho de Zocalo translates directly to "Ranch of the Square." The open space at the entrance of Frontierland was once referred to as El Zocalo or "the town square." This made this large eatery the ranch of town square.
Before 11 am, both American and Mexican breakfast choices are offered, from biscuits and gravy to chilaquiles. For lunch and dinner, the cuisine includes burritos, enchiladas, tacos, and salads.
The fast-casual restaurant style invites guests to pick up a tray and visit three stations. Each serves specific selections from the menu. Guests bring trays by the cashiers at the exit to purchase. A shaded outdoor seating area offers plenty of tables.
A Filling Dinner for Two
On a sunny summer evening, Caitie Bear and I took the opportunity to enjoy dinner at Rancho de Zocalo. We chose a spot with a clear view of the final turn on Big Thunder Mountain Railroad.
Caitie decided upon the "Burrito Guadalajara" after considering the many menu options. Featuring a large carnitas burrito stuffed with refried beans, rice, and cheese, this plate is huge. Served wet style with tomatillo salsa, sour cream, and onions covering the tortilla. Rice, beans, shredded lettuce, and pico de gallo complete the entree.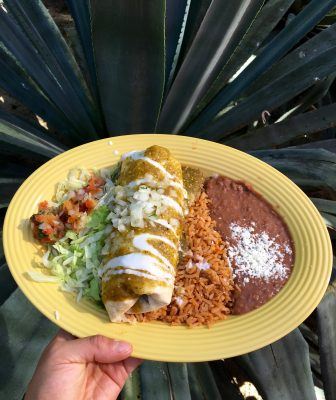 The plate is large, with ample food for two people to share. The slow-cooked carnitas pull apart as you take bites, a testament to how tender they are. The tomatillo salsa is very flavorful, and really sets the burrito bites apart from the similar side offerings.
I would definitely order this if very hungry, or perhaps to share as a lunch with a friend.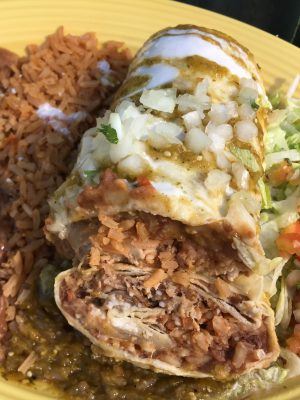 I chose the "Hacienda Caesar Salad." Each salad is made-to-order, as the cast member combines the ingredients and tosses them in a bowl in front of you. The salad bar was the least busy of the pick up stations, luckily!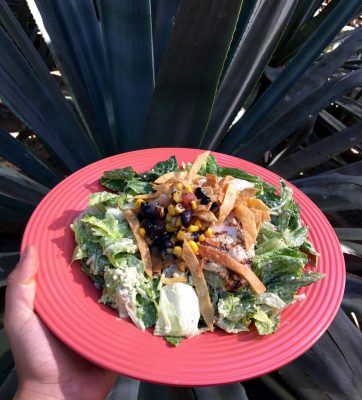 The romaine base is tossed with lime-cilantro caesar, cheese, and slivers of radishes. Toppings include sliced grilled chicken, black bean and roasted corn salsa, and  tortilla strips.
This salad is heavier than most thanks to the creamy dressing. The flavors come together well in each bite. The tortilla strips were incredibly crunchy, giving me reason to recommend the chips from Rancho de Zocalo as well.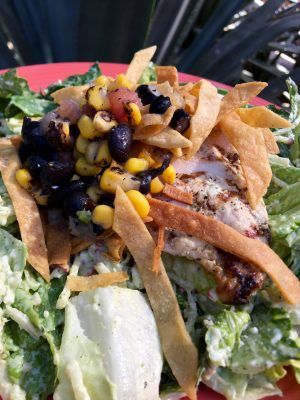 Hitting the Spot
If you ever find yourself in the mood for Mexican food while in the parks, stop by Rancho de Zocalo for breakfast, lunch, or dinner!