Jump to recipe
The Epcot Festival of the Arts is going full force at the Walt Disney World Resort. While it is a fantastic time to take in some incredible art and entertainment, there is also some really good food options to enjoy! One favorite can be found at Pop Eats at the Showcase Plaza. This dish is Shrimp Ceviche with Lime-Mint Foam.
For those who want to recreate this dish, or create it for a first time since they couldn't go to Epcot, Disney has shared the recipe for your home enjoyment! Check it out below, give it a try, and then let us know how it turned out!
Shrimp Ceviche with Lime-Mint Foam - Epcot International Festival of the Arts - GEEK EATS Disney Recipe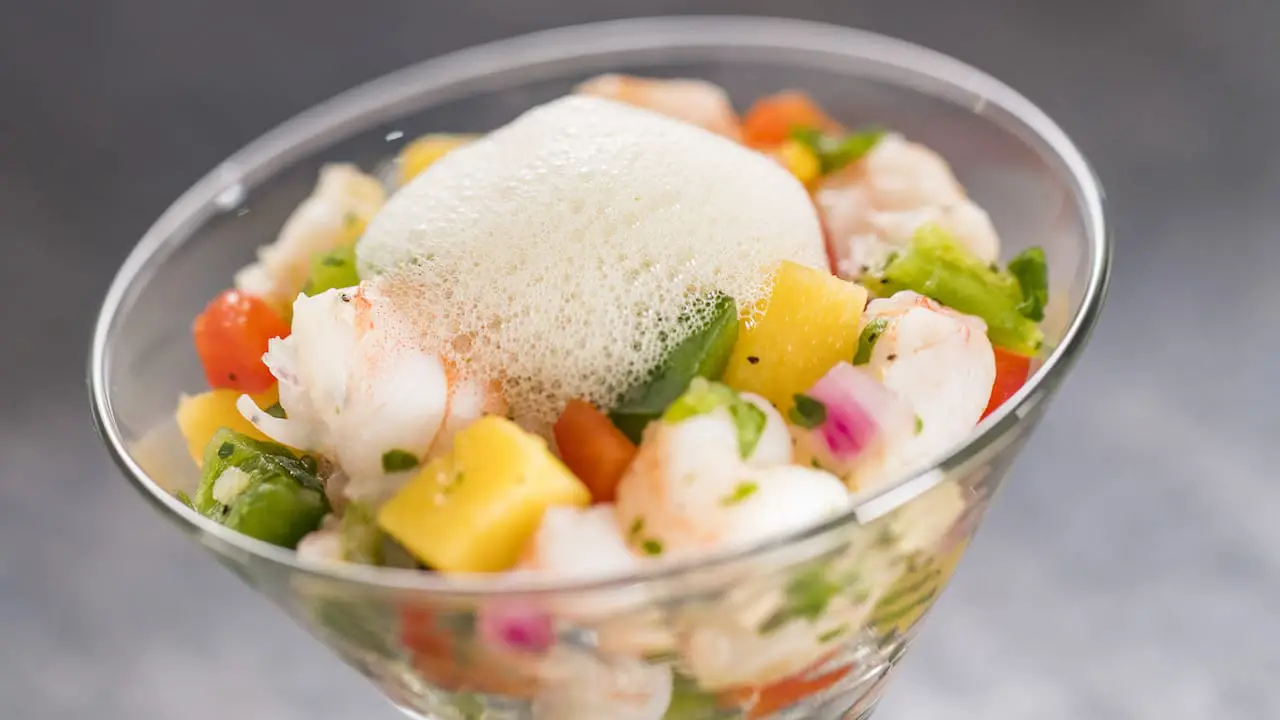 Ingredients
Shrimp Ceviche
2 cups diced cooked shrimp (about 2/3 pound)
1/2 cup diced red onions
1/4 cup diced green pepper
1/4 cup diced red bell pepper
1 jalapeno pepper, seeded and diced
1/4 cup thinly sliced green onions
1/4 cup orange juice
1/2 cup lime juice
1 tablespoon sugar
1/2 cup diced mango
1/4 cup chopped cilantro
Salt, to taste
Black pepper, to taste
Lime-Mint Foam
1/2 cup water
1/2 cup lime juice
1 teaspoon soy lecithin
1 tablespoon sugar
1/2 cup chopped fresh mint
Instructions
For Shrimp Ceviche:
Combine shrimp, red onion, green pepper, red pepper, jalapeno, and green onion in a glass mixing bowl.
In a small bowl, combine orange juice, lime juice, and sugar. Stir until sugar is dissolved. Pour over shrimp mixture.
Add mango and cilantro and stir to combine. Season with salt and pepper to taste.
Set aside.
For Lime-Mint Foam:
Combine water, lime juice, soy lecithin, sugar, and mint in a large mixing bowl.
Whip using a whisk or immersion blender until foam develops on the top. Allow to stand for 1 minute.
To Serve:
Evenly divide ceviche among 4 bowls. Spoon 2 tablespoons lime-mint foam on top of ceviche.
© 2023 dapsmagic.com
The Epcot International Festival of the Arts continues this year through February 24, 2020. Admission to the festival is included with Epcot park admission. While at the park, you can also catch Epcot Forever! for a limited time.