Hungry Bear Presents: Milk and Honey Funnel Cake
My favorite frequently changing special is the funnel cake at Hungry Bear Restaurant. You may recall my glowing review of Hungry Bear's last special, the Lemon Blueberry Funnel Cake. The new Milk and Honey Funnel Cake is a great follow up, although I will always miss that warm blueberry compote.
The latest edition features the standard funnel cake and Mickey shaped whipped cream, but topped with sweetened condensed milk, clover honey, edible flowers, and edible glitter.

I adore the aesthetic beauty elements added to elevate a classic fair food. When you picture a funnel cake, beautiful is not the word that comes to mind, but this dessert is able to challenge that thought.

Different but Delicious
The concept of eating flowers and glitter is probably a shock for many. This was my first time eating flowers, and I must say some taste better than others. There is an earthy, natural flavor to them which I did not mind, but I prefer the other sweet flavors presented.
The cake itself was wonderfully crunchy throughout. The condensed milk and honey are great together, a very sweet and creamy pairing. I love the simple beauty of this particular special. The funnel cake satisfies that fried food craving, while the toppings make it drool worthy.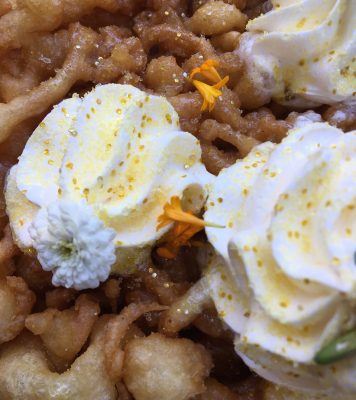 New Specials Celebrate Fantasmic! Return
After its lengthy hiatus, Fanstasmic! returned this week with a splash. For a video and photos of the whole updated show, click here.
In celebration of the triumphant return of this journey through Mickey's imagination, Disney chefs dreamed up several new food items found throughout the West side of Disneyland. These specials include sweet and savory choices, from Lobster Nachos to Watermelon Churros. Blackberry Beignets and S'Mores Churros received positive review from Murray the Bellhop.
Although the tarps remain up on the Hungry Bear balcony, you can take this treat outside and enjoy the recently re-opened view of the West side of the Rivers of America. While the Milk and Honey Funnel Cake may almost be too pretty to eat, I highly encourage you to give it a try!