Hungry Bear Menu
Located in Critter Country, Hungry Bear is an all-American quick service restaurant. The menu includes burgers, a turkey Caesar wrap, a fried chicken sandwich, and the Picnic Salad. There are also funnel cakes available in traditional style with powdered sugar, churro style with caramel, and a seasonal style.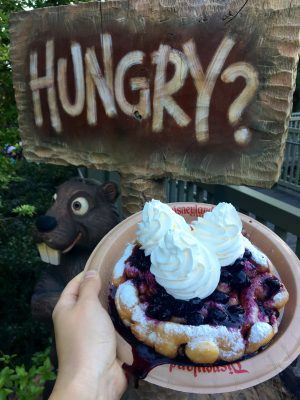 Guests place their order at walk-up stalls. This cute Country Bear sign greets you at the pick up counter.

For dinner this week, my companion and I ordered the chicken sandwich, Picnic Salad, and seasonal funnel cake. I can honestly say this was a wonderful meal. I was impressed by each item we tried!
An Improved Crispy Chicken Sandwich
I had tried this item in the past, but the menu has since been updated and the sandwich is much improved. This is a fried chicken breast with lettuce, tomato, and honey mustard on a toasted bun. We chose french fries today, but zesty cole slaw and onion rings are also available as a side.
The bun was ideally toasted, and stood up well to the dressing and sandwich fillings. The chicken was very crunchy, with a peppered breading. While iceberg lettuce is not my first choice, the fresh greens provide nice contrast to the fried chicken.
The honey mustard is good balance of sweet and tangy. The proportion of sauce to sandwich was great, ensuring it was not too dry.
Overall this chicken sandwich exceeded my expectations from previous experiences, and I would order it again. The french fries are mediocre, so next time I will try the slaw or onion rings.

Giant Picnic Salad is a Winner
This fresh salad is loaded with toppings including seasoned turkey breast, strawberries, feta cheese, cranberries, roasted almonds and jicama. At first I was slightly overwhelmed by how many ingredients were present, but it all coordinates splendidly.

The strawberry vinaigrette is tasty, although a tad sweet. I personally prefer a more acidic vinaigrette than this one. However, I still really enjoyed the dressing. Perfecting the proportion is made easy with dressing served on the side.
The spring mix is great. I appreciate this item includes
mixed greens, rather than iceberg lettuce. I wish the bites were smaller but that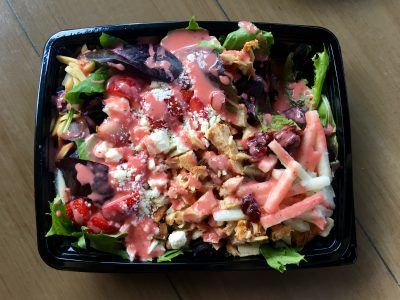 is a minor complaint.
The large portion and presence of protein and healthy fat make it quite filling. I was pleased with the amount of turkey served.
Toasted almonds were the unexpected star of this salad. They added crunch and distinctive roasted flavor.
This is my favorite Disney salad I have tried. I found myself considering the logistics of ordering it via a delivery service to my home or work!
Love at First Bite with the Seasonal Funnel Cake
A blueberry lemon funnel cake is as amazing as it sounds. It is described on the sign below.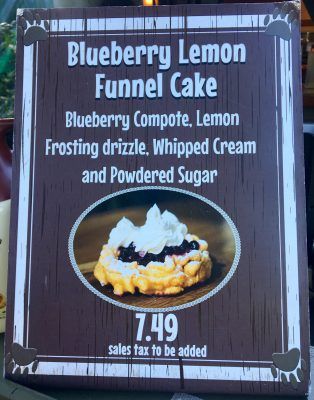 Mickey shapes make everything better, and the whipped topping on this dessert is no exception. It was almost too cute to eat! The whip is luscious and made with real whipping cream.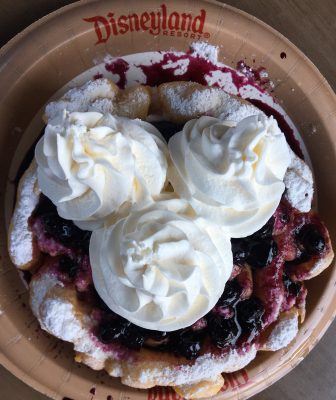 The blueberry compote is warm and delicious. There is lemon flavor cooked in with the blueberries, striking a perfect balance of sweet and tart.
With the fruit topping, this cake feels less heavy than the churro funnel cake. It was easily shared between two people, without leaving us feeling uncomfortable.
I was genuinely sad when we reached the last few bites, it was just that delicious! My companion and I agree we need to enjoy this treat a few more times before it leaves the menu.
Charming and Relevant Farewell, Until Next Time
I certainly found myself in a "beary great" mood after this delightful dinner, and will be coming back soon.
If you have yet to try Hungry Bear recently, give it a shot! Hurry, because you need to catch a bite of the blueberry lemon funnel cake this season!