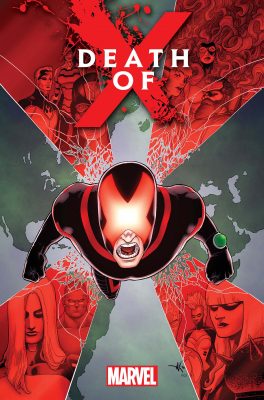 This week is a bit of a special Marvel News Digest.  There was a lot of announcements from SDCC 2016, and we'll begin with Death of X, give a report on Divided We Stand, and have info on the Captain America statue going up in Brooklyn…
Death of X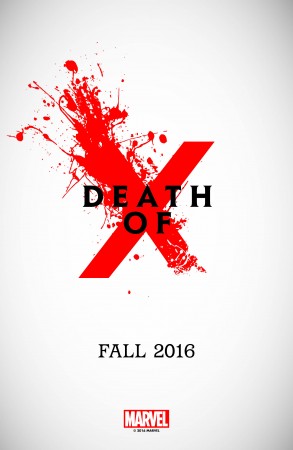 The panel discussing the upcoming storyline began by talking about several other stories that are tied in or will be tied in to what happened in an 8 month gap between Secret Wars and All New All Different Marvel.  First, with Uncanny X-Men a new Hellfire Club has surfaced, and will actually team with Magneto to deal with something tied to his past.  But, over in the Civil War II tie-in, Magneto is trying to take Ulysses – the future predicting Inhuman – to side with his uses.  It pits the Uncanny team and Extraordinary team against each other for the first time.
Over in All New Wolverine, Laura will be wanted by the government for killing several people.  But, it's out of being controlled by someone and she's out to find the person responsible.  Deadpool will have an 80's style annual, and will return to 2099.  Extraordinary X-Men will deal with ramifications from the Apocalypse War story.  All New X-Men will focus on the characters issue by issue.
In the Inhumans area of Marvel, the Uncanny Inhumans comic will still deal with Civil War, and yes, it looks like Medusa is cutting off her hair.  Mosaic, an Inhuman with no body, will have his own series, and will begin to shape the future of the Marvel Universe.  Barnes and Noble will have a special story dealing with his origin.
So, with the Death of X, the story is going to deal with the conflict between the X-Men and the Inhumans.  Though it sounds like it'll be the end of the X-Men, the panel said to not be quick to think anything.  It will tell the fate of Cyclops and Emma Frost, however.  The whole event was planned around the time of Secret Wars, which means it's been known for a while where this is going.  After some info, audience was able to ask questions to the panel.  Of them, a few surrounded whether we'd see some characters come back.  The panel did say we'll see Polaris, Havok and Gambit be in future books.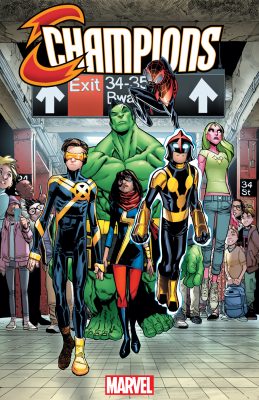 Divided We Stand
The next phase of the All New All Different Marvel has changes for old characters and new faces.  Slapstick has been an old character, but will show off how funny crime fighting can be.  Champions will be the flagship title for the new era of Marvel heroes.  Occupy Avengers will explore Clint Barton's place in the Marvel Universe after the events of Civil War II #3.  His teammates will be others without powers, and, for now, are a bit of a secret.  The new Hawkeye book will focus on Kate Bishop.  Thunderbolts will put Bucky behind bars.  Doctor Strange comics will bring a different Doc, and will bring back some classic villains of his.  In all, some exciting things coming to the Marvel Universe after Civil War II!
MARVEL UNVEILS NEW DETAILS ON TRIBUTE STATUE CELEBRATING 75 YEARS OF CAPTAIN AMERICA
Heroic 13-Foot Statue Debuts at San Diego Comic Con Before Journeying to Steve Rogers' Birthplace of Brooklyn, NY
Marvel and Comicave Studios also issue new Custom Comic
Integrating the Statue into a new Captain America Story
Glendale, Calif. (July 20, 2016) – Since his creation in 1941 by Jack Kirby and Joe Simon, Captain America has gone through numerous evolutions, but  always remains as one of the world's most influential and inspiring Super Heroes. Kicking off a new phase of the year-long celebration of 75 years of Captain America, Marvel Disney Consumer Products and Interactive Media have unveiled a slate of heroic activations taking place at San Diego Comic-Con and beyond to honor the First Avenger, along with a wide range of celebratory merchandise.
Headlining the Captain America 75th anniversary celebration, Marvel has collaborated with high-end collectibles maker Comicave Studios to create a one-of-a-kind Captain America statue that will be displayed at the Marvel booth #2329 at Comic-Con International on July 20. Comicave Studios worked closely with Marvel artists in New York and a Brooklyn-based sculptor to design the bronze tribute, standing at over 13 feet and weighing 1 ton. The statue will continue to stand tall on the show floor throughout San Diego Comic-Con for photo ops with fans, and 1/12-scale bronze replicas of the statue will be available for purchase. Plus, a custom comic book was created by Marvel Publishing writers and artists to integrate the statue into new storytelling.  This one-of-a-kind comic will be available in limited quantities at San Diego Comic-Con and future Captain America events.
Following SDCC, the commemorative statue will journey via truck across the country to Brooklyn, NY – the hometown of Steve Rogers – for a limited engagement in Brooklyn's Prospect Park. Fans can follow the truck along its cross-country route through photos on social media sites like Marvel and StyledByMarvel Instagram. The statue will be on display in the Children's Corner of Prospect Park for a two-week temporary installation, kicking off with a dedication ceremony and community event on August 10th from 1-3pm. In the evening, a special viewing of the recent blockbuster film, Marvel's Captain America: Civil War, will take place in Prospect Park as part of the culmination of the Brooklyn Borough President Eric L. Adams' "A Summer Movie Under the Stars" program, which will be airing four Captain America-focused movies every Wednesday from July 20th to August 10th.
"To the rest of America and the world, he's Captain America; to us, he'll always be Steve Rogers, 'just a kid from Brooklyn,'" said Borough President Adams. "Brooklyn is proud to be the base of celebrations for Cap's 75th anniversary, which will be capped by a larger-than-life statue traveling around our borough — befitting of this larger-than-life character. Prospect Park is the place to be this summer to enjoy the Captain America!"
After the half-month stop in Prospect Park, the Captain America statue will move to the plaza outside Barclays Center on Atlantic and Flatbush Avenues for September, during which several Marvel fan activations take place. From late October through the remainder of the year, the statue will adorn the soon-to-be-opened Bed Bath & Beyond® in Sunset Park, Brooklyn. Fans of all ages will enjoy a specially re-designed statue base, for heightened interactivity and photo opportunities with Captain America, as well as see and shop for a variety of unique Marvel items, including limited quantities of scaled replicas of the bronze statue itself.
"Since 1941 Captain America has remained one of the most influential Super Heroes in comic book history," said Paul Gitter, senior vice president, licensing, Marvel at Disney Consumer Products. "He has evolved as a character throughout the years, but remains constant as a moral compass within the Marvel Universe and leader of the Avengers. The tribute statue and other activations are the perfect way to honor 75 years of this iconic Super Hero and to celebrate the borough of Brooklyn in New York City."
Also joining the 75th celebration at San Diego Comic-Con are Marvel's leading merchandise partners including Hasbro, Funko, and Jakks Pacific who will be commemorating "Cap" through new collectibles. As previously announced, Comicave Studios will also be offering different scales of replicas of the bronze statue itself at San Diego Comic-Con.  Additional licensees including Mad Engine, Mighty Fine, Freeze, C-Life, Her Universe, What's Your Passion, Nick Graham, Café Press, Jay Franco, Kiddesigns, HJC Helmets and more will all feature new Captain America merchandise at major retailers this Fall.  These collections will highlight Captain America's iconic shield and cover categories including apparel and accessories for kids, women and men, home goods, electronics, and toys. There will even be new Brooklyn-themed artwork available for a range of apparel and accessories.