Marvel Comics news from Ghost Rider Frank Castle to an April sale on digital comics!  Here's what was announced for April 2 – 6, 2018
COSMIC GHOST RIDER: Punishment By Fire!
A brand-new series from Donny Cates and Dylan Burnett!
New York, NY—April 4, 2018—He's commanded the page in a blaze of glory…and now, this July, he'll embark on his own solo adventure in COSMIC GHOST RIDER, an all-new limited series written by the character's co-creator Donny Cates (Thanos, Doctor Strange) with art by one of the industry's hottest new creators, Dylan Burnett!
The alternate future version of Frank Castle has become a fan-favorite since debuting in THANOS #13, stealing the spotlight with his crazy antics and unique origin story – and in this story, Cates and Burnett promise to pull out all the stops as Cosmic Ghost Rider's plans for a better universe come to fruition…however crazy they may be.
"Cosmic Ghost Rider is such a blast to work on," said Cates. "It's honestly pretty overwhelming how much the Marvel fans have embraced this crazy character, and I'm having so much fun continuing the Rider's insane story! If you thought Thanos Wins was wild…you just wait to see what we have planned for everyone's new favorite space lunatic!"
Don't miss the spectacular solo adventures of COSMIC GHOST RIDER, when everyone's favorite twisted ally blasts into comic shops this July!
COSMIC GHOST RIDER #1 (of 5)
Written by DONNY CATES
Art by DYLAN BURNETT
Cover by GEOFF SHAW
On Sale 7/4/18
EXTERMINATION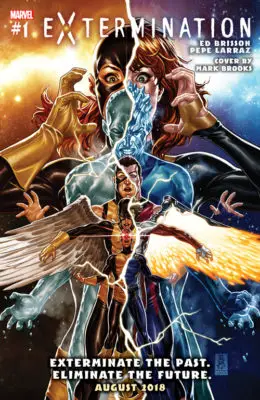 APRIL IS BLOCKBUSTER MONTH IN DIGITAL COMICS SHOP!
UP TO 75% OFF ESSENTIAL AVENGERS READING TO PREPARE FOR MARVEL'S AVENGERS: INFINITY WAR!
New York, NY—April 3rd, 2018—You'll have plenty of reason to visit Marvel Digital Comics Shop this month – from 4/2, 10 AM ET–5/10, 11 PM ET, we're featuring sales focused on the major players and events of Marvel's Avengers: Infinity War! Get in on the action of spring's massive blockbuster before it hits theaters! And we're kicking off this Blockbuster Month with Captain America! See below for details.
Each Blockbuster Sale is a curated handful of classic and "best-of" stories from a character's history, so they're a great place to start for someone new to comics! With Avengers like Iron Man, Black Panther, Thor, Hulk, Spider-Man, and more in the spotlight, you're sure to find great entry points or discover new comics! Curious about Thanos and his Black Order? Why not read Infinity (2013), the Avengers event that inspires the on-screen action! Or, read arguably the greatest Avengers line up ever with the Avenger's 2012 series!
Best of all, digital trades and issues are perfect for on-the-go reading! All purchases in the Marvel Digital Comics Shop are added to your personal library, and can be read on any web browser or in the Marvel Comics app on iPhone®, iPad® and select Android™ devices!
An added bonus? Marvel Insiders can earn up to 2,000 Insider points when they shop either the Avengers Blockbuster or the Infinity Events sale, both running 4/23, 10 AM ET–5/10, 11 PM ET! Not a Marvel Insider? Sign up today and earn points to redeem for exclusive prizes just by being a Marvel fan! For more details on Marvel Insider see below.
Check back weekly to see which Avenger is in the spotlight! Take part in Blockbuster Month and stock up on classic and best-selling issues and trades to keep growing your digital collection!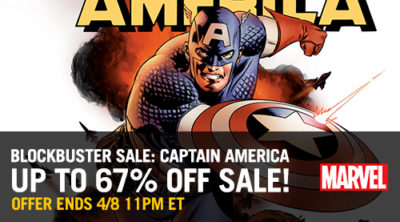 Adam Hughes, JG Jones and more join Mark Waid on CAPTAIN AMERICA 701 & 702
Plus, your first look at the cover for Captain America #702!
New York, NY—April 2nd, 2018—The year is 2134, and the legacy of Captain America lives on…not only shaping the future of the country, but the future of Steve Rogers' family! This May, series writer Mark Waid will be joined by Leonardo Romero (Hawkeye) and a host of superstar guest artists such as Adam Hughes, JG Jones, Chris Sprouse and Howard Chaykin, as Captain America's storied history in the Marvel Universe is spotlighted in an all-new adventure told through the eyes of Steve Rogers' grandson!
But this seemingly perfect utopia isn't exactly the America Steve Rogers dreamed of…
"For the PROMISED LAND storyline, because it takes advantage of the entire history and legend of Captain America, we deliberately constructed the issues to allow us to take advantage of contributions from special guest artists," said SVP and Executive Editor Tom Brevoort. "So along with Leonardo Romero, who's doing the backbone of the story, we'll have sequences in #701 by Adam Hughes and JG Jones, and in #702 by Chris Sprouse and Howard Chaykin. #703 and #704 will have their own guest contributors as well—but we'll keep those under wraps for the time being!"
Don't miss the next incredible arc of Steve Rogers' story starting in CAPTAIN AMERICA #701, on sale this May!
CAPTAIN AMERICA #701
Written by MARK WAID
Art by LEONARDO ROMERO with JG JONES & ADAM HUGHES
Cover by MICHAEL CHO
On Sale 5/2/18
CAPTAIN AMERICA #702
Art by LEONARDO ROMERO with HOWARD CHAYKIN & CHRIS SPROUSE
Cover by MICHAEL CHO
On Sale 5/16/18
MARVEL UNLIMITED EXPANDS THIS APRIL
Digital Subscription library continues to grow with latest updates
New York, NY—April 2nd, 2018—Marvel Unlimited, Marvel's digital comics subscription service, offers members unlimited access to over 20,000 issues of Marvel's classic and newer titles, delivered digitally through your desktop web browser and the Marvel Unlimited mobile app. With classic and newer issues added every week, here are some of the amazing Marvel titles coming to Marvel Unlimited this month:
Week of 4/2
BEN REILLY: SCARLET SPIDER #8
BLACK PANTHER #18
CABLE #5
DEADPOOL KILLS THE MARVEL UNIVERSE AGAIN #5
   FINAL ISSUE!
GENERATIONS: MILES MORALES SPIDER-MAN & PETER PARKER SPIDER-MAN #1
When it comes to problems, Peter Parker's got it all! Bullies at school, ailing aunt, a doppelganger, crushing responsibility, and – wait, a doppelganger?! Can't Peter ever catch a break? And what does all this craziness have to do with Miles Morales?
GENERATIONS: SAM WILSON CAPTAIN AMERICA & STEVE ROGERS CAPTAIN AMERICA #1
They were part of the Greatest Generation! And now Sam Wilson finds himself alongside them yet again in a strange yet familiar setting – fighting shoulder-to-shoulder with Captain America and Bucky against a seemingly unstoppable threat to the safety of the world!
GUARDIANS OF THE GALAXY: TELLTALE GAMES #3
I AM GROOT #5
   FINAL ISSUE!
INFAMOUS IRON MAN #12
   FINAL ISSUE!
MARVEL LEGACY #1
It begins at the dawn of the human race, and ends with a child's prayer! In between, empires fall, mysteries brew, secrets are revealed, quests are undertaken and legends are forged! All leading up to the dramatic return you've been waiting for — and one you've been dreading! Jason Aaron (MIGHTY THOR) and Esad Ribic (SECRET WARS) usher in a new dawn — one whose rays will touch every corner of the Marvel Universe in the days to come! MARVEL LEGACY: It's everything you've been longing for — and more!
MIGHTY THOR #23
MOON GIRL AND DEVIL DINOSAUR #23
NICK FURY #6
   FINAL ISSUE!
SPIDER-GWEN #24
STAR WARS: JEDI OF THE REPUBLIC – MACE WINDU #2
THANOS #11
THE MIGHTY CAPTAIN MARVEL #9
THE PUNISHER #16
VENOMVERSE #4
X-MEN: BLUE #12
Week of 4/9
Week of 4/16
Week of 4/23
Week of 4/30
Not a Marvel Unlimited member? Join today!
Marvel Unlimited members have access to some of the greatest Marvel Comics featuring The Avengers, Spider-Man, Guardians of the Galaxy, Thor, Black Panther, and more! With Aprils's update, Marvel Unlimited will also be expanding its back catalog with the following series: Peter Parker, the Spectacular Spider-Man (1976), Defenders (1972), X-Men (1991) and much more!
This amazing service is accessible through Marvel Unlimited on the web and through the Marvel Unlimited app on iPhone®, iPad® and on select Android™ devices.
New to comics, and don't know where to start? Don't worry! Visit Marvel Unlimited's DISCOVER section and uncover new pathways into the Marvel Universe by searching for events, themed lists, and stories featuring your favorite characters and creators!
An added bonus? New Marvel Unlimited subscribers get 3,000 Marvel Insider points when they join this service, and more points when they renew their subscription! Not a Marvel Insider? Sign up today and earn exclusive prizes just by being a Marvel fan! See what rewards are available here! *
With classic and newer issues being added to Marvel Unlimited on a weekly basis as early as six months after they're in stores, you'll definitely want to join Marvel Unlimited and enjoy the experience of the Marvel Universe!
Follow Marvel on Facebook at www.facebook.com/marvel, join in the conversation on Twitter with #Marvel, and for all things Marvel, please visitmarvel.com.