Good news for Star Wars fans!  The Last Jedi is getting a comic adaptation.  Where you may have seen the movie and know it well, the comics often give some insight that aren't in the film.  So, you may want to pick this series up.
Feel The Force In STAR WARS: THE LAST JEDI ADAPTATION
Featuring never-before-seen content!
New York, NY—February 2, 2018—The Resistance is outnumbered…Luke Skywalker has finally been found…and the Rebels fight against a growing evil. The First Order will stop at nothing to conquer the galaxy, and it's up to our heroes to defend it!
This May, writer Gary Whitta (Rogue One: A Star Wars Story, Star Wars Rebels) joins artist Michael Walsh (Star Wars Annual, Hawkeye, The Vision) for a thrilling adaptation of the hit blockbuster STAR WARS: THE LAST JEDI, as they follow Rey, Poe and Finn in their adventures across the galaxy, featuring never-before-seen material!
The six-issue miniseries tells an all-new, exciting story that movie and comic fans alike will enjoy. It's new Star Wars stories in a tale you already know: relive the magic of Rey's heroism, Finn's bravery and Poe's daringness in STAR WARS: THE LAST JEDI ADAPTATION, out this May!
STAR WARS: THE LAST JEDI ADAPTATION #1 & 2 (of 6)
Written by GARY WHITTA
Art by MICHAEL WALSH & MIKE SPICER
Cover by MIKE DEL MUNDO
Variant Cover by JOE QUESADA
On-Sale 5/2/18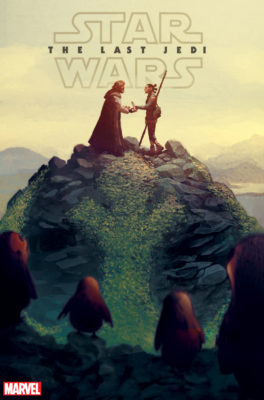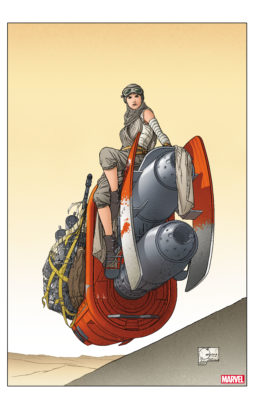 The Cosmic Ghost Rider Takes You on a Twisted Journey in THANOS ANNUAL #1!
Coming this April!
New York, NY—January 30, 2018—It's the Cosmic Ghost Rider's time to shine.
This April, in an all-new story, some of Marvel's most acclaimed writers and artists join superstar team Donny Cates and Geoff Shaw to help Cosmic Ghost Rider narrate all of Thanos' heinous exploits. And who better to guide you through such deeds than the newest twisted ally to enter the Marvel Universe?
"In issue #15 of Thanos, we see the Rider get a look into Thanos's mind. In this annual, he tells us about some of the horrors he found in the dark corners of it," teases series editor Jordan D. White. "Donny is, of course, contributing, and we're both pumped about the TWISTED stories that folks have been pitching in for the Mad Titan."
"I am so excited to delve further into the Mad Titan and his Cosmic Ghost Rider…friend, and this Annual is a murderer's row of talent that is not to be missed!" adds Cates. "Come and explore the worst deeds Thanos has ever performed…but uh…don't plan on sleeping any time soon!"
Don't miss the series that Comic Watch has raved is "the Mad Titan in all his power hungry glory" – and don't miss THANOS ANNUAL #1 when it hits comic shops this April!
THANOS ANNUAL #1
Written by DONNY CATES, KIERON GILLEN, AL EWING, RYAN NORTH, CHRISTOPHER HASTINGS & KATIE COOK
Art by GEOFF SHAW, KATIE COOK & FRAZER IRVING
On-Sale 4/25/18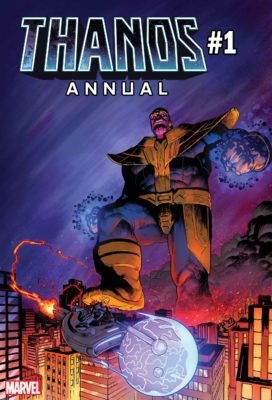 Ms. Marvel and Squirrel Girl Team Up with America, Inferno and Patriot in MARVEL RISING!
The FREE all-new #0 issue from a superstar creative team arrives in comic shops this April!
New York, NY—January 31, 2018— For the first time ever, Ms. Marvel, Squirrel Girl, America, Inferno and Patriot are teaming up for a brand-new epic tale featuring the next generation of Marvel Super Heroes. Building on the recently announced multi-platform franchise MARVEL RISING, readers will find a thrilling new comic book mini event kicking off this spring in a special FREE #0 issue!
The all-new story begins when Doreen Green and Kamala Khan take on a Marvel Universe mission this April in MARVEL RISING #0, just ahead of Free Comic Book Day. The two heroes will meet for the first time in a twist of fate, discovering each other's secret identities in a classic superhero first meeting story that follows Marvel's long history of monumental team-ups! Featuring art by Marco Failla (Ms. Marvel), issue #0 will be written by Devin Grayson (Power Pack, Ghost Rider), who will be joined for future stories by Ms. Marvel writer G. Willow Wilson and Unbeatable Squirrel Girl writer Ryan North.
Retailers will receive FREE copies MARVEL RISING #0 in April. Then, in June, the story continues with an epic tale that launches with a special issue tied to a Father's Day event in local comic shops.
"Marvel Rising is a celebration of the awesome breakout heroes of the Marvel Universe," says Sana Amanat, VP of Content Development.  "The animated stories build upon the great comic books these characters were born in, so we knew a Marvel Rising comic was the perfect place to tell a story fans have been waiting for! It's about time Kamala and Doreen became super hero besties."
MARVEL RISING, a multi-platform franchise starring the next generation of Marvel heroes, kicks off in 2018 encompassing a wide array of content. Marvel Rising's comic book mini event, beginning this April with the Free MARVEL RISING #0, is designed to drive new audiences to comic shops while leveraging the franchise's multi-platform program.
MARVEL RISING: SECRET WARRIORS will debut later this year and feature six four-minute digital shorts followed by an animated feature.
Just what does it take to be a young super hero in the Marvel Universe? Join Ms. Marvel, Squirrel Girl, America, Inferno, and Patriot in this all-new story, featuring a generation of heroes who will rise together and change the world!
It all starts this April, when the FREE issue of MARVEL RISING #0 hits comic shops!
MARVEL RISING #0
Written by DEVIN GRAYSON
Art by MARCO FAILLA
Cover by HELEN CHEN
On-Sale 4/25/18