This week (May 14 – 18, 2018) has a few news items.  Continuing the return of the Fantastic Four, and the epic Infinity Wars is on the list.  Amazing Spider-Man has an interesting battle coming.  But, a couple of the big news are West Coast Avengers – a fun Avengers team – and Spidergeddon…which there is just a teaser about.
Kelly Thompson and Stefano Caselli Bring The Band Back Together in WEST COAST AVENGERS!
The all-new team-up begins this August!
New York, NY—May 17, 2018—The West Coast Avengers are getting back together – with an all-new team! This August, join Kate Bishop, Clint Barton, America Chavez, Gwenpool, Quentin Quire, and Fuse (a.k.a. Johnny, Kate's way-in-over-his-head boyfriend) in a brand new story from Marvel exclusive writer Kelly Thompson (Hawkeye, Rogue & Gambit) and Stefano Caselli (Invincible Iron Man)!
"They all need and want something from being on that team together," Thompson told Marvel.com in an official announcement. "Kate needs to help save LA, and she needs help to do that because villains have taken notice that there are no Super Heroes out there. I think there's part of her that misses [being on a team] too."
For more information about WEST COAST AVENGERS, be sure to check out Marvel.com and stay tuned for more news about the series on This Week in Marvel!
WEST COAST AVENGERS #1
Written by KELLY THOMPSON
Art and Cover by STEFANO CASELLI
On Sale 8/22/18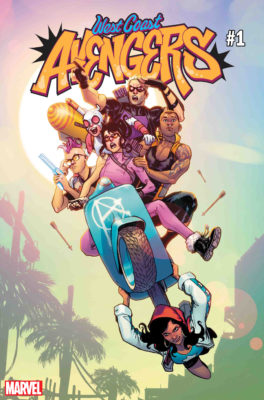 Celebrate the Return of the Fantastic Four with a Special Classic Kirby Poster!
New York, NY—May 15, 2018—This August, Marvel invites you to join Johnny, Ben, Sue and Reed in their much-anticipated return to comics, featuring an all-new story from Dan Slott (Amazing Spider-Man, Silver Surfer), Sara Pichelli (Spider-Man: Miles Morales), and Esad Ribic (Infamous Iron Man, Marvel Legacy, Secret Wars)!
And to celebrate the return of the first family, Marvel is excited to reveal a special Fantastic Four poster featuring classic artwork by Jack Kirby, which will be available to readers this August.
Be sure to pick up FANTASTIC FOUR #1 on August 8th, and stay tuned for announcements about FANTASTIC FOUR's release, upcoming incentives, and more!
FANTASTIC FOUR #1
Written by DAN SLOTT
Art by SARA PICHELLI
On Sale 8/8/18
FANTASTIC FOUR BY KIRBY CLASSIC POSTER (MAR188169)
On Sale 7/4/18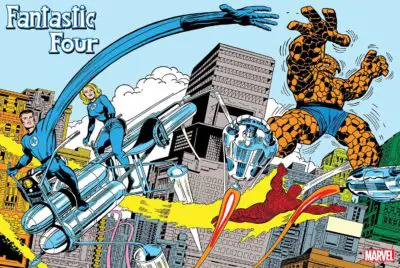 SPIDERGEDDON IS NIGH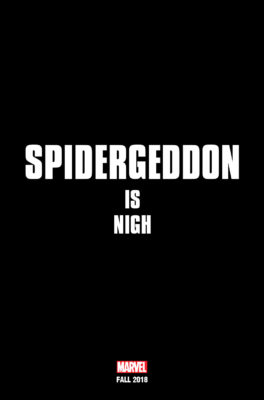 AMAZING SPIDER-MAN #3: Peter Parker VS. Spider-Man?! What?!
Nick Spencer and Ryan Ottley do the unthinkable!
New York, NY—May 15, 2018—AMAZING SPIDER-MAN is kicking off an all-new adventure this summer, when celebrated creative team Nick Spencer (Secret Empire) and Ryan Ottley take the webslinger to new heights – featuring new villains, new challenges, new relationships, and more!
Fans got a taste of Peter's new story in this month's AMAZING SPIDER-MAN/GUARDIANS OF THE GALAXY Free Comic Book Day issue – and it's only the beginning of what's to come!
"The best Spider-Man, his personal [trouble] is mirroring his troubles in costume, and the two stories are feeding each other and being Spider-Man always comes with considerable costs to Peter," Spencer told Comicbook.com. "It's always getting in the way of his life. So, to me, it's kind of a dance between those two things at this stage."
Peter Parker vs…Spider-Man? Find out in AMAZING SPIDER-MAN #3, out this August!
And don't miss the debut of AMAZING SPIDER-MAN #1, out July 11th!
THE AMAZING SPIDER-MAN #3
Written by NICK SPENCER
Art and Cover by RYAN OTTLEY
On Sale 8/8/18
For up-to-date information on all new #1 titles, visit http://marvel.com/marvel2018comics.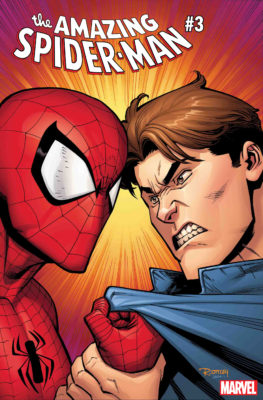 Requiem Revealed? The Answer Will Shatter the Universe in INFINITY WARS!
New York, NY—May 16, 2018—This summer, prepare to learn the answer to the question that everyone has been asking…who is Requiem? Acclaimed creators Gerry Duggan (Deadpool) and Mike Deodato Jr. (Old Man Logan) are bringing you an Infinity Stone story that will change the Marvel Universe…and the lives of those who wield the cosmic stones!
Who Is Requiem? Find out in INFINITY WARS, in comic shops this August!
INFINITY WARS #1
Written by GERRY DUGGAN
Art and Cover by MIKE DEODATO JR.
On Sale 8/1/15
INFINITY WARS #2
Written by GERRY DUGGAN
Art and Cover by MIKE DEODATO JR.
On Sale 8/15/18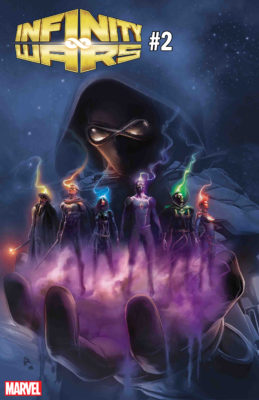 Go Behind The Scenes of Donny Cates & Ryan Stegman's Critically Acclaimed VENOM #1!
Writer Donny Cates teases Venom's new adventure!
New York, NY—May 15, 2018—In the aftermath of S.H.I.E.L.D.'s collapse, an evil has been awakened beneath the streets of New York…bringing with it a threat that could have drastic consequences for the symbiote and Eddie Brock! Marvel exclusive writer Donny Cates (Doctor Strange, Thanos) and artist Ryan Stegman (Amazing Spider-Man: Renew Your Vows, Uncanny Avengers) have created a Venom adventure 1,000 years in the making, and it's already receiving rave reviews among fans and critics, who are calling the first issue "a rich, haunting story that works on a variety of levels" (Multiversity Comics).
Now, Marvel is proud to present this behind-the-scenes look at VENOM, featuring Donny Cates and editor-in-chief C.B. Cebulski!
"In the past, Eddie and the symbiote have developed a very kindred friendship…and that was something I really wanted to explore," explains Cates. Adds Cebulski, "there are certain stories in the Marvel Universe that redefine characters…and here, I think Donny Cates and Ryan Stegman are redefining and telling the Venom story for our generation."
Don't miss VENOM #1, currently on sale in comic shops, on the Marvel Comics App, and on Marvel.com! And be sure not to miss VENOM #2, out June 13th!