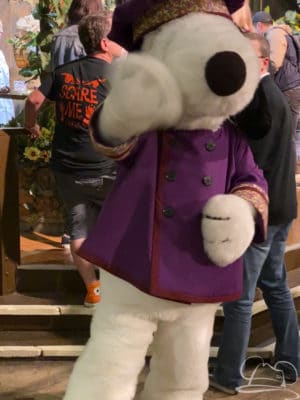 Knott's is continuing their "Taste of" festivals since the park has been closed, and the annual Boysenberry Festival is coming back in this form!  This is one of the best that Knott's has to offer since the Boysenberry first put them on the map.  The regular festival has always been centered around food, and what better way to celebrate than a very centered time around food again!  From March 5 to May 2, guests can partake in some scrumptious treats and drinks.  Per usual with the Taste of events is that admission includes a tasting card that can be used on another visit if not used up at first, but due to limited capacity a ticket is required each visit.
Below is the official press release with information.
Knott's Berry Farm Welcomes Spring with a new Food and Retail Experience,
the Taste of Boysenberry Festival Celebrates all Things Boysenberry Beginning March 5th
WHAT:       A new food and retail experience is blooming at Knott's Berry Farm as it celebrates the little berry that put the park on the map, with Knott's Taste of Boysenberry Festival. Guests can catch a taste of the popular springtime Boysenberry Festival, as it offers all-new boysenberry-inspired savory foods, sweet treats and refreshing drinks that can't be found anywhere else. While the theme park remains closed, the food and merchandise-focused outdoor event offers over 80 boysenberry-infused food and drink items which are included on the event tasting card. Guests can choose from a lineup of tantalizing delicacies such as beer cheese soup with a boysenberry drizzle and brown butter croutons, beef tips served with creamy boysenberry mashed potatoes, and boysenberry BBQ carne asada pizza garnished with cilantro and onions, plus options for all dietary preferences. Thirst-quenching drinks include boysenberry lemonade with basil, boysenberry ICEE float with vanilla soft serve, boysenberry mint and pineapple aqua fresca and so much more. Guests can also shop from a wide variety of boysenberry-inspired merchandise including event apparel, kitchenware and pre-packaged take-home sweets. In addition, they will find handmade and personalized gifts from over 20 artisan local crafters offering unique boysenberry items.
Knott's Taste of Boysenberry Festival will take place on select dates beginning March 5th through May 2nd. All Knott's Taste of Boysenberry Festival activities will be conducted at a safe and socially distant space for families to enjoy.
The only way to experience the limited time Knott's Taste of Boysenberry Festival is with a tasting card purchased in advance at knotts.com (a tasting card is required for event entry). Scheduled dates are 3/5-7, 3/12-14, 3/19-21, 3/26-4/11, 4/16-18, 4/23-25 and 4/30-5/2. Adult tasting cards (ages 12+) are priced at $45 (plus tax) and will include five food tastings, and junior tasting cards (ages 3-11), including three food tastings, are $20 (plus tax). Tasting cards are date specific and must be purchased online at knotts.com or through the Knott's Berry Farm mobile app prior to the date of visit. Knott's Taste of Boysenberry Festival hotel packages are also available at Knotts.com. In order to manage proper physical distancing of guests, Knott's Taste of Boysenberry Festival tasting cards will be limited each day and may sell out. Tickets go on sale to 2020 and 2021 Knott's Season Passholders from 2/9-2/15. Tickets available to the general public starting 2/16.
HOW:           As Knott's Berry Farm continues to follow state, local and CDC health guidelines, these are the continued safety measures and operational changes we have established to ensure the safety of our guests:
Tasting cards are limited each day to ensure proper physical distancing
Upon arrival, guests will be required to enter a temperature screening and security checkpoint at the main gate
All associates and guests must wear a facial covering while visiting Taste of Boysenberry Festival or the Knott's California Marketplace store locations and restaurants – masks are not required while sitting at a table or bench to eat
Frequently touched surfaces are disinfected daily and sanitized frequently. This includes but is not limited to cash counters, scanners, EMV readers, pens at cashier counters, register screens, store fixtures, door handles, and shopping baskets
Signage is present to aid guests in the proper direction of travel and as a reminder to practice social distancing
Seating is spaced out throughout the Taste of Boysenberry Festival event footprint
Hand sanitizing stations are available throughout the event area
All associates will be screened, including temperature and symptom checks using CDC guidelines before being allowed on the property to work
Associates have been trained on the importance of handwashing, physical distancing, and overall hygiene
Separate entrances and exits will appear at some store locations and occupancy will be limited.
For all details regarding the Taste of Boysenberry Festival and the park's current health and safety screenings, please visit knotts.com.
WHEN:          Scheduled dates March 5 -7, March 12 -14, March 19 – 21, March 26 – April 11, April 16 – 18, April 23 – 25 and April 30 – May 2 /General Event Hours: Mondays through  Saturdays 12pm to 9pm and Sundays 12pm to 8pm Dates and hours subject to change without notice.
WHERE:      Knott's Berry Farm – 8039 Beach Blvd, Buena Park, CA 90620