A special preview night for the upcoming Boysenberry Festival at Knott's Berry Farm was held March 5th for media and invited guests. The event took place in the Wilderness Dance Hall in Ghost Town.
There was a display of all the boysenberry food that will be available, and there's a lot! From boysenberry chili to boysenberry funnel cake and more, there will definitely be something for everyone to enjoy!
Some of the food available to taste was a boysenberry steak chili with a boysenberry cornbread muffin, a pork bao bun with boysenberry kimchi and nam pla, boysenberry Cajun shrimp over grits, boysenberry beer cheese soup topped with boysenberry drizzle and brown butter croutons, and lots more. One of the most surprising dishes of the night was the Brussel sprouts with a boysenberry balsamic and bacon. This dish can be made vegan simply by not adding bacon.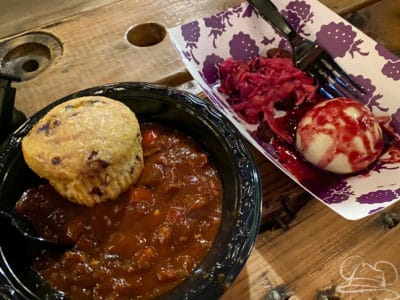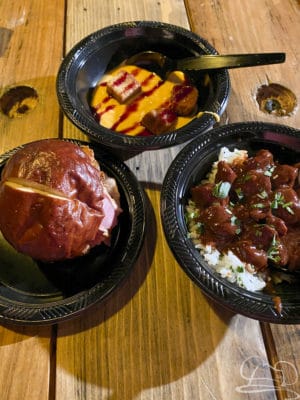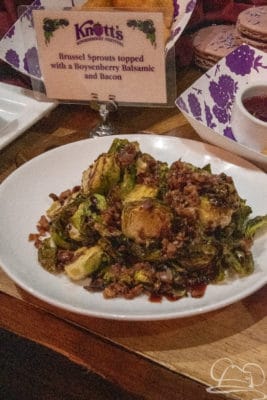 There are several extravagant dishes coming to this year's Boysenberry Festival. One is 'The Mega Mrs. Knott's Chicken Dinner-burger in one!' This dish feeds four, and is a giant hamburger with 16 slices of cheese, giant patties, lettuce, tomato, and onions, and topped with a boysenberry pie, as well as four pieces of fried chicken! The other 'over the top' dish is 'The WOW Pasty!' This also feeds four, and is a gigantic cheeseburger pasty with boysenberry ketchup, and topped with 2 sunny side up eggs.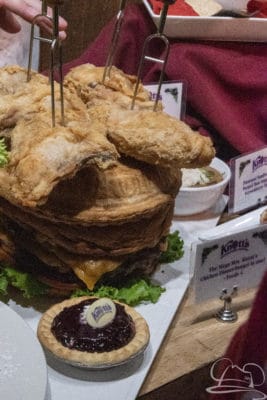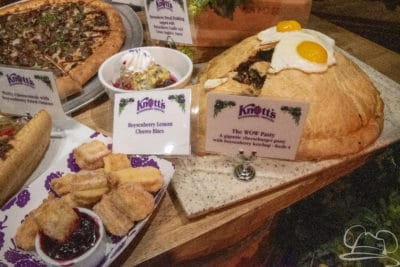 Other items that will be available during the Festival include: Boysenberry BBQ Pulled Pork Fries; a Funnel Cake topped with a Stuffed Donut, Boysenberry Ice Cream, and Boysenberry Whipped Cream; Boysenberry Chicken Mole on Cilantro Rice; a Philly Cheesesteak with Boysenberry Fried Onions; a Crepe with Boysenberries, Banana, and Chocolate; and a Boysenberry Funnel Cake topped with a Boysenberry Cookie and Ice Cream. Also returning this year is the guest favorite Boysenberry Butter Grilled Cheese Sandwich. This item can be ordered plain or with pork belly.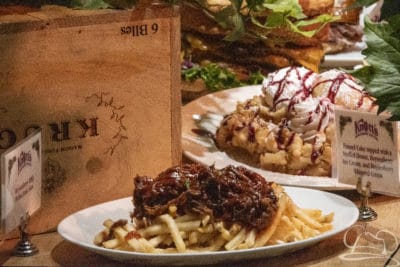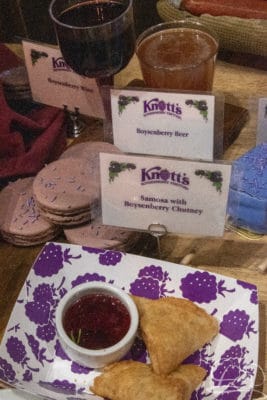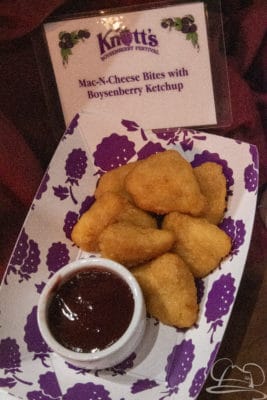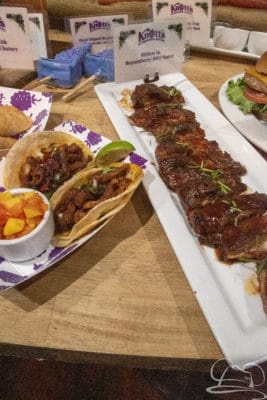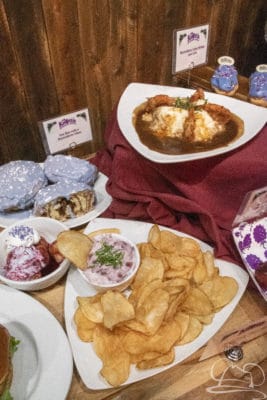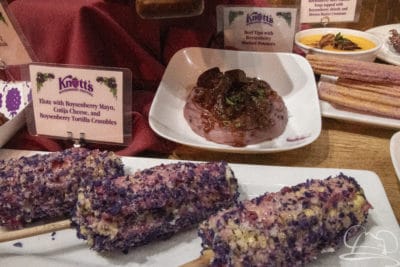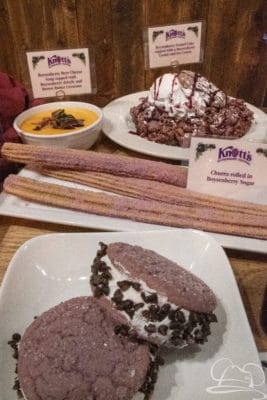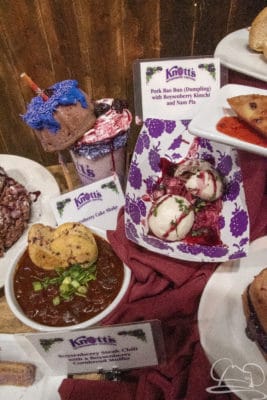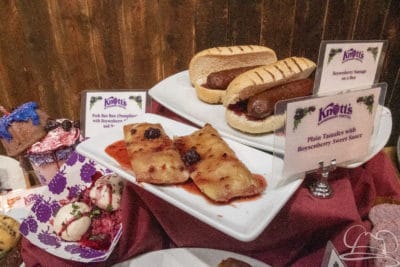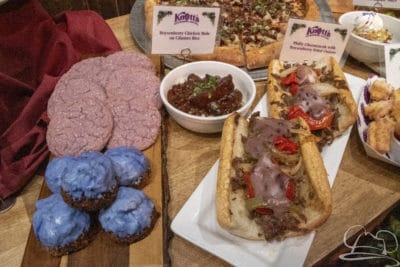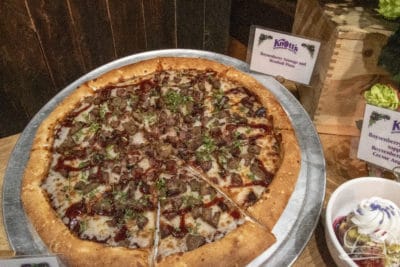 Also available at the Boysenberry Festival will be a variety of merchandise, including shirts, pins, a spirit jersey, as well as special Knott's boysenberry items that are not usually available. Premium boysenberry preserves; boysenberry sweet tea jelly; BEAR jam, which consists of boysenberry, elderberry, apple, and raspberry; and even boysenberry spiced wine preserves are among the specialties this year. Boysenberry sassparilla and soda will also be available. The boysenberry soda comes in a specially marked Knott's 100th Anniversary bottle.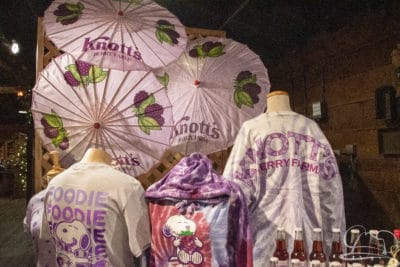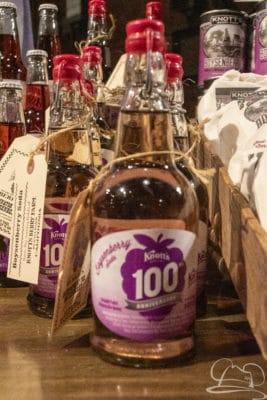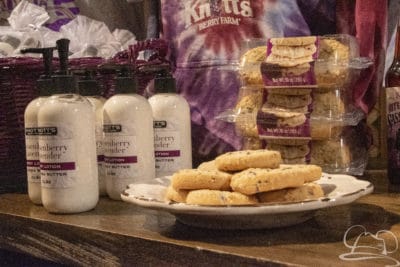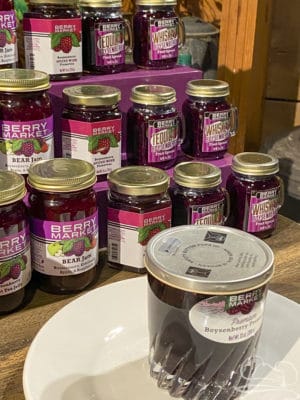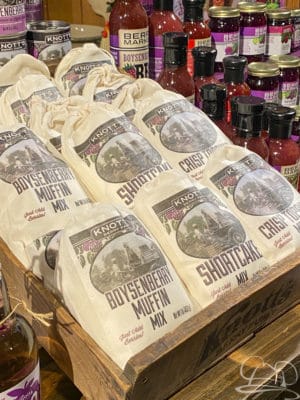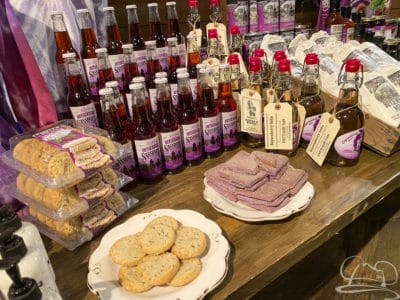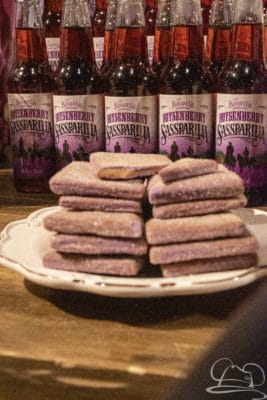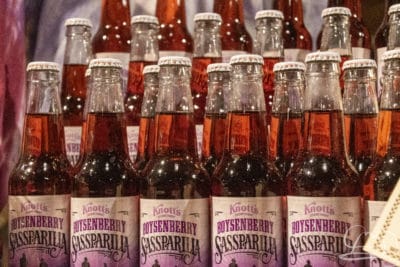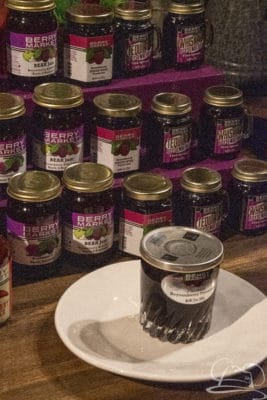 The Knott's Boysenberry Festival runs daily from March 20th through April 19th. Park hours vary, and items during the Boysenberry Festival will be sold separately. A special Boysenberry Tasting Card will be available, which will allow you to enjoy 8 specialty boysenberry items during the Festival. Price of the tasting card was not available at press time.