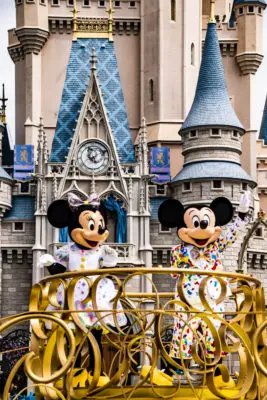 Mickey and Minnie Mouse are celebrating their 92nd birthday today.  With that age it seems like they've been around for ages and ages and ages.  Milestones could be fewer coming (though 92 is nothing to sneeze at).  Why celebrate the mice today?
The reason starts at their origin.  Walt Disney had just come back from finding out that his previous hit, Oswald, had been stolen from him.  As he rode back on a train to Los Angeles (as the story goes) he started thinking of another character.  Through the whole trip back he created and developed…Mortimer Mouse!  Yes, Mortimer.  And was soon renamed to be Mickey by Walt's wife, Lillian.  From there two cartoons were developed to premiere in 1928, though just one ended up in theaters.  Plane Crazy was first made with the couple, then Steamboat Willie took precedence because of the potential of being the first cartoon with synchronized sound.
Mickey's origin story alone is worth considering celebration in our current times.  Walt was stripped of, basically, his job.  He lost his livelihood in one swoop.  It was something he didn't see coming.  But, out of those ashes came one of the most known characters IN THE WORLD!  A moment of utter loss turned into a media empire!
In our current times, we have all suffered some loss.  Many have suffered a great loss this year.  I believe Mickey and Minnie represent the optimism of one loss doesn't dictate the rest of your life.  Walt was not defeated, he kept going.   A common quote from Mr. Disney that was even used as the basis of Meet the Robinsons is "We keep moving forward, opening new doors, and doing new things, because we're curious and curiosity keeps leading us down new paths."  I can't help but think this kind of motto came from that great defeat that led to Mickey Mouse.
If that doesn't get the optimism blood flowing, consider what type of plot Mickey Mouse cartoons tend to follow.  A little guy that is in over his head succeeds no matter the obstacle.  Sometimes it's having built a boat that falls apart right after the christening and finding friends and laughter out of it ("The Boat Builders").  Sometimes it's surviving a perilous trailer journey down a mountain ("Mickey's Trailer").  Sometimes it's enjoying a simple can of beans after escaping a bear ("The Pointer").  Whatever happens in Mickey Mouse cartoons, this hero comes out on top.  Out of whatever obstacle comes, Mickey doesn't lose his optimism.  It sounds like what happened with Walt himself.  It's a message for our current times.
So, I recommend watching any number of Mickey and Minnie Mouse cartoons today to catch that plucky optimistic attitude from the long-standing mice that came from great loss to become world-renowned symbols.  Happy birthday Mickey and Minnie!  Thanks for bringing optimism to our days.