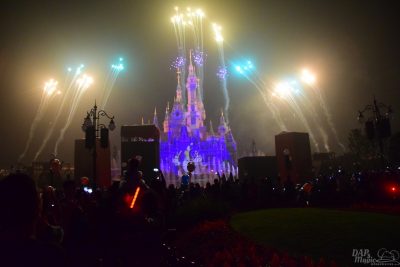 With all the attractions and details of lands, it's easy to miss the entertainment that takes place at the Shanghai park.  It's on equal caliber to the great rides and other shows throughout.  Here are a few of the highlights…
Mickey's Storybook Express
The premier parade has a train theme to it.  It's a fitting one since there is no steam train attraction.  Casey Jr. is the engine, and has Mickey Mouse and Donald at the helm.  In his usual park attire, the Mouse has the engine pulling a cast of characters along the route.  An animated Dumbo sits atop Casey Jr., while steam pours out of the smoke stack.  With a very upbeat soundtrack, the parade continues with the seven dwarves walking behind.
A Toy Story unit comes up next with some music to march to.  Toy soldiers come along blocks.  Following that train car is Rapunzel and Flynn atop a mock Snuggly Duckling tavern.  Some seemingly drunken bar patrons appear in front and guide the float along.  Their rollicking good time made this one of the more fun floats as the group danced along the route.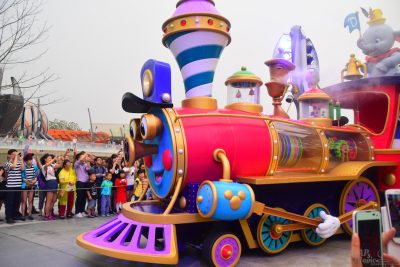 Next is Finding Nemo…or is it Finding Dory now…Anyway, the pelican and seagull infested train car has an almost caribbean beat to it.  Several performers accompany dressed as more seagulls.  Colorful fish people "swim" along to a mix of the main parade theme and Beyond the Sea.  Frozen follows the water themed segment…maybe appropriate for that reason.  The group of characters sits in front of an icy Elsa palace.  Sven leads the charge in a fashion that he seems like he's pulling the float, but is more sitting on it.  Marshmallow the ice monster follows the float in his puppet way.
Mulan rounds out the movie based float segments.  She, as Ping, sits atop her horse, Khan.  Drummers are on both sides, emphasizing beats with the parade theme.  The whole parade is completed with a caboose carrying several characters including Zootopia's Nick Wilde and Judy Hopps.  Genie sits atop the caboose.
In all, this was a delightful parade to have as the premier.  It had a great soundtrack with catchy melodies.  The theme was whimsical, and nice that it was carried throughout the whole parade.  Also to point out again, the use of a train in the park is great to bring in since it has no ride of one.  I would imagine this will stick around for quite a while with its colorful representations of Disney classics.
Ignite The Dream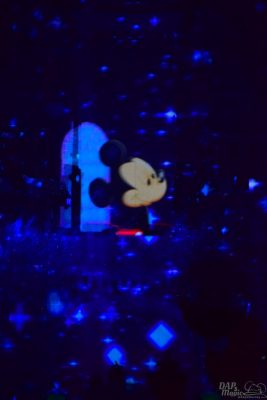 An amazing premier fireworks show that mostly takes place at the Enchanted Storybook Castle utilizes several effects to tell a small story about Mickey Mouse.  Mickey is using his imagination to unleash some great stories and characters.  Much of this is told through projection on the castle, but also through lasers, fireworks, and a water screen that appears in front of the castle as well.
Featured in the musical spectacular are films such as Lion King, Little Mermaid, Frozen, and Mulan to name a few.  Mickey ventures through each one and there's some slight surprises to them.  One that I found quite humorous is a door that every time Mickey opens it the beginning of Circle of Life plays.  Another part of that whole sequence is baby Simba sneezing and unleashing lasers and fireworks with it.
Great colorful projections, a dynamic soundtrack, and great use of laser lights make this a definite view when at the park.  It's a great ending to the day at the park.
And, with that, we have come to the close of the Shanghai Disneyland park segments.  But, there is one more stop on the list of Shanghai Disney Resort things seen on this trip.