This week had a pretty good amount of news for Marvel Comics.  Of course some of the big news was more coming from Civil War 2.  Other than that, a new web show is emerging, free comic day was a hit, Empress is selling out, New Avengers will take on S.H.I.E.L.D., Death of X will have some variant covers, and Black Panther has some great stories coming up.
MARVEL PRESENTS "THWIP! THE BIG MARVEL SHOW"
New York, NY—May 12th, 2016 — Marvel is proud to present THWIP! The Big Marvel Show, a variety talk show hosted by Lorraine Cink (The Marvel Minute, Marvel's The Watcher) and Ryan Penagos A.K.A. Agent M (Marvel LIVE!, Marvel.com) discussing Marvel's biggest stories from movies, TV, news, games, and of course comics.
"Lorraine's been begging and pleading with me for years to join her on a regular program, and I finally relented," says Ryan Penagos, VP & Executive Editor for Marvel's Digital Media Group. "Actually, that's not true. But it's been amazing watching Lorraine shine week in and week out on all her Marvel projects, so being able to sit next to her and geek out with her is an honor and a privilege. We just want to goof off and make each other laugh with THWIP! The Big Marvel Show, so if we can garner some guffaws and giggles from Marvel fans far and wide—even better!"
Get the inside scoop on all things Marvel from Marvel HQ in New York City. THWIP! The Big Marvel Show will be there to provide all Marvel fans with special guests, games, variety segments, and lots of audience interaction using the hashtag #MarvelTHWIP.
"Hosting Marvel LIVE! with Ryan during conventions is always an insane amount of fun, and I couldn't be more thrilled to now share our insider info and delirious Marvel love every single week from Marvel HQ," says Lorraine Cink.
Watch the first episode of THWIP! The Big Marvel Show now!
THWIP! The Big Marvel Show will join Marvel's short-form digital show, The Marvel Minute, and will now offer viewers additional "deep-dive" content into all things Marvel. 
New episodes will be released on Wednesdays on Marvel.com and Youtube.com/Marvel. 
MARVEL TSUM TSUM #1 Brings the
Pint-Sized Heroes to the Marvel Universe!
All-New Limited Series Starring Marvel Tsum Tsums!
New York, NY—May 13th, 2016 — The global phenomenon is coming to the Marvel Universe, and they're getting their own series! Today, Marvel is pleased to announce MARVEL TSUM TSUM #1 – an all-new limited series coming this August! Writer Jacob Chabot (The Mighty Skullboy Army) and artist David Baldeon (Captain America, Web Warriors) bring you an in-continuity tale of these stackable sensations as they come face-to-face with their super hero counterparts, and the Marvel Universe at large!
In case you've been living under a rock, Tsum Tsums are HUGE! Well, not LITERALLY (they're actually pretty tiny) but these cute and cuddly creatures are sweeping the globe. So what happens when the Marvel Tsum Tsums find their way into the Marvel Universe? When a crate of these pint-sized piles of fur accidentally falls to Earth en route to The Collector, one small group of Brooklyn teenagers will find out! Oh – and did we mention the Marvel Tsum Tsums believe they're the real Marvel Heroes?
"We could not be more thrilled with the success of the Marvel Tsum Tsum game in Japan," says Marvel VP of International Development, CB Cebulski. "The launch of the Marvel Tsum Tsum limited series is a testament to our close working relationship with Disney Japan and the strength of the Marvel brand across Asia."
"Thanks to all the fans, Marvel Tsum Tsum has been the #1 downloaded free game in Japan for nearly two months," says Marvel Games Creative Director, Bill Rosemann. "We're happy to bring that excitement to the limited series along with a set of variant covers based on the unique art style of the game!"
Since its debut in 2013, Disney Tsum Tsum has quickly become one of the most successful plush lines in Disney Store history, prompting category expansion into softlines, accessories, home décor and more. Featuring classic and new Disney, Marvel and now Star Wars characters, Disney Tsum Tsum's whimsical design reinterprets everyone's favorite characters with a unique Japanese aesthetic.
Featuring all your favorite Marvel heroes and villains, this new series is TSUM-thing you won't want to miss! Get in on all the action when MARVEL TSUM TSUM #1 comes to comic shops and digital devices everywhere this August!
MARVEL TSUM TSUM #1 (of 4)
Written by JACOB CHABOT
Art by DAVID BALDEON
Cover by CHRIS SAMNEE
On Sale in Print & Digital this August!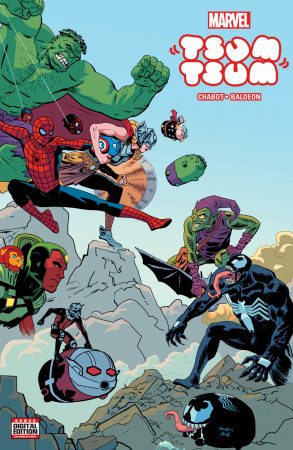 CIVIL WAR II: ULYSSES #1 – The Prequel to the
Biggest Comic Event of the Year!
The Newest Marvel Infinite Comic Debuting This June!
New York, NY—May 9th, 2016 — This summer, the world's greatest super heroes will wage war over a single young man. He is Ulysses, a new Inhuman with the power to profile the future. Before the epic clash of heroes, learn his story in CIVIL WAR II: ULYSSES #1 – a brand-new Infinite Comic series debuting digitally this June! Writer Al Ewing along with artists Karl Kesel and Jefte Paolo harness the power of the Infinite Comics format to bring you a prequel to the can't miss comic event of the year – Civil War II!
How did Ulysses come to join the Inhumans? What journeys did he go through to master his powers? From high atop the Tower of Wisdom, the young man trains his new abilities with Karnak. But will Karnak's training methods prove to be too much for Ulysses? Long before Captain Marvel and Iron Man can ask what to do about Ulysses and his powers – he looked in the mirror and asked himself first.
Specifically designed and optimized for digital devices, CIVIL WAR II: ULYSSES #1 joins the ranks of other Marvel Infinite Comics such as X-Men '92, Deadpool & Cable: Split Second and many more. Marvel Infinite Comics push the boundaries of what's possible with digital comics – utilizing the latest technology to create dynamic new storytelling possibilities while staying true to the medium's greatest strengths.
Can Ulysses learn to wield his powers properly? The prequel to the biggest comic event of the year begins this June when CIVIL WAR II: ULYSSES #1 comes to digital devices this June!  
CIVIL WAR II: ULYSSES #1
Written by AL EWING
Art by JEFTE PAOLO & KARL KESEL
Cover by FRANCESCO FRANCAVILLA
Available Digitally this June and in
Print this August!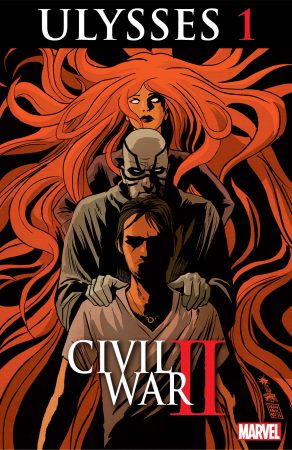 Peter Parker Heads to Battle in
CIVIL WAR II: AMAZING SPIDER-MAN #1!
New York, NY—May 11th, 2016 — The drums of war beat in the Marvel Universe, and its heroes must choose a side. Caught between two friends, who will Peter Parker stand with? The battle lines are drawn for the wallcrawler this June in CIVIL WAR II: AMAZING SPIDER-MAN #1 – a new series from writer Christos Gage and artist Travel Foreman!
"Spidey's role in this Civil War is different than the last," says Christos Gage in an interview with Marvel.com. "This time, before he chooses a side, he's determined to really check things out and make an informed decision. Which should be a good thing – right?"
There's a new Inhuman with the ability to predict the future. Though the heroes of the Marvel Universe continue to grapple with their feelings about his very existence, one thing is certain – he bears a tremendous amount of responsibility to use his powers safely. Thankfully there's one hero in the Marvel Universe who knows a thing or two about power and responsibility – the Amazing Spider-Man! 
As Peter uncovers more about Ulysses and his powers – will he ultimately stand with Captain Marvel? Or will he side with Iron Man? Find out as he swings his way into the comic event of the year when CIVIL WAR II: AMAZING SPIDER-MAN #1 comes to comic shops and digital devices everywhere this June!
CIVIL WAR II: AMAZING SPIDER-MAN #1 (APR160876)
Written by CHRISTOS GAGE
Art by TRAVEL FOREMAN
Cover by KHARY RANDOLPH
Variant Cover by GREG LAND (APR160877)
Character Variant by PHIL NOTO (APR160878)
Action Figure Variant by JOHN TYLER CHRISTOPHER (APR160879)
FOC – 05/16/16, On-Sale – 06/08/16
Hercules Takes Up Arms – Your First Look at
CIVIL WAR II: GODS OF WAR #1!
New York, NY—May 10th, 2016 — The world stands upon the brink of chaos. As friend stands against friend…which side with the world's very first super hero land? Find out as Hercules storms the front lines in CIVIL WAR II: GODS OF WAR #1, coming to comic shops and digital devices this June! Writer Dan Abnett and artist Emilio Laiso bring Hercules directly into the conflict of the biggest comic event of the year. Could a God tip the scales in Captain Marvel or Iron Man's favor?
"Herc is loyal", says writer Dan Abnett in an interview with Marvel.com. "Picking a side for him is a simple thing. But when the sides aren't good and evil, that troubles him. To him, a [Civil War II] kind of rift where heroes are in conflict with other heroes – he's got friends on both sides, and friends or not, he recognizes them all as fellow heroes – is just plain wrong."
As war grips the Marvel Universe, Hercules will ask himself – what role should a God play in the conflict of mortals? Is he responsible for a larger role in the potential destruction of the Marvel Universe? Or should he intervene and change history? Joined by fellow Gods Gilgamesh, Sigurd, Lorelei, Beowulf and Theseus – Hercules and his pantheon of ancient comrades charge headlong into battle. With the heart and soul of the Marvel Universe at stake – these immortal warriors could turn the tide for either team. But which side are they on?
The Gods march to war this June. Be there as the battle kicks off in CIVIL WAR II: GODS OF WAR #1!
CIVIL WAR II: GODS OF WAR #1 (APR160880)
Written by DAN ABNETT
Art by EMILIO LAISO
Cover by JAY ANACLETO
Action Figure Variant by JOHN TYLER CHRISTOPHER (APR160882)
Variant Cover by JAY ANACLETO (APR160883)
Thor Character Variant by PHIL NOTO (APR160881)
FOC – 05/16/16, On-Sale – 06/08/16
Marvel's Mutants Meet Their Maker in July's DEATH OF X VARIANTS!
New York, NY—May 9th, 2016— Marvel is pleased to unveil the first of 20 special Death of X Variant Covers, coming to some of Marvel's biggest titles this July. From Jean Grey to Nightcrawler to the All-New Wolverine – no Mutant is safe from the Death of X. As the highly classified DEATH OF X storyline approaches, be there for the end of the dream!
Rendered by some of the top artists and brightest rising stars in the industry, look for these can't miss Death of X Variant Covers coming to 20 of your favorite Marvel titles this July:
· All-New X-Men #11
· All-New, All-Different Avengers #12
· Amazing Spider-Man #15
· Black Panther #4
· Captain America: Steve Rogers #3
· Daredevil #9
· Deadpool #15
· Doctor Strange #10
· Extraordinary X-Men #12
· Guardians of the Galaxy #10
· Invincible Iron Man #11
· Mighty Thor #9
· New Avengers #13
· Old Man Logan #8
· Power Man and Iron Fist #6
· Spider-Man #6
· The Astonishing Ant-Man #10
· Uncanny Avengers #11
· Uncanny Inhumans #12
· Uncanny X-Men #10
The end is near. There won't be a dry eye in the house. Get a front row seat to the demise of the X-Men this July with these twenty Death of X Variants, available only at your local comic shop!
S.H.I.E.L.D. Vs. A.I.M.! CIVIL WAR II Erupts in NEW AVENGERS #12!
A Civil War II Tie-In!
New York, NY—May 12th, 2016 — Super spies take on super science this June as Civil War II comes to Sunspot and his team! Only some wars are less civil than others. Today, Marvel is pleased to present your first look at NEW AVENGERS #12 – a tie-in to Civil War II! Writer Al Ewing and artist Paco Medina are here to unleash the sky-hi spy-fi on the Marvel Universe. But as Civil War II rages, who's paying attention to W.H.I.S.P.E.R. and their sinister leader, the Maker? He and his New Revengers are out to put down the New Avengers once and for all – unless S.H.I.E.L.D. does it first! The all-out action kicks off this June in NEW AVENGERS #12!
NEW AVENGERS #12 (APR160900)
Written by AL EWING
Art by PACO MEDINA
Cover by JULIAN TOTINO TEDESCO
Black Panther 50th Anniversary Variant Cover by DENYS COWAN (APR160901)
Civil War Reenactment Variant by GREG LAND (APR160902)
FOC – 05/16/16, On-Sale – 06/08/16
MARVEL COMICS PROUDLY PRESENTS
"BLACK PANTHER: A NATION UNDER OUR FEET – PART ONE"
FEATURING HIP-HOP SUPER GROUP, RUN THE JEWELS
New York, NY—May 10th, 2016 — Today, Marvel Comics continues to present this year's breakout Marvel Super Hero – the Black Panther – through a monthly video series that masterfully merges animated comics, commentary from Black Panther writer, Ta-Nehisi Coates, and, for the first episode, a pulse-pounding musical score from one of today's most critically acclaimed hip-hop groups, Run The Jewels.
This new video series is designed to present the world of Black Panther to a whole new audience timed with his cinematic debut in Marvel's "Captain America: Civil War" and will offer fans a monthly recap of the best-selling comic book series.
Black Panther #1, written by The Atlantic national correspondent and National Book Award winner, Ta-Nehisi Coates, accompanied with outstanding art by Brian Stelfreeze, garnered international buzz and attention upon the announcement of this series in 2015 and debuted as the best-selling comic for the month of April. Continuing the excitement surrounding Marvel's celebrated Super Hero T'Challa, the Black Panther, the first episode of this groundbreaking multi-artist hip-hop-inspired video series samples the unmistakable beat of Run The Jewel's "Oh My Darling."
"With the Black Panther capturing the hearts and minds of fans around the world, we are making an all-out press for their eyes and ears," says Marvel Editor in Chief, Axel Alonso.  "And who better to make our opening statement than the sonically groundbreaking duo, El-P and Killer Mike – A.K.A. Run the Jewels?"
Watch "Black Panther: A Nation Under Our Feet – Part One" now!
Capitalizing on the excitement around Black Panther's cinematic debut within Marvel's "Captain America: Civil War" and backed with an expansive marketing reach and vast digital distribution, this new video series is positioned to reach global proportion and will further emphasize how Marvel is the premiere name when it comes to world building, story-telling, diverse character development and will truly secure Marvel with the moniker of the House of Ideas.
Black Panther #2 is available digitally through the Marvel Digital Comic Shop and at all local comic book retailers. To find a comic shop near you, visit www.comicshoplocator.com or call 1-888-comicbook. 
EMPRESS #1 & #2 Sell Out – New Printings and Issue #3 On The Way!
Plus Your First Look at the New Issue!
New York, NY—May 12th, 2016 — The hit comic series continues! Two of the biggest names in comics have joined forces for a sweeping sci-fi epic that has to be seen to be believed! That's right – star creators Mark Millar (Kick-Ass, Kingsman: The Secret Service) and Stuart Immonen (Star Wars, All-New X-Men) bring you the next chapter in their explosive intergalactic adventure EMPRESS!
Did you miss out on the first two issues? Not to worry! EMPRESS #1 and EMPRESS #2 may have sold out, but it's not too late to jump on board the series everyone is talking about! Second printings are headed to your local comic shops soon – and you can always catch up digitally! Don't miss the comic that has the industry buzzing. Don't believe us? Here's what the critics say:
"Get in on the ground floor while you can. This is gonna be good." – Sci-Fi Pulse
"…manages to set up a whole new universe without ever taking its foot off the gas." – Multiversity Comics
"…the combination of a great hook and a fantastic art team." – IGN
Outmatched and on the run, Queen Emporia and her and her children are racing to break away from the clutches of vengeful dictator Morax. Oh, and did we mention he's her husband? With Morax's new fleet of security nipping at their heels as they teleport between alien war zones, dead worlds and the lairs of intergalactic beasts – can they escape in time? Find out when EMPRESS #3 comes to comic shops and digital devices this June!
EMPRESS #1 SECOND PRINTING VARIANT (FEB168862)
On Sale 05/11!
EMPRESS #2 SECOND PRINTING VARIANT (MAR169131)
FOC – 05/23/16, On-Sale – 06/15/16
EMPRESS #3 (of 7) (APR161059)
Written by MARK MILLAR
Art & Cover by STUART IMMONEN
Inks by WADE VON GRAWBADGER
Colors by IVE SVORCINA
Letters by PETER DOHERTY
Variant Covers by MIKE DEODATO (APR161062)
and STUART IMMONEN (APR161060)
Sketch Variant by STUART IMMONEN (APR161061)
FOC – 05/16/16, On-Sale – 06/08/16
Marvel Thanks Retailers for Another Successful FREE COMIC BOOK DAY!
"It was a big weekend for the Marvel Universe…Marvel used FCBD to set the stage for several key storylines." – IGN
New York, NY—May 11th, 2016 — Free Comic Book Day is the perfect way to dive headlong into the Marvel Universe – and this year was no exception! Spreading the wonder and excitement of comics yet again, Marvel would like to thank comic retailers everywhere for their hard work and dedication, making the 15th anniversary of Free Comic Book Day a smashing success!
"Marvel seems to always be on top, every year for FCBD, not just because they have the huge summer blockbuster movie, but because the majority of attendees are excited for their offerings. I think publishers leading off their big summer events with original FCBD content lead the pack as far as my ordering goes and how I see greater sales for these events in my store."
– Dennis Barger, Owner Wonderworld Comics
"2016 brought the most exciting FCBD to date, as Marvel's Civil War II and Captain America helped to drive in customers, old and new!  FCBD was not just about free comics—the event inspired customers to browse, discover, and buy like crazy!"
– Gerry Gladston, CMO/CLO Midtown Comics, Inc.
Featuring 4 new stories exclusive to Free Comic Book Day, thank you for making Marvel's titles – FCBD Civil War II and FCBD Captain America the #1 and #2 ordered books in the comics industry! At nearly 1 million copies ordered, Marvel is thrilled to work with our valued retail partners to bring fans new and old into comic shops for the biggest stories, the biggest characters and huge developments for things to come!
Looking for what to read next? Free Comic Book Day was just the beginning. Want to know more about that Civil War II shocking ending? Then you won't want to miss the blockbuster Civil War II #0 when it comes to comic shops and digital devices everywhere next week! Follow the adventures of the new Wasp in All-New, All-Different Avengers #9 – on sale now! Take up the shield as the original Sentinel of Liberty returns on May 25th in Captain America: Steve Rogers #1. Then, get caught in the web as the Amazing Spider-Man descends into DEAD NO MORE this Fall!
Once again, thank you retailers for making Free Comic Book Day 2016 one of the biggest yet! Fans and retailers everywhere can look forward to more blockbuster stories from Marvel throughout the rest of 2016. For more information on all things Marvel, visit Marvel.com!