There is much that was announced this week, and one sad moment, from Marvel Comics.  Be warned, there are some spoilers to this week's news.  I'll first get to it in this summary.
Before then, one of the big things coming out this week is a Previews magazine for Marvel NOW! featuring all the titles that will be available post-Civil War 2.  It may have already been slipped out, but Riri Williams has exploded onto the scene as the new Iron Man, and has caused sold out issues already.  Jessica Jones will return to her own series with acclaimed writer Brian Michael Bendis.  A different take on Ms. Marvel will appear in All New Avengers Annual, and all from fan-fiction.  Captain Marvel will get a new series fresh from Civil War 2.  Foolkiller will take a look at what goes on in the heads of Marvel's villains with an ongoing series.  Thanos will get his own series as well, and this titan will be sure to wreck havoc on the Marvel universe.  Marvel Tsum Tsums are gearing up for their run of comics.
And, finally, the slight spoiler: A preview of The Accused and The Fallen, which are two special Civil War tie-ins will look at the death of Bruce Banner, better known as the Hulk.  He was taken down this last week by Hawkeye, and it was at request of him not turning into the Hulk at all costs.  So what is in store for Hawkeye?  And what did Banner leave in his will?  Find out in these issues.
The Marvel Universe Stands Divided! Presenting…Marvel NOW!
Blockbuster new titles. Shocking new status quos. Top-tier creators. This is Marvel NOW!.
It all starts this fall as the Marvel Universe charges forward into an ambitious new direction. As the industry's top creators and the hottest up-and-coming voices leave their mark on the world's greatest super heroes, get ready for exciting and energetic comics coming your way later this year! Kicking off this bold new publishing initiative is the FREE MARVEL NOW! PREVIEWS MAGAZINE, available today at local comic shops nationwide.
Can't make it to a comic shop? Get in on all the excitement by downloading it right now via the Marvel Digital Comics Store or Marvel Comics App! Get your first look into the cataclysmic fallout of Civil War II and the landscape of the Marvel Universe to come. Packed cover-to-cover with huge reveals, new titles, fresh creative directions and more – you will not want to miss your first look at the Marvel Universe of tomorrow and the must-have comics of the fall!
 "Take a peek at the future of the Marvel Universe in the MARVEL NOW! PREVIEWS MAGAZINE," says Marvel Editor-in-Chief Axel Alonso.  "The Marvel Universe stands divided after 'Civil War II,' and inside you'll find out what that means for your favorite series.  Get a look at some of the new heroes, new teams, and big developments that will keep you on the edge of your seats all the way through 'Civil War II' and beyond."
Building upon Marvel's rich history with an eye towards tomorrow, Marvel NOW! marks the next evolution of Marvel Comics – and a thrilling leap forward. It's all happening NOW! Be sure to get your hands on the free MARVEL NOW! PREVIEWS MAGAZINE – available today!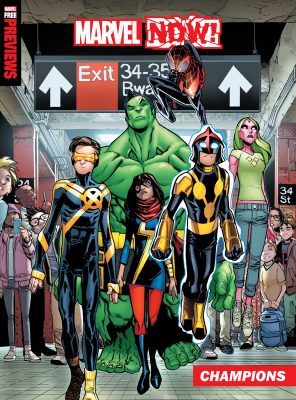 Riri Williams Explodes On to the Scene!
INVINCIBLE IRON MAN #7 – #11 Have Sold Out!
New York, NY—July 11th, 2016 — Comic fans met her earlier this year, but last week the world at large was introduced to Riri Williams – and people everywhere are buzzing! Garnering over 2 billion online impressions in just over 24 hours, Riri has been seen everywhere from TIME, Good Morning America, Entertainment Weekly and more! Hot off the announcement that Riri Williams will headline a relaunched INVINCIBLE IRON MAN #1 from creators Brian Michael Bendis and Stefano Caselli this fall – we're pleased to announce that remaining copies of her first appearances have immediately sold out at the distributor level!
Plus – don't miss the first meeting of Riri Williams & Tony Stark in August's INVINCIBLE IRON MAN #12!
First appearing in INVINCIBLE IRON MAN #7, Riri Williams was seen creating her own, homemade Iron Man armor. Following the events of Civil War II, she'll be upgrading to a brand new, cutting-edge suit of her own as she charges headlong into Marvel NOW! Be sure to catch up on all her current appearances in the pages of INVINCIBLE IRON MAN #7, #8, #9, #10 & #11 when they all return to comic shops next month!
INVINCIBLE IRON MAN #7 3rd PRINTING (MAY169014)
INVINCIBLE IRON MAN #8 2nd PRINTING (MAY169015)
INVINCIBLE IRON MAN #9 2nd PRINTING (MAY169016)
INVINCIBLE IRON MAN #10 2nd PRINTING (MAY169017)
INVINCIBLE IRON MAN #11 2nd PRINTING (MAY169018)
Written by BRIAN MICHAEL BENDIS
Art & Covers by MIKE DEODATO
FOC – 07/18/16, On-Sale – 08/10/16
INVINCIBLE IRON MAN #12 (JUN160786)
Written by BRIAN MICHAEL BENDIS
Art & Covers by MIKE DEODATO
FOC – 07/11/16, On-Sale – 08/03/16
BENDIS AND GAYDOS REOPEN ALIAS INVESTIGATIONS WITH JESSICA JONES #1
Jessica Jones Returns for All-new Marvel Comics Series from the Original Creative Team
New York, NY—July 12, 2016 — After a decade, Jessica Jones is back in an all-new solo series! This fall, one of the most complex characters of the Marvel Universe returns for an all-new mystery from the original creative team — Brian Michael Bendis (Civil War II, Invincible Iron Man, Spider-Man, Alias) Michael Gaydos (Alias, Avengers), and David Mack (Alias, Daredevil).
A lot has changed in the Marvel Universe over the past ten years and there are still many secrets hiding in the shadows. Secrets only a special woman like Jessica Jones can hope to uncover. So what haunting secrets from Jessica's past come back to cause havoc? Speaking with IGN, series writer, Brian Michael Bendis said, "You're going to find out about it in the first issue. We're going to open up a book where Jessica's world has blown up in her face. She's at a place you'll least expect her. You're going to find all of her relationships have altered. And we're slowly going to find out why."
A lot has happened to Jessica Jones since her debut, but the biggest difference that will be a factor in this new series is the baby girl, Danielle, she had with husband, and former Avenger, Luke Cage.
"Luke and Jessica have tried to raise a baby in a very dangerous environment. We talked about this during [New] Avengers, you're raising a baby in Avengers Mansion and somebody's trying to knock that building over every four days…so your perspective changes, and as an investigator and a detective her perspective will change because she's a mother," continued Bendis. "I know some people are worried about that baby being dragged like a sack of potatoes that holds down the story or something, but I can think of many ways to tell the story celebrate this part of her life and at the same time complicates it to a degree that a lot of people can relate to. I think a lot of people can relate to trying to 'do it all.' Lord knows I can."
What unsolved mysteries have fallen through the cracks and what dark secrets have been unrevealed within the Marvel Universe? Alias Investigations is open for business and Jessica Jones is on the case.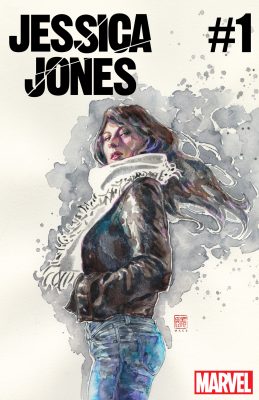 The Fan-Fiction World of Ms. Marvel Comes to Life in
ALL-NEW, ALL-DIFFERENT AVENGERS ANNUAL!
New York, NY—July 14th, 2016 — Yes, you read that right! Now experience it like you've never seen as a bevy of all-star creators bring you the ALL-NEW, ALL-DIFFERENT AVENGERS ANNUAL this August! Featuring contributions from G. Willow Wilson, Mahmud Asrar, Mark Waid, Chip Zdarsky, Natasha Allegri, Zac Gorman, Jay Fosgitt, Faith Erin Hicks and Scott Kurtz – the best and brightest creators in comics bring you a tale of Earth's mightiest that should not be missed! Kamala's been busy saving the world lately. She's an Avenger and a big time super hero, after all. But she still might be surprised at the stories about her and her teammates on the super hero fan fiction message boards. Are you ready for the first meeting of Kamala Khan and Mar-Vell? What about the "Amazing New Adventures of She-Hulk"? But nothing will prepare you for the flurry of fists and fur in "Ms. Marvel Vs. Squirrel Girl"! And that's just the beginning! It's all happening this August as some of the biggest creators in comics bring you the ALL-NEW, ALL-DIFFERENT AVENGERS ANNUAL #1!
ALL-NEW, ALL-DIFFERENT AVENGERS ANNUAL (JUN160830)
Written by G. WILLOW WILSON, MARK WAID, NATASHA ALLEGRI,
FAIITH ERIN HICKS, SCOTT KURTZ and ZAC GORMAN
Art by MAHMUD ASRAR, CHIP ZDARSKY, NATASHA ALLEGRI,
FAITH ERIN HICKS, SCOTT KURTZ and JAY FOSGITT
Cover by ALEX ROSS
Variant Covers by ALEX ROSS (JUN160831)
SKOTTIE YOUNG (JUN160832) and MAHMUD ASRAR w/ JAY FOSGITT (JUN160833)
FOC – 07/18/16 On-Sale – 08/10/16
THE FALLEN #1 & THE ACCUSED #1 Explore the
Fallout From Civil War II This August!
New York, NY—July 13th, 2016 — The unthinkable has happened. Civil War II has claimed the life of one of Marvel's greatest heroes. Now, as the death of the Hulk continues to shake the foundations of the super hero community, explore the void he leaves behind in THE FALLEN #1 and THE ACCUSED #1, two can't miss one-shots coming this August!
First, it's the trial of the century as Marc Guggenheim (Agents of S.H.I.E.L.D.), Ramon Bachs (Secret Wars Journal) and Garry Brown (Iron Patriot) bring you THE ACCUSED #1! As a beloved Avenger falls, another takes the stand to answer for his death. As Hawkeye stands trial amid a case full of super heroes and politics – who will prosecute? None other than Matt Murdock – Daredevil! But when Matt digs into the case and secrets come to light…he may not like what he finds. Has Daredevil bitten off more than he can chew? Amid a growing conspiracy, can the Marvel Universe's most stalwart defender of justice promise a fair trial? The answers won't come easy.
Then – legendary Hulk scribe Greg Pak (The Totally Awesome Hulk) returns to the original Jade Giant with superstar artist Mark Bagley (Ultimate Spider-Man) for one last swan song in THE FALLEN #1! As a giant falls, friends and enemies alike gather to mourn his passing. Amadeus Cho, Rick Jones, Betty Ross, Thunderbolt Ross, the Warbound and more. Can they all keep a level head – or will some of them get ANGRY? Plus, what secrets lie in the Last Will and Testament of Bruce Banner?
The Hulk is dead. But his legacy will live on. Be there as the Marvel Universe experiences the cataclysmic fallout in THE FALLEN #1 and THE ACCUSED #1 – coming this August!
THE FALLEN #1 (JUN160752)
Written by GREG PAK
Art by MARK BAGLEY
Cover by LEINIL YU
Variant Covers by MIKE DEL MUNDO (JUN160755)
LEINIL YU (JUN160754) and JACK KIRBY (JUN160753)
FOC – 07/25/16 On-Sale – 08/17/16
THE ACCUSED #1 (JUN160756)
Written by MARC GUGGENHEIM
Art by RAMON BACHS & GARRY BROWN
Cover by DAVID MACK
Variant Cover by FIONA STAPLES (JUN160759)
and RON LIM (JUN160757)
FOC – 07/18/16 On-Sale – 08/10/16
CAPTAIN MARVEL SOARS FROM STOHL, ROSANAS, AND MARVEL COMICS
Celebrity Writer and New York Times Best-Selling YA Author Margaret Stohl Relaunches Marvel Comic Series
New York, NY—July 14, 2016— Marvel Comics is proud to present Carol Danvers, a.k.a. Captain Marvel as she takes on her new mantle as the most well-known Super Hero within the Marvel Universe!
As the ashes of Civil War II settle, Captain Marvel must come to terms with her new superstar status-quo, but notoriety doesn't necessarily mean she's well liked. Thrust into the spotlight, Carol has come to realize that often times, popularity and pain come hand in hand.
The most recent addition to Marvel's pool of top-tier and premier writing talent, new Captain Marvel writer, Margaret Stohl (Black Widow: Forever Red, Beautiful Creatures), tells The Hollywood Reporter, "She will be one of the most popular heroes on the planet — but that's not something she is very comfortable with. And of course she's lost a lot of folks that she's loved, so she has to cope with that, too."
On top of dealing with a public life she never asked for, Captain Marvel's global defense unit, Alpha Flight, is now tasked with training the next generation of planetary defenders.  But how can Carol be a leader and mentor when the loyalties of heroes of the Marvel Universe are now fractured from Captain Marvel's role in the most recent Civil War?  
"She can't undo the events of Civil War II, and those events will have changed everything — most of all Carol herself," Stohl says. "Captain Marvel has suddenly become a household name — so what now? While she finds herself at the top of her game, she'll also discover that being there means that game is more dangerous and complicated than ever."
Does Captain Marvel, and her new recruits, have what it takes? Find out this December in Marvel Comics' Captain Marvel #1.   
MARVEL COMICS' FOOLKILLER DIVES INTO THE PSYCHE OF MARVEL'S BADDEST
New York, NY—July 14, 2016 — Marvel's Foolkiller steps into the spotlight this fall with a single quest: killing fools. Traditionally armed with a barrage of armaments, Foolkiller is adding a new weapon to his holster: a psychology degree and a desire to help villains reform. Problem is, if they DON'T succeed at reforming…well, he might have to kill them.
Series writer Max Bemis (X-Men: Worst X-Man Ever), accompanied with art from Dalibor Talajić (Deadpool Kills the Marvel Universe, Red Wolf), plan to take a deep dive into this antihero's mission to help and improve the Marvel Universe, one villain at a time.
Speaking with Comic Book Resources, Bemis said, "You have an antihero who's a vigilante, who enjoys getting into the minds of these people that, on face value, he would just shoot in the face. That's the basic plot set-up. It's really a fun set-up, and I get to do a lot with it."
The saying goes that therapists become therapists because they are the ones who need the most help and that adage holds true for Greg Salinger, a.k.a. Foolkiller, "For Greg, he's kind of an outsider in the normal person community, because he was a friggin' vigilante and he's actually a lunatic," continued Bemis. "I think all of my work will probably have that theme…there's always some kind of fish out of water-ish scenario, because that's my neurotic thing."
Lay back and prepare for some of the most demented villains of the Marvel Universe to unload all of their problems on the mental health merc ready to help their minds. And if not, then he may have to prescribe a more violent solution.  How does that make you feel?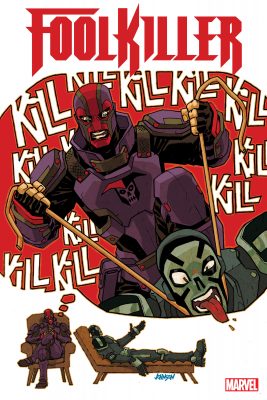 MARVEL TSUM TSUM #1 Brings Pint-Sized Heroes to the
Marvel Universe in Your First Look!
New York, NY—July 11th, 2016 — The global phenomenon is coming to the Marvel Universe, and they're getting their own series! Today, Marvel is proud to present your look inside MARVEL TSUM TSUM #1 – the all-new limited series coming this August! Writer Jacob Chabot (The Mighty Skullboy Army) and artist David Baldeon (Captain America, Web Warriors) bring you an in-continuity tale of these stackable sensations as they come face-to-face with their super hero counterparts, and the Marvel Universe at large!
In case you've been living under a rock, Tsum Tsums are HUGE! Well, not LITERALLY (they're actually pretty tiny) but these cute and cuddly creatures are sweeping the globe. So what happens when the Marvel Tsum Tsums find their way into the Marvel Universe? When a crate of these pint-sized piles of fur accidentally falls to Earth en route to The Collector, one small group of Brooklyn teenagers will find out! Oh – and did we mention the Marvel Tsum Tsums believe they're the real Marvel Heroes?
Featuring all your favorite Marvel heroes and villains, this new series is TSUM-thing you won't want to miss! Get in on all the action when MARVEL TSUM TSUM #1 comes to comic shops and digital devices everywhere next month!
MARVEL TSUM TSUM #1 (of 4) (JUN160823)
Written by JACOB CHABOT
Art by DAVID BALDEON
Cover by CHRIS SAMNEE
Variant Cover by GURIHIRU (JUN160824)
Classified Connecting Variant A (JUN160826),
Japanese Game Variant (JUN160827) and Photo Variant (JUN160825) Also Available
FOC – 07/11/16, On-Sale – 08/03/16
THANOS #1 Brings Ongoing Evil to Marvel NOW!
New York, NY—July 11th, 2016 — The Mad Titan comes to Marvel NOW! this Fall as the biggest bad in the Marvel Universe sets off on a solo journey to take back what is his! Today, Marvel is pleased to announce THANOS #1 – a brand-new ongoing series coming soon from all-star creators Jeff Lemire (Extraordinary X-Men, Moon Knight) and Mike Deodato (Avengers, Invincible Iron Man)!
"As to what makes Thanos so compelling, the easy answer is that he is so powerful and so evil," say writer Jeff Lemire, speaking with ComicBook.com. "This combination opens things up for a lot of story potential. But the truth is that it's Thanos' past that makes him so interesting. What motivates a god-like being like this? What makes him tick and what does he have left to fight for?"
Go inside the mind of the most dangerous foes in the Marvel Universe as he embarks on a quest to rise back to power. In his absence, the Mad Titan's iron grip on the cosmos has loosened. As he returns to the stars to terrorize the galaxy once more, reborn and reinvigorated – are there any that can stand in his way? Many will try – Thane, Starfox and others. Will they succeed where others have failed so many times?
It's good to be bad. Be there when unspeakable evil comes to Marvel NOW! in THANOS #1 – coming soon to comic shops and digital devices!
THANOS #1
Written by JEFF LEMIRE
Art by MIKE DEODATO
Cover by JEFF DEKAL
Coming Soon!