This week had some exciting announcements from Marvel for some upcoming comics.  First, more Star Wars fun, but this time a past tale with Anakin and Obi Wan.  Hip Hop variant covers are back for Marvel Comics, after the first series did so well.  Rocket Raccoon and Groot get their own series.  A new coloring book is coming with Max Ride artist at the helm.  A very intriguing mutant story with the X-Men is coming out with Worst X-Man Ever.  Finally, the two series that I find most interesting are A-Force and Haunted Mansion.  A-Force is the all female team of Avengers.  Haunted Mansion is just what it seems: Disney and Marvel teaming up to bring another epic limited series.  With that Disney series are a couple of collectible books for Haunted Mansion and Disney fans.
THE HAUNTED MANSION #1 Brings Grim Grinning Ghosts to Marvel in 2016!
New York, NY – December 4th, 2015 – The world famous attraction haunts Marvel Comics in 2016! And its residents are just dying to meet you! Today, Marvel Entertainment and Walt Disney Imagineering are proud to announce THE HAUNTED MANSION #1, the newest blockbuster limited series coming in March! Step inside foolish mortals, as rising comic stars Joshua Williamson (Illuminati, Ghosted) and Jorge Coelho (Loki: Agent of Asgard, Polarity) throw open the doors of the mansion for a delightfully chilling thrill ride!
Launching under the Disney Kingdoms banner, THE HAUNTED MANSION has been created in close partnership with the designers, producers and creative directors at Walt Disney Imagineering. Joining other critically-acclaimed Disney Kingdoms titles such as Figment, Figment 2, Big Thunder Mountain Railroad and Seekers of the Weird – Disney Kingdoms titles present exciting new adventures that expand upon the beloved, lands, attractions, characters and world of Walt Disney Parks and Resorts.
Speaking with Entertainment Weekly, Williamson says, "There are running themes throughout the whole series that we're going to be doing, but I think when people read all five issues, I want them to have that same feeling they have when they get off the ride. If I can accomplish that, then I really feel like I've done something with it. Whether you're a Marvel fan, a Haunted Mansion fan, a Disney fan, or even a comics fan, if you can get that feeling – that rush of fear and happiness — I think that would be great."
It seems that no one lives in the elegant mansion on the hill…but where then is that eerie organ music come from? Are its iron gates meant to keep people out…or keep some things in? Filled with wall-to-wall creeps and hot and cold running chills, the happy haunts of the Haunted Mansion come to (after) life like never before! Get ready to meet the 999 spooks lingering within. But be warned, they're looking for the 1000th! 
"The Haunted Mansion is one of the most iconic and beloved attractions at Disney Parks the world over," says Marvel SVP, Sales & Marketing David Gabriel. "And the Disney Kingdoms line is the perfect way for fans of comics and fans of the attraction to explore the mansion's hidden secrets and meet some of its many memorable characters."
Crypt doors will creak, and tombstones will quake. And the next spine-tingling Disney Kingdoms adventure is about to begin. What terrifying secrets lie deep within the mansion? Hop in your Doom Buggy and find out when THE HAUNTED MANSION #1 materializes in your local comic shop and on digital devices this coming March!
Additionally, Disney Publishing Worldwide will release multiple book titles in July 2016 based on the Haunted Mansion attractions from the Disney Parks including: Disney Parks Presents: The Haunted Mansion, a beautifully illustrated picture book that uses narration from the ride, all-new art, and comes with the song "Grim Grinning Ghosts" on a CD; and Tales from the Haunted Mansion Volume I: The Fearsome Foursome, the first book in an all-new chapter book series that features chilling tales about the ghosts who haunt the notorious Mansion, with eerie illustrations throughout and a beautiful three-piece cloth cover, the books are designed to look like they came straight from the library in the Haunted Mansion.
THE HAUNTED MANSION #1
Written by JOSHUA WILLIAMSON
Art by JORGE COELHO
Cover by E.M. GIST
On-Sale Print & Digital this March!
TALES FROM THE HAUNTED MANSION, VOL. I: THE FEARSOME FOURSOME
Written by mansion librarian Amicus Arcane
Transcribed by John Esposito
Illustrations by Kelley Jones
On-sale July 2016
DISNEY PARKS PRESENTS: THE HAUNTED MANSION
Includes a CD with Song!
Music by Buddy Baker
Lyrics by Xavier "X" Atencio
Illustrations by James Gilleard
On-Sale July 2016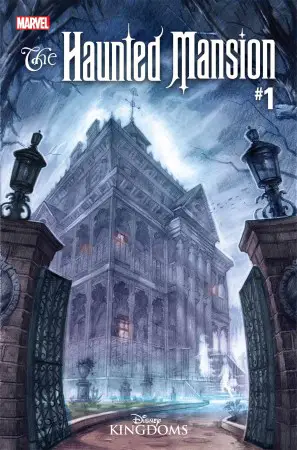 OBI-WAN AND ANAKIN #1 Unites
Master & Padawan For An Epic New Adventure!
                            Your First Look at the Newest Star Wars™ Limited Series!      
                 New York, NY—December 3rd, 2015 — Before their military heroism in the Clone Wars, before their tragic battle on Mustafar, and many decades before their confrontation on the Death Star…they were Master Obi-Wan Kenobi and his Padawan learner, Anakin Skywalker. Today, Lucasfilm Ltd. and Marvel Entertainment are pleased to present your first look inside OBI-WAN AND ANAKIN #1 – the newest Star Wars™ limited series from blockbuster creators Charles Soule (Lando, She-Hulk, Daredevil) and artist Marco Checchetto (Star Wars: Shattered Empire, Avengers World, Punisher)! Set between the events of Star Wars Episode I: The Phantom Menace and Star Wars Episode II: Attack of the Clones – it has been a few years since Obi-Wan pledged to train the young Anakin. Though they have grown closer through training, the road has been a difficult one. Now, called to a remote planet for assistance, Master and Padawan's skills will be put to the test. And their relationship will be pushed to the breaking point. Before they became brothers-in-arms during the Clone Wars, be there as Soule and Checchetto weave a tale of the Jedi at the height of their power, and the foundations of their doomed friendship. It all starts this January in OBI-WAN AND ANAKIN #1!
For more on Obi-Wan And Anakin, visit Marvel.com for an interview with creators Charles Soule and Marco Checchetto.
OBI-WAN AND ANAKIN #1 (NOV150910)
Written by CHARLES SOULE
Art & Cover by MARCO CHECCHETTO
Action Figure Variant by JOHN TYLER CHRISTOPHER (NOV150911)
Variant Covers by SIYA OUM (NOV150915) and SKOTTIE YOUNG (NOV150912)
Classic Variant by KEVIN NOWLAN (NOV150916)
Movie Variant Also Available (NOV150914)
Blank Cover Variant Also Available (NOV150913)
FOC – 12/07/15, On-Sale – 01/06/15
Marvel's Mightiest Assemble in Your First Look at A-FORCE #1!
    New York, NY—December 2nd, 2015 — From the ashes of Battleworld, they rise. A new super team for a new era. Today, Marvel is pleased to present your first look at A-FORCE #1, the brand new ongoing series and follow up to the smash-hit Secret Wars series. Blockbuster creators G. Willow Wilson and Jorge Molina return from Battleworld in force, but they're not alone. Marvel's newest hero Singularity has returned from the breach, making landfall in the Marvel Universe. Yet much has transpired in the eight months since the end of Secret Wars. To combat the most fearsome threats from across the multiverse, she'll re-assemble this world's mightiest group of Avengers to her side: She-Hulk, Captain Marvel, Dazzler, Medusa and Nico Minoru – even if they don't remember her! Together, they are the unstoppable A-Force! And they are A FORCE to be reckoned with! Don't miss their explosive debut this January in the can't-miss A-FORCE #1!
A-FORCE #1 (OCT150736)
Written by G. WILLOW WILSON
Art & Cover by JORGE MOLINA
Hip-Hop Variant by ADAM HUGHES (OCT150737)
Variant Cover by VICTOR IBANEZ (OCT150738)
Marvel '92 Variant by J. SCOTT CAMPBELL (OCT150739)
Cosplay Variant by JAY JUSTICE (OCT150740)
FOC – 12/07/15, On-Sale – 01/06/15
Marvel's Hip-Hop Variants Return to
Comic Shops For First Ever HIP-HOP VARIANT SAMPLER!
Get 14 of the Most Popular Hip-Hop Variants with this FREE Sampler!
New York, NY—November 30th, 2015—As All-New All-Different Marvel charges ahead, bringing the comics industry the most-popular characters, the biggest creators, and more – this blockbuster initiative also brought fans the red-hot sold out Hip-Hop Variant covers. Today, Marvel is pleased to announce fans will have another chance to get their hands on some of these exiting homages with the Hip-Hop Variant Sampler! Hitting comic shops on January 6th, this FREE sampler will help kick off the new year with a bang, bringing 14 of the most popular Hip-Hop Variants so back to comic shops!
"The hip-hop variants were a really special initiative that caught fire in the outside world," says Marvel Editor-in-Chief Axel Alonso, speaking with the New York Times. "We thought this was a great opportunity to highlight that and make it available to fans for free."
At the intersection of Marvel comics and the world of hip-hop, this unique line of variant covers inspired by some of the most iconic and well received albums of all time has garnered mass-media attention the world over. Now, Marvel is starting 2016 off by bringing these sold-out covers back to comic shops!
"The Hip-Hop Variant Sampler is our way of saying thank you to the fans, but also to the retailers who have made All-New, All-Different Marvel a massive success," says Marvel SVP, Sales & Marketing David Gabriel. "With the Hip-Hop variant covers being such a huge draw, our goal is to draw fans back to their local comic shop after the holidays end."
Featuring art by industry legends, rising stars, and creators behind some of the explosive new Marvel titles – this FREE sampler features the following 14 Hip-Hop Variants, reprinted and represented for fans:
· Invincible Iron Man #1 by Brian Stelfreeze
· Doctor Strange #1 by Juan Doe
· Ms. Marvel #1 by Jenny Frison
· Extraordinary X-Men #1 by Sanford Greene
· Moon Girl and Devil Dinosaur #1 by Jeffrey Veregge
· All-New, All-Different Avengers #1 by Jim Cheung
· Amazing Spider-Man #1 by Mike Del Mundo
· Contest of Champions #1 by Denys Cowan & Bill Sienkiewicz
· Vision #1 by Vanesa Del Ray
· All-New X-Men #1 by Ed Piskor
· Web Warriors #1 by Damion Scott
· All-New Inhumans #1 by Marco D'Alfonso
· All-New Wolverine #1 by Keron Grant
· Captain America: Sam Wilson #1 by Mahmud Asrar
Hip-Hop and Marvel unite once more, joining these two unique forces together to celebrate the exciting world of comics, and the sound of a generation. Missed out on these red-hot variants the first time? Run, don't walk to your local comic shop to get your copy of the Hip-Hop Variant Sampler when it drops on January 6th!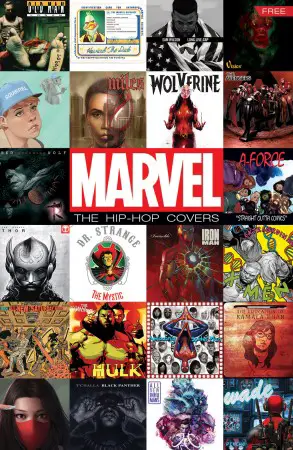 An Outcast Among Outcasts in X-MEN: WORST X-MAN EVER #1!
New York, NY—December 01st, 2015 — This January, experience a tale of the misfit among the misfits. Today, Marvel is pleased to present your first look inside X-MEN: WORST X-MAN EVER #1, the new series written by Say Anything frontman Max Bemis (A+X) with artist Michael Walsh (Secret Avengers, Hank Johnson: Agent of Hydra)! Bailey Hoskins has just discovered he is a mutant. For someone who's never been special, never stood out, discovering he's "gifted" is truly a gift. And with that gift comes the most exciting opportunity of all – entry into the hallowed halls of Xavier's School for Gifted Children and into the ranks of the world-famous X-Men! But unfortunately for him…he might just be the worst X-Man ever. Welcome to the X-Men, Bailey…hope you survive the experience! Debuting digitally this January, be there as Bailey embarks on his first journey into the center of the Marvel Universe in X-MEN: WORST X-MAN EVER #1!
X-MEN: WORST X-MAN EVER #1 (of 5)
Written by MAX BEMIS
Art & Cover by MICHAEL WALSH
Pre-Order Now. On-Sale in January!
ROCKET RACCOON & GROOT #1 Brings You
Out-of-This-World Adventure in January!
New York, NY—December, 3rd 2015 — There's a new criminal mastermind in the galaxy, and his name is….Rocket Raccoon?! You heard right, True Believer. Today, Marvel is pleased to present your first look at ROCKET RACCOON & GROOT #1 – the highly anticipated new series from Eisner Award winner Skottie Young (Rocket Raccoon) and fan-favorite artist Felipe Andrade (Figment, Siege)! Everyone's favorite spacefaring duo are back for more explosive intergalactic escapades. But just how did Rocket become the galaxy's most wanted criminal? More importantly, why can't he remember who he was?! Only Groot holds the secret to Rocket remembering his identity, but he's not talking. Well he is talking, but all he's saying is….you get the picture. Diabolical danger, madcap mysteries, and astonishing adventure await you this January in the can't miss ROCKET RACCOON & GROOT #1!
ROCKET RACCOON & GROOT #1 (NOV150745)
Written by SKOTTIE YOUNG
Art by FELIPE ANDRADE
Cover by SKOTTIE YOUNG
Variant Cover by SUPERLOG (NOV150746)
Hip-Hop Variant by KHARY RANDOLPH (NOV150747)
Action Figure Variant by JOHN TYLER CHRISTOPHER (NOV150748)
Deadpool Variant by TODD NAUCK (NOV150749)
Cosplay Variant by HURLEY FX (NOV150750)
FOC – 12/07/15, On-Sale – 01/06/15
MARVEL COMICS AND JAMES PATTERSON ANNOUNCE
"COLOR YOUR OWN JAMES PATTERSON"

Latest Expansion to Marvel's Line of Adult Coloring Books
New York, NY—December 4th, 2015— You've read his groundbreaking stories. Now it's time to experience Marvel and James Patterson's adventures of the "flock" – Max, Fang, Iggy, Nudge, Gasman and Angel like you never have before – as a coloring book!
Today, Marvel and James Patterson, are pleased to announce the most recent expansion to Marvel's line of Adult Coloring Books with COLOR YOUR OWN JAMES PATTERSON! One of comics' mightiest team-ups, Marvel Comics and James Patterson, have produced action, excitement and adventure with "Max Ride" and now all they need is YOU!
"'Max Ride' was always intended to capture the imagination of its worldwide fans and now with Marvel's COLOR YOUR OWN JAMES PATTERSON, fans of the series, both those familiar and those unaccustomed, now have the chance to truly make this adventure their own by adding their own personal touch to Maximum and the flock," says Maximum Ride author, James Patterson.
"Over the past couple of years, Adult Coloring Books have soared in popularity across various genres," says David Gabriel, Marvel's SVP Sales and Marketing.  "Fans of James Patterson's Max Ride can add their own style to this brand new comic series with this latest addition to Marvel's line of Adult Coloring Books. This truly is a way for fans of Marvel and 'Max Ride' to be a part of the creative process and bring their personal artistic style to this high-flying adventure."
Coming in 2016, COLOR YOUR OWN JAMES PATTERSON follows the soaring adventures of the "flock" – Max, Fang, Iggy, Nudge, Gasman and Angel – a group of ordinary teenage kids – only they are the product of genetic tampering that has given them extraordinary abilities, but their lives quickly morph into a living nightmare as they try to escape their creators and defend themselves from half-human, half-wolf "Erasers". Along the way Max discovers her purpose – saving the world – but can she?
So dig out those crayons, markers and colored pencils and prepare to let your creativity take flight. But don't forget your imagination – you're going to need it! Channel your creative energies, unwind after a hard day's work, or just relive your childhood memories!
Pre-order your copy of COLOR YOUR OWN JAMES PATTERSON and look for Marvel's additional Adult Coloring Books with Color Your Own Age of Ultron, Color Your Own Deadpool, Color Your Own Civil War and Color Your Own Little Marvel By Skottie Young available in 2016!