The first trailer for Indiana Jones 5 has been released, along with the official title for the film. Indiana Jones and the Dial of Destiny will be arriving in theaters on June 30, 2023. It will again have Harrison Ford donning the fedora and coat. He will be joined by Phoebe Waller-Bridge, Antonio Banderas, John Rhys-Davies, Shaunette Renee Wilson, Thomas Kretschmann, Toby Jones, Boyd Holbrook, Oliver Richters, Ethann Isidore, and Mads Mikkelsen. The score will be written by John Williams and James Mangold is directing.
The trailer gives a look at what Indy will be up against in the coming film and who he will be facing it with. It also shows what a de-aged Indiana Jones look like. Check out the trailer below and then scroll down to read thoughts on it and share yours!
Indiana Jones and the Dial of Destiny Official Trailer
Indiana Jones and the Dial of Destiny Official Poster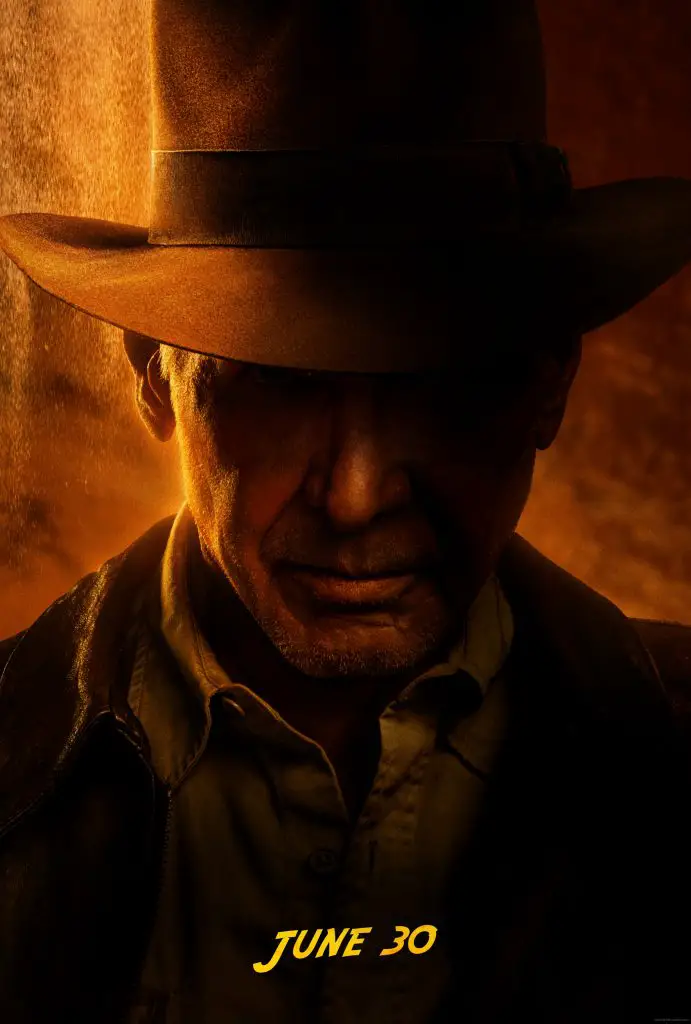 Indiana Jones and the Dial of Destiny Official Description
Harrison Ford returns as the legendary hero archaeologist in the highly anticipated fifth installment of the iconic "Indiana Jones" franchise, which is directed by James Mangold ("Ford v Ferrari," "Logan"). Starring along with Ford are Phoebe Waller-Bridge ("Fleabag"), Antonio Banderas ("Pain and Glory"), John Rhys-Davies ("Raiders of the Lost Ark"), Shaunette Renee Wilson ("Black Panther"), Thomas Kretschmann ("Das Boot"), Toby Jones ("Jurassic World: Fallen Kingdom"), Boyd Holbrook ("Logan"), Oliver Richters ("Black Widow"), Ethann Isidore ("Mortel") and Mads Mikkelsen ("Fantastic Beasts: The Secrets of Dumbledore"). Directed by James Mangold, the film is produced by Kathleen Kennedy, Frank Marshall and Simon Emanuel, with Steven Spielberg and George Lucas serving as executive producers. John Williams, who has scored each Indy adventure since the original "Raiders of the Lost Ark" in 1981, is once again composing the score.
So What Do You Think?
There is a lot to like about this trailer. From the start with Sallah talking about missing the adventures of the old days it sets things out for where this film is taking place in their lives nicely. As the trailer moves forward showing an older Indiana Jones who is now more professor than adventurer, it appears that life has changed quite a bit for Indy. However, then things change and we get a lot of classic Indiana Jones in a new age and setting. This includes the hat, the coat, the whip, riding horses, fighting bad guys, and the humorous moments that sets an Indiana Jones movie apart from other action or adventure films. The de-aging technology of Harrison Ford as Indiana Jones was also quite impressive. I love how it appears that this film will not only be another adventure of Indiana Jones, but also already looks like it will be wrapping up all of Indy's adventures in a beautiful bow. I have already been excited about this film as pictures have been shared in the last week or two. Now, seeing where things are going in this trailer, I can't wait for June 30th to come! I also can't wait to hear the score the John Williams writes for this film. It is very hard to beat one of his Indiana Jones scores in my humble opinions!
What did you think of Indiana Jones and the Dial of Destiny trailer? What do you think of the name? Share your thoughts and opinions in the comments below!