On June 21, 2022, in honor of World Music Day, Disney+ will stream Harmonious Live! This will be hosted by Idina Menzel (Frozen, Frozen 2) who will be joined by special guest Auli'i Cravalho (Moana). This special performance of EPCOT's Nighttime Spectacular will be streamed on Disney+ in the United States and Canada at 9:00 ET/6:00 PT on Tuesday, June 21, 2022.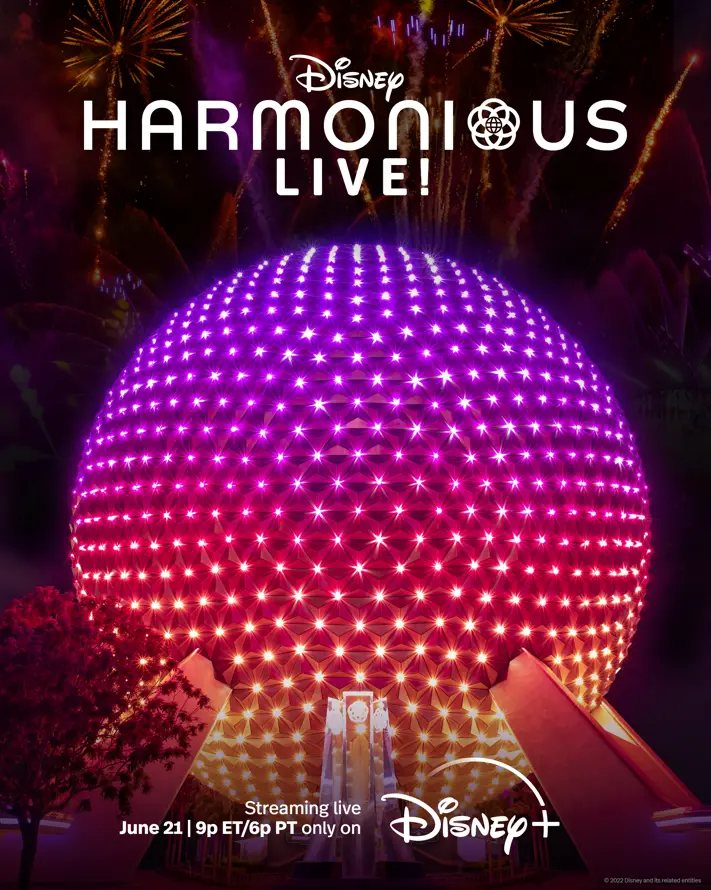 Harmonious includes a culturally diverse group of 240 artists from around the globe that come together vocally and instrumentally to share a medley of reinterpreted Disney music to represent the different cultures from around the globe.
Harmonious Live! Description
"Harmonious Live!" will give viewers the best seat in the house to one of the largest nighttime spectaculars ever created at Disney Parks. Through an innovative combination of floating giant screens, choreographed moving fountains, lights, pyrotechnics and lasers, audiences can enter the amazing worlds inspired by "Moana," "Aladdin," "Coco," "The Lion King," "Mulan," and other classic stories. Colorful animations and effects dance and transform as Harmonious weaves familiar Disney music and stories together in brand new ways. Through unique perspectives as diverse as the world itself, the soundtrack embraces multiple languages as the show brings cultures from around the world together to unlock the magic of possibility, showing Disney music and stories have the power to inspire and unite us all.
Harmonious Live! will remain on Disney+ after the livestream for subscribers to watch at their leisure.
Harmonious
Harmonious officially debuted at EPCOT on October 1, 2021, as part of Walt Disney World Resort's 50th Anniversary Celebration. The show celebrates Disney music and stories that unite the world and unlock the magic of possibility. The songs are performed in a manner consistent with the area of the world they represent. The DAPS MAGIC team was on hand for Walt Disney World's 50th Anniversary Celebration kickoff and filmed Harmonious.
Harmonious is organized into three main sections. They are Gather, Celebrate, and Unite. The soundtrack for the show was released last year and can be seen and heard below.
What do you think of Harmonious being streamed on Disney+ for Harmonious Live! on June 21? Are you excited to watch it? Have you seen it in person? What did you think of it? Share your thoughts and opinions in the comments below!