The soundtrack for Disney's Raya and the Last Dragon is now available for ahead of the films release in one week. The soundtrack includes a score by James Newton Howard and an original song called Lead the Way that is written and performed by Jhené Aiko. The soundtrack is now available on streaming services.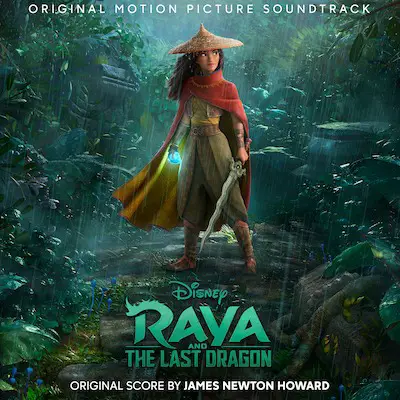 The track list for Raya and the Last Dragon includes the following:
Lead the Way – Jhené Aiko (3:43)
Prologue (5:44)
Young Raya and Namaari (3:26)
Betrayed (4:34)
Search for the Last Dragon (1:13)
Into the Shipwreck (2:52)
Enter the Dragon (0:52)
Fleeing from Tail (1:22)
Captain Boun (1:02)
Journey to Talon (1:19)
Sisu Swims (1:44)
Dragon Graveyard (2:53)
Escape from Talon (3:42)
Noi and the Ongis (2:32)
Being People Is Hard (4:05)
Spine Showdown (3:26)
Running on Raindrops (2:11)
Plans of Attack (1:15)
Brothers and Sisters (3:58)
The Meeting (3:19)
Storming Fang (4:09)
The Druun Close In (2:58)
Return (4:58)
The New World (2:35)
Raya and the Last Dragon will be in theaters or on Disney+ with Premiere Access on March 5, 2021. Are you looking forward to it? Are you going to listen to the soundtrack ahead of time? Have you listened to it already? Share your thoughts and opinions in the comments below!