The Boysenberry Festival at Knott's Berry Farm is almost here!  There is so much to eat and see at the festival that it's sometimes hard to start.  Here are the top 5 food items and a couple of suggestions for what to do at this year's festival.
Top 5 Boysenberry Festival Food
5. Samosa's with Boysenberry Chutney – Wagon Wheel Pizza
This great Indian cuisine item is new to this year's festivities.  It features a chutney with Boysenberry flavor and has a good blend of savory and sweet.  It's a good bite-sized item that isn't too filling, but very good!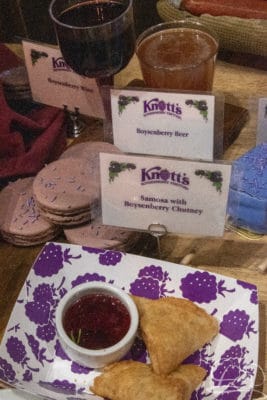 4. Pastrami Sandwich on a Pretzel Bun – Wilderness Broiler
Pastrami sandwiches are usually quite good, but having a Boysenberry mustard to top it off makes it even better!  The version I had was a slider-style sandwich, but it most likely will be a full-sized one at the Broiler.  It has excellent pastrami slices and the mustard had a good balance of the berry flavor with the mustard.  An excellent meal choice.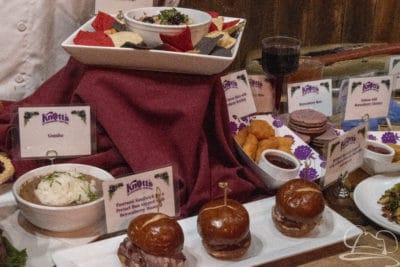 3. Pork Bao Bun Dumpling with Boysenberry Kimchi – Spurs Chophouse
This dim sum treat was a great tapas size portion of a dumpling with kimchi.  The kimchi had a spicy kick to it while retaining some berry flavor.  The bao had a great flavor.  If you're concerned with the berry flavor in the bao, there is very little.  It is paired well with the kimchi for a filling snack.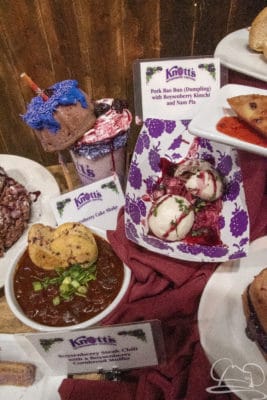 2. Brussel Sprouts with Boysenberry Balsamic Dressing and Bacon – Pemmican Pickle Booth
Now, I must preface that I am not a fan of Brussel sprouts.  I hate them.  Usually.  For me to put this as the number two item to get means they are really good!  They were tender and had a wonderful berry glaze that overpowered the flavor of the sprouts.  What is also great is that the bacon is optional, so any vegan fans out there can eat these without any problems!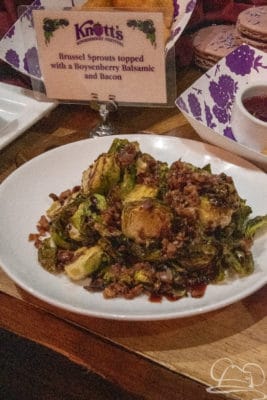 1. Boysenberry Chicken Mole on Cilantro Rice – Wagon Wheel Pizza
I need to give the number one item to the mole.  Mole isn't always heavily flavored to me at times, but this had a great sweet Boysenberry flavor with some tangy, savoriness.  It was nicely balanced in a near rice bowl meal portion.  I liked the great balance of flavor because many of the food items will be heavier in the sweet or savory.  It is well worth getting and eating for one of your mealtime items.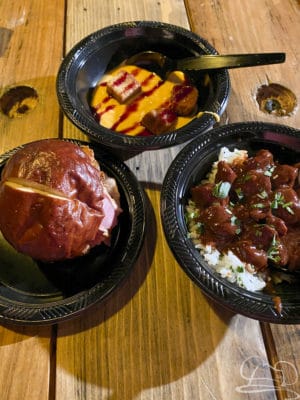 What to Do
Food isn't the only thing to do at the Boysenberry Festival.  There is some toe-tapping entertainment to watch.  Snoopy's Boysenberry Jamboree is a great stage show at the Calico Mine Stage that has great songs and the Peanuts Gang.  It's worth stopping and clapping along during the day.  The Bird Cage Theatre has had a grand tradition of melodramas.  For a few years now there has been Boysenberry Bedlam.  This year a brand new presentation called Riverboat Revenge will make its debut.  Having watched the previous several times I am looking forward to this new melodrama in grand, corny Knott's fashion!  As always, Krazy Kirk and the Hillbillies will be performing at night at the Wagon Camp stage.  This bluegrass group is always a hoot to watch and have fun with.
This list is not limited to all there is!  Definitely check out all our coverage as we share more on the Boysenberry Festival including this post here.  There is so much to see and do it is well worth getting a Season Pass just for the festival!  If not I think it's not possible to eat all of the delicious food.  The Festival starts on March 20!
Daps Magic received a sample product or experience for this review in exchange for an honest review. The views of the reviewer are wholly their own. Read full disclosure policy here.