Jump to recipe
There are so many magical things to enjoy when staying on a Disney property around the globe. Some of the magic comes from characters, entertainment, experiences, or attractions. Sometimes though, the magic can come from the food that is experienced while staying at a Disney resort. Sometimes, the magic comes from making food at a Disney resort, just like you can in a kitchenette at Aulani!
The Disney Parks Blog shared a recipe by food blogger Jenny Flake for making culinary magic at Aulani. Today, DAPS MAGIC is sharing that recipe with you to do the same at home! Enjoy creating this dish and making a little Disney magic in the comfort of your own home and kitchen! Give it a try and then let us know what you thought of it!
Strawberry Macadamia French Toast Bake - GEEK EATS Disney Recipe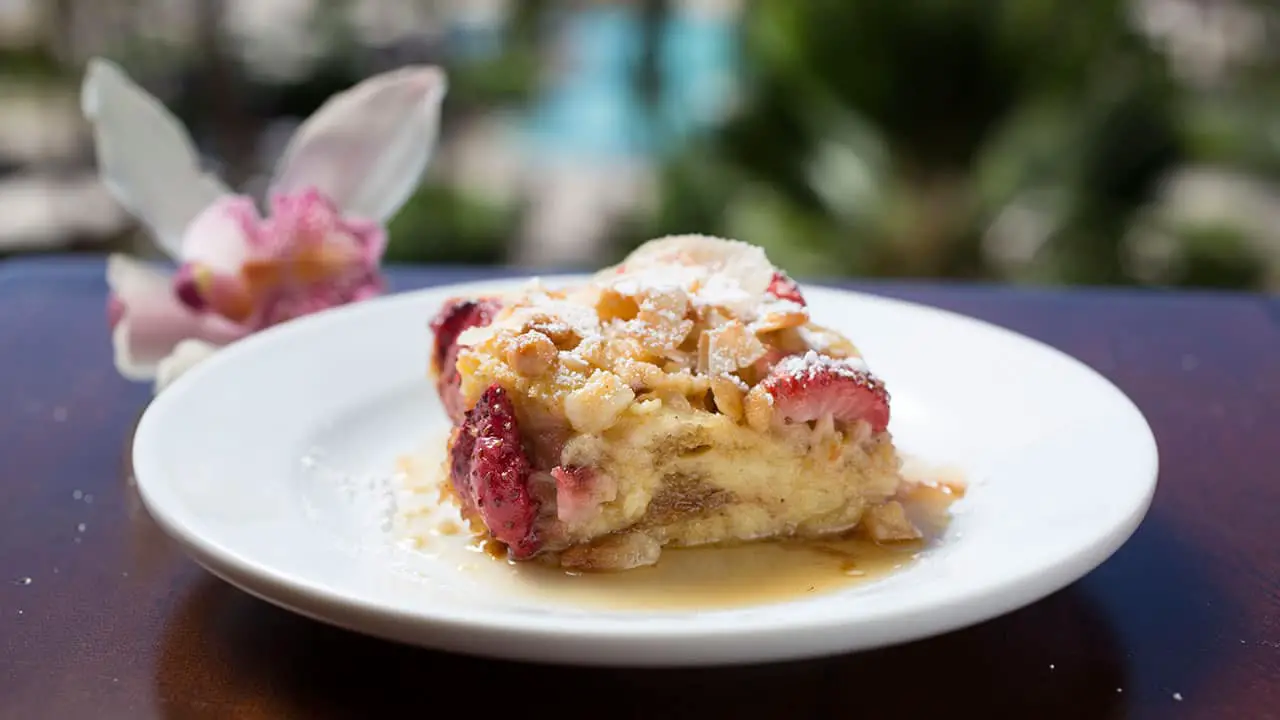 Ingredients
3 cups cubed French bread
3/4 cups fresh strawberries sliced
1/2 cup macadamia nuts, chopped
3/4 cups heavy whipping cream
4 large eggs
1/4 cup light brown sugar, packed
1/4 teaspoon ground cinnamon
1/2 teaspoon pure vanilla extract
1/4 teaspoon kosher salt
1/4 cup powdered sugar
1/2 cup pure maple syrup
1/2 cup toasted sweetened coconut shavings
Instructions
Preheat oven to 350 degrees F. and lightly spray baking dish with non-stick cooking spray.
Place cubed bread, strawberries and macadamia nuts into baking dish.
Place cream, eggs, brown sugar, cinnamon, vanilla, and salt into a large bowl, whisk to combine.
Pour evenly over bread mixture. Bake for 35-40 minutes or until set.
Remove and let cool for 10 minutes before cutting into squares.
Dust with powdered sugar and garnish with toasted coconut shavings if desired and drizzle with pure maple syrup.
© 2023 dapsmagic.com