Disney Festival of Holidays is in full swing at the Disneyland Resort. Guests are now enjoying various food and beverage offerings at the festival at Disney California Adventure. With the incredible entertainment offerings of the season, it is the perfect time of year to go to the Disneyland Resort and celebrate with those you hold dear. This dish is found at A Twist on Tradition. You can read all about them on our Disney Festival of Holidays Food Guide.
For those who want to bring a taste of Disney Festival of Holiday home with them, Disney has shared with DAPS MAGIC the recipe for the Reuben Tots with Russian Dressing and Rye Toast Crumble. This is a delicious dish at Disney California Adventure. Definitely try it in the park and then try it in your kitchen! Then, share your experience with us!
Serving Size
Serves 4 as an appetizer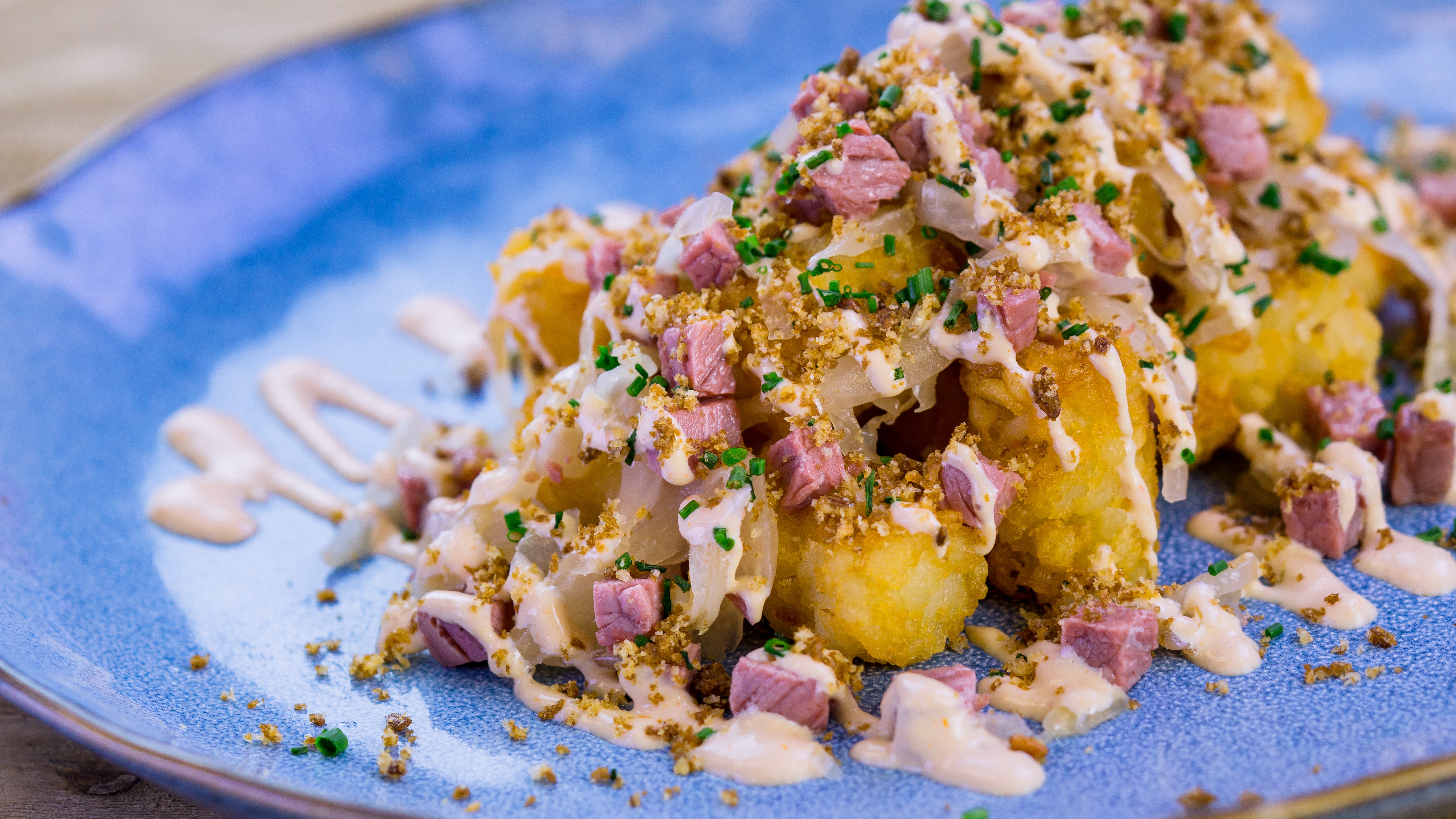 Ingredients
RUSSIAN DRESSING
1/2 cup mayonnaise
1 1/2 tablespoons ketchup
1/8 teaspoon Worcestershire sauce
1/2 teaspoon prepared horseradish
1 1/2 teaspoons dill pickle relish
1 1/2 teaspoons chopped parsley
1 1/2 teaspoons chopped onion
1/4 teaspoon ground chipotle pepper
1/2 teaspoon coarse salt
1/4 teaspoon freshly ground black pepper
RYE CRUMBLE
2 tablespoons unsalted butter, melted
2 cloves garlic, chopped
1/2 teaspoon salt
2 slices rye bread, cut into 1/2-inch cubes
REUBEN TOTS
1 pound tots, cooked according to package directions
1/4 pound corned beef, diced
1/2 cup sauerkraut
1 bunch chives, chopped
© 2020 dapsmagic.com
2019 Holidays at the Disneyland Resort
Sorry, there was a YouTube error.