A lot has followed the New York Comic Con.  But, a highlight is the return of the Excalibur team for their anniversary.  It was an X-Men spin-off series that took place in Europe (mostly) and brought some now popular characters much more to the forefront.  Another big announcement is the formal return of Phoenix/Jean Grey as we've known her.  Also take a look at big stories coming up like in Daredevil and Moon Knight, and a new crossover with Venom and the X-Men.  Reprints and variant cover news is down below as well.
Excalibur Returns in X-MEN GOLD ANNUAL #1!
The classic team reunites in honor of its 30th anniversary
New York, NY—October 11, 2017— This January, get ready for an X-Men story so big, Marvel enlisted two superstar writers to bring it to life. Written by Marc Guggenheim (X-Men Gold) and Leah Williams (Secret Empire: Brave New World) with art by Alitha E. Martinez (Black Panther: World of Wakanda), the original Excalibur team will reunite for an exciting adventure that both long-time fans and new fans can enjoy.
But getting the gang back together proves to have its own challenges…and who is the new Braddock bundle of joy?
"Since the launch of ResurrXtion, fans have been wondering when the classic Excalibur team would come together again," said series editor Chris Robinson. "With this Annual, Marc, Leah, and Alitha have painstakingly put together a love letter to them and the classic series we're all still talking about!"
With a cover by Excalibur co-creator and industry legend Alan Davis, don't miss all the action in X-MEN GOLD ANNUAL #1, coming to comic shops this January!
X-MEN GOLD ANNUAL #1
Written by MARC GUGGENHEIM & LEAH WILLIAMS
Art by ALITHA E. MARTINEZ
Cover by ALAN DAVIS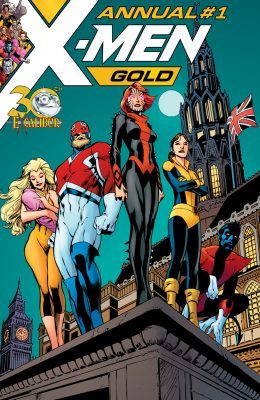 Rising From The Ashes! PHOENIX RESURRECTION: THE RETURN OF JEAN GREY
Your first look at all 5 epic covers, plus Jean Grey #11!
New York, NY—October 10, 2017—This January, fan-favorite mutant Jean Grey returns to the X-Men and the Marvel Universe…and she's not alone. Do Jean and Phoenix bring the world life? Or is the destruction of the universe imminent? The mystery unfolds in this five-part epic from blockbuster writer Matthew Rosenberg, featuring five different superstar artists, including startling 3D motion covers with art by Leinil Yu!
And what about young Jean Grey, currently time displaced in the Marvel Universe and battling her own Phoenix visions? It all culminates in JEAN GREY #11, the critical PHOENIX RESURRECTION tie-in which will see young Jean fighting her biggest psych war yet – against the Phoenix!
Don't miss the event everyone will be talking about – PHOENIX RESURRECTION: THE RETURN OF JEAN GREY arrives in comic shops this January!
PHOENIX RESURRECTION #1 (of 5)
Written by MATTHEW ROSENBERG
Art by LEINIL FRANCIS YU
Cover by LEINIL FRANCIS YU
PHOENIX RESURRECTION #2 (of 5)
Written by MATTHEW ROSENBERG
Art by CARLOS PACHECO
Cover by LEINIL FRANCIS YU
PHOENIX RESURRECTION #3 (of 5)
Written by MATTHEW ROSENBERG
Art by JOE BENNETT
Cover by LEINIL FRANCIS YU
PHOENIX RESURRECTION #4 (of 5)
Written by MATTHEW ROSENBERG
Art by RAMON ROSANAS
Cover by LEINIL FRANCIS YU
PHOENIX RESURRECTION #5 (of 5)
Written by MATTHEW ROSENBERG
Art by KHOI PHAM
Cover by LEINIL FRANCIS YU
JEAN GREY #11: PSYCH WAR PART 4
Written by DENNIS HOPELESS
Art by VICTOR IBANEZ and ALBERTO ALBURQUERQUE
Cover by DAVID YARDIN
MAYOR FISK!
Kingpin Rules In DAREDEVIL #595!
Your first look at the new Legacy issue!
New York, NY—October 12, 2017—There's a new mayor in town…Mayor Fisk, that is. After his rise to the top, Matt Murdock's classic foe takes center stage as Marvel Legacy hits DAREDEVIL #595, written by Charles Soule with art by Stefano Landini.
Matt Murdock has always had the law on his side, but now that Manhattan is under new rule, the tables have been turned: and it's the vigilante hero who is on the outside of the law, with the Mayor of Crime ruling over Manhattan.
""MAYOR FISK is really about just one thing: Kingpin becomes…the king," says series writer Charles Soule. "On page 1 of the story, Wilson Fisk has already become the mayor, with all of the power and resources that come with the position. So, Daredevil has lost the one thing he thought he could always rely on, the place he was sworn to protect: New York City. From there, we see how, and if, he can fight to win it back."
"The entire DEFENDERS Legacy storyline, KINGPINS OF NEW YORK, is about the power vacuum left in the underworld now that Fisk has become Mayor and gone legit, and how a number of players start a big gang war attempting to fill it," added SVP and Executive Editor Tom Brevoort.
But Mayor Fisk's rule won't just affect the street team – all Marvel characters will feel his power! For fans who have been looking for a closer connectivity within the Marvel Universe, DAREDEVIL #595 is a perfect jumping off point.
"The nice thing about the story is that Fisk isn't just mayor in Daredevil," said Soule. "It happens in every book across the Marvel Universe. So, every street-level hero (and even the Avengers-types) will feel the pressure from Fisk's term in office. As you might imagine, he makes New York a very uncomfortable place for anyone who dares to call themselves a superhero. I've been building to MAYOR FISK since my first issue on the title, and it's designed to be a huge epic in the best Daredevil-Kingpin tradition."
"The Mayor's reach can even be felt beneath the city streets in VENOM, where he's deputized Kraven the Hunter to exterminate Stegron's subterranean community of dinosaur-people," added editor Devin Lewis.
The Kingpin's rule begins this November, when DAREDEVIL #595 hits comic shops!
DAREDEVIL #595
Written by CHARLES SOULE
Art by STEFANO LANDINI
Cover by BILL SIENKIEWICZ
FOC – 10/16/17, On-Sale – 11/08/17
A New Enemy Rises in MOON KNIGHT #188!
Your first look as Max Bemis and Jacen Burrows take on the Marvel superhero!
New York, NY—October 11, 2017—Everyone's favorite superhero oddball is about to have a new beginning in Marvel Legacy, as Max Bemis and Jacen Burrows have teamed up for an explosive story in MOON KNIGHT #188.
"Max and I are really striving to put something together that is unique and interesting while drawing from Moon Knight's long history," said series artist Jacen Burrows. "This next chapter in Moon Knight's life is going to permanently affect this character's path and we are working hard live up to the task."
While Moon Knight may have vanquished his mental demons, it doesn't mean that he's not in for trouble with a mysterious new nemesis – a dangerous enemy who will change his life forever and keep him from the shadows.
"Moon Knight has been in a sort of creative renaissance since Warren Ellis and Declan Shalvey relaunched the character in 2014, all the way through the amazing arc recently completed by Jeff Lemire, Greg Smallwood and company," said Burrows. "We hope to continue this by making the next important chapter in Marc Spector's life thought provoking, intense, a little scary, and a little funny."
MOON KNIGHT #188
Written by MAX BEMIS
Art and Cover by JACEN BURROWS
FOC – 10/16/17, On-Sale – 11/08/17
POISON X Brings The X-Men and Venom Together!
The 6-part crossover with Venom and X-Men Blue begins this January!
New York, NY—October 11, 2017— In the far reaches of space, the Poisons attack the Marvel Universe – but who exactly are these new enemies, and what destruction are they planning to unleash on Earth? This is just the beginning of Poisons diabolical plot to overthrow the Marvel Universe…and it requires an unexpected team-up! This January, the Children of the Atom will join forces with Eddie Brock for a 6-part crossover that begins in X-MEN BLUE ANNUAL #1!
First seen in VENOMVERSE, the Poisons pose a threat that can only be stopped by the X-Men – and Venom. When the X-Men drag Venom into space for help, it turns out that they're going to need to save the universe from something a little scarier than their own troubles, and Eddie Brock and his faithful Symbiote might be the only thing that can help stop it!
Don't miss the crossover everyone will be talking about – POISON X starts this January with X-MEN BLUE ANNUAL #1!
X-MEN BLUE ANNUAL #1
Written by CULLEN BUNN
Art by EDGAR SALZAR
Cover by NICK BRADSHAW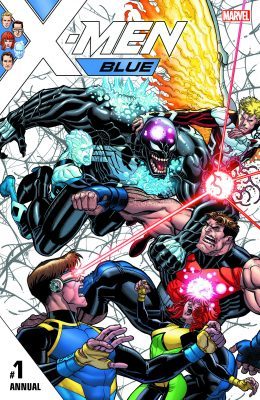 Jen Walters Faces Her Biggest Battle Yet in SHE-HULK #159!
It's Jen vs The Leader!
New York, NY—October 13, 2017—The once-green (now gray) goliath otherwise known as Jen Walters is reclaiming her name in Marvel Legacy – starting in SHE-HULK #159! And series writer Mariko Tamaki is being joined by new series artist Jahnoy Lindsay to blast off this Legacy run.
Since Bruce Banner's death, Jen has been going through her own issues as she attempts to get used to being Hulk again and regain control of her life. Now, she'll face the classic Hulk villain The Leader…who is more obsessed with Jen's Hulk persona than ever before, now that Jen has been changed by her previous adventures.
The Leader's goal is simple–Kill Jen Walters…but is that even possible? And where does that leave Hulk?
A perfect jumping on point for fans old and new, don't miss SHE-HULK #159, in comic stores this November!
SHE-HULK #159 (SEP170842)
JEN WALTERS MUST DIE PART 1
Written by MARIKO TAMAKI
Art by JAHNOY LINDSAY
Cover by MIKE DEODATO JR.
FOC – 10/16/17, On-Sale – 11/08/17
Frenemies Are Brought Together in SPIDER-MAN/DEADPOOL #23!
The Merc with the Mouth teams up with the web-crawler for Marvel Legacy!
New York, NY—October 13, 2017—The tables have turned. No longer an Avenger, Deadpool is living a life of crime. There's only one super hero who can guide him to the right path and that's…Spider-Man?! That's the Marvel Legacy story that will begin in November, when Robbie Thompson (Doctor Strange and the Sorcerer's Supreme) teams with artist Chris Bachalo for SPIDER-MAN/DEADPOOL #23.
The Merc with the Mouth and the webslinger may have their differences, but they've got one thing in common: they're both at odds with each other. And despite Spider-Man's best efforts, Deadpool is back to his old ways – he's become an arms dealer in the absence of S.H.I.E.L.D.
But Spider-Man determined to bring his frenemy back to the right side of the law. And when a familiar villain from Spider-Man's past makes an appearance, the two super heroes have no choice but to team up to save the world!
SPIDER-MAN/DEADPOOL #23 arrives in comic shops this November!
SPIDER-MAN VERSUS DEADPOOL #23
Written by ROBBIE THOMPSON
Art and Cover by CHRIS BACHALO
FOC – 10/16/17, On-Sale – 11/08/17
Marvel's AVENGERS VARIANTS Celebrate Earth's Mightiest Heroes!
Featuring art by Mike del Mundo, Adi Granov, and more
New York, NY—October 12, 2017— This January, Earth's greatest heroes will unite for AVENGERS NO SURRENDER, a weekly saga combining the cast and creative teams of three Avengers titles into one epic story. In celebration of Earth's Mightiest Heroes, Marvel is proud to announce its AVENGERS VARIANT COVER PROGRAM. Showcasing different eras of Avengers rosters through the years, the covers feature art by some of the industry's top creators, including Mike del Mundo, Esad Ribic, John Cassaday, Leinil Francis Yu, Daniel Acuna and Adi Granov, and more!
Look for Marvel's Avengers variant covers on these select titles:
AMAZING SPIDER-MAN #794 by TODD NAUCK
ASTONISHING X-Men #7 by MARCO CHECCHETTO
AVENGERS #675 by MIKE MCKONE
AVENGERS #676 by ALAN DAVIS
AVEGERS #677 by ESAD RIBIC
AVENGERS #678 by MIKE DEL MUNDO
BLACK PANTHER #169 by MARCOS MARTIN
CAPTAIN AMERICA #697 by JOHN CASSADY
DAREDEVIL #597 by LEINIL FRANCIS YU
DOCTOR STRANGE #384 by KAMOME SHIRAHAMA
GUARDIANS OF THE GALAXY #150 by MAHMUD ASRAR
INCREDIBLE HULK #712 by ADI GRANOV
INVINCIBLE IRON MAN #596 by CHRIS STEVENS
MARVEL TWO-IN-ONE #2 by GABRIELLE DELL'OTTO
MIGHTY THOR #703 by ROB LIEFELD
OLD MAN HAWKEYE #1 by BARRY KITSON
RISE OF THE BLACK PANTHER #1 by TYLER KIRKHAM
ROGUE & GAMBIT #1 by DANIEL ACUNA
SHE-HULK #161 by MIKE PERKINS
TALES OF SUSPENSE #101 by CARLOS PACHECO
VENOM #160 by INHYUK LEE
Don't miss your chance to collect all 21 variant covers, coming to comic shops this January!
MARVEL LEGACY Week One Is a Hit!
Second printings of all first week Legacy issues on the way!
New York, NY—October 13, 2017—On the heels of MARVEL LEGACY #1 being the best-selling issue of 2017, Marvel is pleased to announce that allweek one Legacy titles have sold out, and will immediately return for a second printing: AVENGERS #672, ICEMAN #6, IRON FIST #73, JESSICA JONES #13, ROYALS #9, SPIRITS OF VENGEANCE #1, VENOM #155 and X-MEN GOLD #13.
The 1 million BC Avengers in MARVEL LEGACY #1 were just the beginning – over the past few weeks, MARVEL LEGACY has pushed the Marvel Universe into a new and exciting direction with epic adventures, returning fan-favorites, and fresh story arcs from top creative teams.
Missed them the first time? Don't miss your chance to get caught up on some of the most exciting titles when they return to comic shops this November!
AVENGERS 672 SECOND PRINTING (AUG178889)
Written by MARK WAID
Art by JESUS SAIZ
FOC – 10/16/17, On-Sale – 11/08/17
ICEMAN #6 SECOND PRINTING (AUG178890)
Written by SINA GRACE
Art by ROBERT GILL
FOC – 10/16/17, On-Sale – 11/08/17
IRON FIST #73 SECOND PRINTING (AUG178891)
Written by ED BRISSON
Art by MIKE PERKINS
FOC – 10/16/17, On-Sale – 11/08/17
JESSICA JONES #13 SECOND PRINTING (AUG178892)
Written by BRIAN MICHAEL BENDIS
Art by MICHAEL GAYDOS
FOC – 10/16/17, On-Sale – 11/08/17
ROYALS #9 SECOND PRINTING (AUG179020)
Written by AL EWING
Art by JAVIER RODRIGUEZ
FOC – 10/16/17, On-Sale – 11/08/17
SPIRITS OF VENGEANCE #1 SECOND PRINTING (AUG178893)
Written by VICTOR GISCHLER
Art by DAVID BALDEON
FOC – 10/16/17, On-Sale – 11/08/17
VENOM #155 SECOND PRINTING (AUG178894)
Written by MIKE COSTA
Art by MARK BAGLEY
FOC – 10/16/17, On-Sale – 11/08/17
X-MEN: GOLD #13 SECOND PRINTING (AUG17885)
Written by MARC GUGGENHEIM
Art by MIKE MAYHEW
FOC – 10/16/17, On-Sale – 11/08/17