BEN REILLY: THE SCARLET SPIDER #1 – Your First Look at The New Series!
The Fan-Favorite Character Goes Solo on April 26th!
New York, NY—March 31st, 2017 — This April, one of the most controversial characters in Marvel history returns to don the mask (and hoodie!) once more. Today, Marvel is pleased to present your first look inside BEN REILLY: THE SCARLET SPIDER #1 – the new series from New York Times Bestselling creators Peter David (Amazing Spider-Man, Spider-Man 2099) and Mark Bagley (Ultimate Spider-Man, All-New X-Men)! That's right, Ben Reilly is webslinging his way back into comic shops everywhere and he's bringing two of the most accomplished & beloved Spider-Man creators of all-time with him! Only question is – will it be as a hero…or a villain? In the aftermath of The Clone Conspiracy, Ben Reilly has returned with a new lease on life. Not as Peter Parker's clone – but as his own man. Will suiting up once more as the Scarlet Spider be enough to outrun his personal demons? All while being able to stay one step ahead of the man hunting him – Kaine Parker – the former Scarlet Spider?! More importantly, can you ever truly outrun your past? Find out as the iconic fan-favorite character returns to the fore once again in BEN REILLY: THE SCARLET SPIDER #1 – swinging into comic shops on April 26th!
BEN REILLY: THE SCARLET SPIDER #1 (FEB170798)
Written by PETER DAVID
Art & Cover by MARK BAGLEY
Variant Covers by GREG LAND (FEB170799), TOM LYLE (FEB170800)
And J. SCOTT CAMPBELL (FEB170801)
Action Figure Variant by JOHN TYLER CHRISTOPHER (FEB170802)
FOC – 04/03/17, On-Sale – 04/26/17
Brock is Back! Your First Look Inside VENOM #6!
The Original Venom Returns This April!
New York, NY—March, 27th 2017 — Reunited and it feels so good! That's right, True Believer, Eddie Brock has reunited with the symbiote at long last! Today, Marvel is pleased to present your first look inside VENOM #6 – the next senses shattering issue from creators Mike Costa and Gerardo Sandoval! It's a battle for the ages as new Venom host Lee Price throws down with your friendly neighborhood Spider-Man! But amid the chaos and the fury of battle, a familiar face returns! That's right, Eddie Brock is back to reclaim his rightful place as the one-and-only Venom! Can symbiote and host coexist as they once did? With Eddie Brock back on the board, what will become of Lee Price? And seeds sown here bear bitter fruit in May's oversized Venom #150. The fireworks begin on April 19th  in the can't-miss VENOM #6!
VENOM #6 (FEB170855)
Written by MIKE COSTA
Art & Cover by GERARDO SANDOVAL
Remastered Variant by TODD MCFARLANE (FEB170856)
ResurrXion Variant by DAN MORA (FEB170857)
FOC – 03/27/17, On-Sale – 04/19/17
MARVEL COMICS PROUDLY PRESENTS
"CAPTAIN MARVEL: ALIEN NATION"
FEATURING MUSIC FROM JAPANESE BREAKFAST
Revolutionary Marvel Spotlight Video Series Boldly Expands Exposure of Marvel's Captain Marvel 
Paired with some of Today's Top Female-led Musical Acts
New York, NY—March 29, 2017 — Marvel Comics is proud to present an unprecedented approach in introducing the world to Marvel Comics and the next great breakout Marvel Super Hero – Captain Marvel! Masterfully mixing animated comics with in-depth narration and commentary, this fresh new video series is designed to present a whole new audience to the world of Carol Danvers, a.k.a., Captain Marvel, staring in her brand new comic book series THE MIGHTY CAPTAIN MARVEL available now in your local comic shop.
THE MIGHTY CAPTAIN MARVEL, written by New York Times best-selling author, Margaret Stohl (Black Widow: Forever Red, Black Widow: Red Vengeance), garnered international buzz and attention upon the announcement this past year. Marvel continues the excitement surrounding Marvel's celebrated high-flying former Air Force pilot turned Super Hero, Captain Marvel, through a brand new Marvel music spotlight video series accompanied with the track "In Heaven" from Japanese Breakfast's debut album, Psychopomp, available for purchase here.
Watch "Captain Marvel: Alien Nation" Part Two now!
Speaking with SyFy, Michelle Zauner of Japanese Breakfast said, "I love how much Marvel has embraced a more modern representation of women, especially women of color in their comics. I think my music is perfect for this series because I embrace being a mixed race woman in a genre that's generally pretty dominated by white men. The faces of indie rock are changing a lot like the faces of comics!"
Each month, a new "Captain Marvel: Alien Nation" video will be released with the latest issue of Marvel Comics' THE MIGHTY CAPTAIN MARVEL. The "Captain Marvel: Alien Nation" videos will educate new and old fans about Stohl's THE MIGHTY CAPTAIN MARVEL series through commentary, motion graphics, as well as an energetic score from some of the world's biggest female-led musical acts.
Narrated by writer, Margaret Stohl, accompanied with some of the world's biggest female-led musical acts, "Captain Marvel: Alien Nation" will introduce fans to the history of Carol Danvers and spotlight why she is the hero to watch moving forward.
THE MIGHTY CAPTAIN MARVEL #3 is available digitally through the Marvel Digital Comic Shop and at all local comic book retailers. To find a comic shop near you, visit www.comicshoplocator.com or call 1-888-comicbook.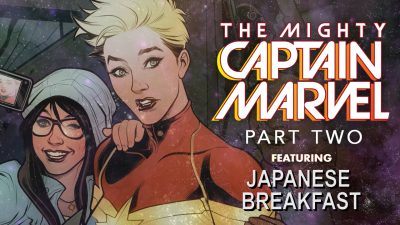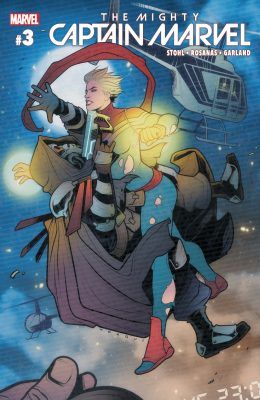 ASTONISHING X-MEN #1 Recruits Superstar Artists For Epic Thrill Ride!
Cheung, Garney, ACO, Noto, Land, Rosanas & More to Be Revealed!
New York, NY—March 28th, 2017 —The hardest hitting mutants. The biggest villains. And now, the best artists in the business! Some of the biggest names in comics are gearing up to bring the highly anticipated ASTONISHING X-MEN to life, and Marvel is pleased to reveal the first artists attached! Beginning this July, blockbuster writer Charles Soule headlines a prestigious new series that will team him with a new A-List artist each and every issue for an epic story that will reshape the mutant landscape in the Marvel Universe!
"The threat facing our heroes touches on all corners of the X-Men mythology," says Marvel Editor-in-Chief Axel Alonso.  "So each issue — illustrated by a superstar artist — will dig deep into one of your favorite pieces of X-Men lore, with some eye-popping surprises along the way.  The last page of issue one definitely qualifies as one of those, and it's bound to make X-Men fans very happy."
Visit Marvel.com for a full-length interview with writer Charles Soule
Kicking off in July's oversized Astonishing X-Men #1, Charles Soule teams with red-hot artist Jim Cheung to unite a team of fan-favorite X-Men the likes of which you've never seen before! Future issues of Astonishing X-Men will feature artwork by Ron Garney, ACO, Phil Noto, Greg Land, Ramon Rosanas with more artists yet to be revealed!
Old Man Logan, Archangel, Mystique, Rogue, Gambit, Bishop, Psylocke and Fantomex. Assembled, they are the Astonishing X-Men. But what brings this eclectic collection of heroes together? A familiar menace has once again reared its ugly head – reborn, renewed and resurrected. To defeat one of their deadliest foes and rescue one of their own, the X-Men's greatest will assemble for a mission that will take them places you never thought they'd go!
The first can't-miss issue of ASTONISHING X-MEN hits this July. For more information, visit Marvel.com for a full interview with writer Charles Soule!
ASTONISHING X-MEN #1
Written by CHARLES SOULE
Art by JIM CHEUNG
Cover by JIM CHEUNG
On Sale in July!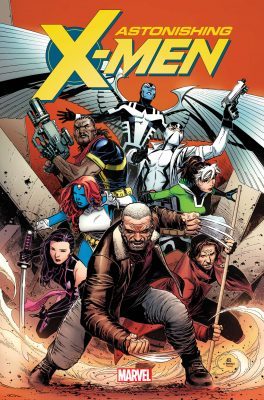 SECRET EMPIRE Fires The OPENING SALVO This April!
Three Lead-In Issues Coming This April!
New York, NY—March 27th, 2017 — The stage is set! Everything has been leading to this moment! The Secret Empire is upon us! But before the heroes of the Marvel Universe stand united against Hydra, prepare yourself for three senses-shattering lead-in issues coming to comic shops this April! As the Marvel Universe speeds headlong toward the blockbuster comic event of the year, no fan should miss SECRET EMPIRE: OPENING SALVO– three key issues prepping fans for the epic event to come, shipping one week before SECRET EMPIRE #0 hits stores!
First, in CAPTAIN AMERICA: STEVE ROGERS #16 – Captain America prepares to step out of the shadows and into the light, but is the Marvel Universe ready? Plus, this oversized issue clocks in at 30 pages at no additional cost! Then, A.I.M is about to get serious in U.S.AVENGERS #5 as Captain America shows up on the scene. But where does that leave Roberto Da Costa? Finally, betrayal & destruction abound in THUNDERBOLTS #12! With Baron Zemo back in the picture, what will be the final fate of the T-Bolts and Kobik?
Seeds sown here bear bitter fruit in the pages of Secret Empire this May! Don't miss the Opening Salvo when CAPTAIN AMERICA: STEVE ROGERS #16, THUNDERBOLTS #12 and U.S.AVENGERS #5 come to local comic shops on April 19th!
CAPTAIN AMERICA: STEVE ROGERS #16 (FEB170832)
Written by NICK SPENCER
Art by KEVIN LIBRADA, YILDRAY CINAR & JON MALIN
Cover by DANIEL ACUNA
FOC – 03/27/17, On-Sale 04/19/17
THUNDERBOLTS #12 (FEB170902)
Written by JIM ZUB
Art & Cover by JON MALIN
FOC – 03/27/17, On-Sale 04/19/17
U.S.AVENGERS #5 (FEB170835)
Written by AL EWING
Art by PACO DIAZ
Cover by PACO MEDINA
FOC – 03/27/17, On-Sale 04/19/17
MARVEL COMICS REINSTATES FREE DIGITAL COPIES
PAIRED WITH THE RELEASE OF SECRET EMPIRE #1

All Marvel Print Titles that include a Redeem Code will now Unlock that Issue's Digital Copy
PLUS an Additional Digital Comic
New York, NY—March 31, 2017— Beginning the week of May 3rd, accompanying the release of SECRET EMPIRE #1, all Marvel digital redeem codes, only available within your local comic shop, will unlock a FREE digital copy along with one additional BONUS DIGITAL COMIC on the Marvel Comics app for iOS and Android devices at no extra cost!
"We heard the message loud and clear on Digital same issue codes," said David Gabriel, SVP Sales & Marketing.  "We heard how folks across the world were using them, relying on them, loving them. We are always looking to do what's best for fans and the comics industry so we're pleased to make this program even better.  Now, print comics readers will receive a code for the issue they purchased, and also an additional bonus comic giving customers even more value for their purchase."
Fans will be updated weekly with consistent in-print and social messaging so they know what additional BONUS DIGITAL COMICS will be made available along with the FREE DIGIAL COPY that week. Find your local comic shop by visiting comicshoplocator.com and get ready to experience new gateways into the Marvel Universe you may have missed in the past available through the comics you already read. Prepare for the adventure!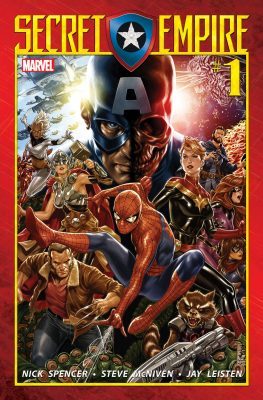 MEGA-SIZED DIGITAL DEADPOOL SALE FEATURING CLASSIC HITS AND RECENT TITLES
UP TO 60% OFF ON 90+ MERC WITH A MOUTH TRADES!
New York, NY—March 31, 2017— The Madcap Mutant with a Mouth gets a Mega-Sized Sale! Through 4/3, 11 PM ET, Marvel Digital Comics Shop is holding a DEADPOOL COLLECTIONS SALE, featuring fan-favorite hits, classics, and hot-off-the-shelf titles!*
With over 90 DIGITAL TRADES on sale, you're sure to find something lovable in Deadpool – even with a face like his. Why not read Wade Wilson's Marvel debut? Pick up DEADPOOL CLASSIC VOL. 1, collecting Deadpool's first appearance in New Mutants! Maybe you'd like a side of horror with your funny? Don't miss DEADPOOL KILLS THE MARVEL UNIVERSE, where the Merc cuts a swath through Marvel's heroes for the sheer FUN of it! Or perhaps you're in the mood to read Marvel's Favorite Odd Couple – start with CABLE/DEADPOOL VOL. 1: IF LOOKS COULD KILL! Sale titles also include DEADPOOL: WORLD'S GREATEST VOLS. 1-5, collecting the regenerating degenerate in his current ongoing series.
Best of all, digital trades are perfect for on-the-go reading! All purchases in the Marvel Digital Comics Shop are added to your personal library, and can be read on any mobile device and in the Marvel Comics app on iPhone®, iPad® and Android™ devices!
Join the Merc with a Mouth mania and take part in the DEADPOOL COLLECTIONS SALE, running through 4/3, 11 PM ET! You'd be insane to miss out!
Offer valid until 04/03/17 11 PM EST on select Deadpool digital trades only.  Marvel user account and internet connection required.