FREE COMIC BOOK DAY 2019: Announcing FCBD AVENGERS #1 from Jason Aaron, Stefano Caselli, Gerry Duggan, and Mike Deodato!
New York, NY—February 1, 2019—Free Comic Book Day 2019 is the perfect chance to dive deep into the Marvel Universe with new stories and exciting adventures alongside some of Marvel's most acclaimed creators – and this year, Marvel is bringing you the biggest and boldest stories yet!
Fresh off its 2018 GEM award win for Best Free Comic Book Day Book (FCBD 2018 Avengers Captain America), Marvel is excited to reveal the creative team and cover for FCBD AVENGERS #1!
A story by industry superstars Jason Aaron and Stefano Caselli sets the stage of the main Avengers series just in time for Marvel's highly anticipated Avengers: Endgame, while an all-new thrilling tale from Gerry Duggan and Mike Deodato creates one of the most dynamic, and deadly versions of the Avengers ever – stay tuned to learn more!
In addition to the comic, select retailers will receive FREE Avengers promo buttons highlighting the dynamic and stunning cover art from FCBD AVENGERS #1 by Ed McGuinness, available while supplies last!
Keep an eye on Marvel for more Free Comic Book Day announcements in the days to come!
FCBD AVENGERS #1
Written by JASON AARON and GERRY DUGGAN
Art by STEFANO CASELLI and MIKE DEODATO
Cover by ED MCGUINNESS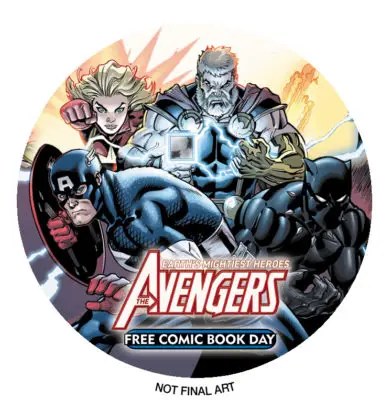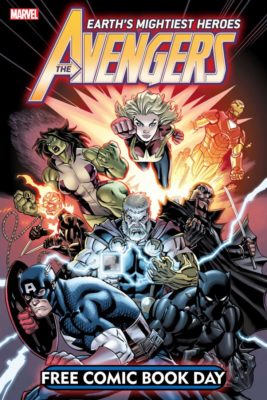 Marvel Releases New WAR OF THE REALMS #1 Van Art Cover
New York, NY—January 28, 2019— The War Of The Realms is coming…and no corner of the Marvel Universe will be untouched! Today, Marvel is excited to release a special Van art cover by superstar artist Greg Horn! This stunning landscape cover will be available as a WAR OF THE REALMS #1 variant cover.
This April, all hell will break loose as Marvel's epic event from the award-winning creative team of Jason Aaron, Russell Dauterman, and Matthew Wilson usher in an event of unparalleled scale! Plus, don't miss a special midnight release of WAR OF THE REALMS #1 for retailers – be sure to check future Marvel mailers for details!
For more information on WAR OF THE REALMS, visit Marvel.com.
WAR OF THE REALMS #1 (of 6)
Written by JASON AARON
Art by RUSSELL DAUTERMAN
Cover by ARTHUR ADAMS & MATTHEW WILSON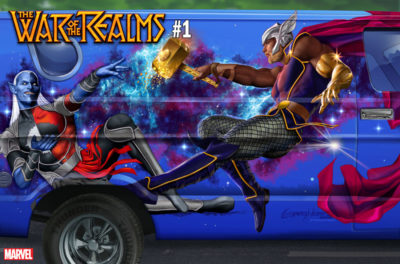 Celebrate International Women's Day with a new cover by Elsa Charretier and Sarah Stern!
New York, NY—January 31, 2019—In celebration of International Women's Day this March, Marvel is excited to show off a brand-new variant cover for CHAMPIONS #3 showcasing leading ladies Ms. Marvel, Viv Vision, Ironheart, Snowguard, and Wasp – as well as the legacy of Captain Marvel – illustrated by superstar artist Elsa Charretier and colorist Sarah Stern!
Best known for her work on 2017's critically acclaimed THE UNSTOPPABLE WASP, Charretier's art has appeared in series such asThe Unbelievable Gwenpool and Patsy Walker, A.K.A. Hellcat! while Sarah Stern's brilliant colors have been dazzling the industry in books such as Oni Press's Rick and Morty and IDW's Jem and the Holograms: Infinite.
Don't miss your chance to pick up this stunning new variant cover in local comic shops on March 6th, just ahead of this year's International Women's Day!
CHAMPIONS #3
Written by JIM ZUB
Art by STEVEN CUMMINGS
Cover by KIM JACINTO and RAIN BEREDO
International Women's Day variant cover by ELSA CHARRETIER and SARAH STERN (DEC188992)
MARVEL UNLIMITED EXPANDS THIS FEBRUARY
Digital Subscription library continues to grow with latest updates
New York, NY—February 1st, 2019—Marvel Unlimited, Marvel's digital comics subscription service, offers members unlimited access to over 20,000 issues of Marvel's classic and newer titles, delivered digitally through your desktop web browser and the Marvel Unlimited mobile app. With classic and newer issues added every week, here are some of the amazing Marvel titles coming to Marvel Unlimited this month:
Week of 2/4
HUNT FOR WOLVERINE WEAPON LOST #4    SERIES COMPLETE!
As the Infinity Stones come to Earth, so too comes the war for control over them. But none who wield the stones know the truth about the power they contain…or what it would take to bring them to their END. The nature of the universe itself hangs in the balance as we learn the answer to the question on everyone's lips since "Infinity Wars Prime": WHO IS REQUIEM? Gerry Duggan (DEADPOOL, INFINITY COUNTDOWN) and Mike Deodato Jr. (ORIGINAL SIN, OLD MAN LOGAN) look into the Infinite and bring the truth to light!
MARVEL RISING MS. MARVEL SQUIRREL GIRL #1
THE GAME IS UP IN THE PENULTIMATE CHAPTER OF MARVEL RISING! When Ember Quade traps Ms. Marvel, Squirrel Girl and their friends in a video-game reality, they'll have to fight their way through the terrifying villain hordes of Ember's imagination! But when they reach the final level, even Ember will be surprised at what they find. All the cards hit the table as award-winning writers Devin Grayson, G. Willow Wilson and Ryan North take MARVEL RISING to its heights!
STAR WARS THE LAST JEDI ADAPTATION #5
Week of 2/11
AMAZING SPIDER-MAN RENEW YOUR VOWS #22
BECAUSE YOU DEMANDED IT – THE WORLD'S GREATEST COMIC MAGAZINE IS BACK! Since the end of SECRET WARS, there's been a gap in the Marvel Universe. A void no other team can fill. And it's time for the world to move on. But can it? A life-changing decision by the Thing! A momentous declaration by the Human Torch! A clarion call-to-arms that summons Doctor Doom! And a signal in the sky that heralds the return of hope to the Marvel Universe! All this, and Alicia Masters adopts kittens! So cute! Plus, the Impossible Man! AND BONUS STORIES ILLUSTRATED BY SIMONE BIANCHI AND SKOTTIE YOUNG! IF YOU READ ONLY ONE MARVEL COMIC THIS MONTH, THIS IS THE ONE!
HUNT FOR WOLVERINE ADAMANTIUM AGENDA #4   SERIES COMPLETE!
THE UNBEATABLE SQUIRREL GIRL #35
Week of 2/18
Spider-Punk is back and better than ever. After SPIDER-VERSE, Hobie Brown was a Web Warrior, but that didn't mean things back in his universe were solved. The writer of the SPIDER-PUNK story in SPIDER-VERSE is back and joined by VENOM'S Gerardo Sandoval! Spider-Punk's Earth is under attack both on the ground and from space, meaning his responsibility seems to outweigh his power. Don't miss this first shot of the SPIDER-EVENT of 2018!
EXTERMINATE THE PAST. ELIMINATE THE FUTURE. Cyclops. Iceman. Angel. Beast. Marvel Girl. The original team of teen mutants brought together by Professor Charles Xavier many years ago have been shunted through time to find a world they barely recognize but were determined to help. Now, finding themselves targeted for death, the future of mutantkind lies squarely in the hands of its past. Writer Ed Brisson (OLD MAN LOGAN, CABLE) and artist Pepe Larraz (UNCANNY AVENGERS, AVENGERS: NO SURRENDER) answer the biggest question of all: can the fate of the X-Men be changed?
HUNT FOR WOLVERINE: CLAWS OF A KILLER #4    SERIES COMPLETE!
LUKE CAGE – MARVEL DIGITAL ORIGINAL #1
A DOUBLE-SIZED Marvel Digital Original you don't want to miss! With Harlem in the grips of an unprecedented heat wave, the people look to their hero—the unbreakable man, Luke Cage! But the heat wave turns out to be the least of Harlem's worries. Someone has their sights set on the city's 1%, and the rich and powerful are dropping dead from mysterious illnesses. It's up to Luke Cage to stop the killer—but he's just received a grim diagnosis of his own…
PETER PARKER: THE SPECTACULAR SPIDER-MAN #308
SPIDEY – SCHOOL'S OUT #6   SERIES COMPLETE!
THE GOOD, THE BAD AND THE DEADLY! TOBIAS BECKETT taught HAN SOLO everything he knows about surviving hoodlum-filled cantinas and backwater worlds. But who is this career outlaw and why is ENFYS NEST— one of the galaxy's most dangerous and brutal marauders — so dead set on taking him down once and for all? Find out in this original tale of a man who has gamed star system after star system, but at a cost that no heist can make up for.
Week of 2/25
HUNT FOR WOLVERINE: MYSTERY IN MADRIPOOR #4   SERIES COMPLETE!
MOON GIRL AND DEVIL DINOSAUR #34
YOU CAN TAKE THE PUNISHER OUT OF THE WAR MACHINE…Punisher no longer has the War Machine armor, but he retained his newly acquired taste for big game, and he's hungry for more. However, the paths to such perilous pursuits are fraught with dangers bigger than any Frank has faced before, and this lone wolf could use otherworldly help on his way up to the world stage. MATTHEW ROSENBERG continues pushing the boundaries of the Punisher, and now joined by acclaimed artist RICCARDO BURCHIELLI (DMZ, Northlanders), this is the book Punisher fans will be talking about for years to come!
THE HUNT FOR MALICE REACHES ITS CLIMAX! The Black Panther joins the fight against Nakia, A.K.A. the villainous and crazed Malice! Finally, the man of her dreams is within Nakia's grasp. But he's brought a few friends with him, and they're not happy about the world-ending weapon she just unleashed. The seemingly all-powerful Mimic-27 has already laid out Storm and the X-Men, and the Dora Milaje are at a loss. If they're going to save Wakanda and the world, Okoye, Ayo and Aneka will have to delve deep into the mysteries of the Doras. Best-selling author Nnedi Okorafor reveals secrets of the Dora Milaje in the final installment of WAKANDA FOREVER!
A NEW ERA DAWNS…AVENGERS ASSEMBLE! HAWKEYE (KATE BISHOP). HAWKEYE (CLINT BARTON). A guy named FUSE. Never have they ever been called "the big three" of…anything. And now here they are, reunited for, okay, well, it's only the second time ever. Thank god they also brought AMERICA CHAVEZ, GWENPOOL and KID OMEGA. Wait. What? That's right, it's the new West Coast Avengers, son. And you better hope they can figure out how to save the world because BIG things are headed for the West Coast.
Not a Marvel Unlimited member? Join today!
Marvel Unlimited members have access to some of the greatest Marvel Comics featuring The Avengers, Spider-Man,Thor, Black Panther, Captain Marvel and more! With February's update, Marvel Unlimited will also be expanding its back catalog with the following issues: DAREDEVIL (1964) #133-143, MOON KNIGHT (1980) #24-38, THE PUNISHER (1998) #1-4,BLACK PANTHER (1988) #1-4, and much, MUCH more! This amazing service is accessible through Marvel Unlimited on the web and through the Marvel Unlimited app on iPhone®, iPad® and on select Android™ devices.
New to comics, and don't know where to start? Don't worry! Marvel Unlimited features a curated READING LIST section to help you uncover pathways into the Marvel Universe through events, themed lists, and recommended series featuring your favorite characters and creators!
An added bonus? New Unlimited subscribers get a reward of 3,000 Marvel Insider points when they join this service, and more points when they renew their subscription! Not a Marvel Insider? Sign up today and earn exclusive prizes just by being a Marvel fan! See what rewards are available here! *
With classic and newer issues added to Marvel Unlimited on a weekly basis as early as six months after they're in stores, you'll definitely want to join this curated experience that lets you find new favorites to read anytime, anywhere, from the full range of Marvel's history.
Follow Marvel on Facebook at www.facebook.com/marvel, join in the conversation on Twitter with #Marvel and #MarvelUnlimited, and for all things Marvel, please visit marvel.com.
Marvel Insider Loyalty Rewards Program open to U.S. residents only.  See http://marvel.com/insider for program terms and details.