Marvel news this week has some big announcements including a new Cloak and Dagger digital series.  It's, of course, here in time for the start of the television series on Freeform.  More Captain America variants have previews.  A couple of teasers for Spidergeddon and Asgardians of the Galaxy have been released as well.
Marvel Announces New CLOAK AND DAGGER Digital Exclusive Comic Series!
Read the first issue by Dennis Hopeless & David Messina now, available in the Marvel Comics App or on ComiXology!
New York, NY—June 6, 2018— Ahead of their television debut this Thursday night on Freeform, Marvel is excited to announce a new CLOAK AND DAGGER digital exclusive comic series written by Dennis Hopeless (Spider-Woman) with art by David Messina! The 6-issue monthly limited series begins today, and readers can download the first issue right now in the Marvel Comics App or on ComiXology and Kindle!
After meeting as runaways, vigilante teenagers Tyrone ("Cloak") Johnson and Tandy ("Dagger") Bowen were illegally experimented on and gifted with mysterious powers. As the living personifications of light and dark, their complementary abilities force them to rely on each other as they team up to save innocent people on the streets of New York, and around the world. This in-continuity Digital Series has been specifically designed to welcome new readers while giving long-time Marvelites the latest eagerly-awaited chapter in this fan-favorite duo's story.
"With CLOAK AND DAGGER, we're telling the story from two very different perspectives at the same time," writer Dennis Hopeless told Marvel.com in an interview. "Tyrone and Tandy are fundamentally intertwined characters, but they see the world through different lenses. It's been a lot of fun playing with that shifting perspective. We let the reader into each of their heads, sometimes even showing the same scene from two different angles. Just like in life, it's the differences that propel the drama."
For more about CLOAK AND DAGGER, check out Marvel's Cloak and Dagger digital comic launch trailer which features editor-in-chief C.B. Cebulski and editor Devin Lewis talking about the new series, as well as a sneak peek at exciting art! To embed the trailer on your site, please use the below embed code:
The highly-anticipated new television series, "Marvel's Cloak & Dagger" premieres Thursday, June 7, 8/7c on Freeform.
CLOAK AND DAGGER #1
Written by DENNIS HOPELESS
Art by DAVID MESSINA
Cover by MAHMUD ASRAR
THE GUARDIANS OF THE GALAXY ARE NO MORE…
WHO ARE THE ASGARDIANS OF THE GALAXY
Introducing The Asgardians Of The Galaxy!
An epic new series by Cullen Bunn and Matteo Lolli, coming this September!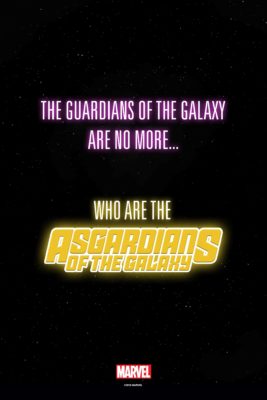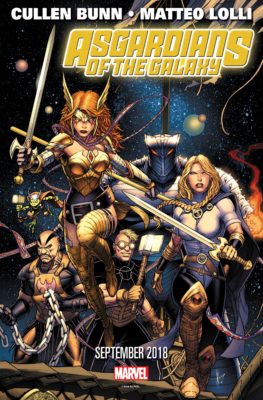 SPIDERGEDDON IS NIGH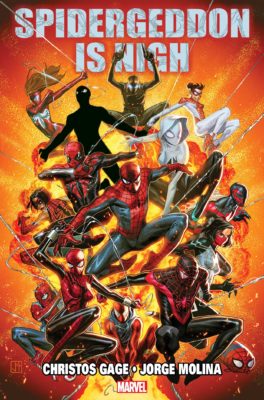 MARVEL #31 Celebrates 50 Issues of Kamala Khan!
Writer and comedian Hasan Minhaj joins all-star creator lineup with G. Willow Wilson, Rainbow Rowell, Saladin Ahmed & more!
New York, NY—June 4, 2018—This June marks 50 issues of Kamala Khan, and in MS. MARVEL #31, we're celebrating…slumber party style! As MS. MARVEL #31 brings Kamala, Zoe, Nakia and Mike together for a best friends sleepover, Marvel is also bringing along some very special friends to commemorate this landmark issue.
Marvel is also excited to announce that in addition to rising stars and award-winning creators such as G. Willow Wilson, Hugo Award nominee Saladin Ahmed (Black Bolt) and New York Times bestseller Rainbow Rowell (Runaways), MS. MARVEL #31's all-star roster of talent will include Daily Showcorrespondent and Peabody Award-winning comedy writer Hasan Minhaj!
Named one of the most influential American Muslims in the media, Minhaj has made waves as an actor, writer, and activist. He was the featured speaker at the 2017 White House Correspondents Dinner, and his critically-acclaimed one-man show, Homecoming King, is currently streaming on Netflix. Later this summer, he'll be seen in the upcoming comedy The Spy Who Dumped Me.
Along with this stellar line-up of writing talent, Marvel is excited to announce that series regular artist Nico Leon will be joined on MS. MARVEL #31 by celebrated artists Bob Quinn, Gusatvo Duarte, and Elmo Bondoc.
"This issue is a truly a one-of-a kind celebration! In honor of all the different kinds of fans Ms. Marvel has, we thought it fitting to make this a jam session of rockstar talent from across the comics and entertainment industry," said editor Sana Amanat. "It's a special story with all the heart and humor we've come to love with Kamala Khan. We're thrilled we made it to 50 issues. Here's to the next 50!"
Will Kamala be able to save Jersey City AND her party? It's an epic adventure in a very special landmark issue of MS. MARVEL, coming to comic shops this June!
MARVEL #31
Written by G. WILLOW WILSON, SALADIN AHMED, RAINBOW ROWELL & HASAN MINHAJ
Art by NICO LEON, BOB QUINN, GUSTAVO DUARTE, ELMO BONDOC
Cover by VALERIO SCHITI
Variant Cover by STEPHANIE HANS
FOC – 6/4/18, On Sale – 6/27/18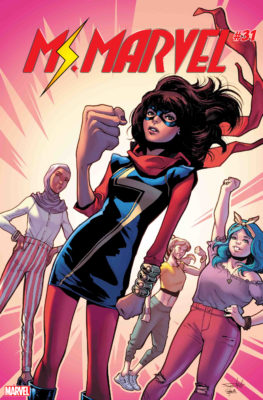 Marvel Unveils CAPTAIN AMERICA #1 Teaser Trailer!
New York, NY—June 8, 2018—On July 4th, New York Times Best-Selling Author Ta-Nehisi Coates and international superstar artist Leinil Francis Yu usher in a new epic for the Star Spangled Avenger with CAPTAIN AMERICA #1!
After the creative team's debut in their Free Comic Book Day issue, fans and critics are raving about Steve Rogers' new adventures – and Marvel invites you to take a look at the promotional TV spot that aired nationwide last weekend, which included some brand-new, never before seen art!
Watch the Captain America #1 Teaser Trailer now!
Don't miss your chance to grab CAPTAIN AMERICA #1 this July!
CAPTAIN AMERICA #1 (MAY180773)
Written by TA-NEHISI COATES
Art by LEINIL YU
FOC – 6/11/18
Marvel Reveals New CAPTAIN AMERICA #1 Variant Art by John Cassaday, Mike Zeck, Paul Renaud, with Simon and Kirby!
An all-new story for Steve Rogers begins this summer, from Ta-Nehisi Coates and Leinil Yu!
New York, NY—May 31, 2018—Marvel is excited to celebrate CAPAIN AMERICA #1 from Ta-Nehisi Coates and Leinil Yu with a new variant cover from superstar artists John Cassaday, Mike Zeck, and Paul Renaud that incorporates a classic Golden Age image created by Joe Simon & Jack Kirby.
Fans got a sneak peek at the creative team's story in the Avengers/Captain America Free Comic Book Day issue and praise is already high for the new series, with Adventures In Poor Taste claiming "the story presented here is almost dreamlike and should pique readers' interest."
Don't miss the opportunity to dive into this fresh new adventure July 4th, when CAPTAIN AMERICA #1 hits comic shops!
CAPTAIN AMERICA #1 (MAY180773)
Written by TA-NEHISI COATES
Art by LEINIL YU
On Sale 7/4/18
CAPTAIN AMERICA #1 RENAUD SIMON KIRBY VAR (APR188849)
CAPTAIN AMERICA #1 ZECK VAR (APR188850)
CAPTAIN AMERICA #1 CASSADAY VAR (APR188921)
MARVEL UNLIMITED EXPANDS THIS JUNE
Digital Subscription library continues to grow with latest updates
New York, NY—June 7th, 2018—Marvel Unlimited, Marvel's digital comics subscription service, offers members unlimited access to over 20,000 issues of Marvel's classic and newer titles, delivered digitally through your desktop web browser and the Marvel Unlimited mobile app. With classic and newer issues added every week, here are some of the amazing Marvel titles coming to Marvel Unlimited this month:
Week of 6/4
DARKHAWK #51   LEGACY ONESHOT!
Years ago, Chris Powell discovered a mysterious amulet that allowed him to transform into the spacefaring gladiator known as DARKHAWK. With his newfound edge against crime, he stood against some of the most extreme threats the Marvel Universe has to offer! Now, when two members of the Fraternity of Raptors descend on New York with designs on stealing the amulet and returning it to the stars, it's not Darkhawk who has to rise to the challenge…it's Chris Powell!
OLD MAN LOGAN #31   NEW LEGACY ARC!
Old Man Logan – the man who was Wolverine – is up against a foe like no other…the Hand! Logan's past comes back to haunt him when a former love drags him into battle with the Hand, who have bolstered their forces like never before. Just when things couldn't get any worse, Logan encounters the mysterious Scarlet Samurai! Will Logan be able to discover who she is and take down the Hand?
STAR WARS: JEDI OF THE REPUBLIC – MACE WINDU #4
STAR WARS: POE DAMERON #21
U.S.AVENGERS #12   FINAL ISSUE!
VENOM #158
Week of 6/11
AMAZING SPIDER-MAN: VENOM INC. ALPHA #1
Peter Parker, Eddie Brock and Flash Thompson have one major thing in common – the Venom symbiote changed all of their lives. The inky black alien life-form is doubling down on our heroes – and they're not the only ones about to be put through the ringer. VENOM INC. kicks off here and rolls into AMAZING SPIDER-MAN & VENOM as a familiar face rises to new levels of villainy!
AVENGERS #674
BLACK BOLT #8    NEW LEGACY ARC!
THE MIDNIGHT KING RETURNS TO EARTH! After months off-world, the former Inhuman King Black Bolt returns to Earth to find judgment awaiting him. In his absence, the Inhumans were rounded up, imprisoned and now struggle to maintain their fragile democracy. But someone must pay the price for the horrors they've endured. Will Black Bolt survive his people's wrath?
GWENPOOL, THE UNBELIEVABLE #23
HAWKEYE #13   NEW LEGACY ARC!
FAMILY REUNION! Can L.A. really handle TWO HAWKEYES? Just as Kate reaches out to ask for Clint's help with finding her dead mother, Clint shows up needing help of his own. An unknown party is gunning for him and it kicks off a chase across Los Angeles with two Hawkeyes trying to stay one step ahead, fully alive, and with minimal property damage…well, okay, with moderate property damage. Re-united and it feels so good!
INHUMANS: ONCE AND FUTURE KINGS #5   FINAL ISSUE!
SPIRITS OF VENGEANCE #3
X-MEN: GOLD #17
Week of 6/18
BEN REILLY: SCARLET SPIDER #11
BLACK PANTHER – LONG LIVE THE KING #1
As the Black Panther and an Avenger, T'Challa has had to save the world time and again — but those duties pale in comparison to his responsibilities as king of Wakanda. As the nation rebuilds in the wake of revolution, T'Challa finds his people besieged by a massive monster tearing through the country, leaving a trail of destruction in its wake! From acclaimed novelist NNEDI OKORAFOR (BINTI, WHO FEARS DEATH) and illustrator ANDRE ARAUJO (SPIDEY, THE WICKED + DIVINE) comes an adventure set in the world of Ta-Nehisi Coates' landmark BLACK PANTHER run and told in the Mighty Marvel Manner!
ROYALS #12   FINAL ISSUE!
SECRET WARRIORS #10
STAR WARS #40
THE UNBEATABLE SQUIRREL GIRL #27   NEW LEGACY ARC!
What happens when we take Squirrel Girl back to her roots? Well, we shoot her into space, OBVIOUSLY. Nancy and Tippy find themselves on an alien world where all is not what it seems. Squirrel Girl needs to find a way to get to the other side of the universe to save 'em, STAT. Intergalactic transport through the cosmic realm? This sounds like a job for the Sorcerer Supreme! I'm sure Doctor Strange will be happy to he – I'm sorry, what's that? Doctor Strange is gone and now LOKI is Earth's Sorcerer Supreme? Oh. Well, I'm sure he'll do his best. After all, what could possibly go wrong? Guess what, in this issue, everything possible goes wrong!
WEAPON X #12   NEW LEGACY ARC!
Mutant genocide is being committed in a small, third-world country. Now it's up to Weapon X to stop this massacre! But the militia they'll be taking on isn't full of your ordinary run-of-the-mill soldiers. These guys are powered by the red pills taken by the Super-Soldier Nuke! It's Weapon X vs. a Nuke platoon!
Week of 6/25
GENERATION X #85   NEW LEGACY ARC!
You've been asking for it! You've been waiting for it! And now it's here…the original Generation X is back! But this is no happy reunion for any of them. Their former teammate Monet is now bonded to her brother, the vampiric mutant called Emplate. Will Jubilee, Chamber, and Husk be able to save Monet? Or is she forever lost to her brother's curse?
MARVEL 2-IN-ONE #1   NEW LEGACY SERIES!
THE FOUR ARE NO MORE, SO TWO MUST DO! Something is very wrong with THE HUMAN TORCH and only THE THING can help him! It's the Marvel Universe reunion you've all been waiting for (well, HALF of it, at least!). Plus: What monumental secret has DOOM been hiding since the end of SECRET WARS, and how will it completely change the lives of Johnny Storm and Ben Grimm?
MARVEL #25 NEW LEGACY ARC!
Jersey City still has a need for a super hero, but why has KAMALA KHAN, a.k.a MS. MARVEL, vanished? In the wake of her disappearance, the city's newest hero RED DAGGER and even ordinary citizens attempt to carry on her Legacy of heroism. MS. MARVEL is nowhere…but also everywhere at once! And when an old enemy re-emerges, will anyone be powerful enough to truly carry the MS. MARVEL legacy but Kamala?
PETER PARKER: THE SPECTACULAR SPIDER-MAN #298
STAR WARS: DOCTOR APHRA #15
TALES OF SUSPENSE #100   NEW LEGACY SERIES!
SPRINGING FROM THE PAGES OF SECRET EMPIRE! THE BLACK WIDOW is dead…but someone is killing her enemies. With a broken heart and a bloody trail to follow, HAWKEYE is looking for answers. And the only person alive who may have them is Natasha Romanoff's OTHER ex-boyfriend, THE WINTER SOLDIER. Can they trust each other long enough to unravel the web of mysteries that Black Widow left behind?
UNCANNY AVENGERS #30   FINAL ISSUE!
From Eisner award-winning creator Ed Piskor (Hip-Hop Family Tree) comes a thrilling new series chronicling all of X-Men history! X-MEN: GRAND DESIGN stitches together the most important moments in mutant history, creating a comprehensive narrative celebrating the X-Men's past, present, and future. The first in a trilogy, GRAND DESIGN returns to Charles Xavier's assembly of Cyclops, Marvel Girl, Iceman, Angel, and Beast! A must for fans looking to brush up on their X-Men lore or as jumping-on point for Marvel's merry mutants.
Not a Marvel Unlimited member? Join today!
Marvel Unlimited members have access to some of the greatest Marvel Comics featuring The Avengers, Spider-Man, Guardians of the Galaxy, Thor, Black Panther, and more! With June's update, Marvel Unlimited will also be expanding its back catalog with the following series:  The 'Nam (1986),Silver Surfer (1987), Master of Kung Fu (1974), The Punisher War Zone (1992) and MUCH more!
This amazing service is accessible through Marvel Unlimited on the web and through the Marvel Unlimited app on iPhone®, iPad® and on select Android™ devices.
New to comics, and don't know where to start? Don't worry! Visit Marvel Unlimited's DISCOVER section and uncover new pathways into the Marvel Universe by searching for events, themed lists, and stories featuring your favorite characters and creators!
An added bonus? New Marvel Unlimited subscribers get 3,000 Marvel Insider points when they join this service, and more points when they renew their subscription! Not a Marvel Insider? Sign up today and earn exclusive prizes just by being a Marvel fan! See what rewards are available here! *
With classic and newer issues being added to Marvel Unlimited on a weekly basis as early as six months after they're in stores, you'll definitely want to join Marvel Unlimited and enjoy the experience of the Marvel Universe!
Follow Marvel on Facebook at www.facebook.com/marvel, join in the conversation on Twitter with #Marvel, and for all things Marvel, please visitmarvel.com.