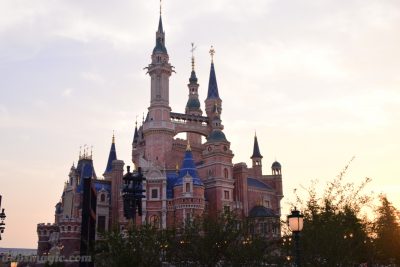 Fantasyland is the only land that is present in all magic kingdom parks around the world.  It seems to be a foundational element of the parks, and especially as it is home to so many beloved characters and stories.  Shanghai Disneyland has the broadest range of these stories, especially when it comes to the castle.  Here we go with Fantasyland at Shanghai Disneyland…
Enchanted Storybook Castle
This castle is seen from so many vantage points, not just in the park but outside of it as well.  From the metro train heading towards the resort it beckons visitors.  From around different corners of Disneytown it peeks.  It is truly enchanting like its name.  There are different architectural elements that form it, which makes this an amalgam of the wonderful Disney tales that have graced the silver screen.  Size?  This seems massive, although probably not as big as it seems.  Forced perspective plays a big part, yet it does such a good job it intimidates and invites.  From its stone pillars and light red and blue hues, it's a building that may draw attention, but is a wonderful sight to behold.
Inside is a huge view upward towards a glorious chandelier.  A winding staircase behind glass windows is actually part of an attraction.  In its archways outside are greeting spots for the princesses.  Then there's the tile murals that depict several princess stories.  In all it's a lavish fairy tale presentation.  This is a spectacle to be seen both inside and out.  I'll get to the attraction that is housed here, but the castle alone deserved some wording.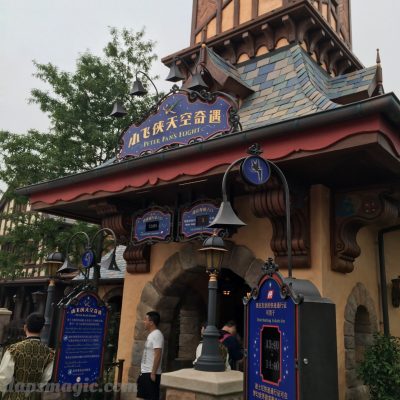 An Enchanted Kingdom
Out of all the lands, this does house some newer, but already used attractions.  A permanent Frozen Sing Along is found here, but the first in Chinese.  Seven Dwarves Mine Train is an exciting addition to the Asian landscape.  The Many Adventures of Winnie the Pooh is a bit similar to its other counterparts, but a whimsical addition to the land.  But, a few attractions that are either a rather different take or altogether new have made their home in this Fantasyland.
Peter Pan's Flight is somewhat like its predecessors – a dark ride that features the story of the Darling children and the flying boy.  But, some new technology has made this to be a not missed ride for those that are familiar with it.  Full Audio-Animatronics are animated quite well.  A wonderful model of London and Neverland do not disappoint.  Some key scenes are represented with projection, but before you think it's just another projection ride, these scenes are amidst full sets.  The fight between Peter and Hook is now animated and exciting thanks to these projections.  The ride system is very smooth, where it uses something similar to a roller coaster track.  In all, it was a delight to ride.
In the castle itself is the story of Snow White, which did premier in Shanghai around the same time that it did in the US.  I feel that this history serves is the perfect reason to have the story appear in the heart of the castle.  This walk through attraction is similar to the Sleeping Beauty walk through story found in the Anaheim castle.  But, Snow White's journey has a great deal of new effects to illustrate it.  State of the art projection, lighting, and even a bubbling cauldron tells the tale of the fairest of them all.  Not only that, but guests get to walk up and down the castle itself, looking down into the main room of the Enchanted Storybook Castle, and up to the beautiful chandelier.  That is worth the trip through on its own.
Finally, Voyage to the Crystal Grotto gives representation to several tales.  Each are depicted with fountain and shining animatronics.  The ride system are boats similar to the Jungle Cruise, but are lavish and gorgeous to sit in.  A lot of water is at play here, but it's a refreshing ride for a hot city like Shanghai.  One of the great scenes is of the Sorcerer's Apprentice.  It's nice to see Mickey featured in a ride for once.  In addition are scenes from Beauty and the Beast, Little Mermaid, and Mulan…just to name a few.  The finale is in the Crystal Grotto which is in a cave that the boat enters.  It's an amazing, beautiful finale that lives up to the crystal name and idea.
Enchantment Around Every Turn
This land has a great many paths to maneuver around and venture through.  And one of the main meanderings is the Alice In Wonderland Maze, themed to the Tim Burton films.  Before you jump to conclusions on why this theme and not the classic, the Tim Burton films are very popular in China.  When I went sightseeing in the city there was an exclusive exhibit to Tim Burton films at a gallery.  So, it fits to have this be the central theme, and not the animated one.
The Alice Maze is a fun journey through elements of the movies.  Guests first enter through one of three doors, in the style of the girl's journey.  The first area is a garden with some animal statues and a door leading to the Bandersnatch.  Through a cave and guided there by the Cheshire Cat, everyone emerges in the Queen of Hearts' court.  A giant statue befits this big head, and keeps guests on their toes to get through.  Finally, a hedge maze takes journeyers to a tea party, with some playful objects and a few surprises.  It was a delightful walk through, with quite a bit to see and do.  Well worth the foot work.
Throughout the land are fun sights and paths that take everyone around the whimsical fairy tale land.  There was somewhere new I found at almost every turn.  Small performances were throughout here, as well as characters to behold.  A great restaurant called Tangled Terrace was fashioned after the Snuggly Duckling of the same film.  I loved having this eatery there!  Elsewhere Pinocchio's Village Haus had a fun Peking Duck Pizza to cross Western and Chinese cuisine.
Fantastic Fun
Fantasyland lived up to its name in wonder and view.  It was truly an enchanted forest to set foot in.  As you can tell, I keep saying enchanting, because that was the best word to describe it.  It had magic and whimsy.  It welcomed kids of all ages.  It entertained and brought excitement.  It was a world of fantasy.