October 16, 2023 marked the 100th anniversary of The Walt Disney Company. When we think of Disney, we think of great storytelling, wonderful movies, and great music. Of course, we also think of the castles at each of the Magic Kingdom-style parks.

We start with Sleeping Beauty Castle at Disneyland, which was dedicated on the Park's opening day – July 17, 1955. Sleeping Beauty Castle was the name given to the Castle to promote the animated feature "Sleeping Beauty," which was released in 1959. Another fun fact is that during the Opening Day broadcast, the Castle was called the "Fantasyland Castle" when the announcer said to "Open the Fantasyland Castle in the name of the children of the world." Walt Disney and his Imagineers modeled the 77-foot Sleeping Beauty Castle at Disneyland park after several European medieval castles, more specifically the late 19th century Neuschwantein Castle in Bavaria, Germany. It appeared in the Walt Disney Pictures logos from 1985 to 2006 before being merged with Cinderella Castle, both of which are familiar symbols of The Walt Disney Compnay. In a deliberate decision to be more friendly and welcoming than the often-intimidating historical structures, Sleeping Beauty Castle was designed on a smaller scale. It remains the smallest Disney Castle, but one that remains in the hearts of millions of guests who visit every year. Sleeping Beauty Castle plays a big role in Disney history, serving as a comparative inspiration for Magic Kingdom-style parks around the world.

Next we head to Walt Disney World and Cinderella Castle at Magic Kingdom. Standing at 189 feet tall, this Castle took 18 months to build, and was constructed with concrete, steel, cement, plaster and fiberglass as opposed to the traditional brick structure of European castles. However, if you look closely, you'll still find nods to European architecture in the Romanesque, fortress-like base and Gothic upper portion of the structure. In 2020 and 2021, this landmark was freshened from its original grey, blue and gold color palette, sporting an EARidescent makeover of royal blue, gold and pink. When talking about Cinderella Castle, you can't forget the birthday cake overlay from Walt Disney World's 25th anniversary in 1996.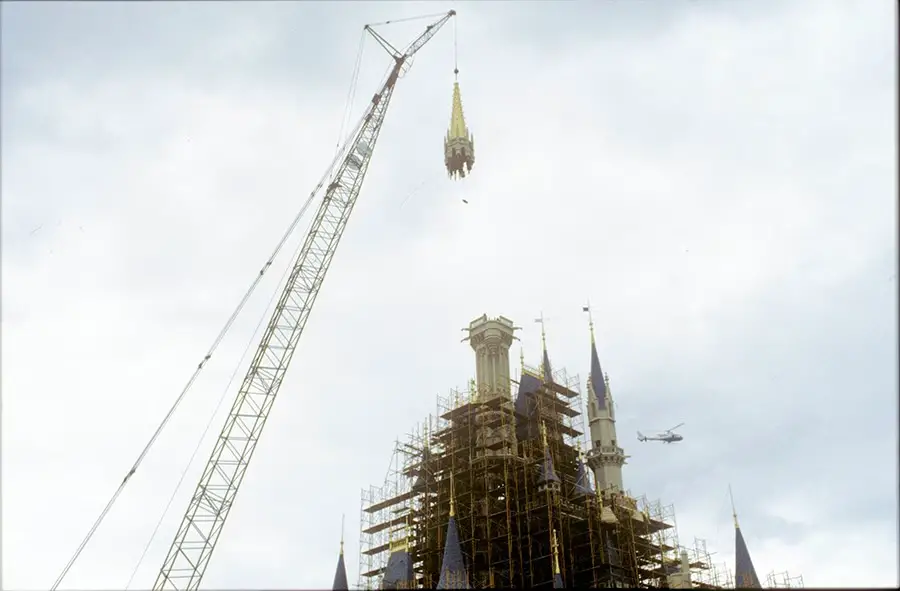 From Orlando, we make our way over to Tokyo Disneyland and the Tokyo Disney Resort. Cinderella Castle at Tokyo Disneyland may look familiar because it was modeled after its counterpart in Magic Kingdom at Walt Disney World. The exterior was repainted in 2006, and the current color palette looks more like the original structure than the recently updated version in Magic Kingdom. Debuting in 1983, this was the first castle to be built internationally and charted a path towards future parks around the world, which was a very special moment indeed.

In 1992, Euro Disney Resort, now Disneyland Paris, opened with Le Château de la Belle au Bois Dormant (Sleeping Beauty Castle) as its centerpiece. This Castle is unlike any other in the world. Since there are many castles throughout Europe, Walt Disney Imagineers strove for a more fairytale-inspired appearance while skillfully combining architecture, nature and fantasy, as well as inspiration from various French monuments. The icon does so by embellishing traditional touches — such as gothic shapes and stained glass — with distinctly Disney details. Be sure to look for the oval stained-glass window, which is permanently lit at the top of the main tower. It signifies a royal presence, just as the Château de Chambord in France indicated when France's king was in residence.

In 2005, a re-creation of Sleeping Beauty Castle at Disneyland opened in Hong Kong Disneyland. However, in 2020, the park centerpiece was transformed into the Castle of Magical Dreams. This Castle takes inspiration from the princesses and queens featured in Disney Animation and Pixar films. You'll notice characters like Mulan, Moana, Tiana, Ariel and Rapunzel, and certain elements of the castle, such as towers and domes, which are uniquely designed to represent each character. The tower dedicated to Princess Aurora stands the tallest, as a nod to the original Sleeping Beauty Castle which served as the foundation for the Castle of Magical Dreams. The mountainous backdrop of Lantau Island was also important to Imagineers: the castle's trees and foliage seamlessly blend the architecture into the natural landscape surrounding the park.

One other unique Disney Castle is the Enchanted Storybook Castle, which opened in Shanghai Disneyland in 2016. This Castle shines over the park as its tallest structure! Deep in its lore is a sense of enchantment, as the storybook within is infused with magic which brings its pages to life. You'll notice the warm, glistening tones of the granite and limestone building materials and the glowing windows framed in ornate Baroque flourishes. Two of the seven towers incorporate Shanghai Disneyland's guiding principles of "Authentically Disney, Distinctly Chinese." These feature traditional Chinese cloud patterns and peonies (China's national flower), blended with Disney stars and a crown with many Disney Princess symbols.
As you can see, each castle fuses recognizable Disney features and a touch of magic with its surrounding cultures and landscapes. This look back in time demonstrates the impressive attention to detail and ingenuity of the Walt Disney Imagineering teams, from Disneyland park's opening in 1955 to today.