It's time for another very filled news digest containing Marvel Comics' upcoming books.  Star Wars is having Han Solo go solo in his own limited series.  There are a few Civil War 2 previews as more have not chosen sides yet.  The X-Men deal with Apocalypse more and more.  Captain America gets a special 75th anniversary issue.  The Spider-Women get their own crossover.  Black Panther and Empress each have their own series debuting.  And, if you're at Wondercon there is information on how to see a preview at an upcoming Agents of S.H.I.E.L.D. episode.  Check it all out below!
STAR WARS: HAN SOLO #1 Punches it Into Hyperspace This June!
New York, NY – March 7th, 2016 – Everyone's favorite scoundrel – now starring in his very own series! Today, Marvel is pleased to announce STAR WARS: HAN SOLO #1 – the newest Star Wars™ limited series coming to a galaxy far, far away and your local comic shops this June! A-list creators Marjorie Liu and Mark Brooks hop in the cockpit of the Millennium Falcon to bring you a swashbuckling tale of high adventure in deep space!
Han Solo has finally entered his ship into the Dragon Void Run – an infamous high-stakes race across the stars. You know, the race Han has dreamt of winning. Only there's a catch – his entry into this legendary race is a top-secret undercover mission for Princess Leia and the Rebellion! Will he keep his mind on the mission? More importantly – can he manage to pull it off while still maintaining his lead in the race?!
The race is on as Han, Chewie and the Falcon blast off this June for the highly anticipated STAR WARS: HAN SOLO #1 – coming to comic shops and digital devices!
STAR WARS: HAN SOLO #1 (of 5)
Written by MARJORIE LIU
Art by MARK BROOKS
Cover by LEE BERMEJO
On Sale in June!
Celebrate Captain America's 75th Anniversary With the
Oversized CAPTAIN AMERICA: SAM WILSON #7!
Superstar Creators Unite to Celebrate the Sentinel of Liberty!
New York, NY—March 7th, 2016 — Exploding onto the scene in 1941 with a punch that would reverberate through history, Captain America would go on to become an icon and one of the most influential comic book characters ever created. This March, celebrate his 75th Anniversary and the legacy of what it means to be Captain America with the oversized CAPTAIN AMERICA: SAM WILSON #7 – a giant 80 page issue commemorating the past, present and future of the Sentinel of Liberty!
First, blockbuster creators Nick Spencer and Daniel Acuna bring you a cataclysmic tie-in to AVENGERS: STANDOFF! Since World War II, someone has always been there to don the red, white and blue and wield the shield. When Steve Rogers fell, his brother in arms, Bucky Barnes picked it up and carried the weight. When it was his time to rest, Sam Wilson would take up the mantle. But now, amidst the chaos and the carnage, Steve will be asked to pick up the shield once more. Be there as this issue paves the way for Steve's return and the upcoming Captain America: Steve Rogers #1!
But that's just the beginning! CAPTAIN AMERICA: SAM WILSON #7 also features some of the most celebrated creators in the industry paying homage to the history of the Sentinel of Liberty! First, Tim Sale (Captain America: White) takes you deep behind enemy lines as Captain America embarks on a dangerous infiltration mission into the heart of the enemy stronghold. Then Greg Rucka (The Punisher) and Mike Perkins (Captain America) bring you a team up in the Might Marvel Manner as Captain America and Black Widow join forces for a mission that requires the ultimate coordination. Finally, superstar creators Joss Whedon and John Cassaday unite for the first time since their celebrated Astonishing X-Men series to chronicle the origins of Captain America's greatest weapon!
This issue also features a bevy of variant covers from the biggest names in comics – including Alex Ross, John Cassaday and Chris Sprouse! Plus, after decades away, legendary artist Jim Steranko returns to the Marvel Universe for the first in an exciting set of variant covers running throughout 2016!
Be there for a look back at 75 years of Captain America and a look forward to the next 75 years. No fan can afford to miss out on one of the biggest issues of the year when CAPTAIN AMERICA: SAM WILSON #7 comes to comic shops and digital devices this March!
CAPTAIN AMERICA: SAM WILSON #7 (JAN160778)
Written by NICK SPENCER, GREG RUCKA, TIM SALE and JOSS WHEDON
Art by DANIEL ACUNA, MIKE PERKINS, TIM SALE and JOHN CASSADAY
Cover by ALEX ROSS
Variant Covers by ALEX ROSS (JAN160779), JOHN CASSADAY (JAN160780) and JIM STERANKO (JAN160781)
Captain America of All Eras Variant by CHRIS SPROUSE (JAN160783)
Women of Power Variant by NEN CHANcG (JAN160782)
FOC – 03/07/16, On-Sale – 03/30/16
Spider-Woman, Silk and Spider-Gwen Swing Into
Action in SPIDER-WOMEN ALPHA #1!
Silk, Spider-Woman and Spider-Gwen Unite For Can't Miss Crossover!
New York, NY – March 10th, 2016 – The Spider-Event of 2016 is here! This April, Silk, Spider-Woman and Spider-Gwen unite for a story too big for any one of their titles to contain! Today, Marvel is pleased to present your first look at SPIDER-WOMEN ALPHA #1 – kicking off the epic 8-part universe hopping crossover! Blockbuster writers Jason Latour, Dennis Hopeless and Robbie Thompson are joined by a dazzling array of artists, including Vanesa Del Rey, Bengal, Javier Rodriguez, Tana Ford and more to bring you a story you won't want to miss!
A routine trip to Earth-65 to visit Spider-Gwen turns into a nightmare as Silk and Spider-Woman find themselves trapped on Gwen's alternate Earth! And they're not alone! The villainous organization S.I.L.K. is on their tails, and they're dead set on using these interdimensional interlopers for their own gains. Now, it's a race against time to get home in one piece! But while these Spider-Women struggle to find their way back, who's keeping an eye on their universe? Plus – Cindy Moon comes face-to-face with her Earth-65 counterpart!  
Don't miss one minute of the excitement as these three wallcrawling warrior women swing into action in SPIDER-WOMEN ALPHA #1 this April!
SPIDER-WOMEN #1 (FEB160774)
Story by JASON LATOUR, DENNIS HOPELESS & ROBBIE THOMPSON
Written by ROBBIE THOMPSON
Art by VANESA DEL REY
Cover by YASMINE PUTRI
Connecting Variant A by J. SCOTT CAMPBELL (FEB160775)
Variant Cover by STACEY LEE (FEB160776)
Action Figure Variant by JOHN TYLER CHRISTOPHER (FEB160777)
FOC – 3/14/16, On-Sale – 4/06/16
CHOOSE YOUR SIDE
New York, NY—March 7th, 2016 — The Marvel Universe is at a crossroads. A new power has emerged, one that can predict the future—for good or ill— and the heroes of the Marvel Universe are faced with a choice: Wield the power of "predictive justice" to change the future as they see fit, or reject it and allow tomorrow to unfold unaltered.
Protect the future. Change the future. Which side will Medusa choose? 
Which sides will Rocket Raccoon and Star-Lord choose? 
Which side will Hawkeye choose? 
Which side will Ms. Marvel choose?
The X-Men Enter the Fray in CIVIL WAR II: X-MEN #1!
New York, NY—March 7th, 2016 — As the heroes of the Marvel Universe stand against one another, the Mutants will face their own war. This June, the X-Men prepare for war in CIVIL WAR II: X-MEN #1 – a new Civil War II series from writer Cullen Bunn  (Uncanny X-Men) and artist Andrea Broccardo (Kanan: The Last Padawan)!
Terrigen Mists encircle the globe, igniting the Inhuman race while simultaneously crippling mutantkind. As conflict between the two nations simmers below the surface, a new Inhuman with the ability to profile the future has emerged. As heroes of the Marvel Universe battle over whether to use this Inhuman's ability or not – one mutant will take matters into his own hands. Fearing this untapped power may tip the scales in the Inhumans' favor – Magneto is willing to wage war with the Inhumans and even his own kind to prevent that from coming to pass!
"I certainly hope this story divides the fans in terms of who is 'right'," says writer Cullen Bunn in an upcoming interview with Marvel.com. "One of the things I'm excited about with Civil War II is that there are so many questions, debates, and positions that are going to rise from it. In Civil War II: X-Men we'll focus on the mutants and the specific positions they are taking."
No longer sitting on the sidelines, Magneto will use his terrifying and awesome power to take mutantkind's fate into his own hands! Though he may be surprised who stands with him…and who stands against him! The battle lines are drawn this June in CIVIL WAR II: X-MEN #1!
For more information, visit Marvel.com later today for a full interview with the creators!
CIVIL WAR II: X-MEN #1 (of 4)
Written by CULLEN BUNN
Art by ANDREA BROCCARDO
Cover by DAVID YARDIN
On-Sale in June!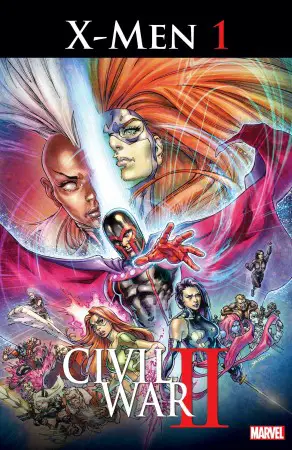 Apocalypse Wars Continues in Your First Look  at UNCANNY X-MEN #6!
New York, NY—March 8th, 2016 — This April, the secrets of Archangel will be revealed as Magneto and his team prepare for war. Today, Marvel is pleased to present your first look inside UNCANNY X-MEN #6 –  the start of the Uncanny X-Men's foray into Apocalypse Wars! Writer Cullen Bunn and artist Ken Lashley take you on a mission to save the life of one of the founding X-Men!
Years ago when Archangel first met Apocalypse, he was transformed into the homicidal Horseman of Death. Now, years later, it appears he may be again returning to that form. Psylocke has discovered a vacant, drone-like Archangel in the guise of Death once more. Fearing the worst, that her once lover is under the control of Apocalypse – she and the rest of the Uncanny X-Men embark on a mission to save Archangel's life. But what they are about to uncover is far more horrifying than they could have imagined…
The quest for Archangel begins this April as Apocalypse Wars comes to UNCANNY X-MEN #6!                
UNCANNY X-MEN #6 (FEB160897)
Written by CULLEN BUNN
Art by KEN LASHLEY
Cover by GREG LAND
Connecting Variant B by KEN LASHLEY (FEB160898)
Classic Variant by WHILCE PORTACIO (FEB160899)
Story Thus Far Variant by GREG LAND (FEB160900)
FOC – 3/14/16, On-Sale – 4/06/16
YOUR NEW LOOK AT TA-NEHISI COATES & BRIAN STELFREEZE'S
BLACK PANTHER #1 FROM MARVEL COMICS
New York, NY—March 11, 2016 — A new era dawns for Wakanda and its ruler, T'Challa! Marvel is proud to offer your new look at BLACK PANTHER #1 written by national correspondent for The Atlantic, MacArthur Genius, and National Book Award winner Ta-Nehisi Coates (Between the World and Me) and illustrated by living legend Brian Stelfreeze, BLACK PANTHER "A Nation Under Our Feet" is a story about dramatic upheaval in Wakanda and the Black Panther's struggle to do right by his people as their ruler.
The indomitable will of Wakanda — the famed African nation known for its vast wealth, advanced technology and warrior traditions — has long been reflected in the will of its monarchs, the Black Panthers. But now, the current Black Panther, T'Challa, finds that will tested by a superhuman terrorist group called The People that have sparked a violent uprising among the citizens of Wakanda. T'Challa knows the country must change to survive — the question is: will the Black Panther survive the change?
Exclusively revealing with The Atlantic, Coates proposes a simple question that fueled his script for BLACK PANTHER, "Can a good man be a king, and would an advanced society tolerate a monarch? Research is crucial in both cases. The Black Panther I offer pulls from the archives of Marvel and the character's own long history. But it also pulls from the very real history of society—from the pre-colonial era of Africa, the peasant rebellions that wracked Europe toward the end of the Middle Ages, the American Civil War, the Arab Spring, and the rise of ISIS."
"For centuries, Wakanda has been sending would-be conquerors home in body bags.  Now, it is about to face its biggest threat — and it comes from within," says Marvel Comics Editor In Chief, Axel Alonso.  "Under Ta-Nehisi's unflinching gaze, the Black Panther will grapple with a threat that can't simply be beaten into submission, one that raises questions about life, liberty and honor that are especially relevant today."
Is this a bold new age for one of Marvel's most classic heroes or his untimely downfall? Find out April 6th as BLACK PANTHER #1 arrives digitally and in local comic retailers.
BLACK PANTHER #1 (FEB160736)
Written by TA-NEHISI COATES
Art and Cover by BRIAN STELFREEZE
BLACK PANTHER #1 ALEX ROSS VARIANT (FEB160737)
BLACK PANTHER #1 BLANK COVER VARIANT (FEB160746)
BLACK PANTHER #1 COIPEL VARIANT (FEB160738)
BLACK PANTHER #1 DISNEY INFINITY GAME VARIANT (FEB160745)
BLACK PANTHER #1 FELIPE SMITH BLACK PANTHER 50TH ANNIVERSARY VARIANT (FEB160742)
BLACK PANTHER #1 GREENE CONNECTING VARIANT A (FEB160740)
BLACK PANTHER #1 SOOK VARIANT (FEB160743)
BLACK PANTHER #1 STELFREEZE DESIGN VARIANT (FEB160741)
BLACK PANTHER #1 STELFREEZE HIP-HOP VARIANT (FEB160739)
FOC – 3/14/16, On-Sale – 4/06/16
Mark Millar & Stuart Immonen Unite – Your Look Inside EMPRESS #1!
Superstar Creators Launch New Series This April!
New York, NY – March 9th, 2016 – This April, two of the biggest names in comics join forces to bring you a brand-new sci-fi adventure unlike any other! Mark Millar (Kick-Ass, Kingsman: The Secret Service) teams with Stuart Immonen (Star Wars, All-New X-Men) to bring you EMPRESS #1 – a brand new series launching as part of Marvel's creator-owned ICON imprint.
Imagine you're married to the worst bad guy in the entire universe. An alien dictator feared by races across the cosmos. He will kill you if you leave, but you must escape for the sake of your three children. Now, Queen Emporia must flee the clutches of her ruthless husband with nothing but her wits, her trusty bodyguard, and three guns in tow. Will their attempt at freedom be short lived?
Created in 2004, Marvel's ICON imprint is designed specifically for top-tier creators to tell their bold, creator-owned storied featuring their own characters and creations. Producing critically acclaimed titles such as Kick-Ass, Powers, The Secret Service, Men of Wrath and many more, Marvel's ICON imprint has solidified itself as the place to be for exciting stories from A-list creators.
The starhopping, intergalactic adventure begins this April when Mark Millar and Stuart Immonen bring you the highly anticipated EMPRESS #1 – available in print and digitally! 
Retailers: Please note you may return all unsold copies of EMPRESS #1, if you please. Please refer to your Marvel Mailer for additional information on returnability and other offers regarding EMPRESS #1.
Skottie Young Variant Offer: Retailers registered on the Millarworld retailers forum will be able to order an exclusive Skottie Young variant for EMPRESS #1 (DEC158595) before FOC. For more information, check your Marvel Mailer. For retailers still needing to sign up, you can do so here.
EMPRESS #1 (of 7) (FEB160939)
Written by MARK MILLAR
Art & Cover by STUART IMMONEN
Inks by WADE VON GRAWBADGER
Colors by IVE SVORCINA
Letters by PETER DOHERTY
Variant Covers by STUART IMMONEN (FEB160940),
SEAN GORDON MURPHY (FEB160942) and STEVE MCNIVEN (FEB160943)
Millarworld Exclusive Skottie Young Variant Available (DEC158595)
Sketch Variant by STUART IMMONEN (FEB160941)
Blank Variant Also Available (FEB160944)                           
FOC – 3/14/16, On-Sale – 4/06/16
Fans to Get a Sneak Peek at an Upcoming Episode of the Series
Exclusive WonderCon Mini-Poster Giveaway
With Never-Before-Seen Art
The cast and Executive Producers of Marvel's Agents of S.H.I.E.L.D. will be heading to WonderCon in Los Angeles! Join them for an exclusive panel Q&A session at the Los Angeles Convention Center on Saturday, March 26.
The Marvel's Agents of S.H.I.E.L.D. panel will be moderated by Marvel's Head of Television and series Executive Producer, Jeph Loeb, and will include a Q&A discussion where fans can get a glimpse of what's ahead for the team in season three. Fans lucky enough to attend will also get a sneak peek at an upcoming episode of the series before it airs on ABC as well as a limited edition show-themed mini-poster, featuring never-before-seen art by Marvel comic artist, Mike McKone.
Can't make the panel? Fans can catch the cast at a poster signing after the panel in the private signing room.
EVENT INFORMATION:
SATURDAY, MARCH 26:
Marvel's Agents of S.H.I.E.L.D. — Panel Session and Poster Giveaway
2:00 PM – 3:30 PM in Room 408AB
Marvel's Agents of S.H.I.E.L.D. – Cast Signing Event and Poster Giveaway
4:00 PM – 5:00 PM in the private signing room.
Please note that signings are ticketed events and passes will be available via a ticket drawing beginning at 7:30 AM on Saturday, March 26th in West Hall A.
Keep up with the latest from your favorite S.H.I.E.L.D. Agents by following @AgentsofSHIELD on Twitter and "liking" the Marvel's Agents of S.H.I.E.L.D. Facebook page.
Stay tuned to www.marvel.com for all the breaking news from Wondercon in Los Angeles. Follow @Marvel on Twitter and "like" Marvel on Facebook for minute-by-minute updates on all things in the MCU.