Marvel Comics has slowed down a little with news, probably to keep Secret Wars and the revamped Marvel universe under wraps until all is said and done.  The news this week, though, brings cosplay variant covers to the forefront, and a look at the upcoming Inhumans series.  Also in Marvel news is Max Ride and Ms. Marvel in graphic audio.  Bigger news than those is the Captain America series that will bring together two great comics people in a team.  Check it all out below!
COSPLAY VARIANTS Bring Marvel Heroes To Life Later This Year!
New York, NY—August 21st, 2015— You've seen them at conventions, now see them on the covers of some of Marvel's newest comic titles later this year! Today, Marvel is pleased to present your new look at the upcoming COSPLAY VARIANT program. See your favorite Marvel characters like you've never seen before, as mighty Marvel fans bring them to life for 20 exciting covers!
"Cosplayers are taking over," says Marvel SVP Sales & Marketing David Gabriel. "Each convention I go to, it seems like there are more and more fans dressing up like their favorite Marvel characters. These homemade, hand-crafted costumes are so elaborate, it looks like they leapt off the comic page. The Cosplay Variant initiative is our way of supporting a community that supports us."
Look for these exciting COSPLAY VARIANTS coming to comic shops later this year:
A-Force #1 Cosplay Variant by Jay Justice
All-New Inhumans #1 Cosplay Variant by Yaya Han
Amazing Spider-Man #1 Cosplay Variant by Aaron Rivin
Astonishing Ant-Man #1 Cosplay Variant by SoloRoboto Industries
Avengers #0 Cosplay Variant by Michael Cox
Captain Marvel #1 Cosplay Variant by Judy Stephens
Daredevil #1 Cosplay Variant by Patrick 'Rick' Lane
Doctor Strange #1 Cosplay Variant by Allen Lee Hansard
Extraordinary X-Men #1 Cosplay Variant by Amanda Lynne Shafer
Guardians of the Galaxy #1 Cosplay Variant by Contagious Costuming
Invincible Iron Man #1 Cosplay Variant by Dale Oliver
Ms. Marvel #1 Cosplay Variant by Soni Balestier
Nova #1 Cosplay Variant by Cap Santiago
Sam Wilson Captain America #1 Cosplay Variant by Eddie Newsome
Spider-Gwen #1 Cosplay Variant by Kathrine Zan
Spider-Woman #1 Cosplay Variant by Yashuntafun Cosplay
The Mighty Thor #1 Cosplay Variant by Sarah Jean Maefs
The Mighty Thor #2 Cosplay Variant by Kevin Spooner
Uncanny Avengers #1 Cosplay Variant by Miss Kit Quinn
Uncanny Inhumans #1 Cosplay Variant by Kalel Sean
CLASSIFIED
 No fan can afford to miss out on these exciting variant covers featuring your favorite Marvel characters brought to life by these stunning cosplayers! Head to your local comic shop beginning this October to get your hands on these can't miss COSPLAY VARIANTS!
A New Team. A New Mission. Prepare For ALL-NEW INHUMANS #1!
New York, NY—August 21st, 2015 — She is Inhuman royalty. She's been an Avenger, served alongside the likes of the Fantastic Four and the X-Men. She has been a constant presence in the Marvel Universe. She is Crystal and this December, she steps in to her new role in ALL-NEW INHUMANS #1! Writers James Asmus and Charles Soule join artist Stefano Caselli to expand the world of the Inhumans across the Marvel Universe!
Part diplomatic emissaries, part covert strike team, Crystal and her team have one mission: protect their new and growing race by any means necessary! As the Terrigen Cloud rips across the planet, leaving new Inhumans in its wake – Crystal, Gorgon, Flint, Naja and Grid travel all over the world and stop at nothing to help those in need, and put a stop to those who would harm their people.
"All-New Inhumans in particular will focus on the strange and dangerous complication that come from a global unleashing of NuHumans," says writer James Asmus in an interview with Marvel.com. "This book will be the number one way to see exactly how the Marvel Universe is changing as the Terrigen Cloud moves through the world. It's about getting into countries hit by the cloud – through any means necessary – to help those who need it, and to stop those out to kill/exploit/harvest their fellow NuHumans."
But when mysterious Skyspears begin appearing all over the world, their appearance could have dangerous and cataclysmic consequences for Inhumans across the globe.
"Skyspears are big obelisk-type artifacts that have appeared in or near population centers all around the globe," explains Charles Soule. "They can't be moved, or damaged, or even really affected in any way. Their purpose is part of a pretty long play, but the All-New Inhumans will definitely be involved with their ongoing story."
Big superhero action meets Inhuman intrigue this December as Asmus, Soule & Caselli show you a new side of the Marvel Universe in ALL-NEW INHUMANS #1!
ALL-NEW INHUMANS #1
Written by JAMES ASMUS & CHARLES SOULE
Art & Cover by STEFANO CASELLI
On Sale in December!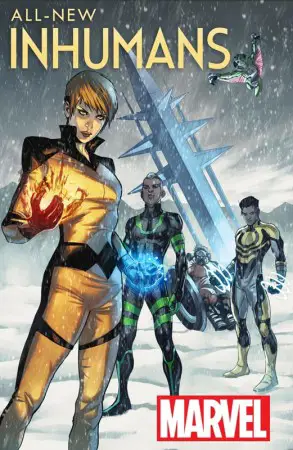 Loeb & Sale Re-Unite For New Look at CAPTAIN AMERICA: WHITE #1!
New York, NY—August 21st, 2015 — This September, experience a blockbuster seminal story of the Super Solider brought to light in CAPTAIN AMERICA: WHITE #1! The Eisner-award winning team of Jeph Loeb and Tim Sale reunite once more to bring you the long awaited return to their prestigious 'color' book series!
Following such iconic classics as SPIDER-MAN: BLUE, DAREDEVIL: YELLOW and HULK: GRAY, CAPTAIN AMERICA: WHITE will continue the unique collaboration between Loeb and Sale as they bring you an all-new story starring Steve Rogers and Bucky Barnes! Previous collaboration between these two icons has yielded modern comic masterpieces – so don't miss out on the birth of their next chartbusting hit! Plus, this extra-sized issue also reprints the complete CAPTAIN AMERICA: WHITE #0!
Peel back the layers of Steve Rogers with a tale of Captain America in WWII as he defended the world from the forces of evil, and met a young man named Bucky Barnes who would change his life forever. Loeb & Sale's combination of in-depth characterization and explosive super hero action meet for an epic tale of one of Cap's most dangerous missions of all!    
At long last, the eagerly anticipated series lives again. Be there when this legend in the making comes to comic shops and digital devices in CAPTAIN AMERICA: WHITE #1!
Get caught up with the JEPH LOEB & TIM SALE: YELLOW, BLUE AND GRAY hardcover – available now in comic shops and wherever books are sold.  
CAPTAIN AMERICA: WHITE #1 (of 5) (JUL150711)
Written by JEPH LOEB
Art & Cover by TIM SALE
Inhumans 50th Anniversary Variant by J. SCOTT CAMPBELL (JUL150713)
Variant Covers by MAHMUD ASRAR (JUL150714),
TIM SALE (JUL150712) and SKOTTIE YOUNG (JUL150715)
FOC – 08/24/15, On-Sale – 09/16/15
JAMES PATTERSON AND MARVEL ANNOUNCE MAX RIDE: ULTIMATE FLIGHT #1
The Best-Selling Maximum Ride Series Continues, Wonderfully Reimagined by Marvel!
New York, NY—August 19th, 2015 — Max and the Flock are back! Today, Marvel and international best-selling author James Patterson are pleased to announce the continuation of the Max Ride saga with JAMES PATTERSON'S MAX RIDE: ULTIMATE FLIGHT #1, a brand new series set to debut this November!
Writer Jody Houser (Avengers: No More Bullying, Orphan Black) and artist R.B. Silva (Spider-Man & The X-Men, Secret Wars Journal) take the reins on the fast paced high stakes adventures of Max, a teenage girl, who due to genetic tampering is part human and part avian! After escaping from their creators and now on the run, Max and her "Flock" use their extraordinary abilities to defend themselves and save the world. Now more determined than ever to learn the truth, they'll stop at nothing to uncover the secrets of their origins and discover the limits of their new found abilities. But when a new stranger enters their lives, she'll turn their whole world upside down!
"Seeing heroes who look like us give us an example to aspire to," says Houser on the importance of young heroes. "It shows us possibilities of what we can be, what we're capable of. More importantly, seeing versions of ourselves in stories shows us that we matter."
Can Max save the world AND save her family? Or will she have to choose? A bold new adventure is about to take flight. Be there as the fantastic world of James Patterson soars off the pages as only Marvel can bring you in JAMES PATTERSON'S MAX RIDE: ULTIMATE FLIGHT #1!  
JAMES PATTERSON'S MAX RIDE: ULTIMATE FLIGHT #1 (of 5)
Written by JODY HOUSER
Art by R.B. SILVA
Cover by YASMINE PUTRI
On Sale November 2015!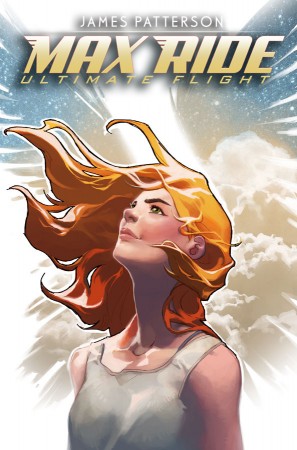 Finally… Ms. MARVEL in Glorious GraphicAudio®!
New York, NY, August 17, 2015 – EMBIGGEN!!  GraphicAudio's adaptation of Ms. Marvel: No Normal has arrived!  Full Cast, Cinematic Sound, Digital Sound FX –
You've never HEARD comics sound this good!  Available for immediate download at www.GraphicAudio.net/Marvel     
[Click to listen to the brand new Launch Clip]
In case you missed all the excitement first brought to you at SDCC, we've got you covered…
You've seen and read about the highly acclaimed and inspirational new Marvel hero, Ms. Marvel. Now hear what she sounds like!
For the first time ever, GraphicAudio has adapted a Marvel character directly from the comics themselves. This is your chance to hear Ms. Marvel issues #1-5 as collected in the trade Ms. Marvel Vol. 1: NO NORMAL.  Through cinematic music, a full cast of voices, digital sound effects, you'll be immersed in this mega-hit comic book series like never before!
Now includes bonus roundtable interview with Creators Sana Amanat and G. Willow Wilson and GraphicAudio Director Richard Rohan.
Kamala Khan is an ordinary girl from Jersey City – until she is suddenly empowered with extraordinary gifts. But who truly is the all-new Ms. Marvel? Teenager? Muslim? Inhuman? As Kamala discovers the dangers of her newfound powers and unlocks a secret behind them as well. Is she ready to wield these immense new gifts? Or will the weight of the legacy before her be too much to handle? Kamala has no idea either. But she's here to stay!
Mixed in 5.1 Surround Sound DTS and in Stereo, MS. MARVEL is available at www.GraphicAudio.net/Marvel and via the FREE GraphicAudio Access™ Mobile App which allows customers to directly download titles on their Android or iOS smartphones and tablets.
Order Ms.Marvel Vol.1: NO NORMAL at www.GraphicAudio.net/Marvel today.  CD formats and Marvel TPBs also available at comic shops and Inhuman-loving bookstores near you!
*****
About GraphicAudio® A Movie in Your Mind®:
An imprint of The Cutting Corporation, since 2004, GraphicAudio® has published approximately 1000 titles and 65 different series in their GraphicAudio® A Movie in Your Mind® audiobook entertainment format.  For more information visit: www.graphicaudio.net