It's a special edition of comics news for you, just in time for the San Diego Comic Con.  In addition to what Marvel has in store for there, below are two reviews of recent comics that are quite a paradigm shift in comics as we know them.
Marvel Unveils Action-Packed Line-Up Of Exclusive
Collectibles At San Diego Comic-Con!
Available only at the Marvel Booth (Booth #2329)
 New York, NY—July 6th, 2015— Marvel Entertainment is taking this year's San Diego Comic-Con by storm! And we're giving fans yet another reason not to miss out on the biggest pop culture event of the year with a lineup of convention exclusives that will be available only at the show! Sure, you've already heard about the collectible Marvel pins featuring award-winning artist Skottie Young's artwork. But that was just the beginning!
 With exclusive t-shirt designs, hoodies, variant comics and more featuring your favorite Marvel characters – the Marvel Shop at San Diego Comic-Con (Booth #2329) is your one stop shop for exclusive items from Marvel's Ant-Man, Marvel's Avengers: Age of Ultron, Marvel's Agents of S.H.I.E.L.D., Marvel's Daredevil, Marvel's Agent Carter, All-New, All-Different Marvel and more!
 With surprises coming all weekend long, no fan can afford to miss out on all the excitement and their chance to bring a piece of the convention home with them!
 Can't make it to the convention? Follow along on Marvel.com, the best way to get exclusive videos, real-time announcements from the convention floor and  up-to-the-minute panel, in-booth, and signing schedules of all your favorite Marvel creators!
The Marvel Booth at San Diego Comic-Con:
The Best Place To Meet Creators And Win Prizes!
This week, Marvel returns to Comic Con International in San Diego! And the biggest convention of the year requires nothing but the best from the House of Ideas! Sure you've already seen the can't miss line-up of exclusive merchandise available only at the Marvel Shop. But Marvel (Booth #2329) is also bringing along the hottest creators in the industry and exciting events all weekend long! Over the course of the four day mega-event, Marvel is bringing the fan service with tons of events, signings, and awe-inspiring on-stage events that will make this year's convention an event to remember! Be sure to visit the Marvel Booth (Booth #2329) throughout the show to get in on the excitement!
 Tons of great giveaways (while supplies last), costume contests, live games shows, and more await you! Plus –don't miss out the countless unforgettable events and even the chance to attend a signings with the casts of Marvel's Agents of S.H.I.E.L.D., Marvel's Agent Carter and even Stan "The Man" Lee himself*!
 And that's not all because, we have an all-star cast of your favorite Marvel creators who will be at the booth signing all weekend long! Swing by and visit blockbuster Marvel creators including Brian Michael Bendis, Jeff Lemire, Jonathan Hickman, Skottie Young, Charles Soule, Marguerite Bennett and many, many more!
 Can't make it to the convention? Follow along on Marvel.com starting July 8th for exclusive videos, real-time announcements from the convention floor and up-to-the-minute panel, in-booth, and signing schedules of all your favorite Marvel creators! And tune in July 9-12 for live streaming video direct from the Marvel booth at Comic-Con as well as liveblogs of all the Marvel panels!
 *Ticketed event – tickets distributed the morning of the signing at the Marvel Booth, as soon as the convention opens. Schedule subject to change.
Note: Schedules subject to change.
The New Archie Comics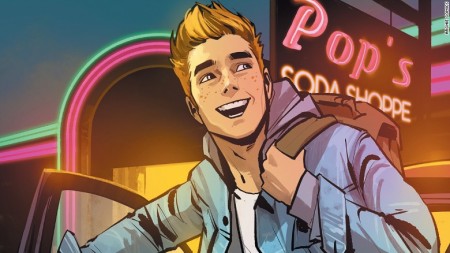 Comics have been around for a long time.  One of the foundational publications is Archie Comics.  For over 75 years these comics have taken readers to Riverdale, home of the famous red head and his pals.  But, 75 years for a teen character has, perhaps, made things a bit stale for readers.
Archie Comics are revamping their line in a dramatic way.  The classic comics have a new look and new format to help usher in the characters to a modern age.  Helping this along is famed comics writer Mark Waid, who has been a part of DC Comics in the past with highly acclaimed stories.  Think of how cool The Flash tv series is and you have Mark Waid to thank (in my opinion).
Though the paper format is like other comics, the story format is different.  Archie used to have small tales in each issue, and sometimes overarching ones.  This is definitely the beginning of a broader story that could take up several issues, just like other comics.
How does it differ from previous Archie incarnations?  If you've ever watched Saved By The Bell you know it's been a teen comedy where the main character breaks the fourth wall to help narrate.  Archie Comics looks to have that same idea, but with much more modern plots.  Not only that, but they are reintroducing characters in their more modern forms.  They seem more realistic, though still retaining a classic style and personality.
The initial plot is that Archie and Betty have been together for years, but something called the "lipstick incident" has torn them apart.  Though they still have some feelings for each other, it's a new day in the history of Riverdale.  Not only that, but a very powerful and wealthy family is moving into town – the Lodges.  If you know Archie mythos you know this means Veronica.  The rest of the crew is trying to get Archie and Betty back together, but will they succeed?  Read and find out.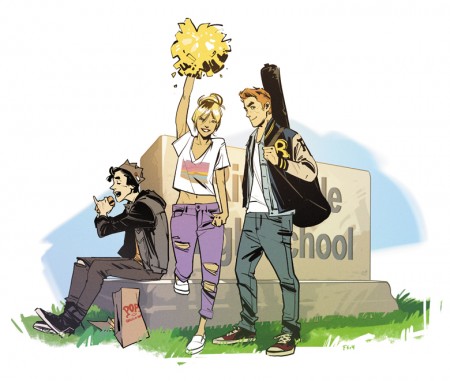 So, is this a great new start to the Archie line?  I think it is!  I've read Archie comics in the past, sometimes picking up the digests at the market, or the occasional regular comic.  I've enjoyed Archie comics over the years.  It wasn't a lot of teenage drama.  It wasn't too much into kid-like humor.  They were just fun, but not a lot to keep story threads going, at least for me.
Jump to these new Archie Comics – it's Archie for a modern age.  Where that sounds scary, I think it's turning out great!  I've been a fan of Saved By The Bell, like I mentioned.  It was teen comedy that turned into a cult classic.  I think these comics have that potential for a new audience.  There's already the makings of depth of character and relationships.  We get to see more emotion and more personality to why the teens function the way they do with each other.
The stories are not going to be comics as some know comics now.  These are not super heroes, these are more realistic teens.  But, it's a great book with classic characters.  In addition, there's a live-action tv series that is in the works to be a companion to the comics.  The producers are responsible for Arrow, The Flash, and the upcoming Supergirl tv shows.
I, myself, am wanting to read the next issue of the series.  Fiona Staples has done a fantastic job at the artwork and revamp of the characters.  They look more contemporary, but with the essence of what they've always been.  The book is a great alternative to regular hero comics, and one that I am enjoying.  Where it might be a concern that a very classic publication is losing its way, I think this is a very tasteful and great modern adaptation!  It's fresh and revamped for readers of all ages today!
The comic is available at comic stores, and with cover variants, and at Comixology.com
Also, if you are at SDCC there will be panels discussing the new comics and the new television series.
Star Trek and Green Lantern: The Spectrum War – Review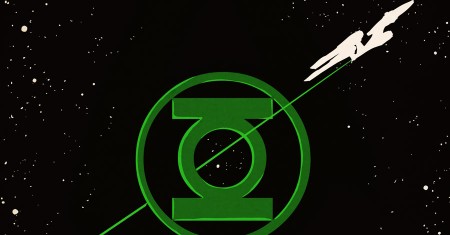 This comic answers the longtime question: Which is better – Green Lantern or Star Trek?  Ok, so that's not really a question that is burning on every geek's mind, but this comic makes it feel like it should be.  IDW and DC Comics have teamed up to present an epic tale of crossover madness.  The DC Universe has crossed over into the newer, alternate classic Star Trek universe in this comic.
I'll try not to give too much away, but there is something that causes rings from the Green Lantern books to come to the universe of the Federation.  Kirk and crew stumble upon them, and so does a nefarious Klingon from Star Trek history.  I don't want to say who in this review, but I'll say it's my favorite Klingon (besides Worf) and from one of my favorite Star Trek movies (who am I kidding, it is my favorite Klingon).  The rings that come aboard the Enterprise are from the full "emotional spectrum" of the Green Lantern mythos.  That means that green/will, blue/hope, sapphire/love, indigo/compassion, red/rage, orange/avarice, and yellow/fear are finding suitable hosts for the powers they possess.  Who gets each ring?  This comic begins to answer and even has a puzzling ending, and puzzling meaning "What does this mean?  And what is going to happen next?"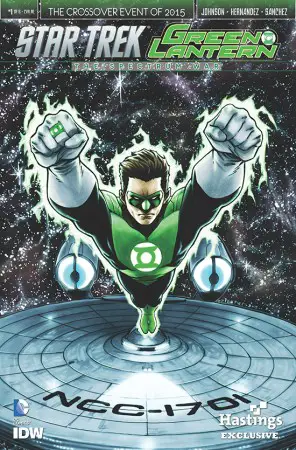 I grabbed this comic for the novelty of having two of my favorite franchises ever in one book!  I've grown up with both Star Trek and Green Lantern and was ecstatic to find them together.  Whether or not they belong together is not a question in my mind.  It is fun to have all the characters in one comic!
I haven't read very many of the IDW Star Trek series, but have heard good things about it.  The artwork portrays the new movie actors well, but also has them almost as an homage to the classic series look.  There was a great job at integrating the Green Lantern characters with the more realistic style of Star Trek.
The writing is great, and kept up with both the DC Comics ways and making it feel like we're thrust into another movie adventure.  This story is also fascinating.  Why is Green Lantern around this dimension?  What do the rings mean for the Federation?  It's all intriguing and I'm already hooked on this plot.  It'll be a 6 issue series that I'm sure will have a big, climactic ending.
The comic is available at shops and also online at Comixology.com.  Check for cover variants as well!
CELEBRATE SAN DIEGO COMIC-CON WITH MARVEL UNLIMITED
FOR ONLY 1¢ FOR THE FIRST MONTH!
 Join Marvel Unlimited for One Penny and Enjoy Over 17,000 Digital Comics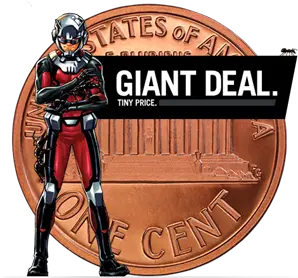 New York, NY— July 8th, 2015 —Marvel Unlimited is celebrating this year's San Diego Comic-Con by inviting Marvel fans to experience over 75 years of Marvel Comics through Marvel Unlimited! For only 1¢ for the first month of a Marvel Unlimited monthly subscription, new subscribers will be able to experience the greatest Marvel fan experience – access to over 17,000 digital Marvel comics!*
Unlock the Marvel Universe for only a penny through Marvel Unlimited by using the Promo Code PENNY at Marvel Unlimited checkout and prepare yourself for some of the greatest Marvel Comics featuring The Avengers, Guardians of the Galaxy, Ant-Man, Daredevil, Spider-Man and many more!  This amazing gift is accessible through Marvel Unlimited on the web and through the Marvel Unlimited app on iPhone®, iPad® and Android™ devices.
New to the Marvel Universe and don't know where to start? Don't worry! Marvel Unlimited subscribers have access to the DISCOVER section of Marvel Unlimited. Subscribers are now able to discover new pathways into the Marvel Universe by being able to search by their favorite storylines, characters or creators. 
 Want to learn about Marvel's Civil War? Marvel Unlimited will show you the entire series and offer you a step-by-step suggested reading order. Curious about who Ant-Man is? Marvel Unlimited is here to provide you with his most heroic Marvel moments. Love Sara Pichelli's artistic style? Marvel Unlimited can now show you some of her most acclaimed work all in one place.
 With classic and newer issues being added to Marvel Unlimited on a weekly basis as early as six months after they're in stores, you'll definitely want to join Marvel Unlimited this holiday season and enjoy the gift of the Marvel Universe!
Follow Marvel on Facebook at www.facebook.com/marvel join in the conversation on Twitter with #Marvel and for all things Marvel, please visit marvel.com.
*Offer valid 7/8/15 12:01 AM EDT to 7/20/15 11:59PM EDT. OFFER VALID ON MONTHLY SUBSCRIPTIONS ONLY. Offer is open to new and former (now-cancelled) members who have not subscribed with a promotional offer in the last 6 months. Offer not valid on gift subscriptions, Annual or Annual Plus memberships. Valid payment card required to redeem offer. First month billed at $0.01; subsequent months billed at then-current monthly subscription fee (currently $9.99/month) unless and until cancelled. Cancel anytime through My Account following registration.  Auto-renewal and other terms and conditions apply; please see Marvel Unlimited Terms of Use for terms and Marvel.com/Unlimited for further details.