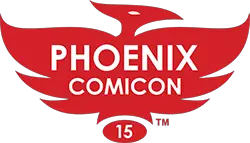 With Phoenix Comicon 2015 just under two months away, more and more guests are being added to the line up! Here's a recap of recently announced media guests attending the Convention.
Christopher Lloyd
Christopher Lloyd is best known for playing Doc Emmett Brown in the Back to the Future trilogy, Uncle Fester in The Addams Family and its sequel Addams Family Values, and Judge Doom in Who Framed Roger Rabbit. He rose to prominence in the 1980s as Jim Ignatowski in the television series Taxi.
Lloyd has used his vocal talents in animation, frequently voicing villains. He provided voice to the character The Hacker on the animated PBS series Cyberchase. Lloyd has won three Primetime Emmy Awards and an Independent Spirit Award, and has been nominated for two Saturn Awards and a Daytime Emmy Award.
Lloyd attended the Neighborhood Playhouse in New York and studied with renowned acting teacher Sanford Meisner. He appeared in more than 200 stage productions before segueing into film with his debut in 1975 as Taber in One Flew Over the Cuckoo's Nest starring Jack Nicholson.
Barry Bostwick, Patricia Quinn, and Nell Campbell from The Rocky Horror Picture Show
Tony Award Winner Barry Bostwick played Brad Majors in Rocky Horror and went on to gain notoriety on stage and on screen where he's appeared in titles including Spin City, Supernatural, and Scandal.
Patricia Quinn played Magenta both on stage and in the film version of Rocky Horror. She continued acting with roles in I, Claudius, Shock Treatment, Monty Python's The Meaning of Life, and Doctor Who.
Nell Campbell also appeared in both stage and film versions of Rocky Horror as Colombia. Following the film she continued to perform on stage in productions including A Street Car Named Desire, You Should Be So Lucky, and Nine.
David Morrissey
David Morrissey is known for his role as The Governor in the AMC television series The Walking Dead, which earned him a Saturn Award nomination for Best Supporting Actor on Television. He also played the character Jackson Lake in the 2008 Doctor Who episode "The Next Doctor." The RTS Television Award winner has also appeared in titles including The Deal, Blitz, The Other Boleyn Girl, and The Reaping.
Star Trek Continues to Debut Episode 4 at Phoenix Comicon 2015
On Friday, May 29th at Phoenix Comicon, Star Trek Continues will be premiering Episode 4: The White Iris. This is the second premier that the web-series Star Trek Continues has done at Phoenix Comicon with Episode 1: Pilgrim of Eternity premiering at the 2013 event. Cast attending the premier and doing a panel afterwards will be Vic Mignogna, Todd Haberkorn, Chuck Huber, Chris Doohan, Kim Stinger, Wyatt Lenhart and Michele Specht.
Star Trek Continues is aimed at completing the final two years of the original five-year mission.They recently held a Kickstarter and successfully raised $214,584, exceeding its goal of $100,000. The sum is slated to cover the production costs of two additional episodes, and to facilitate the construction of an engineering room and planet set.
Vic Mignogna has been acting from the age of eight all the way through college, where he majored in film and minored in theatre. Vic has been in countless professional stage and film productions, but perhaps is best known as a prolific voice actor for over 200 animated series and video games including Fullmetal Alchemist, Dragonball Z, Pokemon, and many more. As a young boy, Vic fell in love with Star Trek and is realizing his boyhood dream to play the role of Captain Kirk.
Todd Haberkorn got his professional start in stage productions as a boy. He went on to earn a degree in theatre from SMU. Being in front of and behind the camera in almost every capacity, Todd is an accomplished actor, director, producer and writer. He works in every medium from animation and film to voice over and theatre. Todd continues to produce with his own company, Out of the Office Productions.
Chuck Huber has been a TV, film, and stage actor for over 20 years, most notably at Chicago's Goodman Theater. He is a producer, co-writer, and co-star of the bilingual border drama Fragility of Seconds, which took the Gold Remi at the Houston International Film Festival. He's also writer/director of Arbor Day: The Musical and has guest starred in NBC, Fox, and CBS dramas. Chuck has also worked as director, writer, and actor for popular Cartoon Network programs, and voices over 200 characters for the Cartoon Network, Funimation, and Syfy.
Chris Doohan is no stranger to Star Trek, having spent time on the original series sets with his father. He began his acting adventure on the Enterprise in 1979 in Star Trek: The Motion Picture – the first of several appearances on the beloved ship. His most recent trek put him in the transporter room of the critically acclaimed Star Trek (2009) and Star Trek Into Darkness – sharing the screen with the new Scotty, Simon Pegg. Chris has also done several character voice-overs for the Starship Farragut animated episodes, including that of the iconic engineer himself.
Kim Stinger has appeared in film, on television, in commercials, and on the web. She has had roles on shows like The Bold and the Beautiful, America's Most Wanted, and the films Thunder Geniuses and Pastor Jones 2: Lord, Save My Daughter. Lt. Uhura will be a standout among her roles, not only because of Kim's respect for Nichelle Nichols (who originated the iconic character), but also for the tremendous enthusiasm Trek fans have for Uhura and the entire cast of the classic series.
Wyatt Lenhart has been acting since he was a child, playing roles like Joseph in Joseph and the Amazing Technicolor Dreamcoat, Into The Woods: Rapunzel's Prince, and more. He's won several classical piano competitions and enjoys composing, singing, and playing bass with his band. Wyatt also works as a flight director at the Christa McAuliffe Space Education Center, taking young students to distant destinations in the galaxy. He comes from a family of nine where the ultimate family pastime is anything Star Trek.
In addition to her role as the Enterprise's first ship's counselor, Michele Specht is known to scifi fans as bounty hunter Red in Fallout: Nuka Break, and as Betty the Manipulation Core in the Portal-based Aperture R&D. Although she started her career with classical training – earning degrees in both theatre and classical music – she began her Los Angeles career in sketch comedy. While currently making a living in TV and film appearances, voice acting, and commercials, she first spent 10 years creating and performing original characters, sketches, musicals, and short films all over LA and beyond – including the HBO Comedy Workspace and multiple comedy festivals. She lives in Los Angeles and spends most of her time on set being told in various forms: "Great – now turn it down a notch."
Phoenix Comicon is a one of the premier pop culture events in the nation. Join us May 28–31, 2015 at the Phoenix Convention Center. For membership information and all of the latest details, visit phoenixcomicon.com.