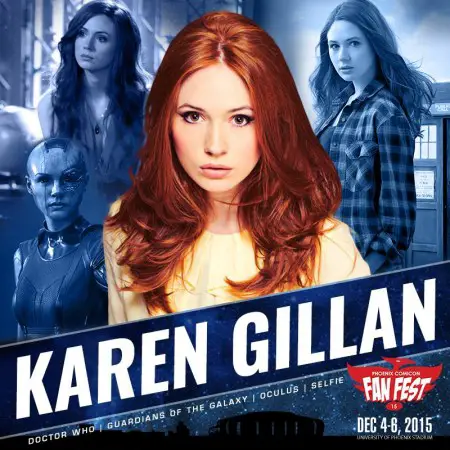 Doctor Who and Guardians of the Galaxy fans will want to be in Phoenix this December when Karen Gillan will be at the Phoenix Comicon Fan Fest. The event will take place December 4-6, 2015 at The University of Phoenix Stadium. Gillan portrayed Amy Pond, one of the Eleventh Doctor's companions, in Doctor Who. She also appeared in Guardians of the Galaxy as Nebula, a role she will be reprising in the sequel.
Karen Gillan will be at the Phoenix Comicon Fan Fest on both Saturday and Sunday for photos and autographs. More information can be found here: https://phoenixcomicon.com/guests/karen_gillan
PRESS RELEASE
Doctor Who and Guardians of the Galaxy actor joins winter convention

Headlining the guest list at Phoenix Comicon Fan Fest 2015 is Scottish actor Karen Gillan. Gaining worldwide recognition on Doctor Who as the first of the Eleventh Doctor's companions, Gillan first honed her comedic acting and range on The Kevin Bishop Show where she portrayed a variety of characters including Katy Perry and Angelina Jolie.

Gillan's character on Doctor Who, Amy Pond, underwent through one of the most complex transformations on the series, seeing her from a young girl to a mother. In the series, Matt Smith's Doctor briefly meets Amy as a young girl, then returns 12 years later to invite her as his companion. Gillan continued on the series until the seventh series, saying that she wanted to go, "on a high when the character was at her prime."

After Doctor Who, Gillan has continued to act on film and television. Recently she appeared on the Adult Swim series NTSF:SD:SUV, in the horror film Oculus, and Marvel's Guardians of the Galaxy. Gillan will reprise her role as Nebula in the upcoming sequel to the 2014 superhero movie.

Gillan's first leading role on American television came in late 2014 on ABC's sitcom Selfie as Eliza Dooley, a women obsessed with the idea of achieving fame through the use of social media. She can next be seen in the feature films The List, In a Valley of Violence, and the mini-series The Devil You Know.

Phoenix Comicon Fan Fest is a pop culture and comic book convention held at The University of Phoenix Stadium December 4-6, 2015. This is the second year of the annual winter convention held in Glendale, Arizona. More than 11,000 fans attended the first year which hosted media guests, comic creators and artists, and hosted a number of costuming events and family activities. For more information, please visit Phoenix Comicon on Facebook, Twitter, and online at phoenixcomicon.com.