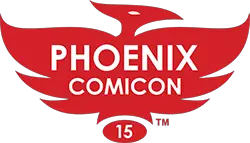 More authors and voice talent have signed on for Phoenix Comicon! Stay Tuned for more updates!
Ryan Ottley
Comic artist Ryan Ottley is going to appear at Phoenix Comicon 2015. Ottley broke into comics professionally in 2004 with the Eisner-nominated Best New Series Invincible for Image Comics and has worked on it since. Ottley is also known for his work on titles including Haunt, Superman/Batman, Death Grub, and Sea Bear and Grizzly Shark. He also created one of the variant covers for The Walking Dead #100 for Robert Kirkman and penciled a short story for issue 75.
Veronica Taylor
Get ready, Pokemon fans, Veronica Taylor is going to be at Phoenix Comicon 2015. Best known for playing the role of Ash Ketchum on Pokemon, Taylor is also known for portraying April O'Neil on Teenage Mutant Ninja Turtles and Abby on Cubix. She can also be heard as Max on Dinosaur King, Carly on Yu-Gi-Oh! 5D's, many characters with accents on Huntik, and as Tori in Tai Chi Chasers. Some anime favorites include Yukino on His and Hers Circumstances, Amelia on Slayers, all 7 Nana's on Nana Seven of Seven, and Narue on World of Narue.
Tom Kane
Joining the guest list at Phoenix Comicon 2015 is voice actor Tom Kane. Best known for voicing Yoda in Star Wars: Clone Wars, Tom has lent his voice talents to nearly every Star Wars game ever made, as well as games based on Star Trek, The X-Men, Batman, The Avengers, The Lord of the Rings and more. He's also voiced lead roles in The Powerpuff Girls, Robot Chicken, Kim Possible, The Avengers, Foster's Home for Imaginary Friends, Iron Man, The Wild Thornberrys, Wolverine and the X-Men and many more.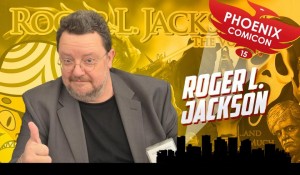 Roger L. Jackson
Voice actor Roger L. Jackson will be making an appearance this year at Phoenix Comicon. Best known as the voice behind the murderous Ghostface from the Scream series and simian antagonist Mojo Jojo from The Powerpuff Girls, Roger L. Jackson has also contributed his vocal talents to series such as Robot Chicken, Legend of Korra, Regular Show, and The Book of Pooh. His work in video games includes Among the Sleep and Final Fantasy X, plus several games based on popular series such as Star Trek, Dungeons & Dragons, The Walking Dead, Star Wars, and Lord of the Rings.
Kevin Hearne
Kevin Hearne, author of the newly released Star Wars novel Heir to the Jedi, is going to appear at Phoenix Comicon 2015. Hearne is also known for writing The Iron Druid Chronicles, including Hounded, Hexed, and the best-sellers Tricked and Shattered.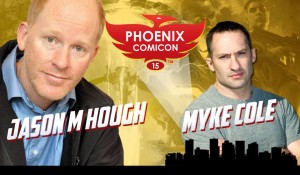 Myke Cole
Myke Cole, the 2013 winner of the Compton-Crook Award for Shadow Ops: Control Point will be at Phoenix Comicon 2015. Cole is a novelist known for his Shadow Ops Series: Fortress Frontier and Shadow Ops Series: Breach Zone. Before becoming a published writer and "fighting extra" in action films, Cole's career encompassed everything from counter-terrorism and cyber warfare, and federal law enforcement, as well as three tours in Iraq. He has a love for fantasy novels, comic books and late night sessions of Dungeons & Dragons.
Jason M. Hough
Jason M. Hough, the New York Times bestselling author of The Dive Earth Cycle trilogy and the forthcoming Zero World will be at Phoenix Comicon 2015. Hough was a 2014 finalist for the Compton Crook Award for his novel, The Darwin Elevator. Author, husband, father and self-professed geek, Jason Hough, in a former life was a 3-D artist, animator, and game designer, experience that he has influenced his writing process. Hough lives near Seattle, Washington with his wife and two young sons.
Beth Cato
Appearing at Phoenix Comicon 2015 is author Beth Cato. Cato's short fiction can be found in Orson Scott Card's InterGalactic Medicine Show, Beneath Ceaseless Skies, and many other magazines. Her steampunk fantasy novel duology begins with The Clockwork Dagger and wraps up with The Clockwork Crown, to be released from Harper Voyager on June 9th, 2015.
Stephen Blackmoore
Writer Stephen Blackmoore is joining the guest list at Phoenix Comicon 2015. Blackmoore is the author City of the Lost, Dead Things, Khan of Mars and the upcoming Broken Souls. In addition to Stephen's novels, several of his short stories have appeared in multiple publications.
Phoenix Comicon is the premier pop-culture event of the Southwest. Join us May 28-31, 2015 at the Phoenix Convention Center. For membership information and all of the latest details, visit www.phoenixcomicon.com.