If you happen to live in Southern California, you'll know that it was raining just the other day. The cooler temperature and rainy conditions always put me in the mood for a nice bowl of warm soup. With that in mind, the Disneyland Resort offers a variety of delicious soups. Seriously, there are many types of soups to try and enjoy. There are even a few vegetarian ones. Soup for everyone!
One type of soup that is extremely yummy is the Creamy Corn Chowder from the French Market Restaurant at Disneyland Park. This soup is hearty, warm and overall very filling. The Creamy Corn Chowder comes in a fresh sourdough bread bowl and is topped with black-eyed pea maque choux and roasted corn. The corn itself is out of this world. Cooked to the perfect texture, it's like you're eating something your mom made you when you were younger.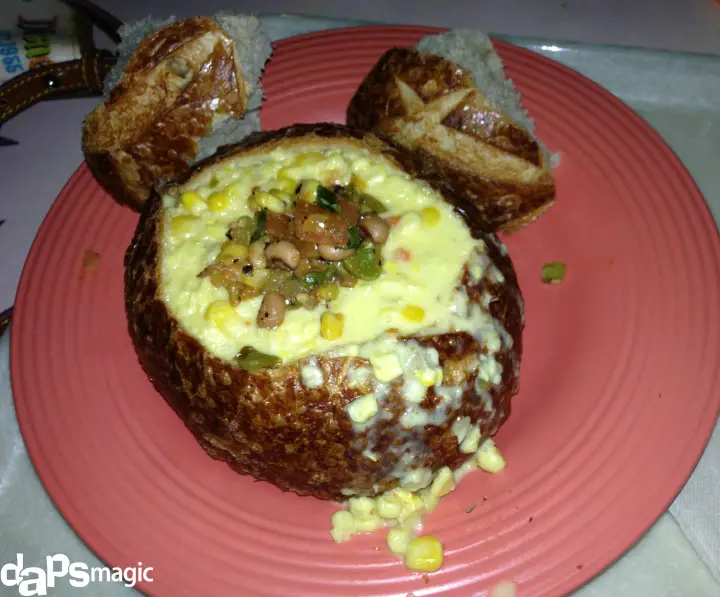 When you are all done with your soup, you can even eat the bowl it came it. The sourdough will be covered in the soup. If you have tried this meal, you'll know what I am talking about.
The Creamy Corn Chowder is offered for both lunch and dinner at the French Market Restaurant. For only $9.99, you are sure to be full after this. If you would like to check out other meal options at the French Market Restaurant, click here to see their menu.
If you have questions about any dietary need that needs to be accommodated at the Disneyland Resort, please call Disney Dining at (714) 781-DINE or (714) 781-3463.
Be sure to stay tuned to DAPs Magic as I venture through the Disneyland Resort tasting other delicious vegetarian options. You never know what may appear on my plate next.
Hope you enjoyed this meal recap. If you have any suggestions, please let me know. Also, if you have dined at the French Market Restaurant, what is your favorite entrée?