The cooler weather is finally arriving in Southern California. Hurray for the change in temperature and hurray for food that makes you all warm.
To celebrate the cooler weather or any day for that matter, here is a delicious vegetarian item from the Disneyland Resort that I would like to share.
Tucked away under the Dream Suite in Disneyland Park is that of the Royal Street Veranda. Themed perfectly to fit the land of New Orleans Square, this counter service location offers bread bowls, fritters and specialty coffee items. You may have noticed that this location always has a long line. Truth is, the Vegetarian Gumbo here is totally worth the wait in line.
The warm Vegetarian Gumbo has a perfect blend of spices and vegetables such as okra, tomatoes and onions. On top of that, the gumbo is served in a warm sourdough bread bowl.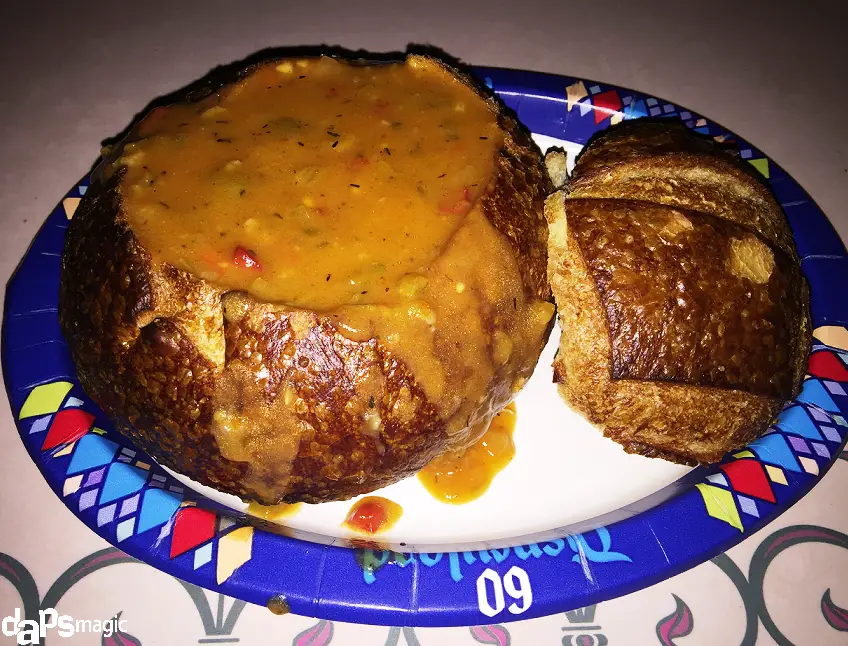 Though there are not many tables in the area of the Royal Street Veranda, there are plenty a ways down by the French Market Restaurant…just a heads up.
The Vegetarian Gumbo comes to a total of $10.49, plus tax. The location also offers Annual Pass discounts. If you have one, be sure to bring it out.
If you have any further questions about vegetarian dining at the Disneyland Resort, feel free to call Disney Dining at (714) 781-3463 or email Special.Diets@disneyland.com. Also, if you would like to view the menu of the Royal Street Veranda, please click here.
Be sure to stay tuned to DAPs Magic as I venture through the Disneyland Resort tasting other delicious vegetarian options. You never know what may appear on my plate next.
Hope you enjoyed this meal recap. If you have any suggestions, please let me know.
Do you have a favorite soup to enjoy at the Disneyland Resort?