Harbour Galley
In the spirit of a true waterside eatery, Harbour Galley serves seafood and sourdough bread bowls. The seafood focus sets this menu apart from other bread bowl stops such as nearby Royal Veranda and Pacific Warf in California Adventure. This makes a quick lunch, and a nice contrast to most food in Disneyland.
Located right on the Rivers of America, the seating allows great views of the water and the Columbia. Behind the Galley, beyond the Columbia, there is additional dining space with umbrellas. Sitting there is a nice break from the crowds, and you can hear and watch Splash Mountain riders just completing the big drop. This less well known space has always been one of my favorites in Disneyland.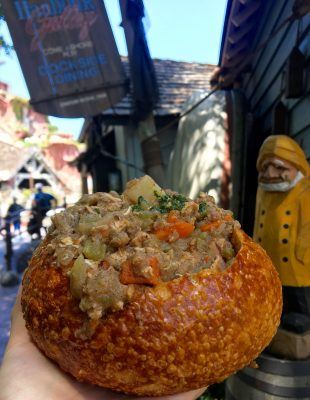 Long Standing Specialties
The simplistic menu includes shrimp and tuna salads, a tuna salad sandwich, broccoli cheddar and clam chowder soups served in bread bowls, and a lobster roll. Harbour Galley offers both light, cool salads and hearty, warm soups, making it appealing through all seasons.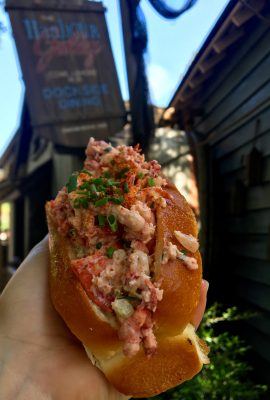 The lobster roll is served cool, making nice contrast with the warm soups. The ratio of lobster to buttered roll was satisfactory, but the cut of bread was not ideal. The center cut needed to be deeper. Fresh celery added an enjoyable crunchy texture to lobster mix. Chives add green contrasting color and a sharper flavor to the creamy mix.
The lobster roll and tuna salad sandwich are each paired with in-house Cajun chips.
These kettle style chips were really tasty, as they are very crunchy and flavorful. I find some in-house chips can be lacking crunch, but these were even better than packaged kettle cooked chips.
The Cajun seasoning is not spicy but adds a unique warm flavor beyond salty, which I greatly appreciated.
Celebrating Pirates of the Caribbean's 50th Anniversary
Not wanting to miss out, I ordered the seasonal offering: Calypso's Caribbean Chicken Stew. This seasonal item is in celebration of Pirate's of the Caribbean's 50th anniversary.
I really enjoyed this stew, but it was not what I was expecting. The stew was very dense with meat and vegetables; there was almost no broth in sight. I think this was due to the liquid soaking into the bread of the bread bowl. As seen here, the contents of the stew were somewhat dry, but the flavor soaked into the bread.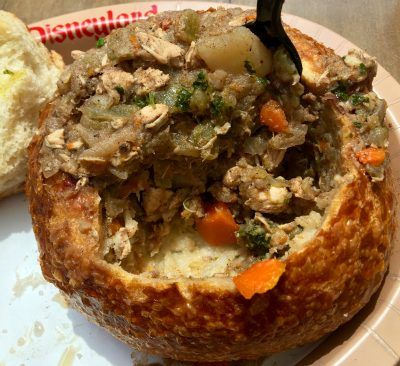 However, the flavor of this stew makes up for the lack of broth. It is spicy, with heat that sneakily follows each bite. I was grateful that I asked for a water cup with my meal.
In my previous experiences with bread bowls on the Disneyland side of the resort, they tended to be less fresh than those served at Pacific Warf in California Adventure. I was pleasantly surprised thiso find the bread was as fresh and delicious as those served beside the bakery.
I was unfamiliar with yucca, an ingredient in the stew. Yucca is a root vegetable grown in tropical regions as a common carbohydrate, similar to a potato. I love that the chef included an unexpected tropical tradition in this recipe. While eating the stew I could not differentiate between yucca and potato.
Bread and butter are a classic pairing. Be sure to ask for butter if you order a bread bowl, as it is kept behind the counter at this location.
The Calypso's Caribbean Stew is also available at Royal Veranda.
If you're seeking fresh, quick seafood in Disneyland, Harbour Galley is perfect for you. In these cooler spring evenings, stop by and pick up a bread bowl to warm and fill up.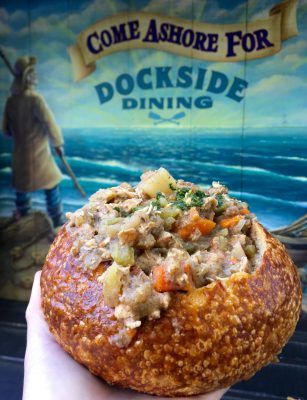 Save