EngineEar Souvenirs quietly opened for business between the premiere of Mickey and Minnie's Runaway Railway and the new Mickey's Toontown. Guests exiting through this gift shop, or stepping through the front door to browse the fully stocked aisles may have noticed a lot of train memorabilia, much of it directly referencing Disney productions, past and present. Some are fairly obvious (a large scale poster for the Donald Duck short Out of Scale, for example), while others are hidden in plain sight.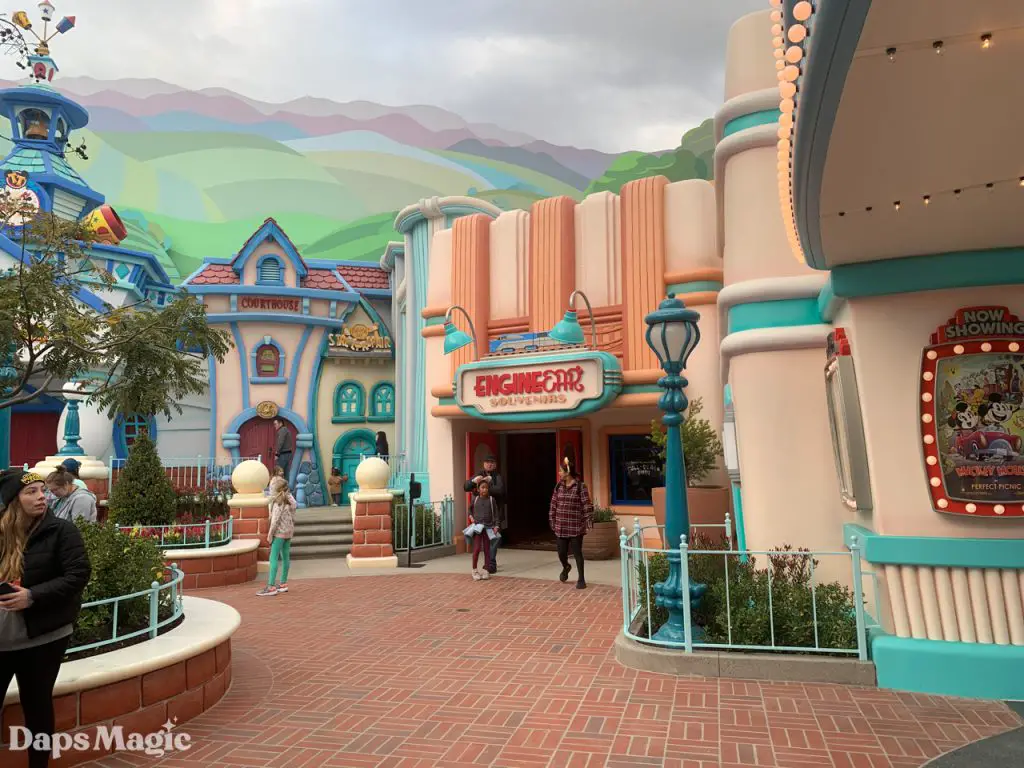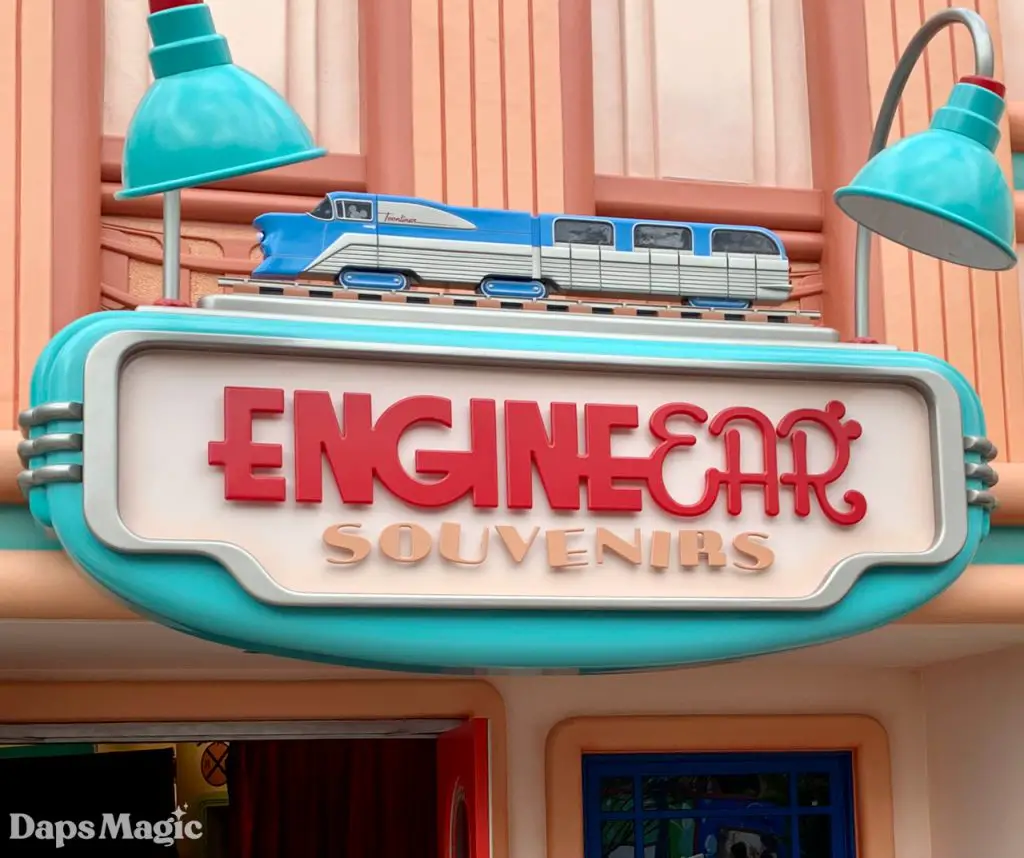 The first of these can be found even before entering the shop. The marquee sign, reading EngineEar Souvenirs is immediately reminiscent of the Engine-Ears Toy Shop, one of the anchors of California Adventure's entry plaza when it opened in 2001. But some observers will spot a much earlier, and more obscure reference in the colorful sign.The blue decorative train found on top of the sign is based very closely on the Disneyland Viewliner, which operated in Tomorrowland for just two seasons, 1957-58. This diminutive version is identified as the Toonliner, in deference to its location.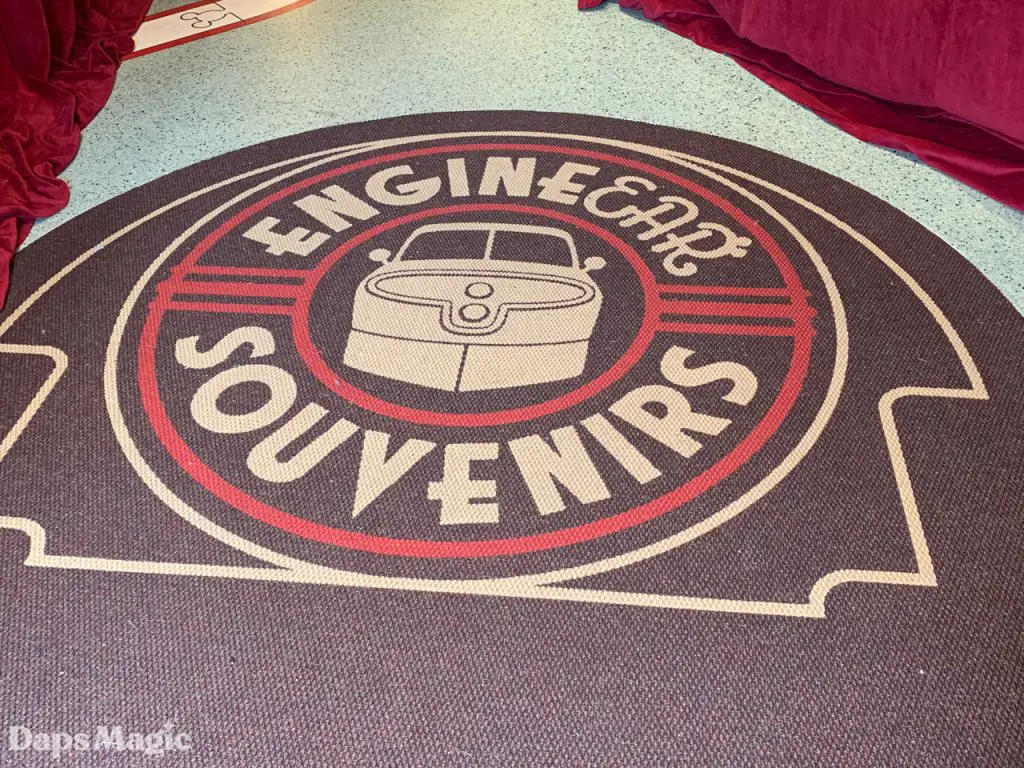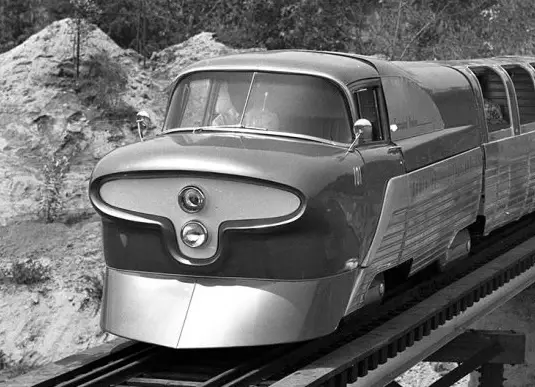 Note the design on the mat in the threshold as you step through the door. The nose of the engine depicted in the center of the logo is based precisely on the Viewliner, right down to the center seam in the windshield. The Viewliner was replaced after its short run with the Disneyland Monorail in 1959.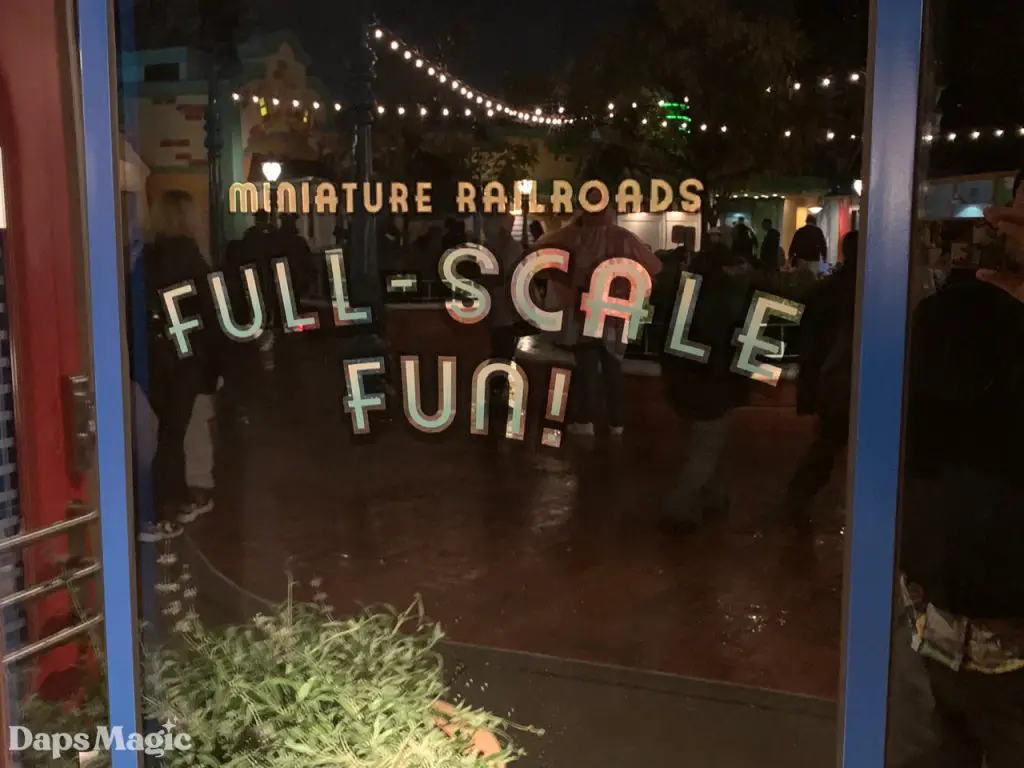 To the right of the door is the shop's only show window. As of this writing, all that can be seen is gold lettering, reading, "Miniature Railroads/Full-Scale Fun!" While Walt Disney's love of trains dated back to his childhood in Missouri, it was a miniature set that sparked his interest later in life. After purchasing a Lionel train set for his nephew Roy as a Christmas gift, Walt acquired one of his own, and found it a fun and relaxing hobby. This led, in turn, to his larger scale backyard railroad, the Carolwood Pacific, which was one of the major creative contributors to what would become Disneyland.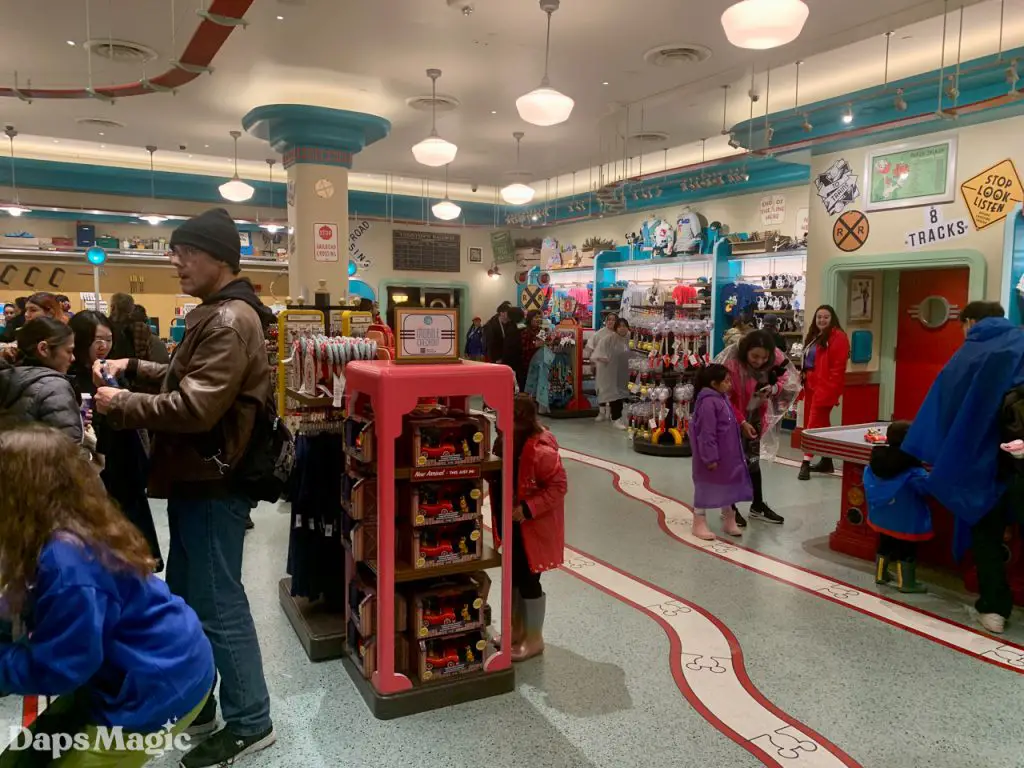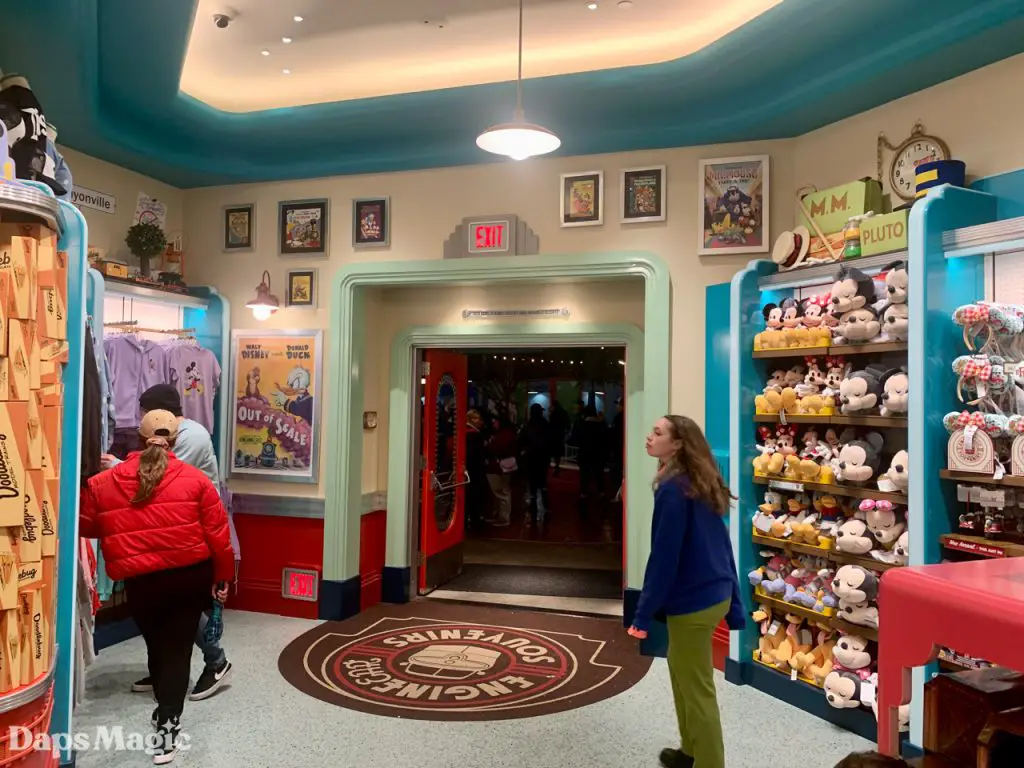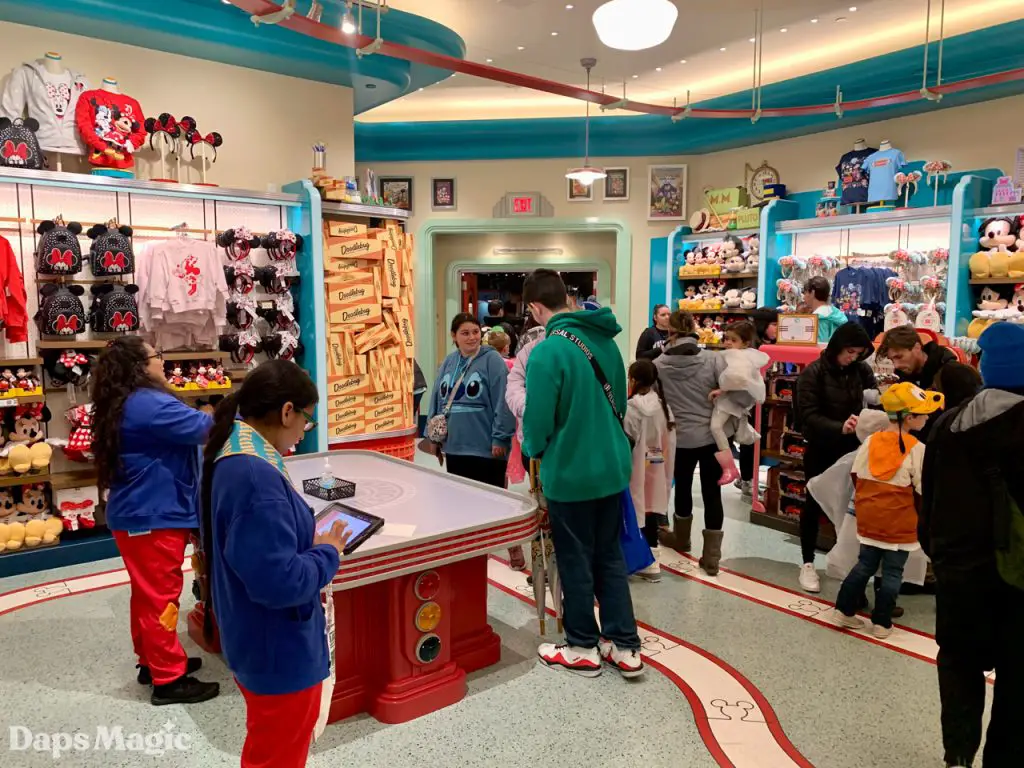 Inside the shop there is much to see, both as merchandise and in a carefully composed decorative scheme. The merchandise is a mix of items, but the decorations are all themed to trains and model railroading, with many a nod to sharp-eyed Disney fans.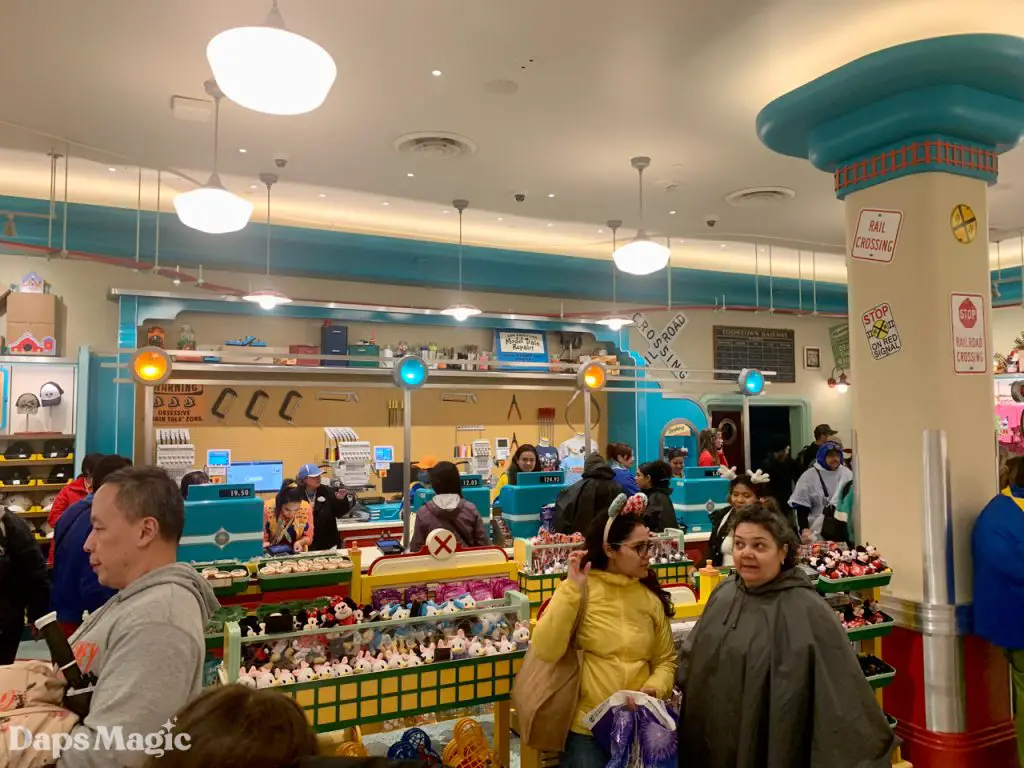 Cash registers are found at a long counter at the back of the store, near the exit from Runaway Railway. Each station includes an old fashioned cash register prop, complete with a rung up "total." But these are not arbitrary numbers, chosen at random. One reads 12.02, a reference to December 5, Walt Disney's birthday. Another reads 124.93. January 24, 1993 is the "official" date on which the original Mickey's Toontown opened.

(A quibble: Mickey's Toontown opened to the public with a ribbon cutting ceremony on January 26. On January 25 there was a dedication ceremony for the press. And on January 24? There was a private party for Disney executives and invited celebrities. Read more about it here.)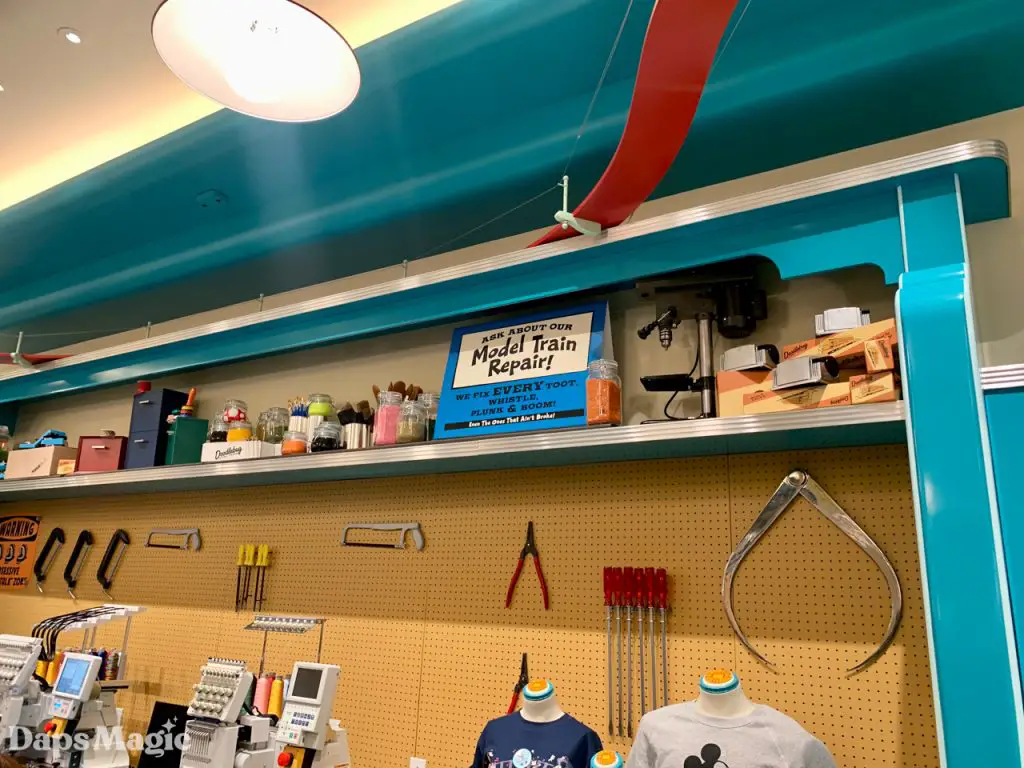 Behind the registers, the wall and shelves are decorated to resemble a repair shop. A prominently placed sign includes the helpful admonition, "We fix every toot, whistle, plunk and boom." Toot, Whistle, Plunk and Boom was the title of a 1953 Disney Studio animated short. It was the first animated film released in Cinemascope, the first film Disney released under their own Buena Vista Distribution label, and in 1954 won the studio an Academy Award.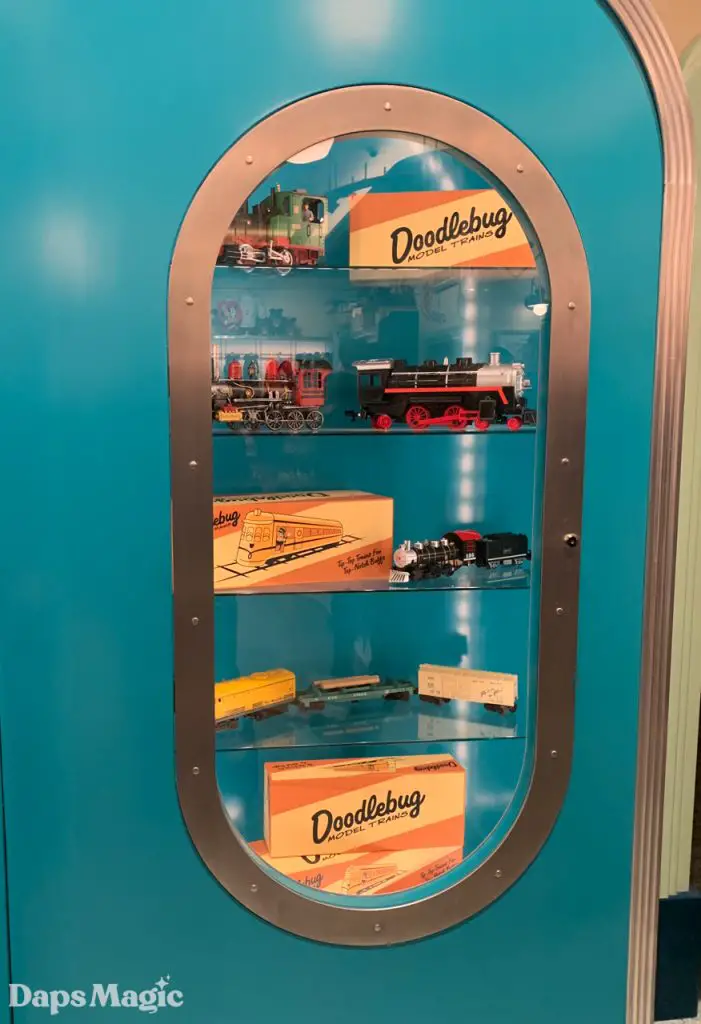 Built into the wall is a small display case, with a selection of engines and cars, all offered by Doodlebug Model Trains. In addition, there are some boxes for the fictitious company, as well as a logo train with a "Doodlebug" conductor.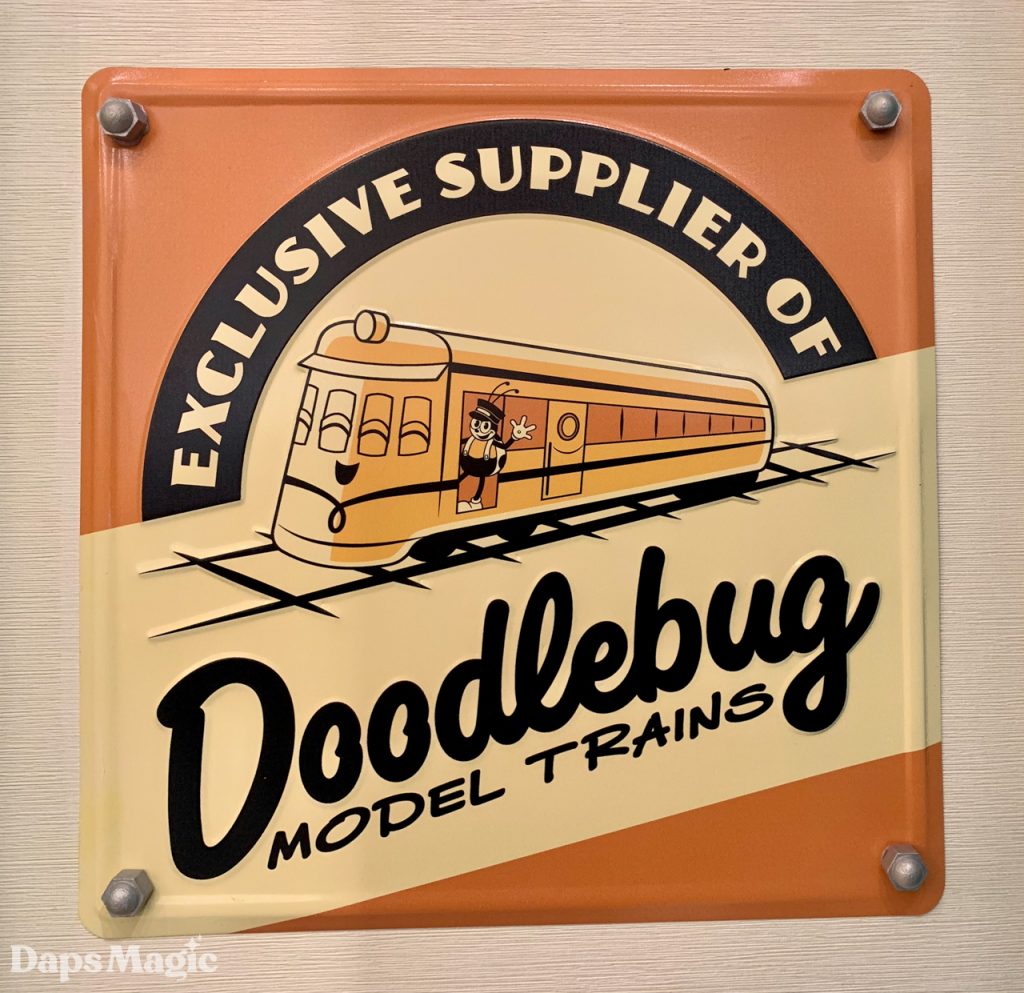 "Doodlebug" is a term that has been used a couple of times in Disney history (Grumpy accuses Doc of "Standin' there sputterin' like a doodlebug" in Snow White and the Seven Dwarfs, for example). But Doodlebug is also a well known term in railroad history. A Doodlebug was any of a variety of small, self propelled, single car trains that typically served smaller communities in out-of-the-way locations. It seems logical that Toontown could have been one such community.

The conductor seen on the label is not a doodlebug, but rather Bucky Bug, an early Disney character. Bucky appeared in Disney comic strips, with only a single film appearance. He was notable for speaking always in rhyme.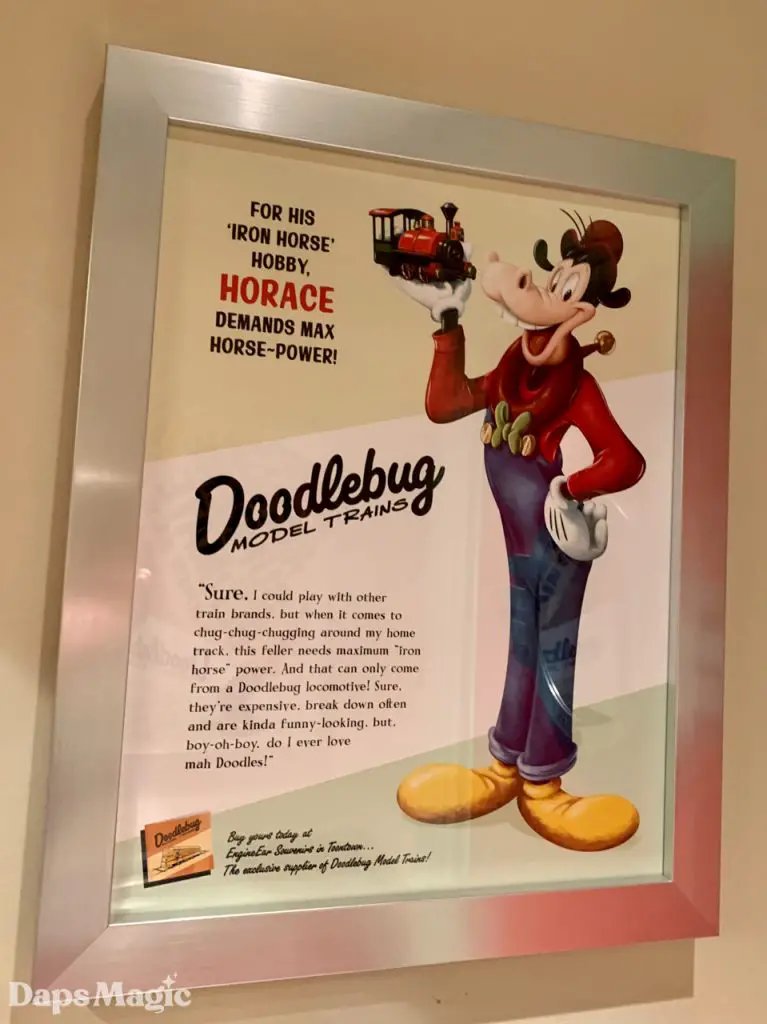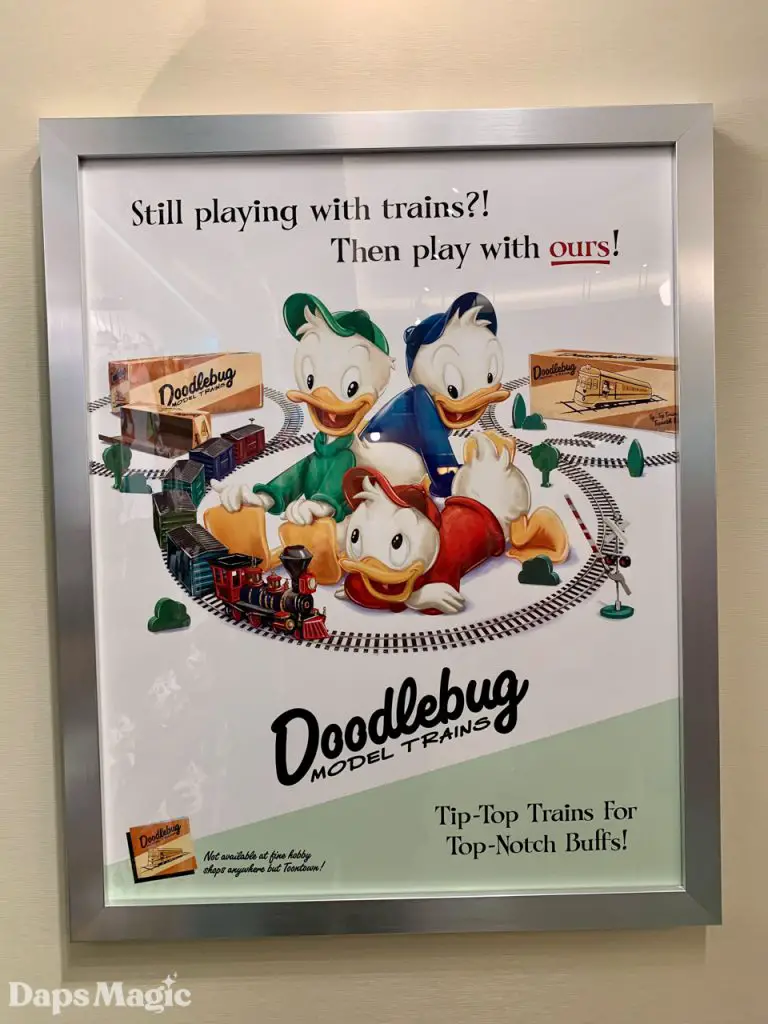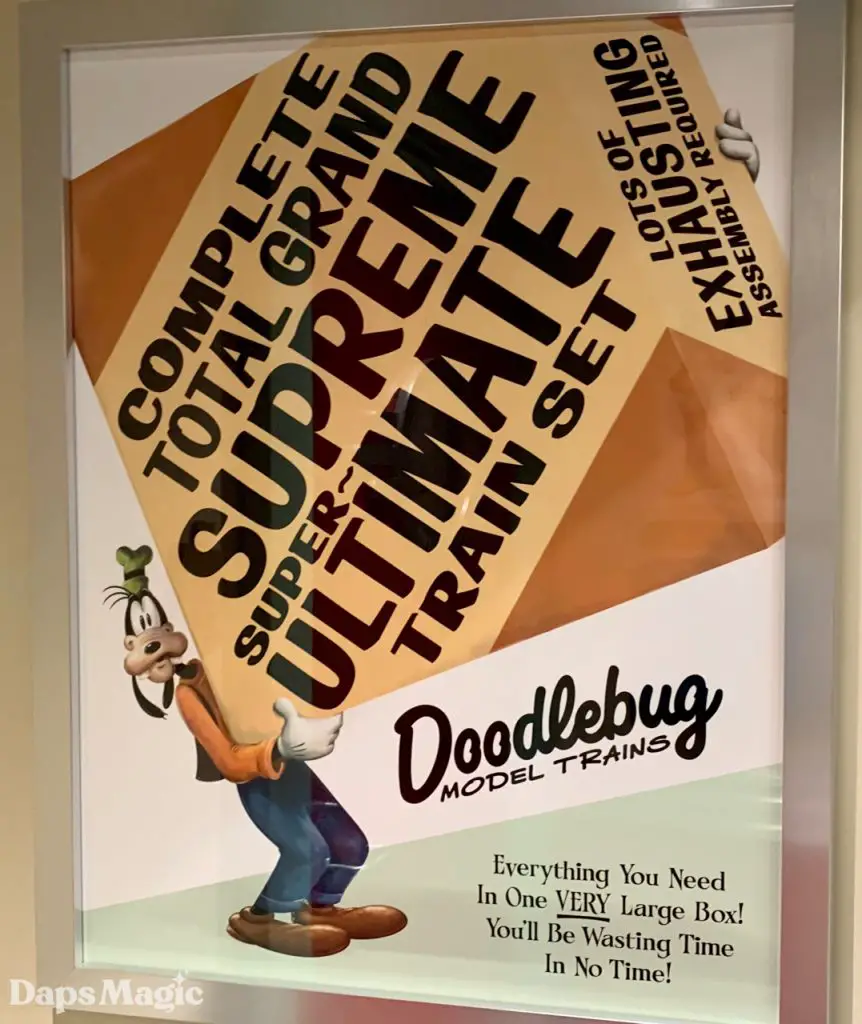 There are a number of printed "ads" for Doodlebug Model Trains, framed and placed throughout the store. These feature Disney characters, including some who are not seen as commonly as others (such as Horace Horsecollar and Clarabelle Cow).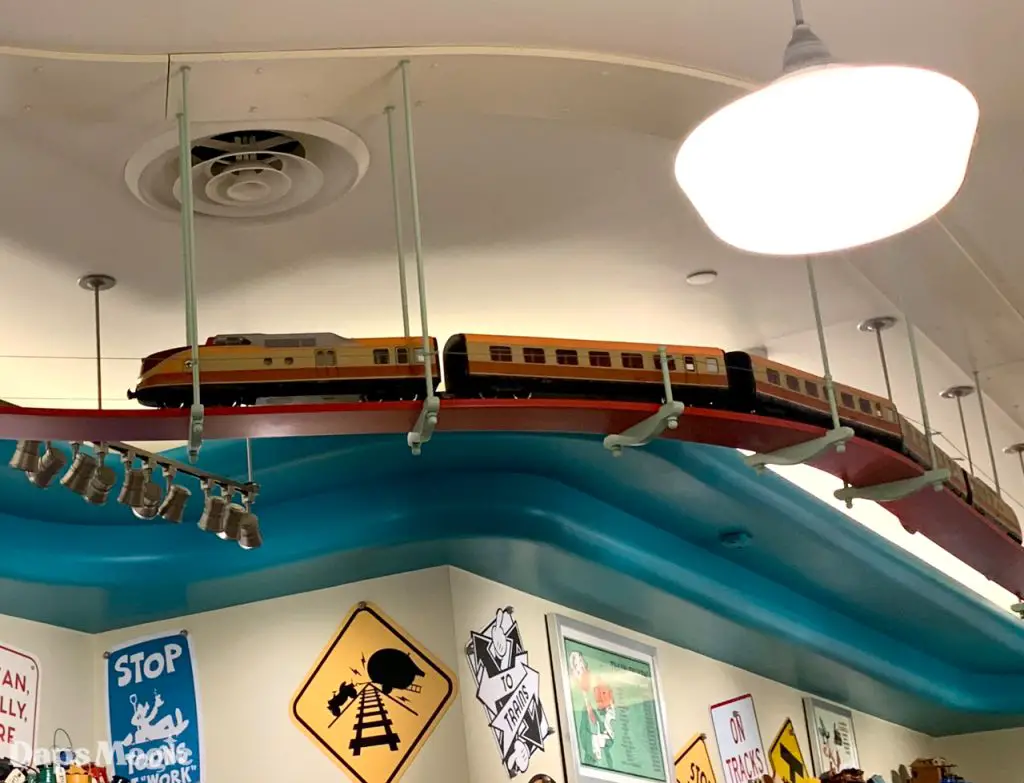 To see a genuine Doodlebug Model Train in action, one need only look up. A streamliner engine and passenger train can be found wending its way around the shop on a track suspended below the ceiling.

Guests seeking their own Doodlebug Model Train are likely out of luck, at least according to one of the posters. It includes the statement, "Not available at fine hobby shops anywhere but Toontown." As of this writing, they are not available here at EngineEar Souvenirs.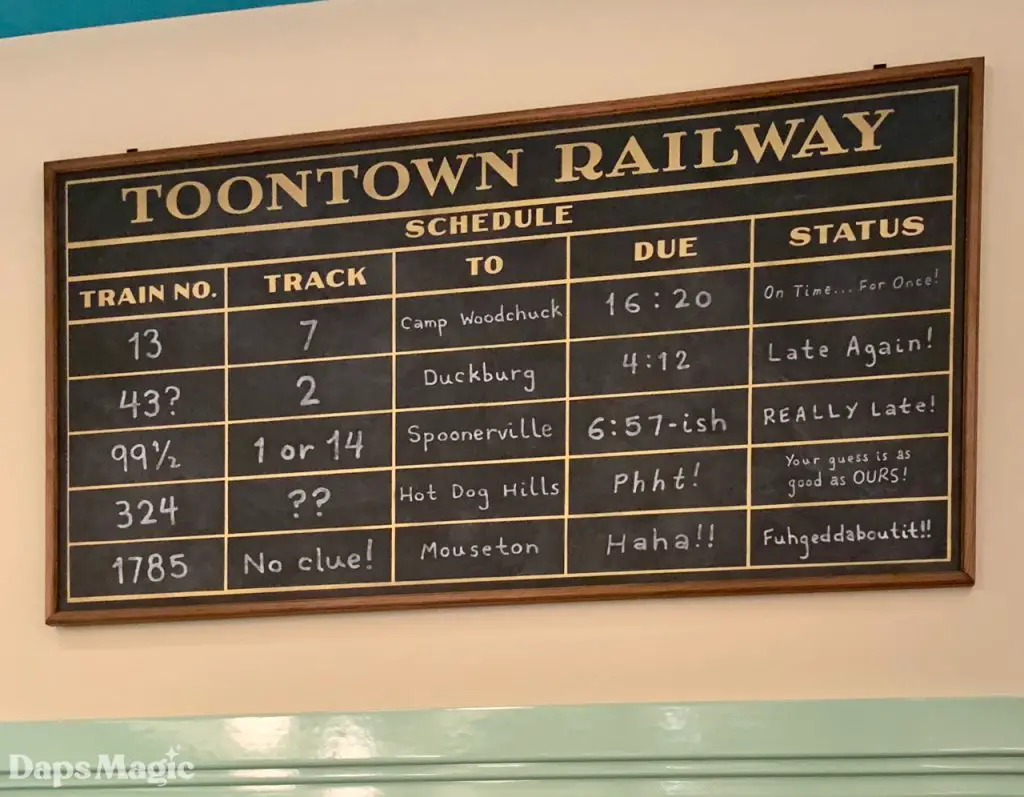 There are a number of other posters, signs, and framed memorabilia displayed throughout the shop. A vintage Toontown Railway schedule may be found directly over the exit door for the attraction. Five destinations are featured on the schedule: Camp Woodchuck (a themed area in Tokyo Disneyland, inspired by the Junior Woodchucks of Donald Duck comics), Duckburg (the "official" hometown of Donald, Daisy and others), Spoonerville (the residence of neighbors Goofy and Pete in Goof Troop), Hot Dog Hills (a town that features prominently in Mickey's Roadster Racers and subsequent animated series), and Mouseton (Mickey and Minnie's home city in European comics).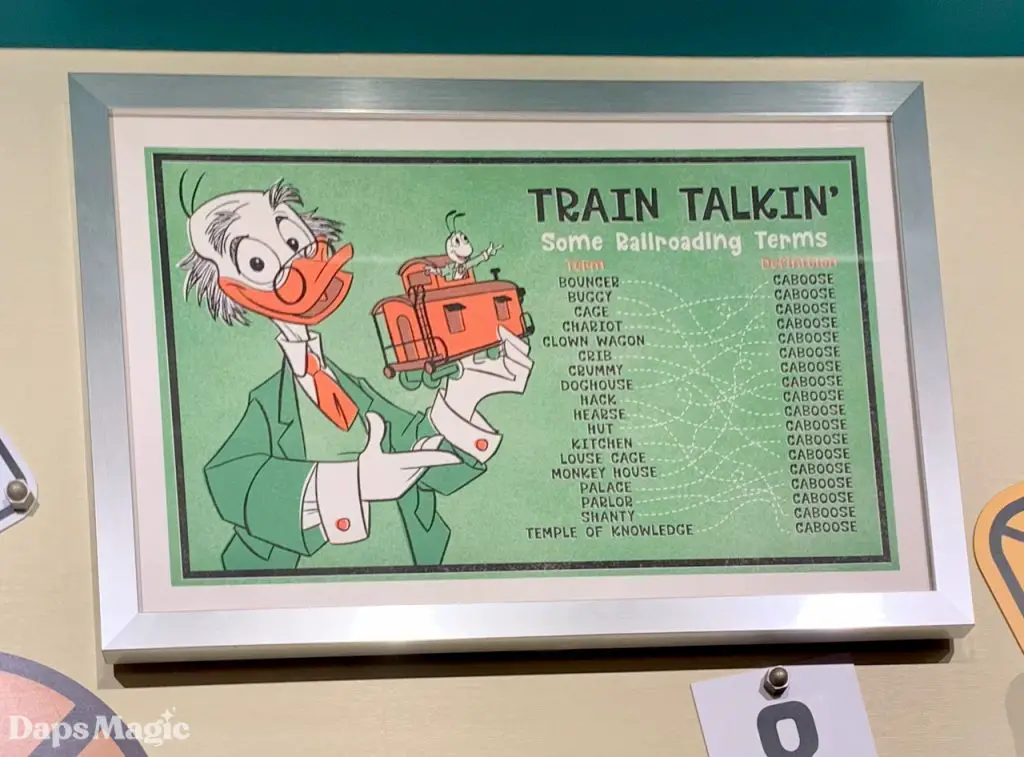 This poster has some fun with railroad slang and Professor Ludwig Von Drake. He displays his encyclopedic knowledge with a list of terms, all of which mean "caboose." The little fellow seen peeking his head out of the model caboose is Von Drake's assistant and sidekick, Herman the Bootle Beetle.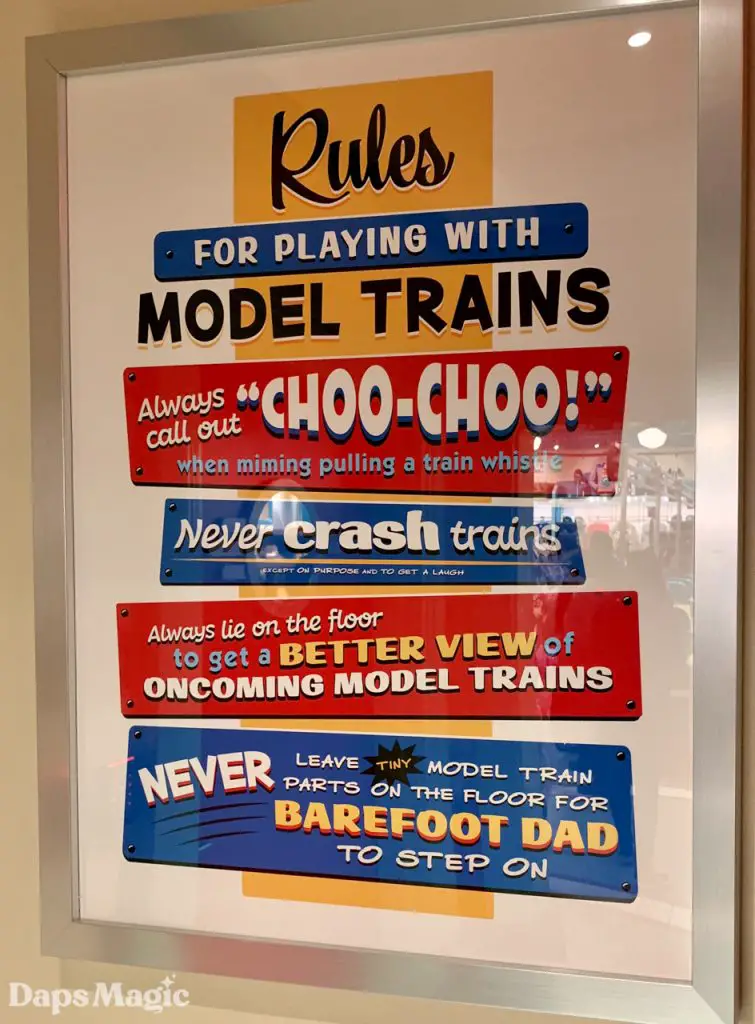 Another poster has some rules for playing with model trains.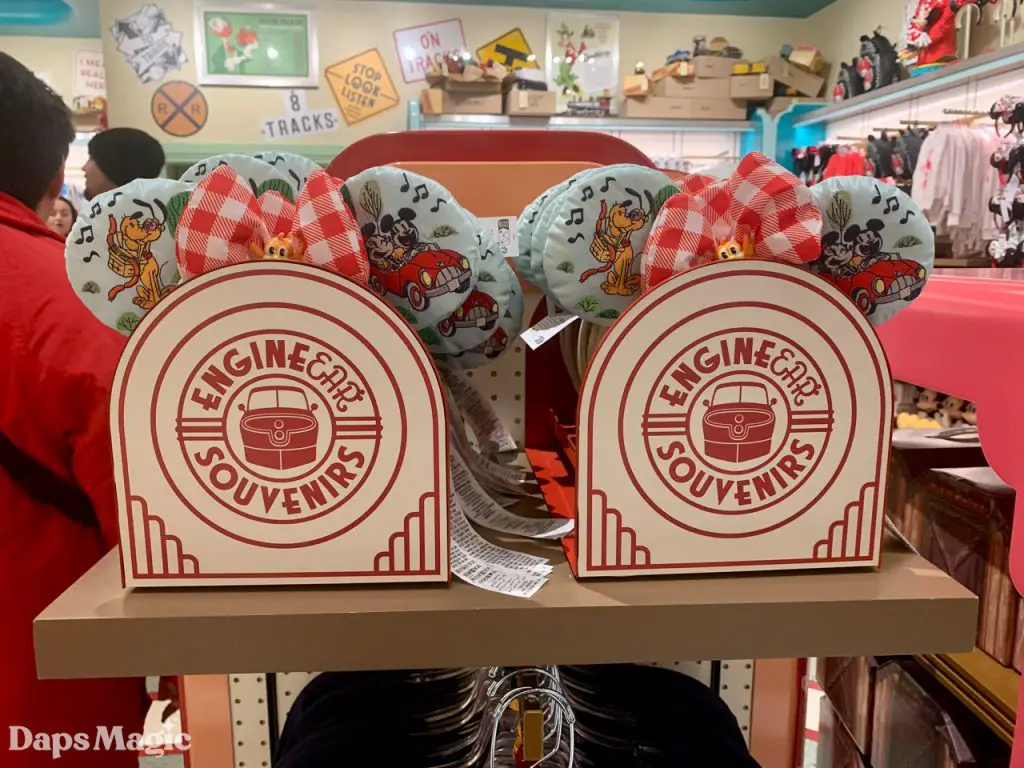 These displays for ear headbands incorporate the shop's official logo.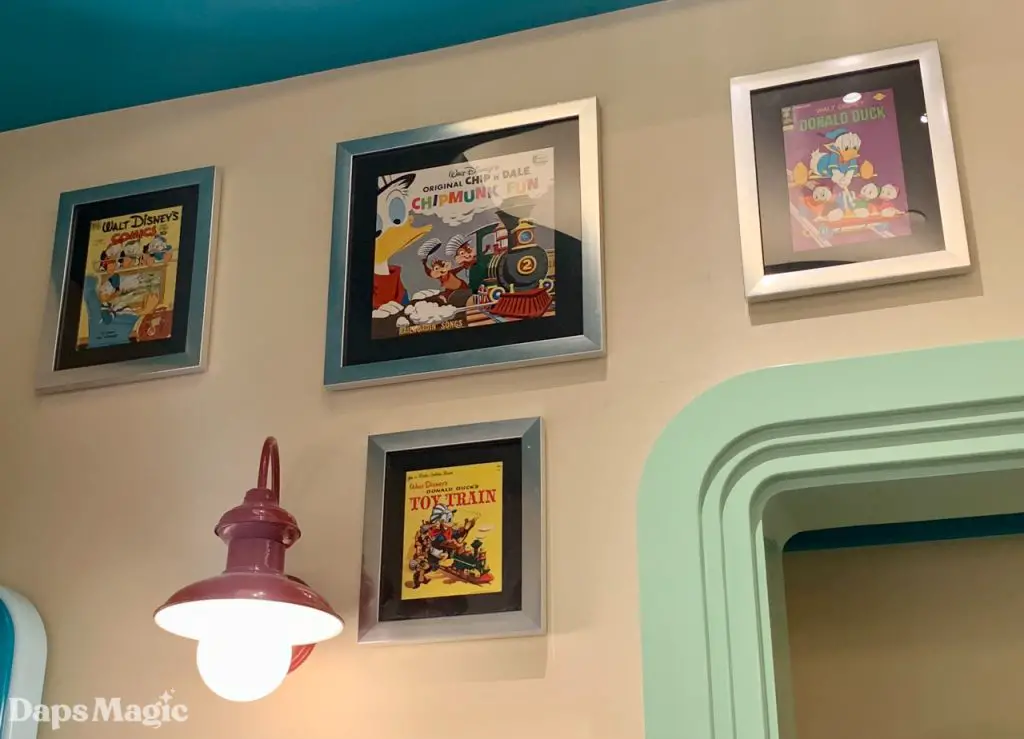 Framed items include a number of Disney company publications and even a record album cover, all themed to trains.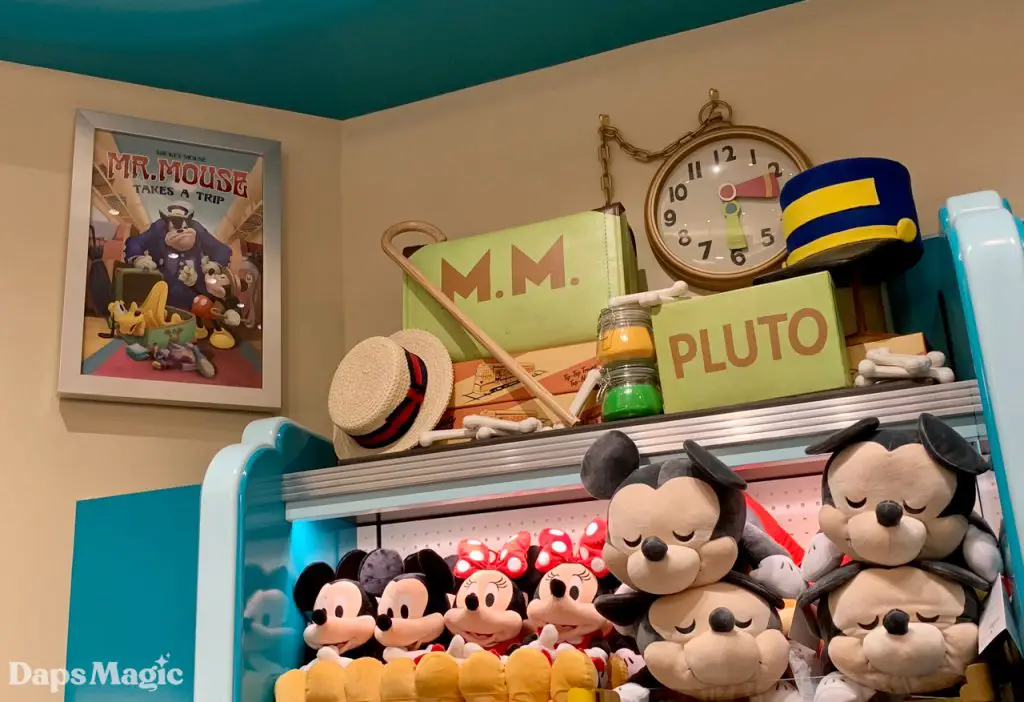 On top of the merchandise shelves, to the right as you face the front door, is a set of prop items from the animated short Mr. Mouse Takes a Trip (1940).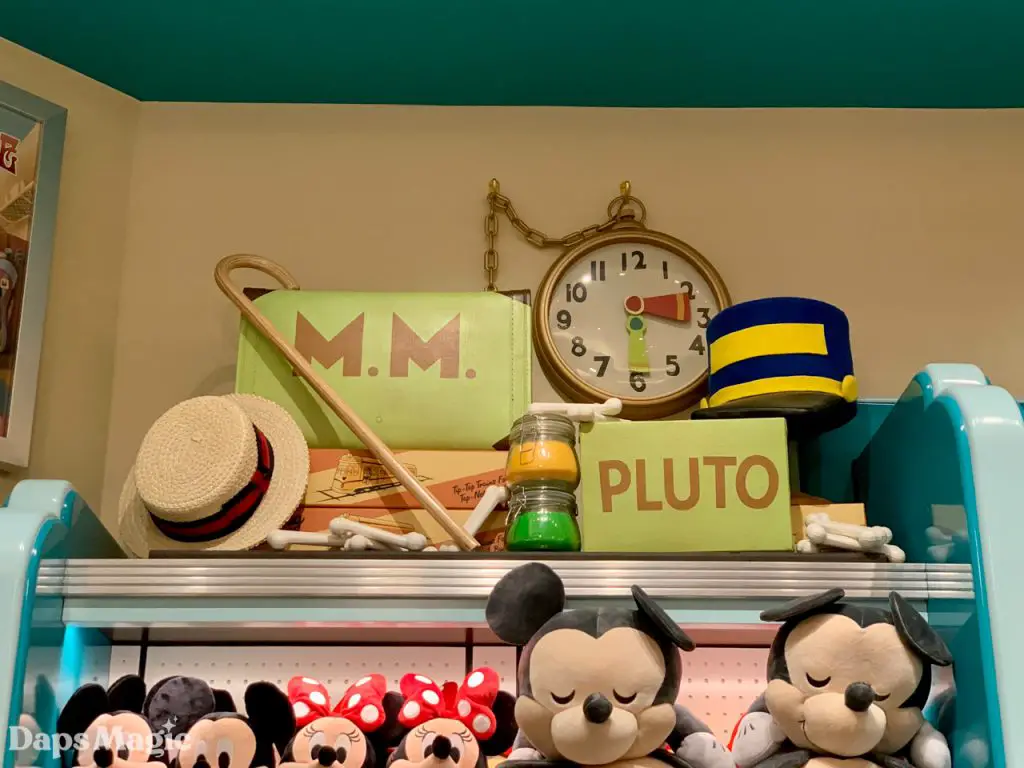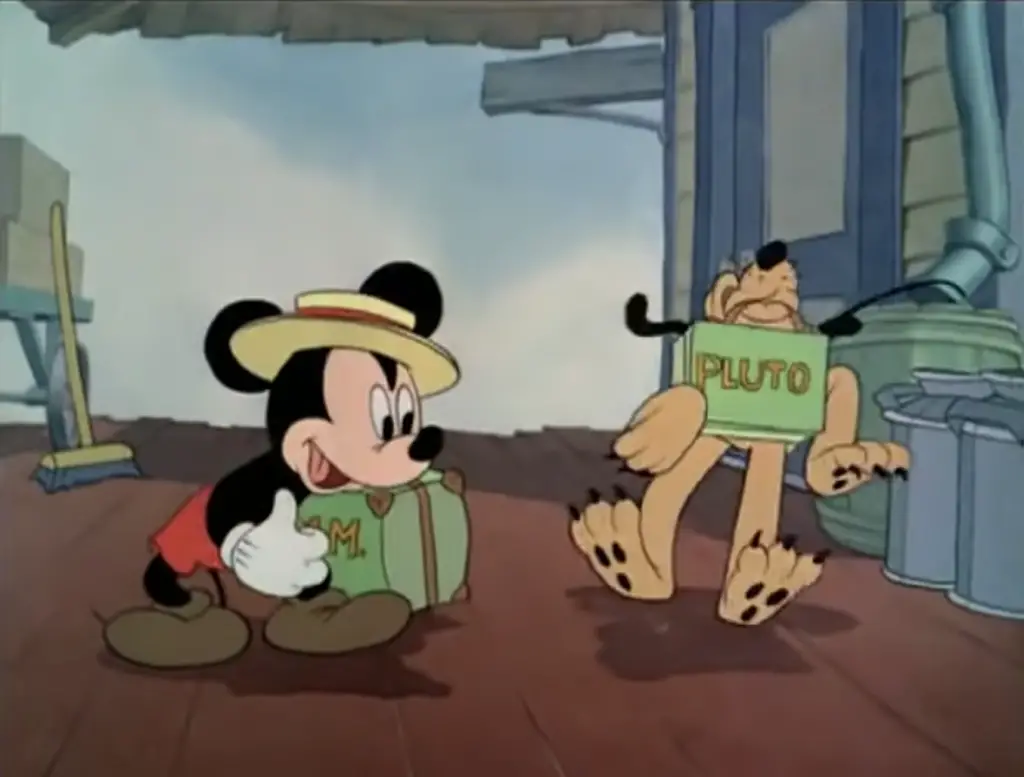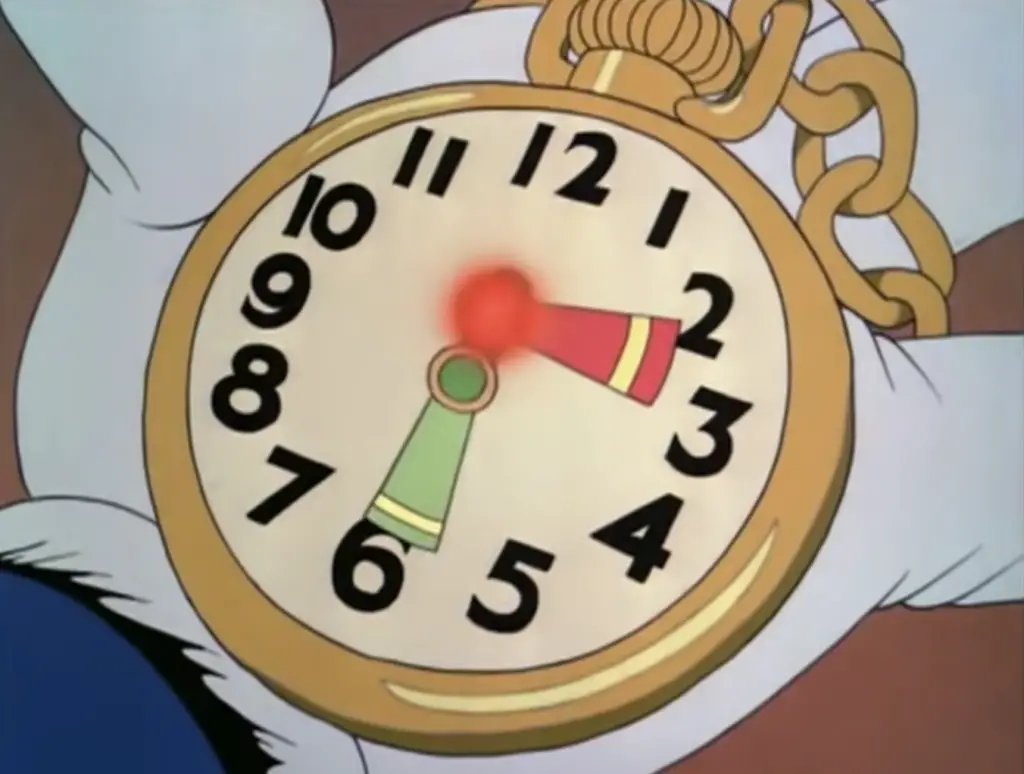 Pluto's satchel (filled, of course, with dog bones) and Mickey's satchel (simply marked with his initials) are there, along with Mickey's spiffy straw hat and cane. Conductor Pete's cap and immense pocket watch with semaphore arm hands can also be spotted.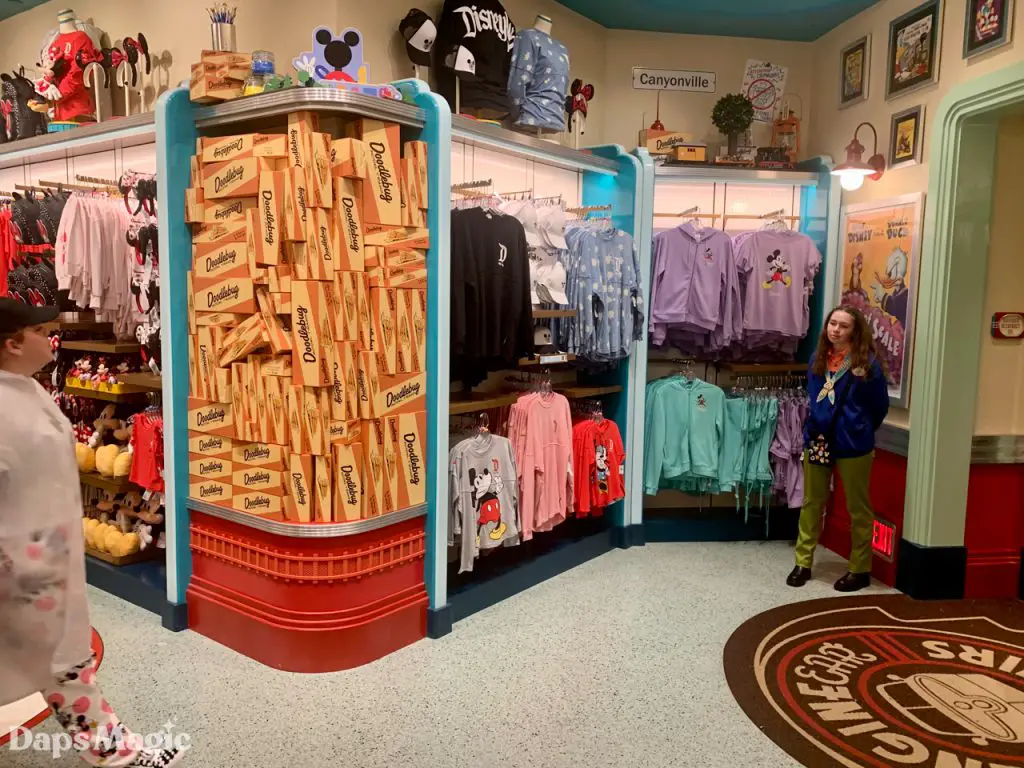 A similar display on the left hand side of the front door celebrates another animated short, Out of Scale (1951), a Donald Duck short directly inspired by Walt Disney's backyard railroad.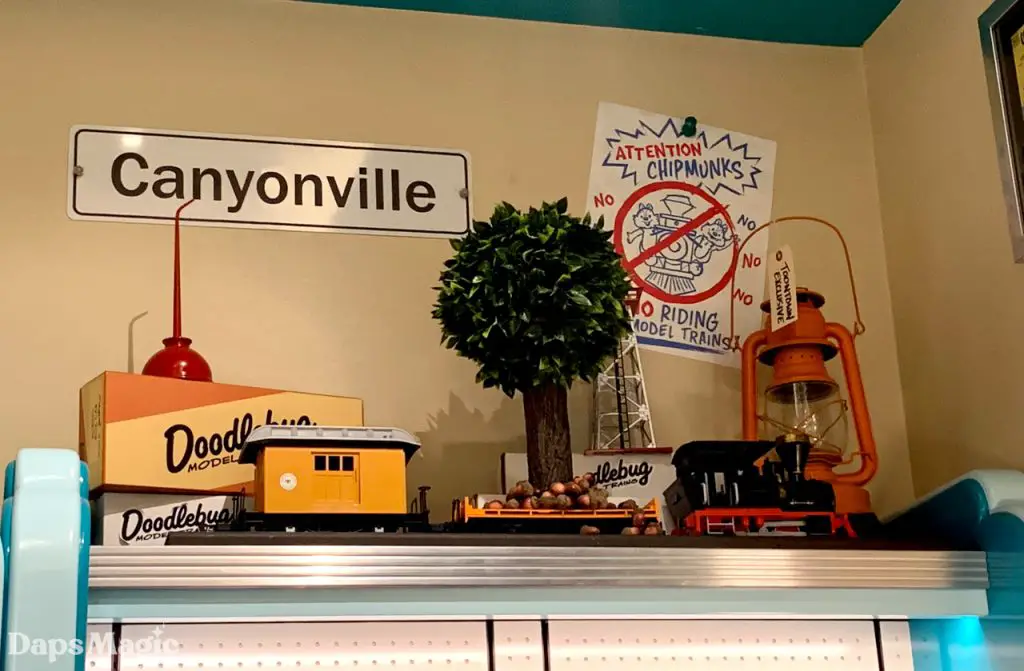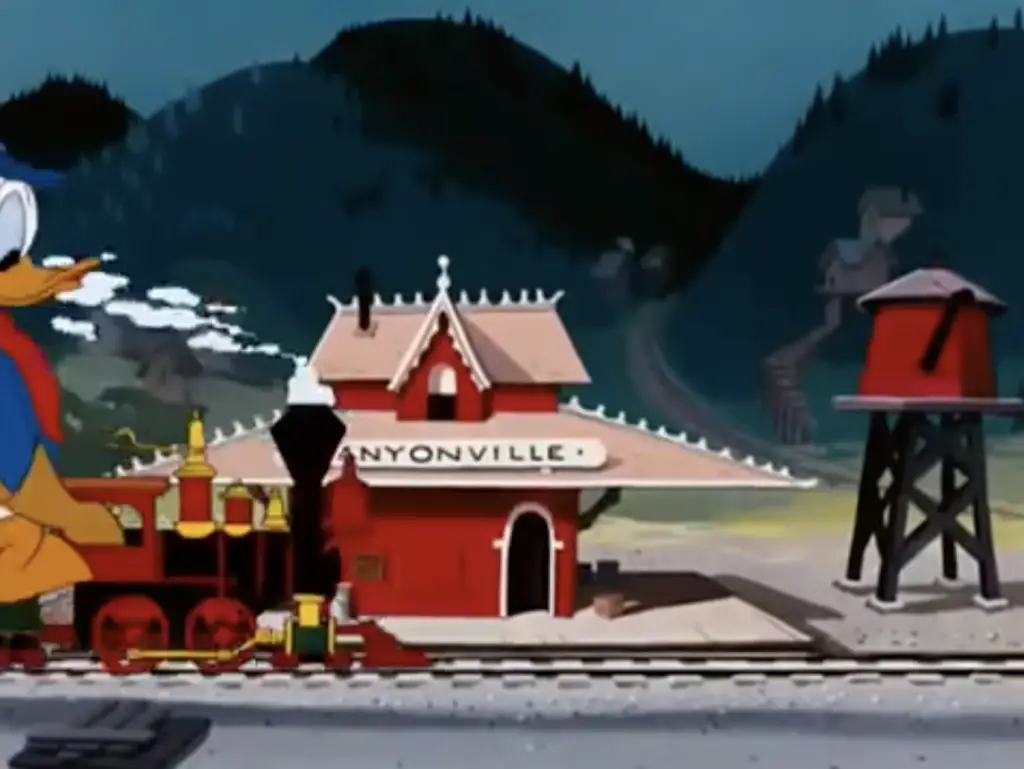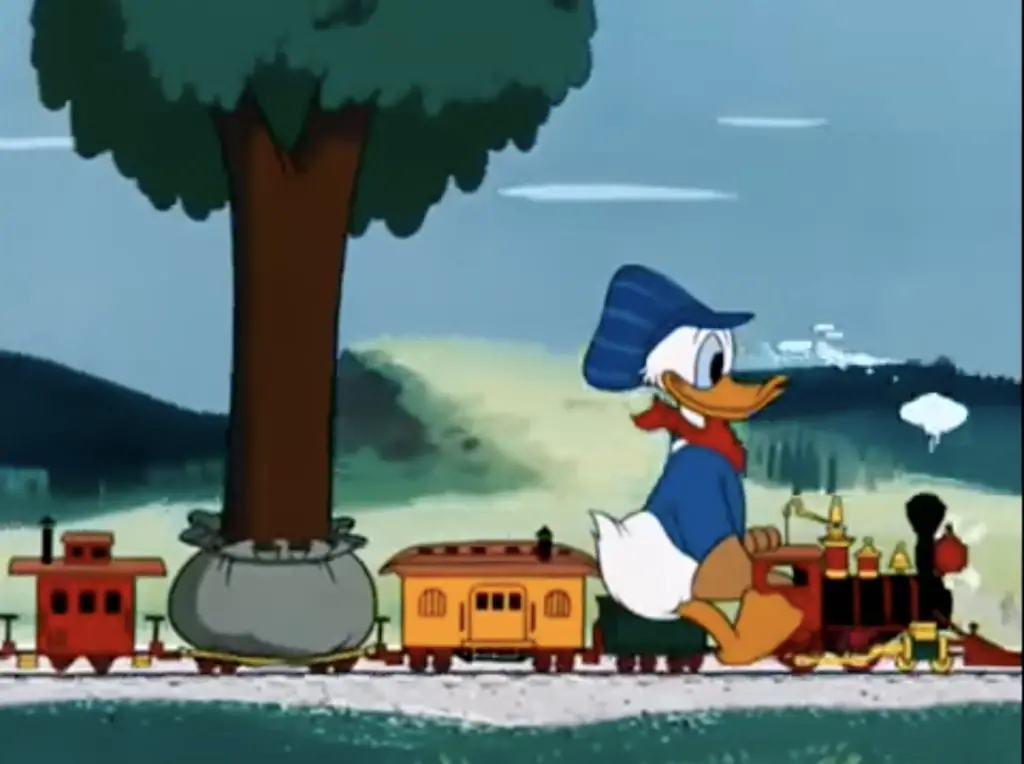 Directly referenced from the cartoon in this display is the Canyonville sign, and the flatcar carrying an "out of scale" orange tree. There is also a fanciful sign warning chipmunks to refrain from riding the model train.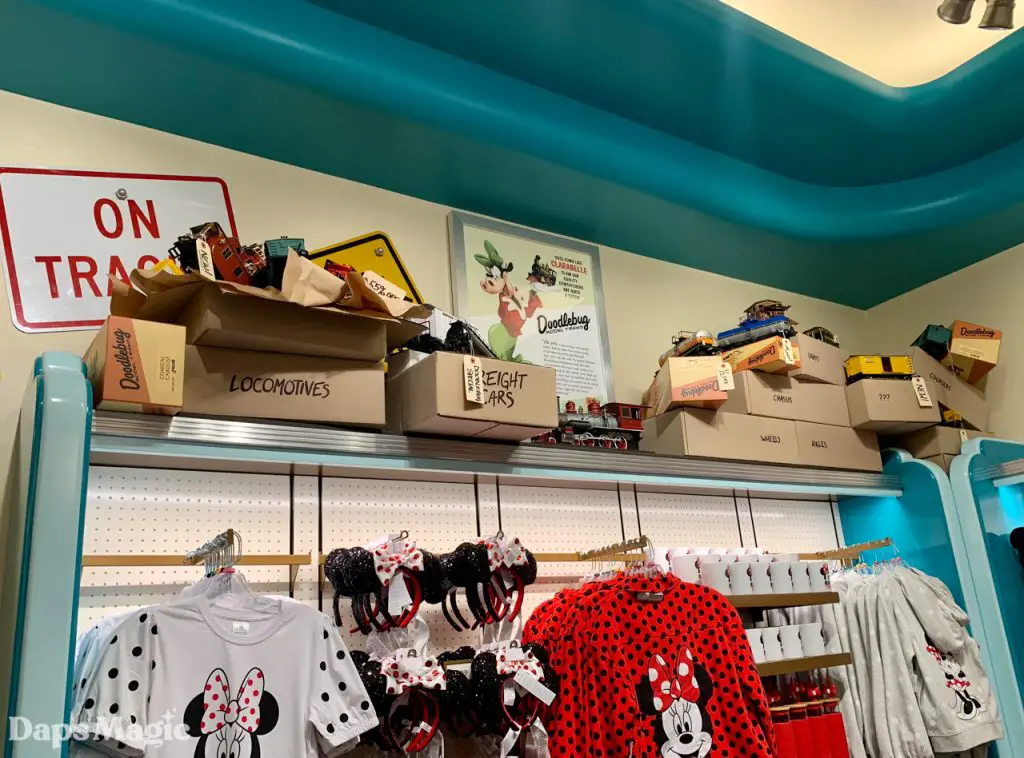 Other shelves display items related to railroad cars, railroad lanterns, railroad safety, and railroad whistles. (The big one is labeled "Hold" for Willie the Giant from Fun and Fancy Free).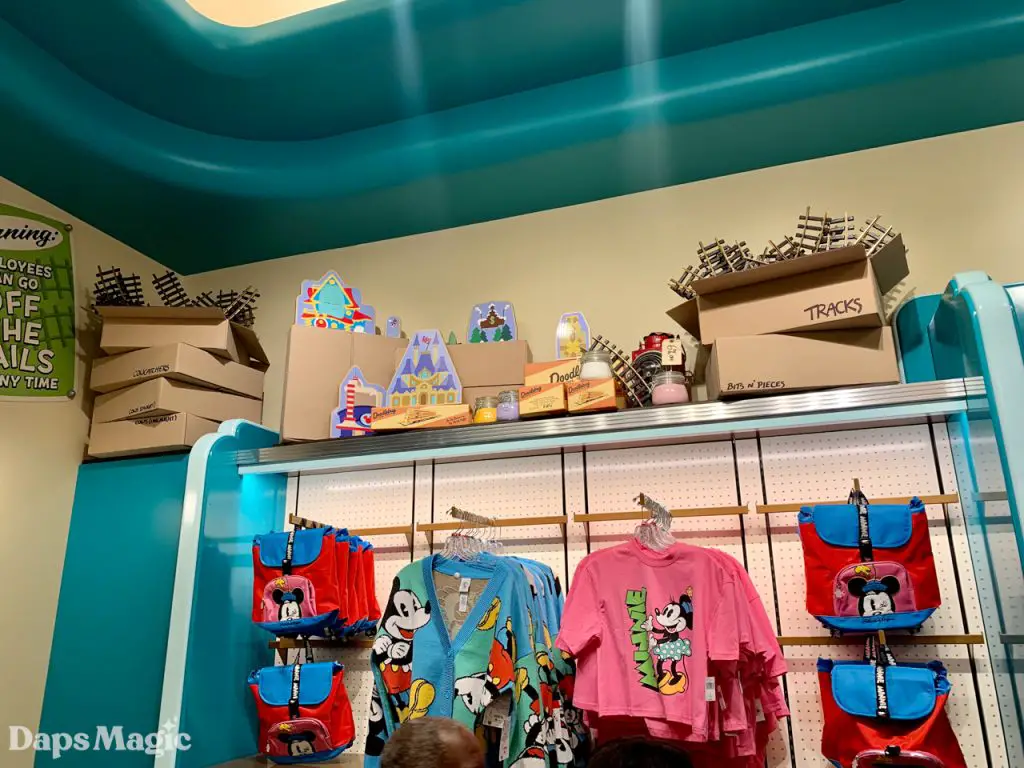 On several of the shelves there are flat, standing cutouts depicting colorful buildings. These are presumably designed to "scenic" your Doodlebug Model Train layout. A closer look reveals that these contain many, many references to Disney cartoons, television programs, and theme parks.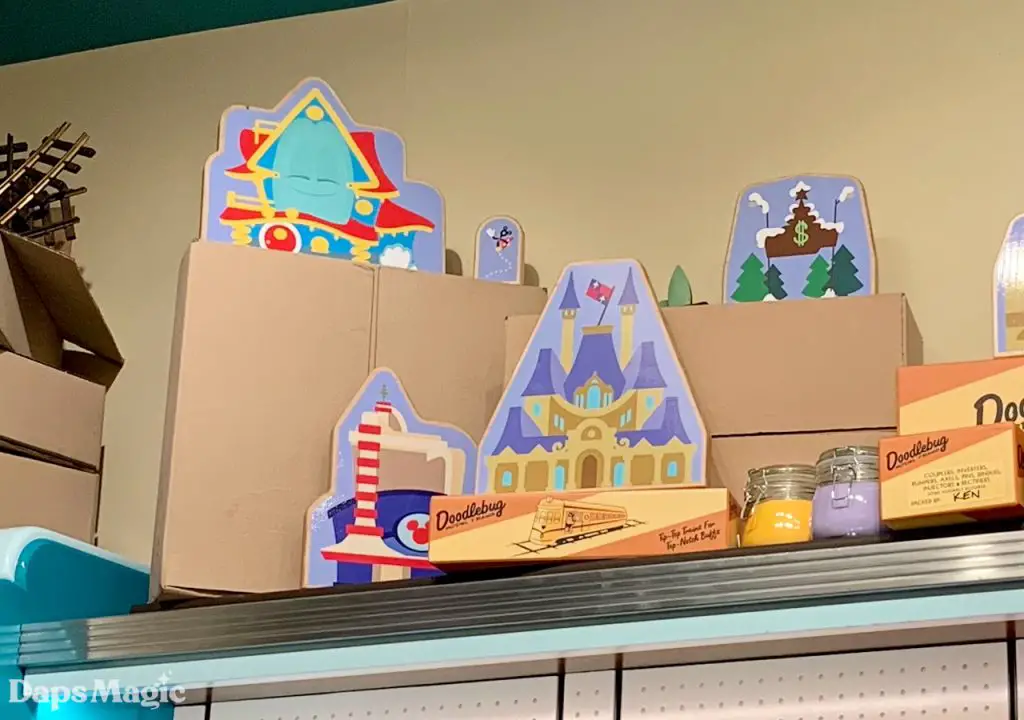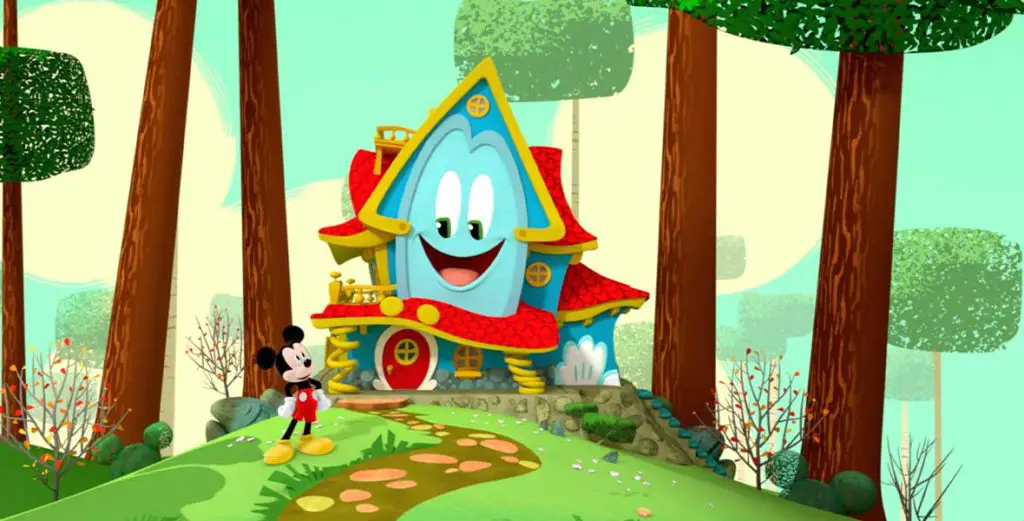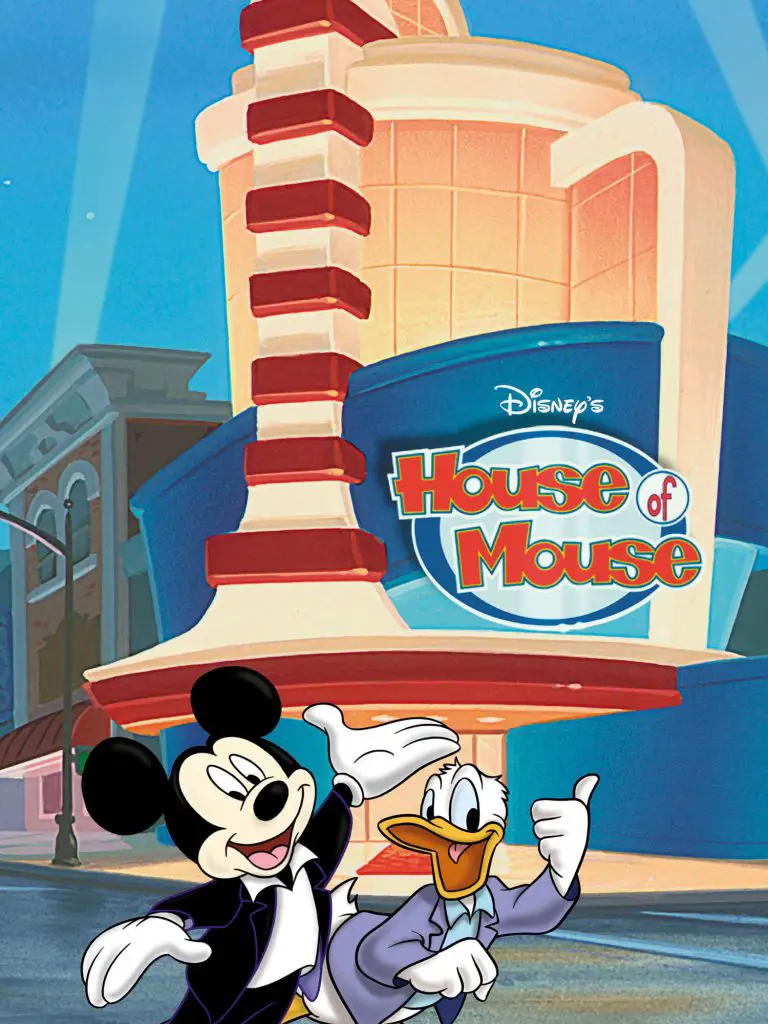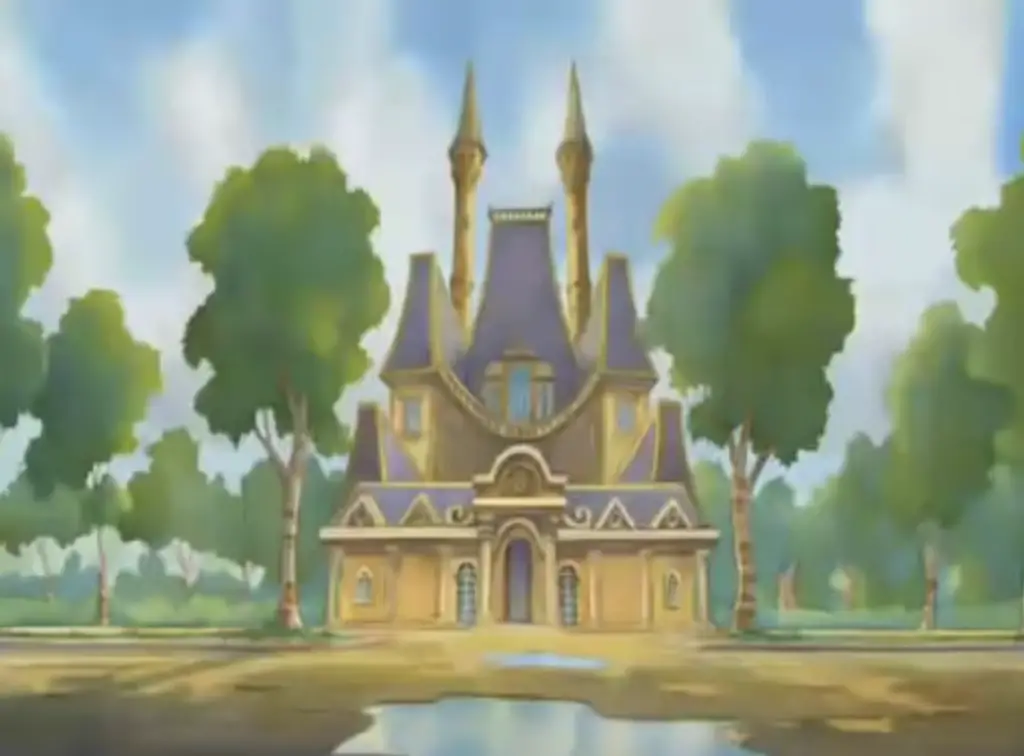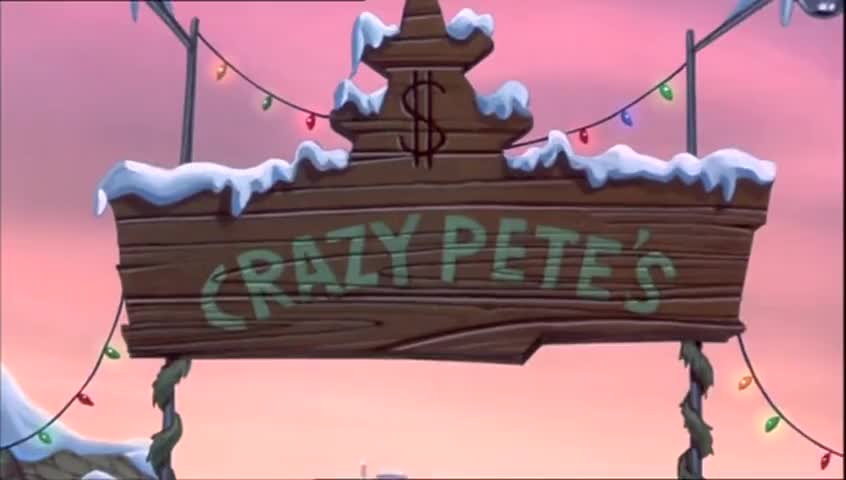 This grouping, tucked into a back corner, has an interesting collection of buildings. In the upper left is Mickey's Fun House from Disney Junior. Below that, from left, is the House of Mouse, the chateau from The Three Musketeers, and (most obscurely), the sign for Crazy Pete's Tree Lot in Mickey's Once Upon a Christmas.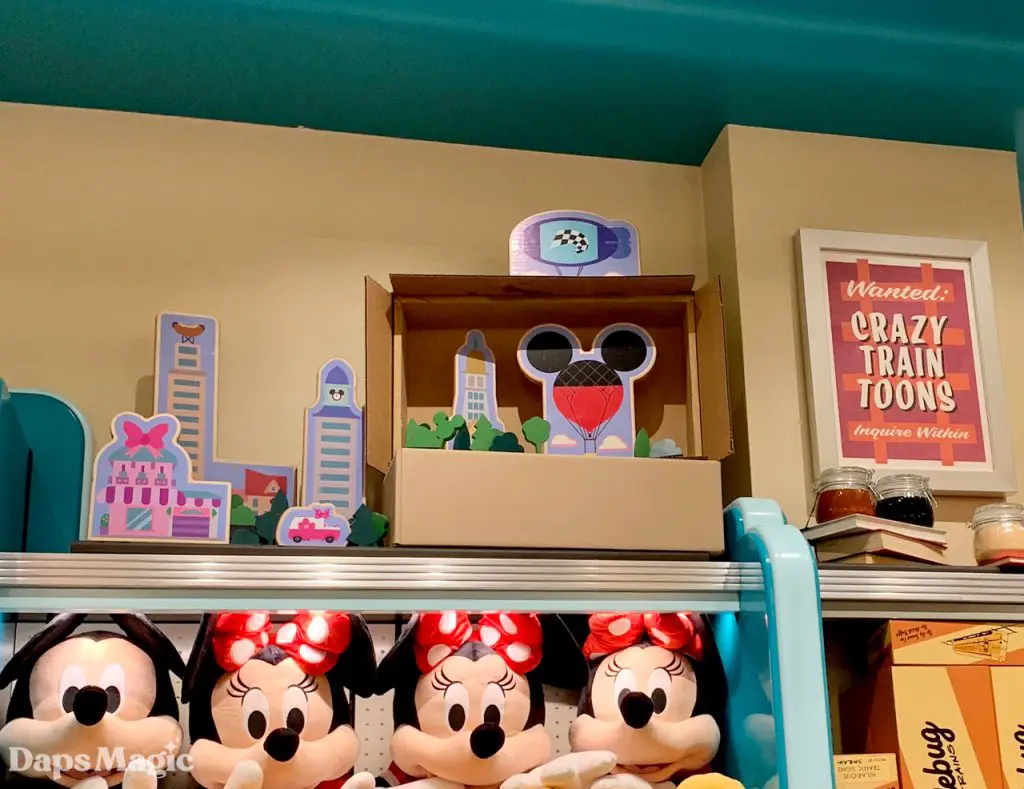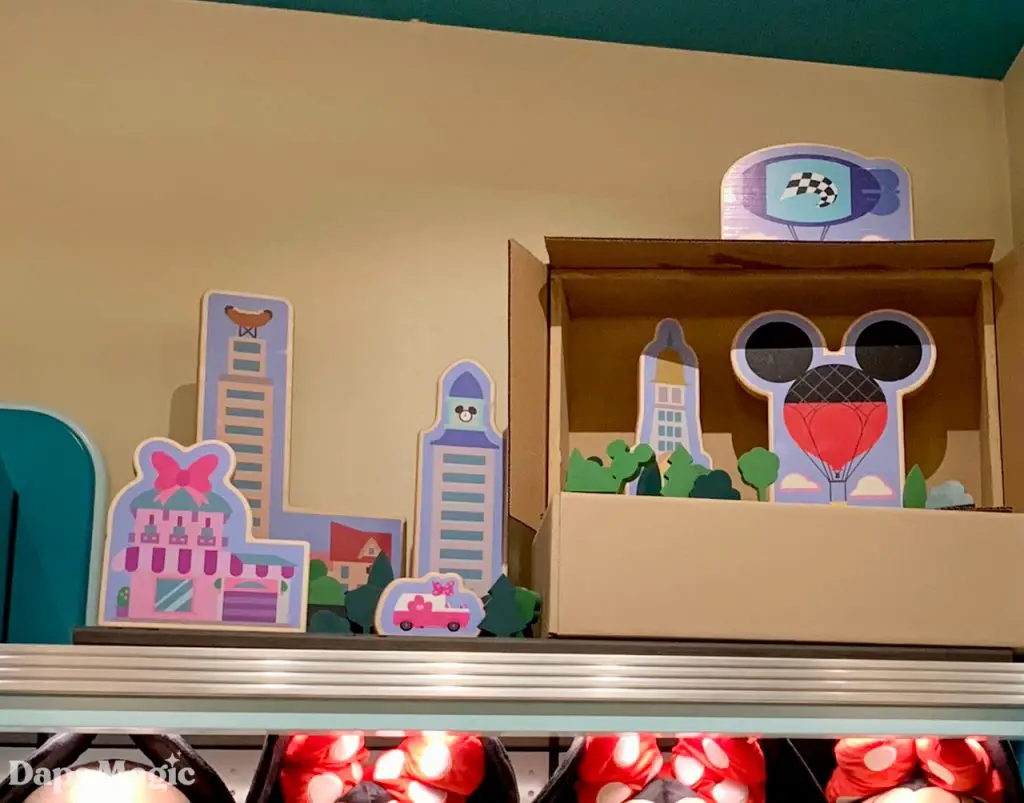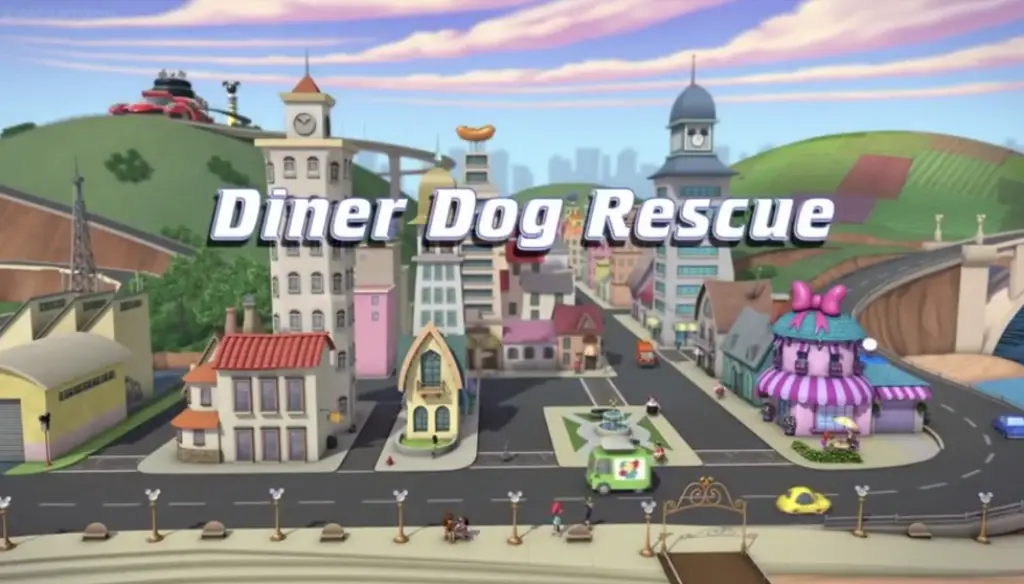 This group, derived from Mickey's Roadster Racers and Mixed Up Adventures, includes buildings from Hot Dog Hills, a blimp, and a hot air balloon.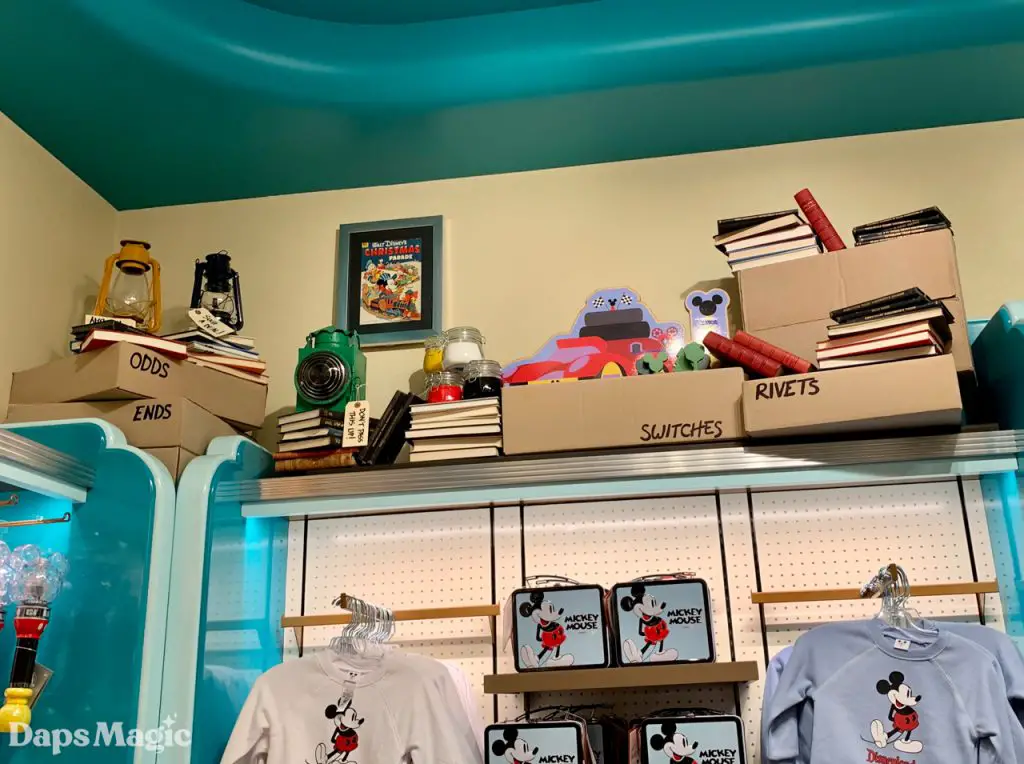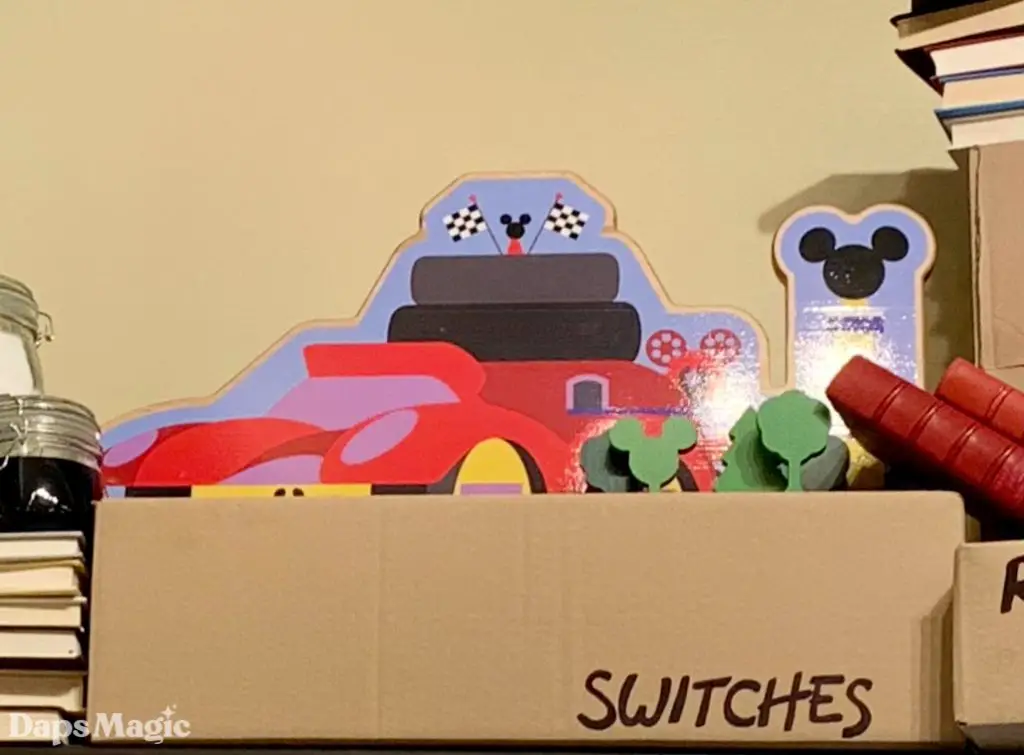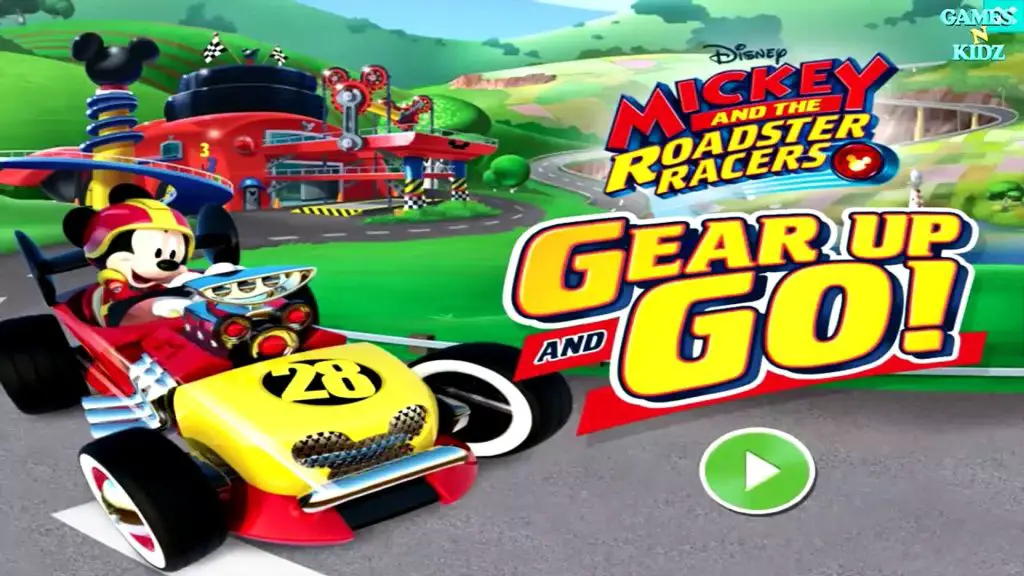 Among the railroading books and lanterns stashed in this corner, one can spot Mickey's garage from Roadster Racers.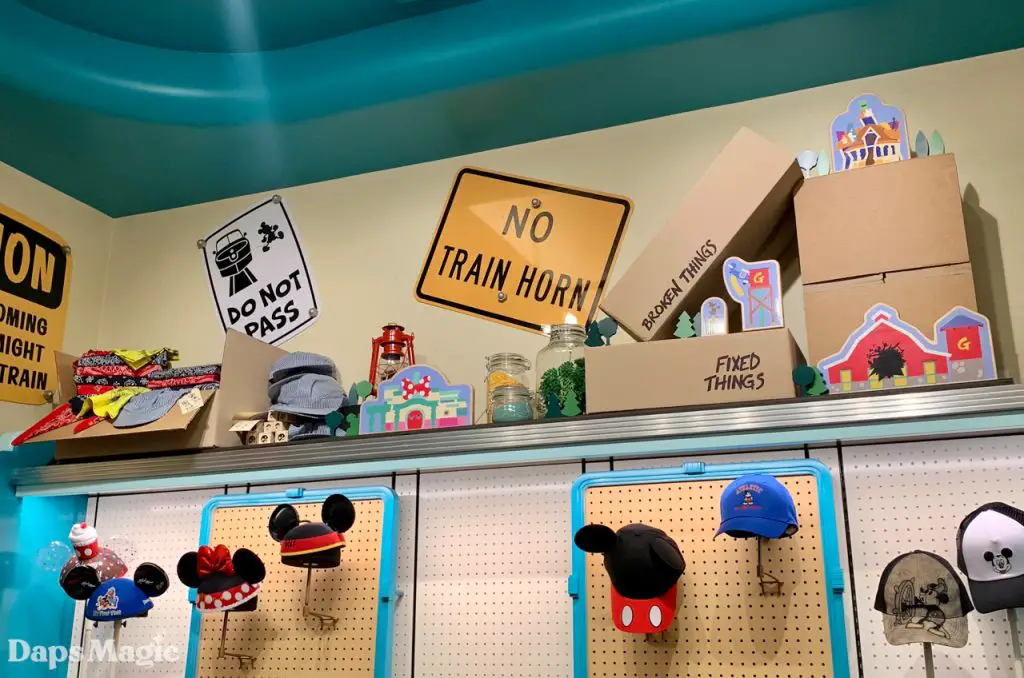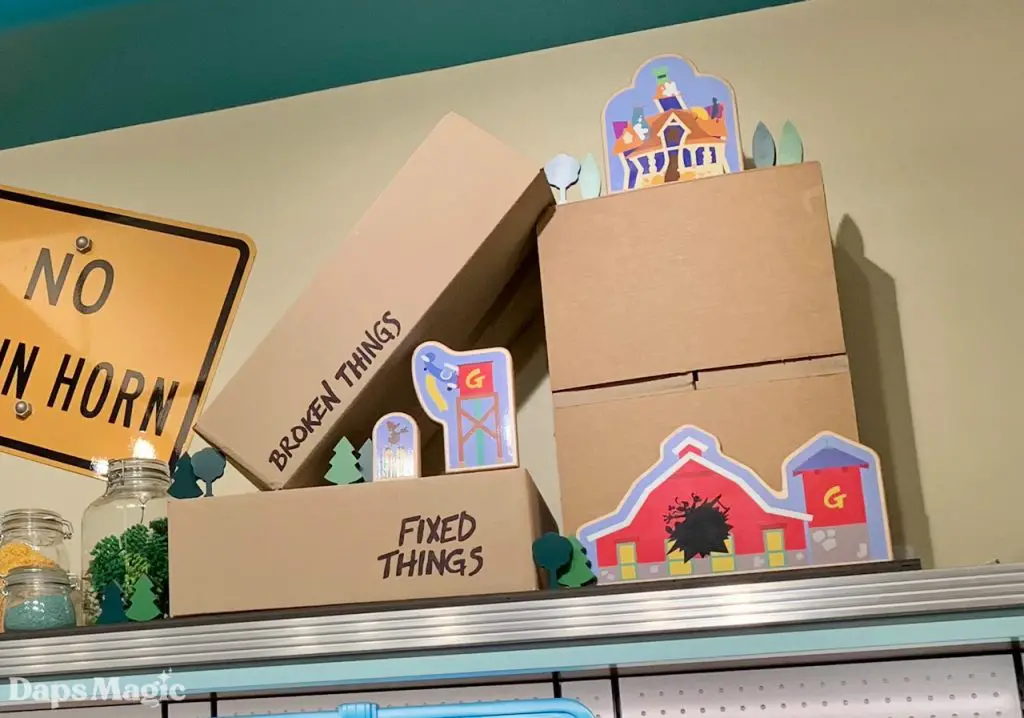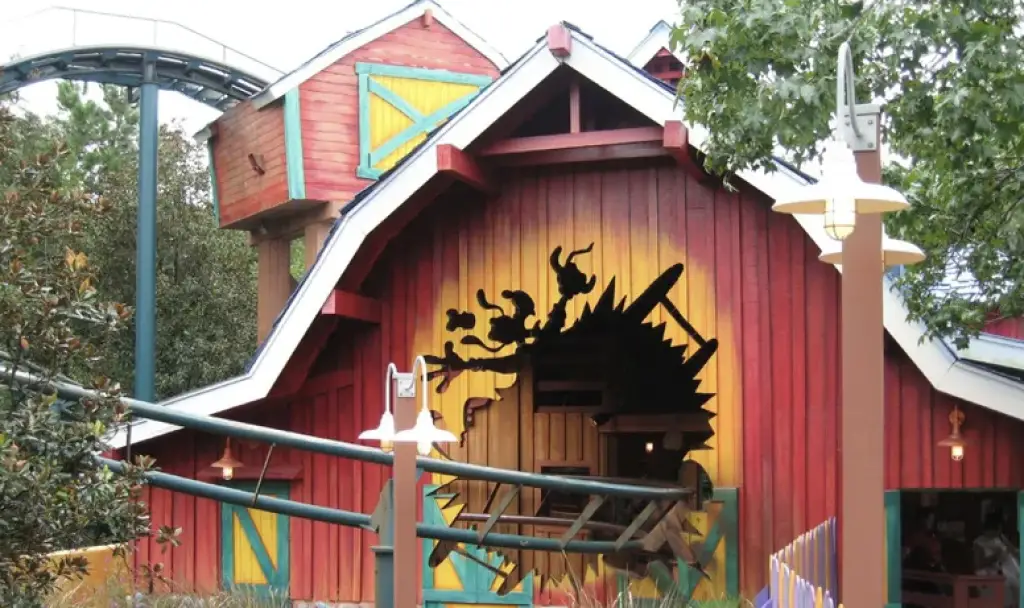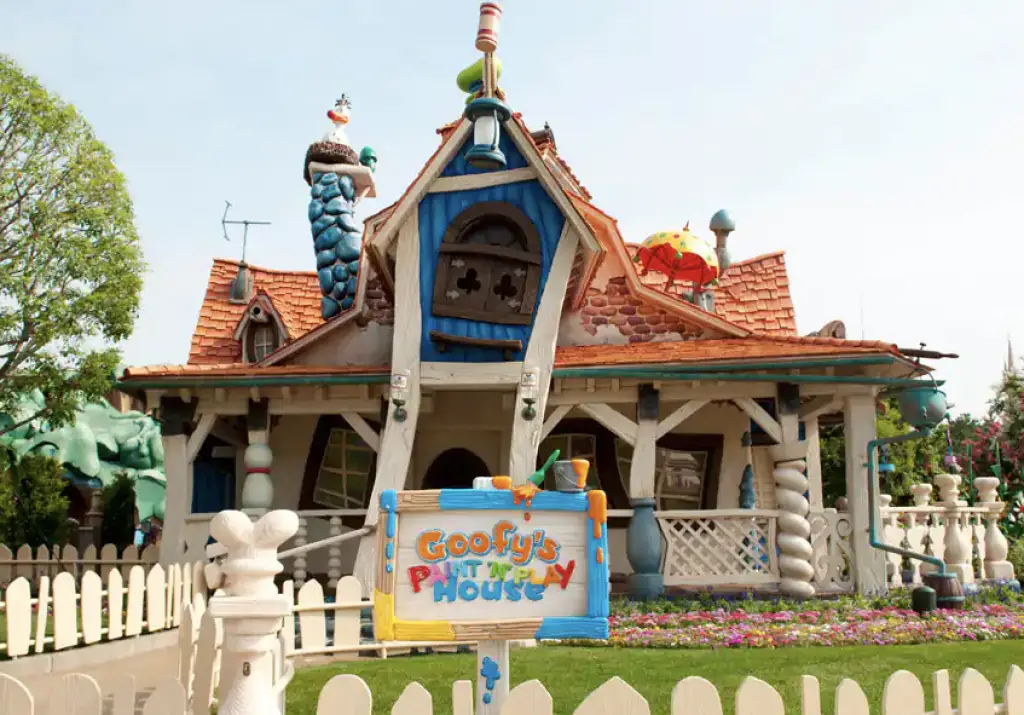 Goofy is celebrated in this set, consisting of images from his Sky School in Disney California Adventure, his Barnstormer in the Magic Kingdom, and his Paint 'n Play House at Tokyo Disneyland. (The smallest item in the group appears to be a statue of Cornelius Coot, an original centerpiece of Mickey's Birthdayland at the Magic Kingdom.)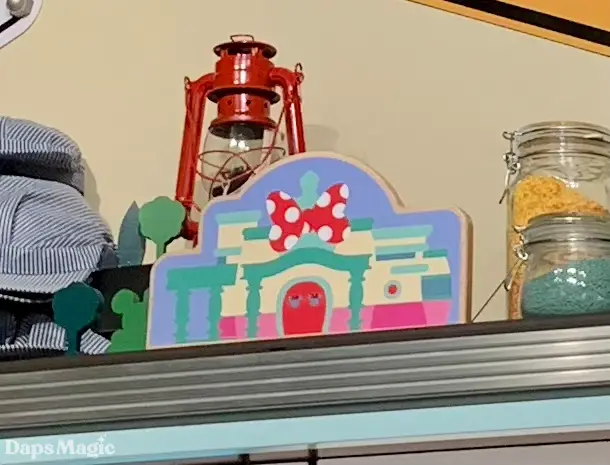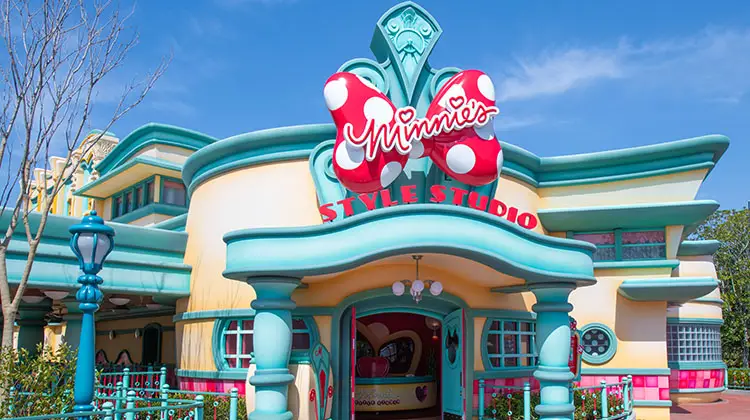 Minnie's Style Studio, a photo location in Tokyo Disneyland, can be seen on the same shelf.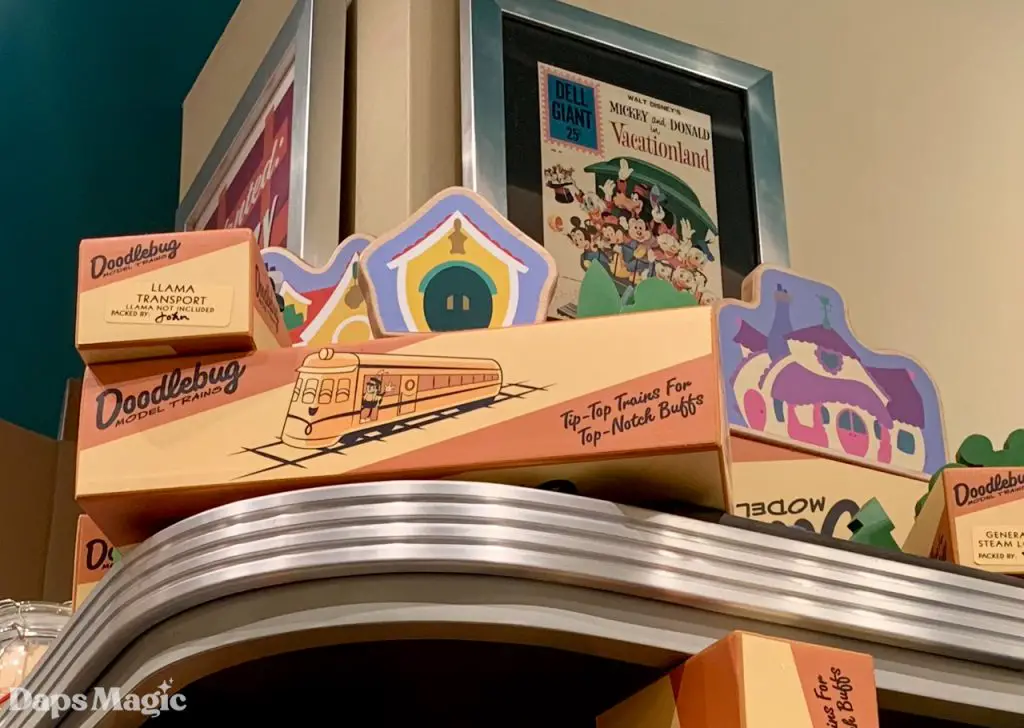 These two building, placed above an outside corner, depict a pair of buildings that can be found just around the corner from EngineEar Souvenirs. Mickey's House and garage are the ones in yellow, and Minnie's house is the one that is all in lavender and pink.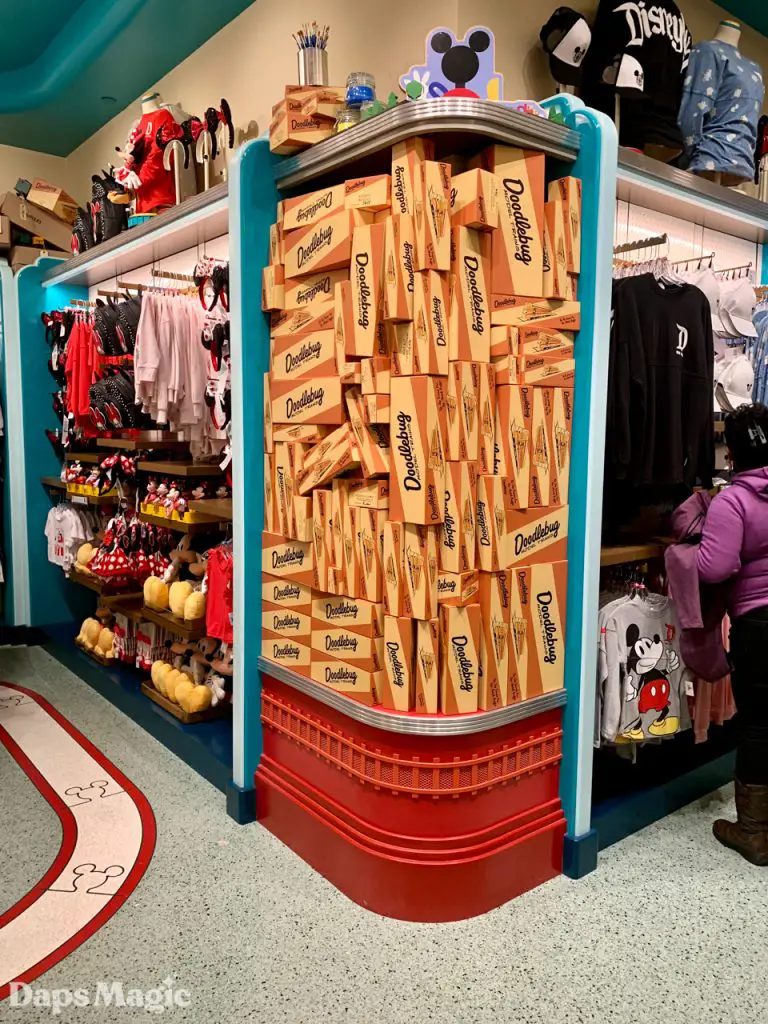 Speaking of that outside corner, it is one of two in the shop. As you can see, these spaces have been crammed with boxes (prop boxes, by the way) whose labels identify them as rolling stock and scenic items for your Doodlebug Model Trains. Many of the boxes are stacked in such a way that the end labels can be seen.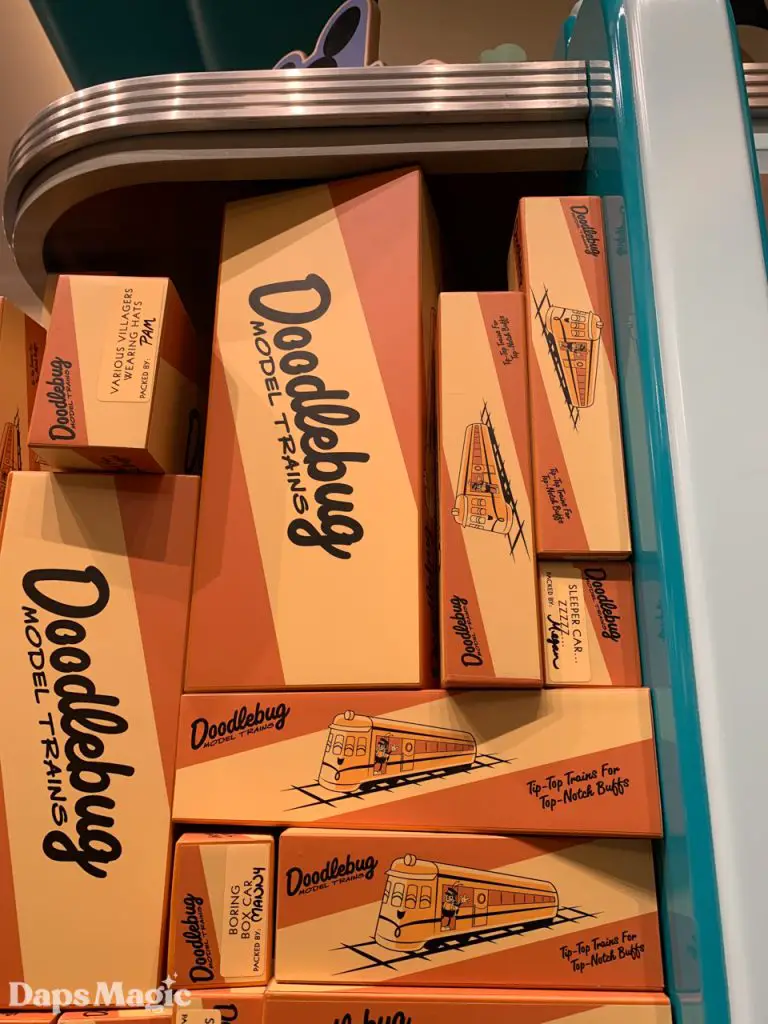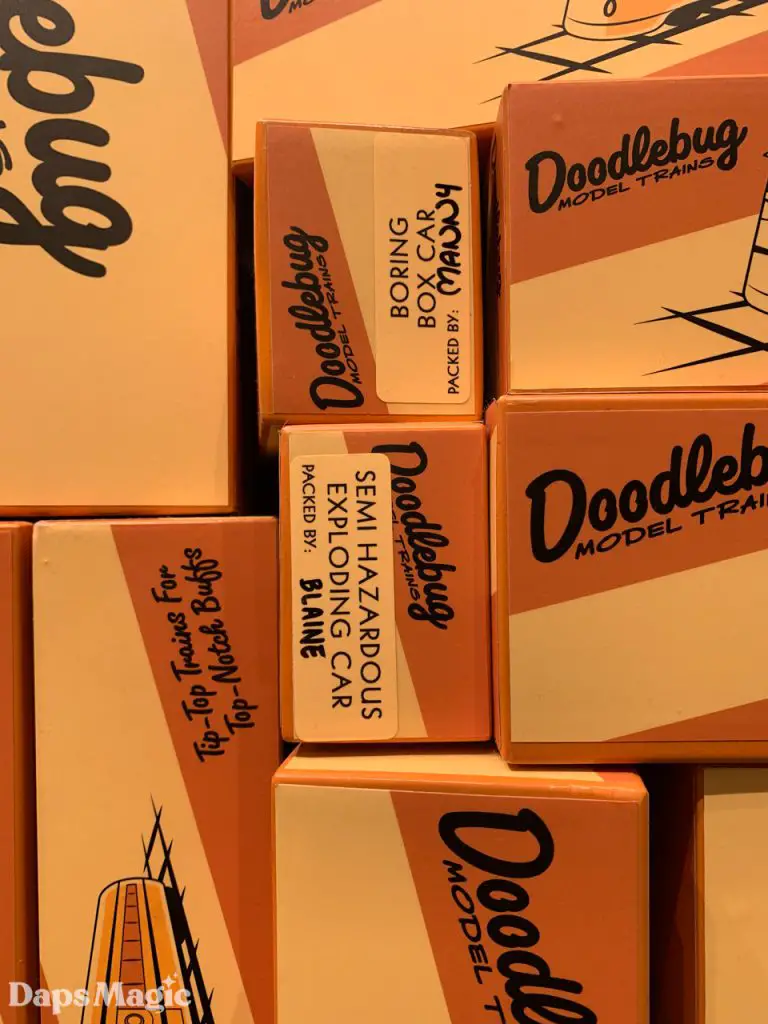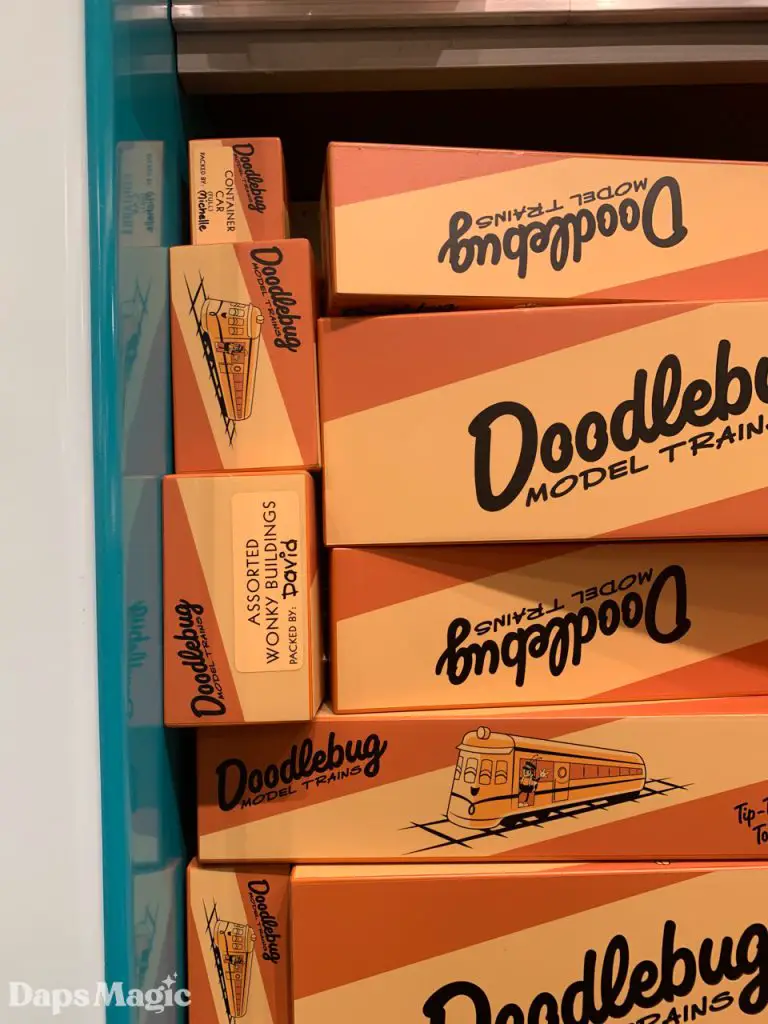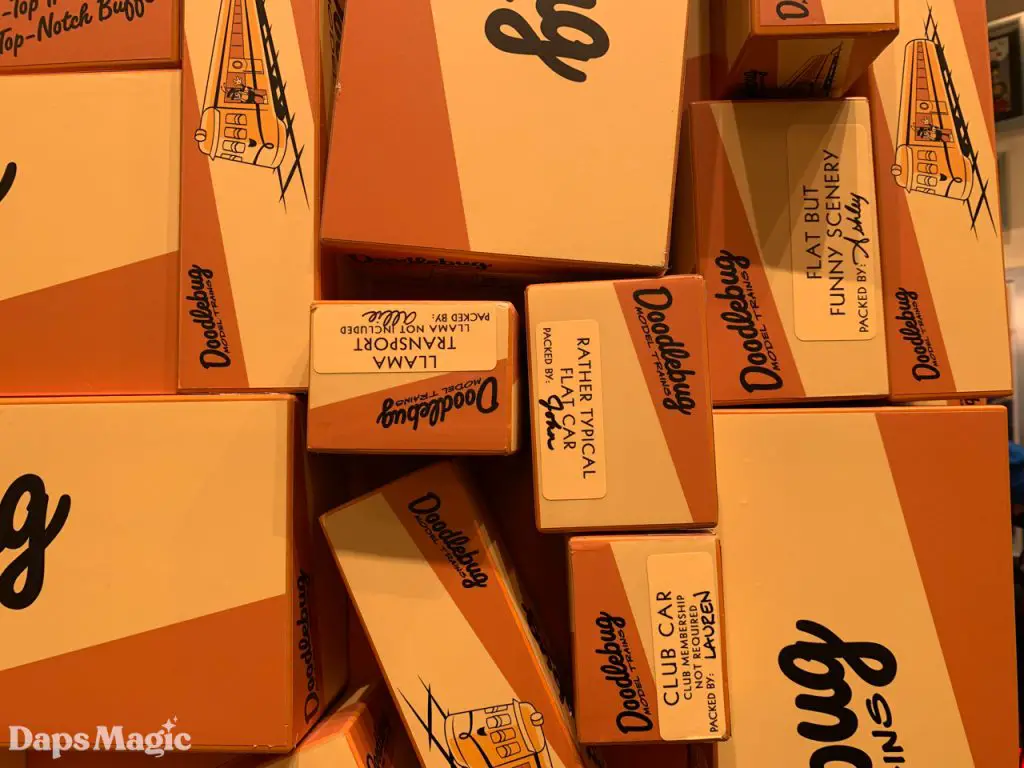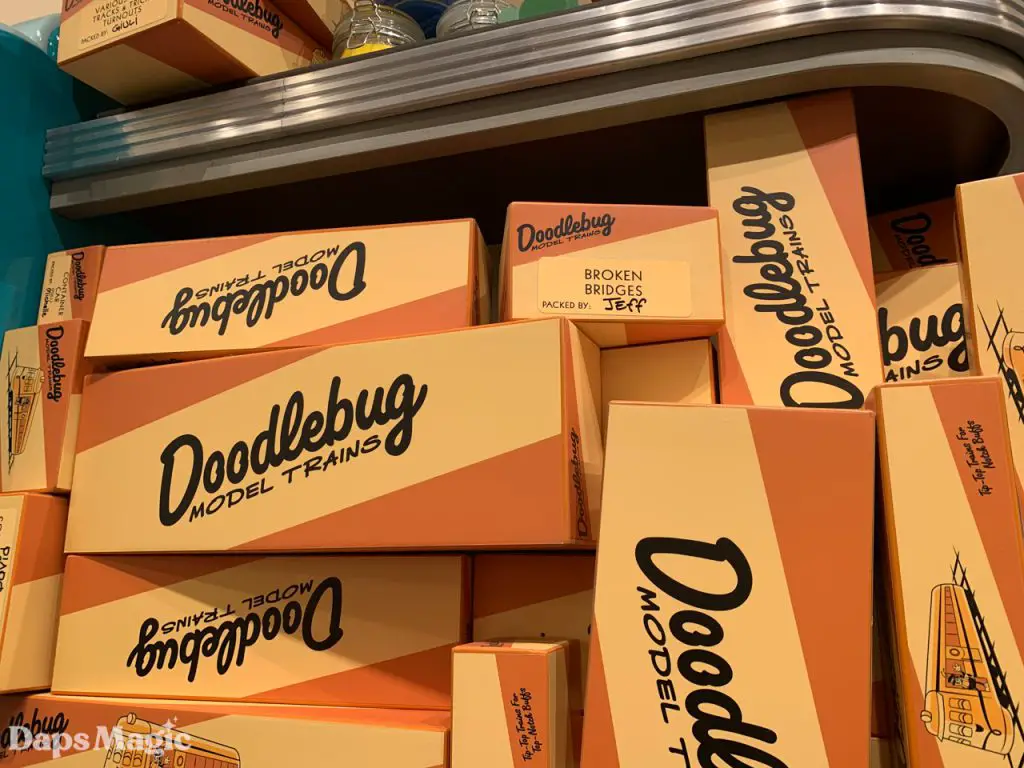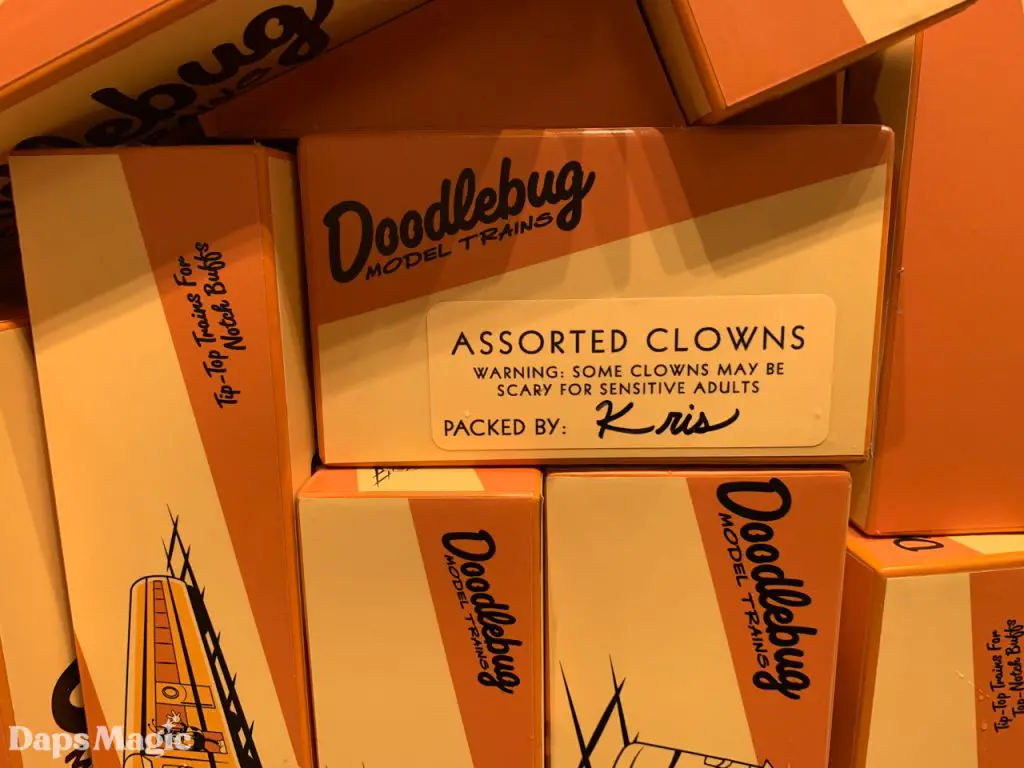 You may take your choice from Container Car, Boring Box Car, Semi Hazardous Exploding Car, or Scary Clowns (Warning: Some clowns may be scary for sensitive adults).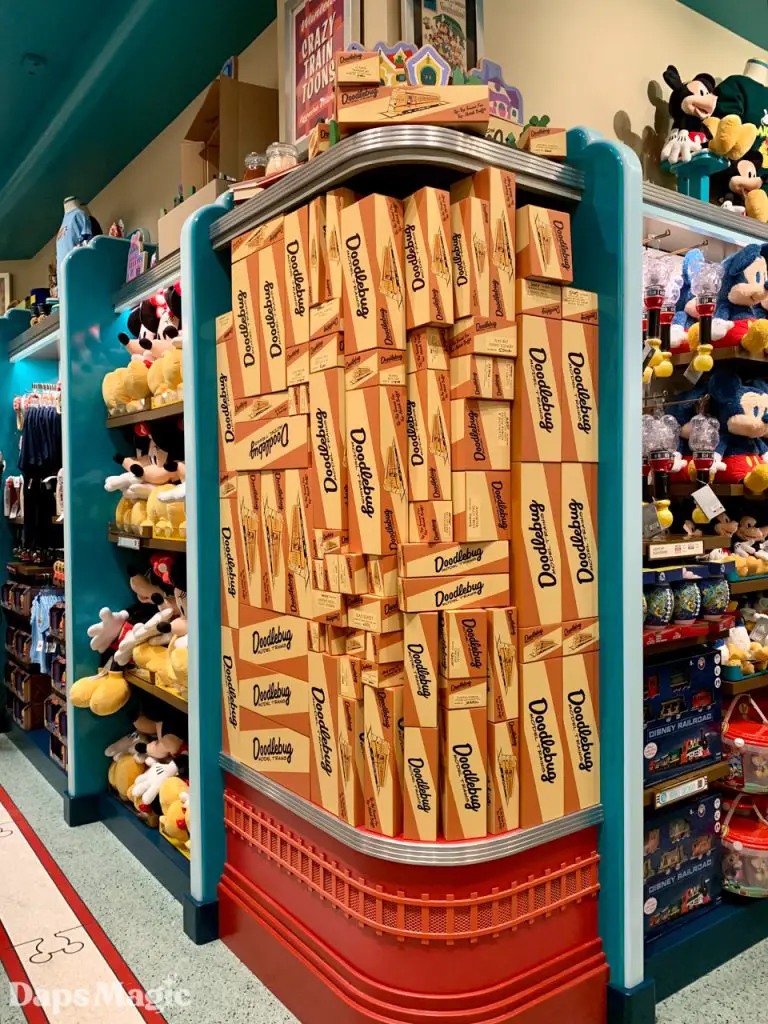 The other outside corner is across the shop.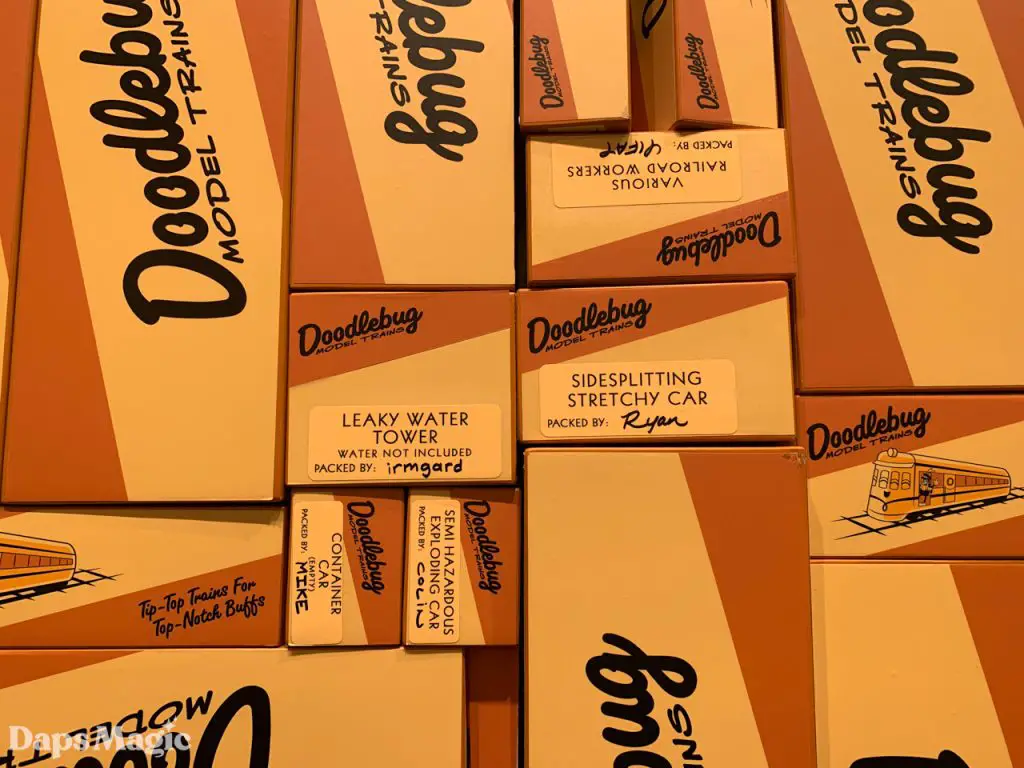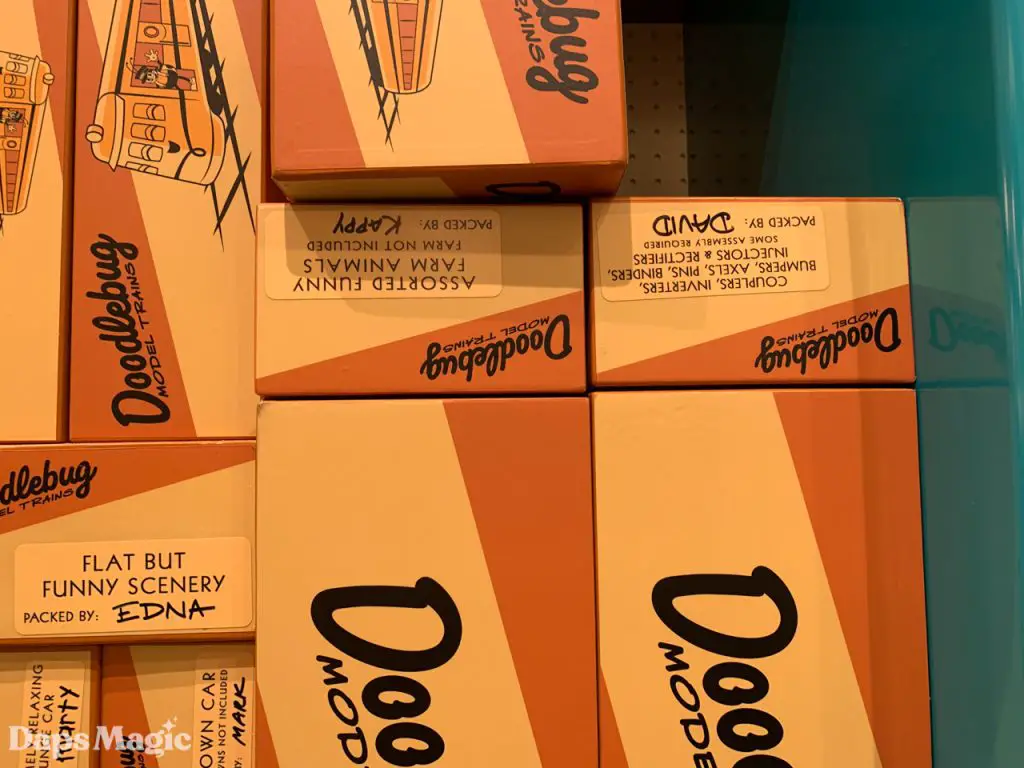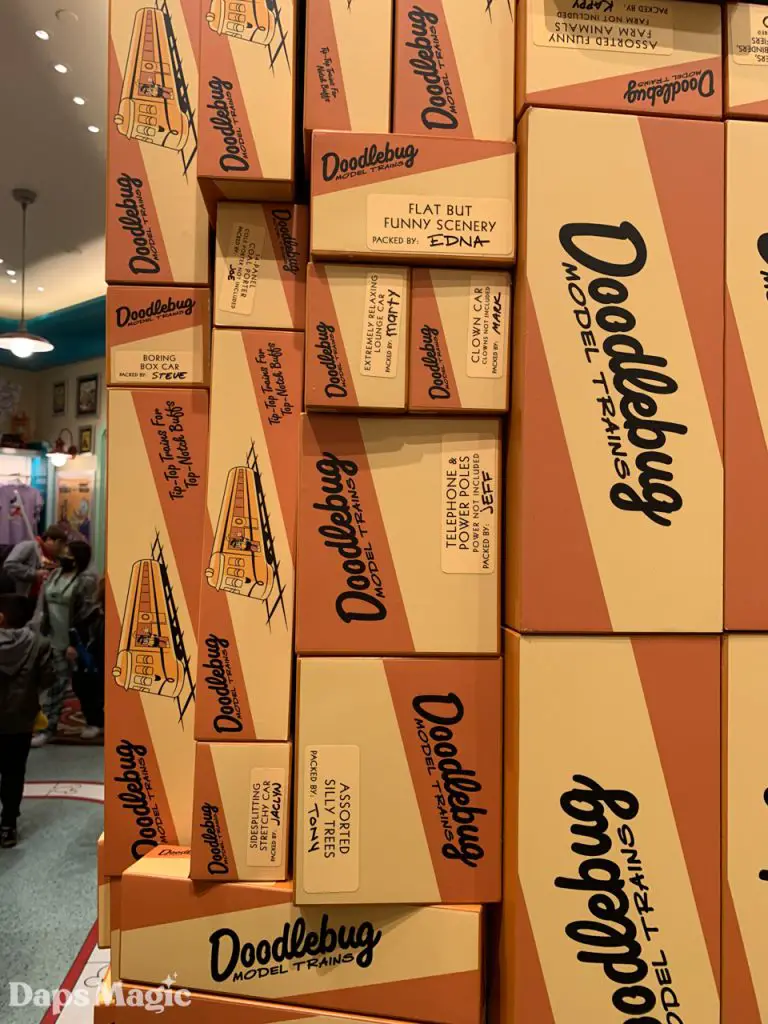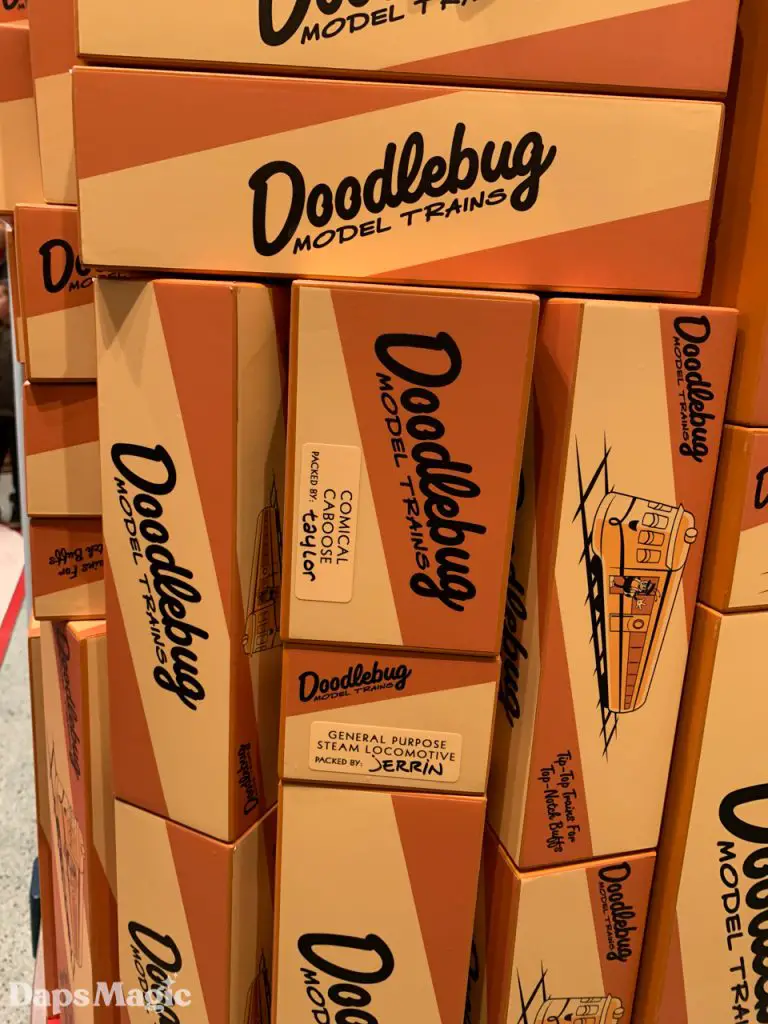 In addition to the identifying labels, there are also names, presumably signed by the person who packed the item. Many of these names were signed by Imagineers and cast members who worked on this attraction, as a way to give them their credit, hiding in plain sight. According to cast members, one of the boxes was signed by the Chairman of Disney Parks, Experiences and Products, Josh D'Amaro.

Enjoy the hunt the next time you find yourself in the new EngineEar Souvenirs in the new Mickey's Toontown. Will you spot something we have missed? Leave a note in the comments below!