This month's column was supposed to be about a very memorable 1992 daytime parade that ran from June 19 to November 15. "The World According to Goofy" may have seemed a somewhat random choice, unless one remembers that Goofy made his Disney debut in 1932. For his 60th birthday, Disneyland created a zany parade tracing Goofy's progress from the prehistoric "Goofasauras" to the present day.

I say "was supposed to be," because while I was certain I had extensively documented this parade with photos, I find that I did not. I guess the parade was just that memorable.

But daytime parades are the subject at hand, and so instead I give you a daytime offering from 1989: "Hooray for Disney Stars." In case you are wondering about this, no, this was not tied to any specific anniversary or theme. It was simply the case that for many years, right up through the early 1990s, Disneyland offered a brand new daytime parade every year, and retired it in time for the holidays.

"Hooray for Disney Stars" opened on June 30, following the "Blast to the Past" promotion that closed on June 18. All of this was part of the second year of the "Disneyland: The Original" promotion. Got all that straight?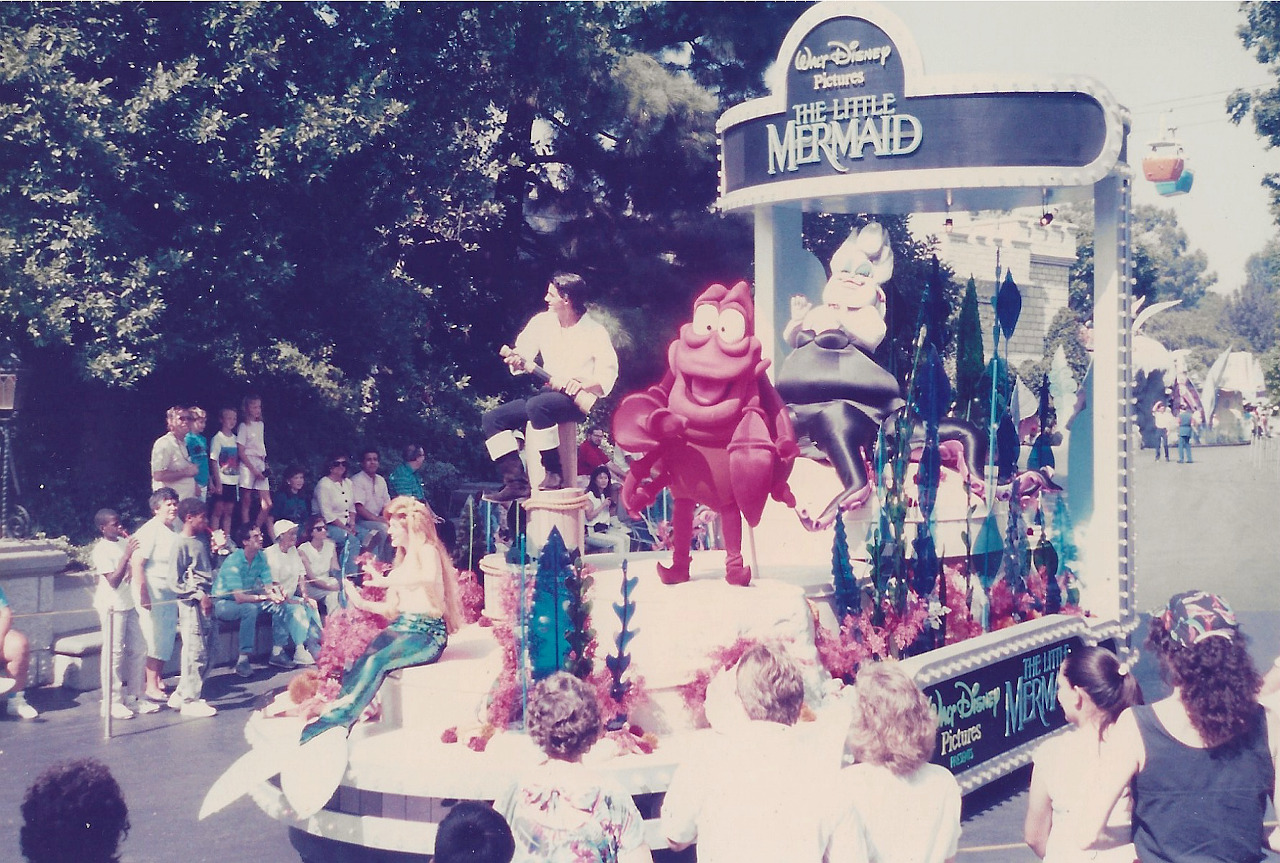 Guests waiting for the parade were first treated to a promotional float for the newest Disney animated feature, "The Little Mermaid." The friendly looking crab and the cute fish certainly looked like fun. But who is that scary lady with the purple eye shadow and tentacles sitting on the back of the float?
"Hooray for Disney Stars" kicked off with a lively group of Disney characters pouring out of the front gate of the "Disneywood Studios." It was quite a mix, consisting of classic characters, syndicated TV stars, and even mascots for theme park attractions.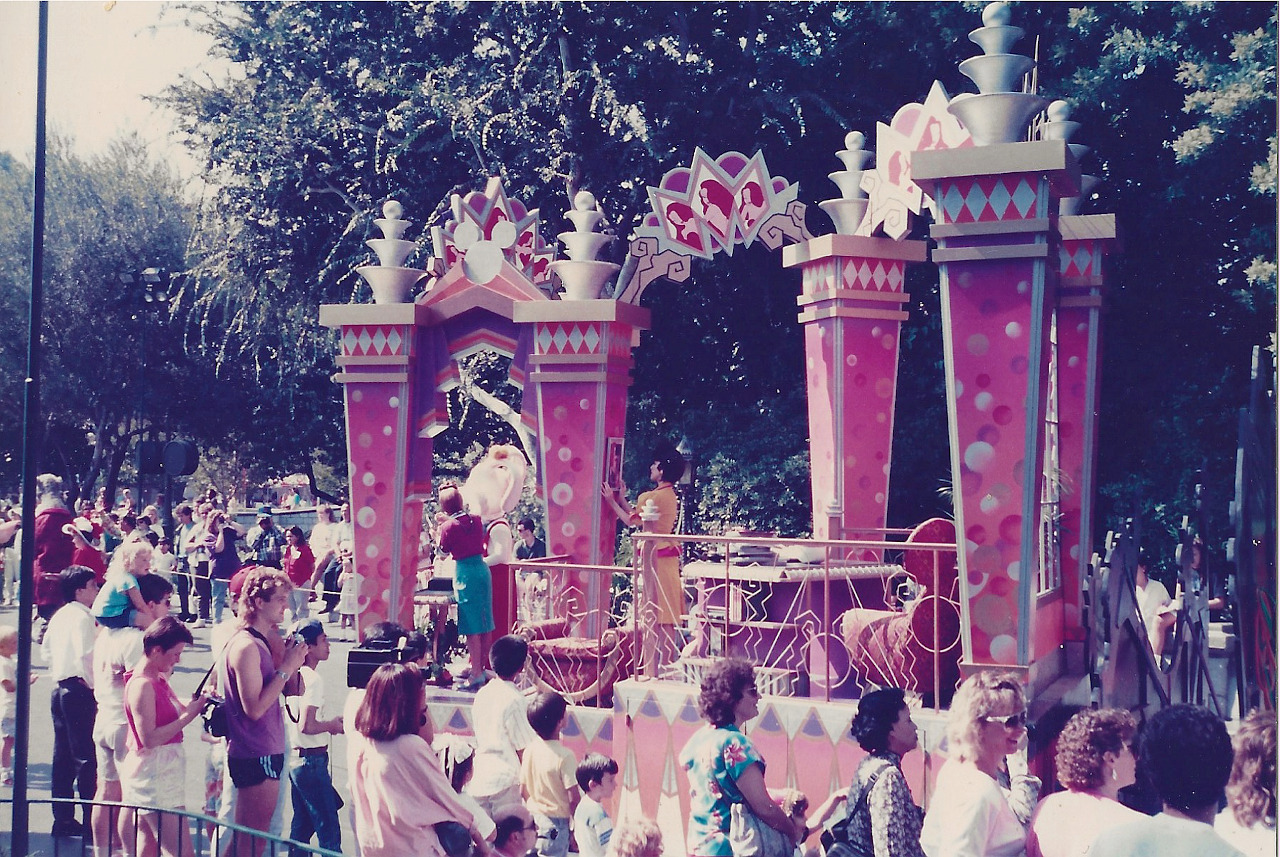 The next float was devoted to a character that Disney was heavily promoted throughout the 90s, Roger Rabbit. For this parade, Roger was presented as the head of the studio, directing a bevy of attractive secretaries in his plush office.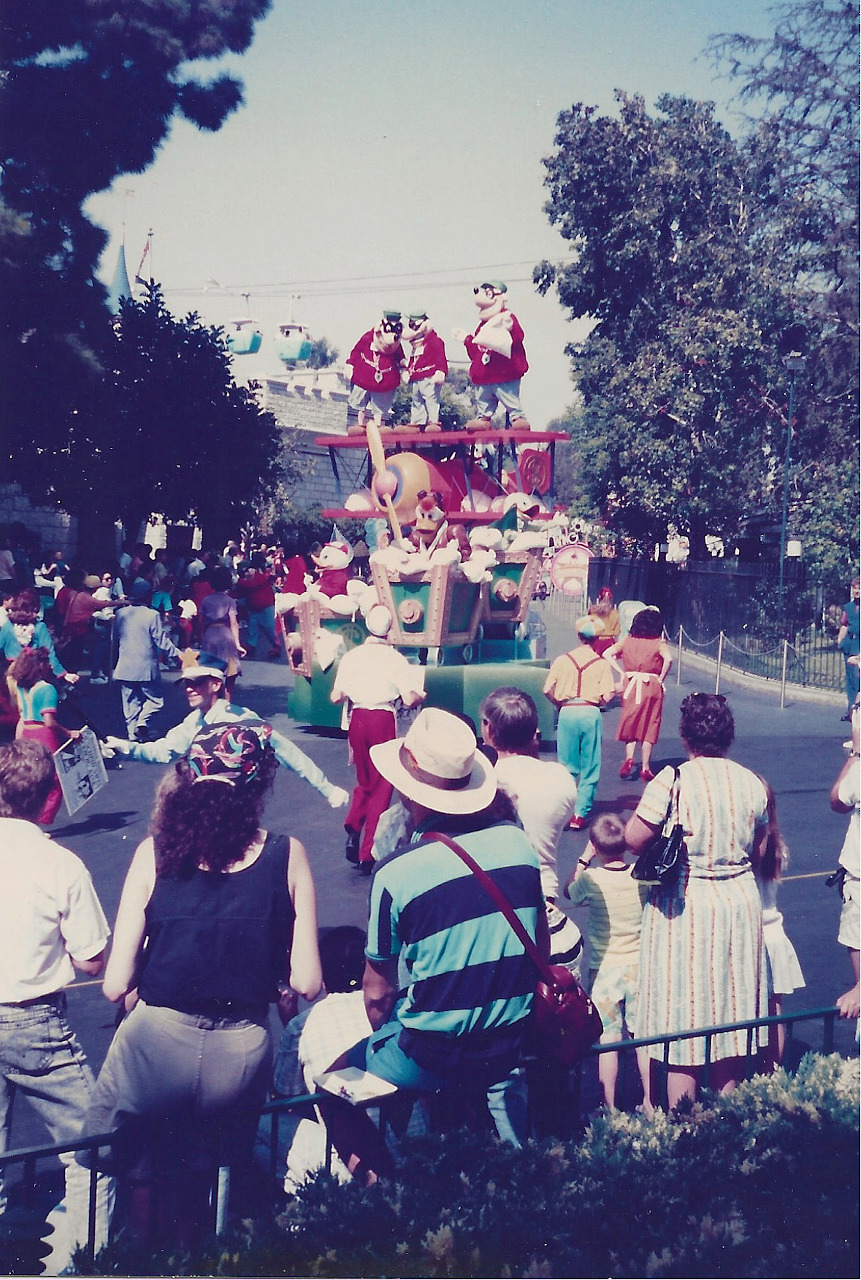 Next up at the Disneywood Studios was a visit to the soundstages. First, we looked in on DuckTales, not so coincidentally the highly popular syndicated series that would next year serve as the lynchpin for The Disney Afternoon block of television programs.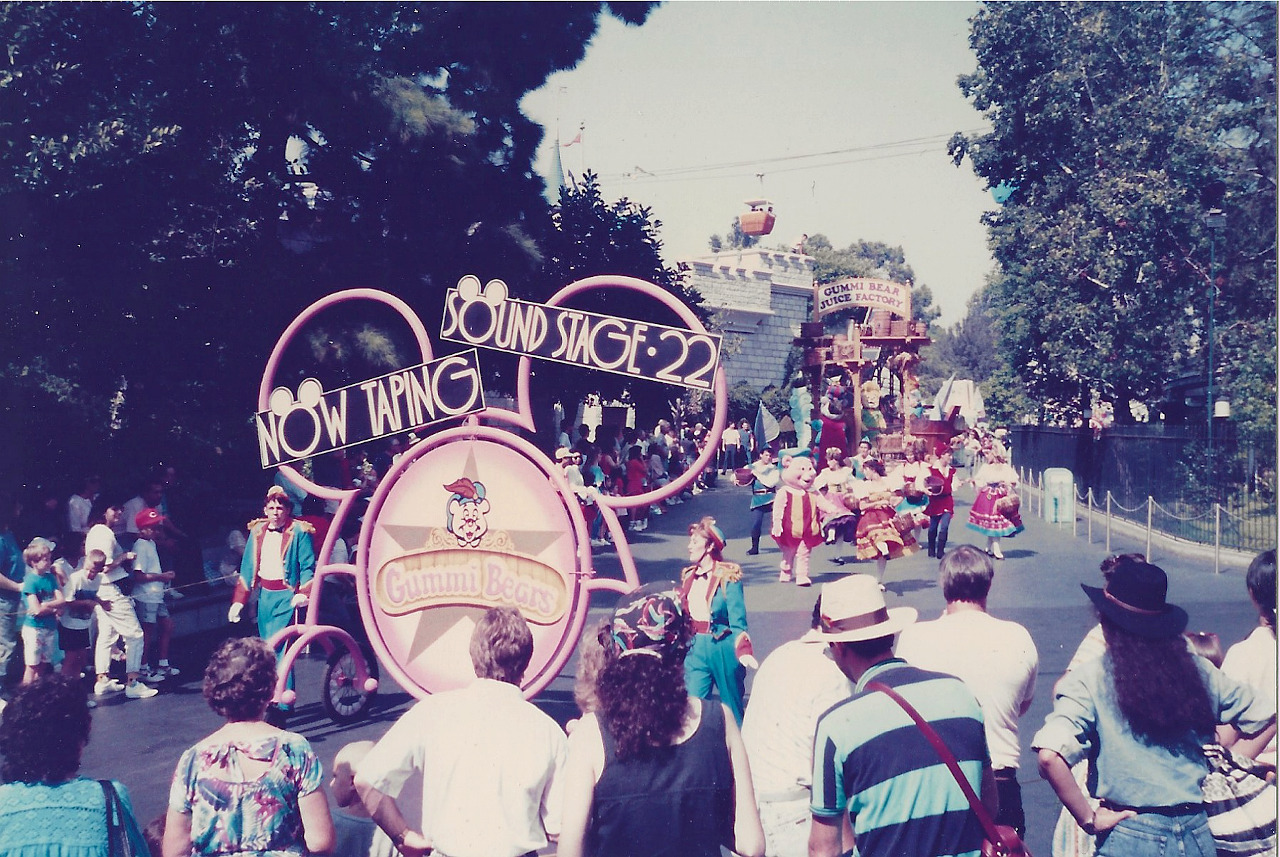 Meanwhile, over on Soundstage 22, the Gummi Bears are busy shooting a scene at the Gummi Bear Juice Factory. This series, which originally aired on NBC in 1985, was also now syndicated by Disney.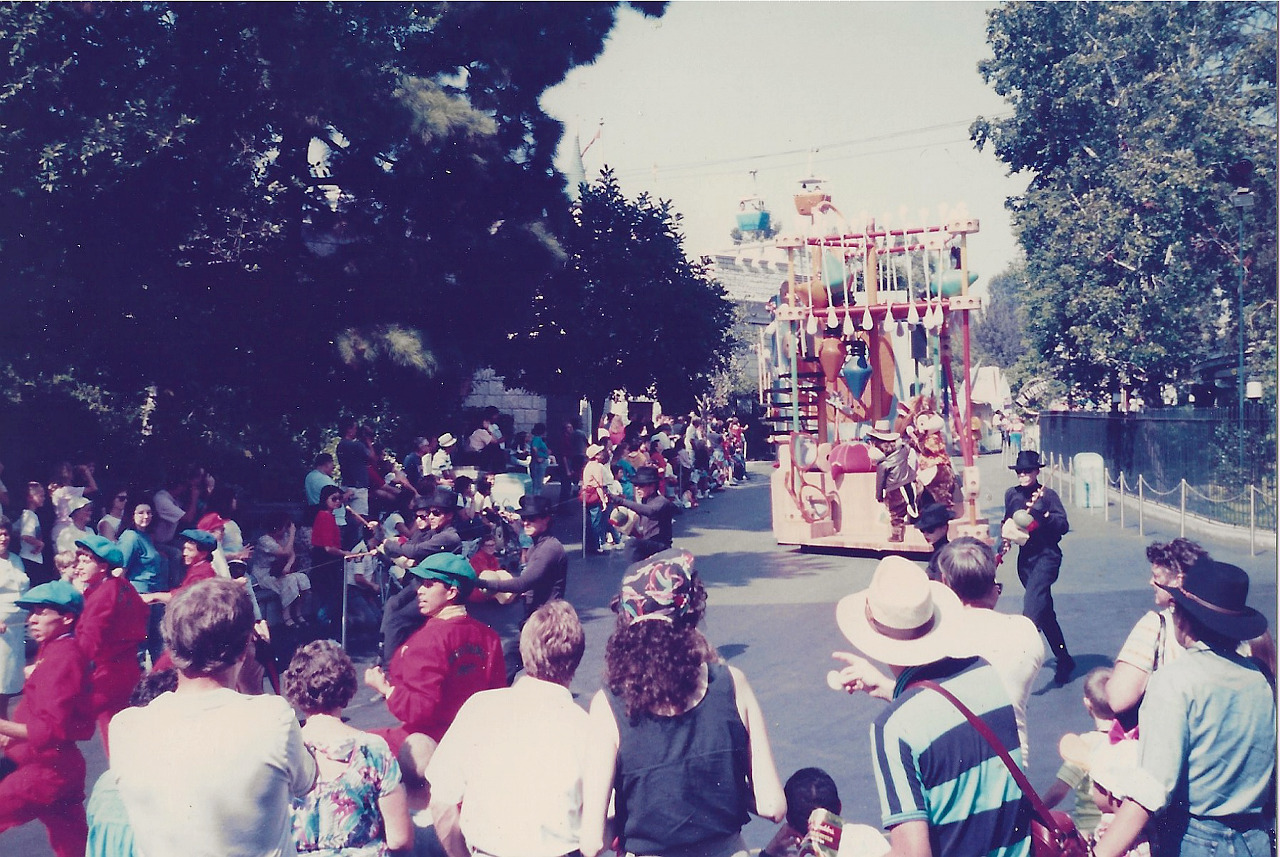 Joining these was Disney's newest animated TV series, Chip and Dale's Rescue Rangers. Hmmm. Maybe there was a hidden promotion in this parade, after all.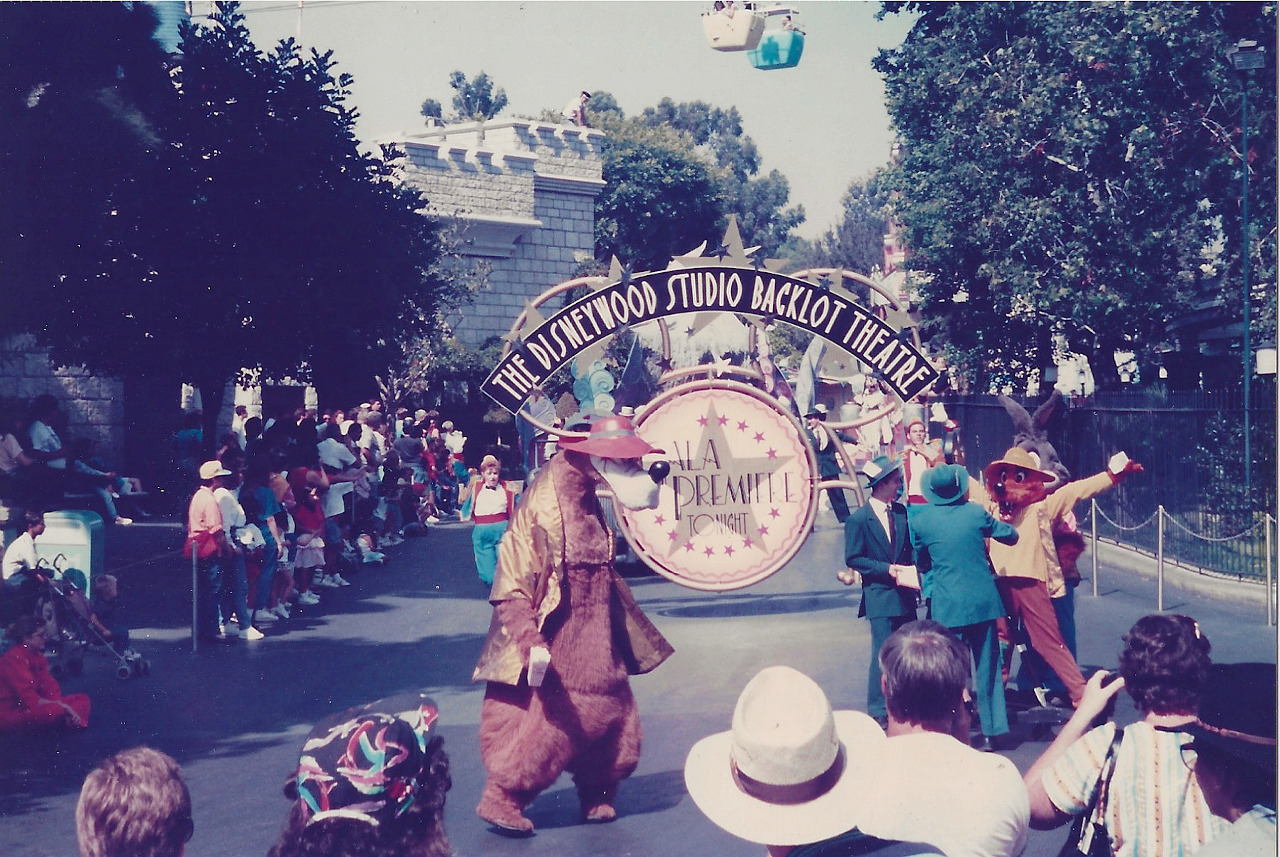 But Disneywood Studios isn't just about working all day in offices and soundstages. This parade's grand finale was a gala premiere at the Disneywood Studio Backlot Theatre. It said so, right on the sign.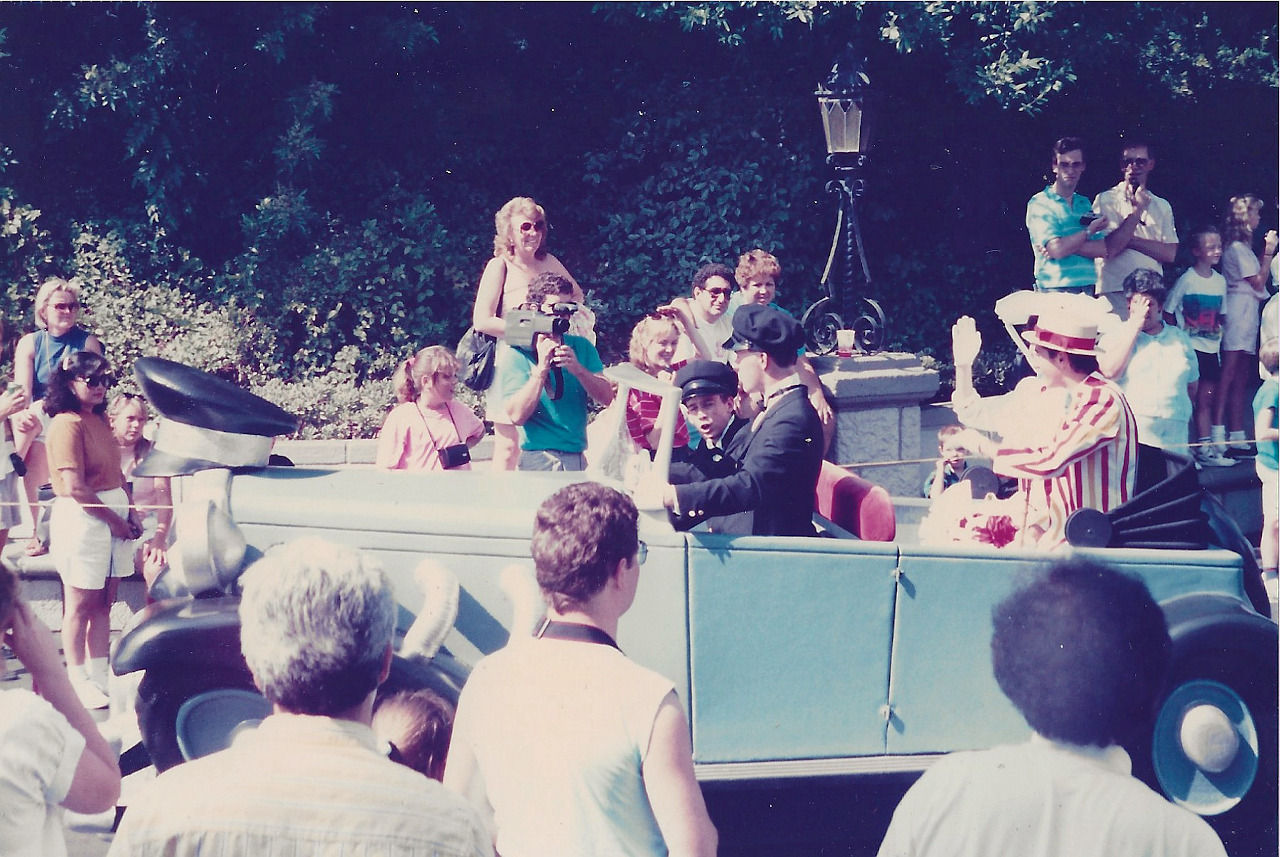 Of course, we have to have stars in chauffeur-driven limousines. There's Mary Poppins and Bert!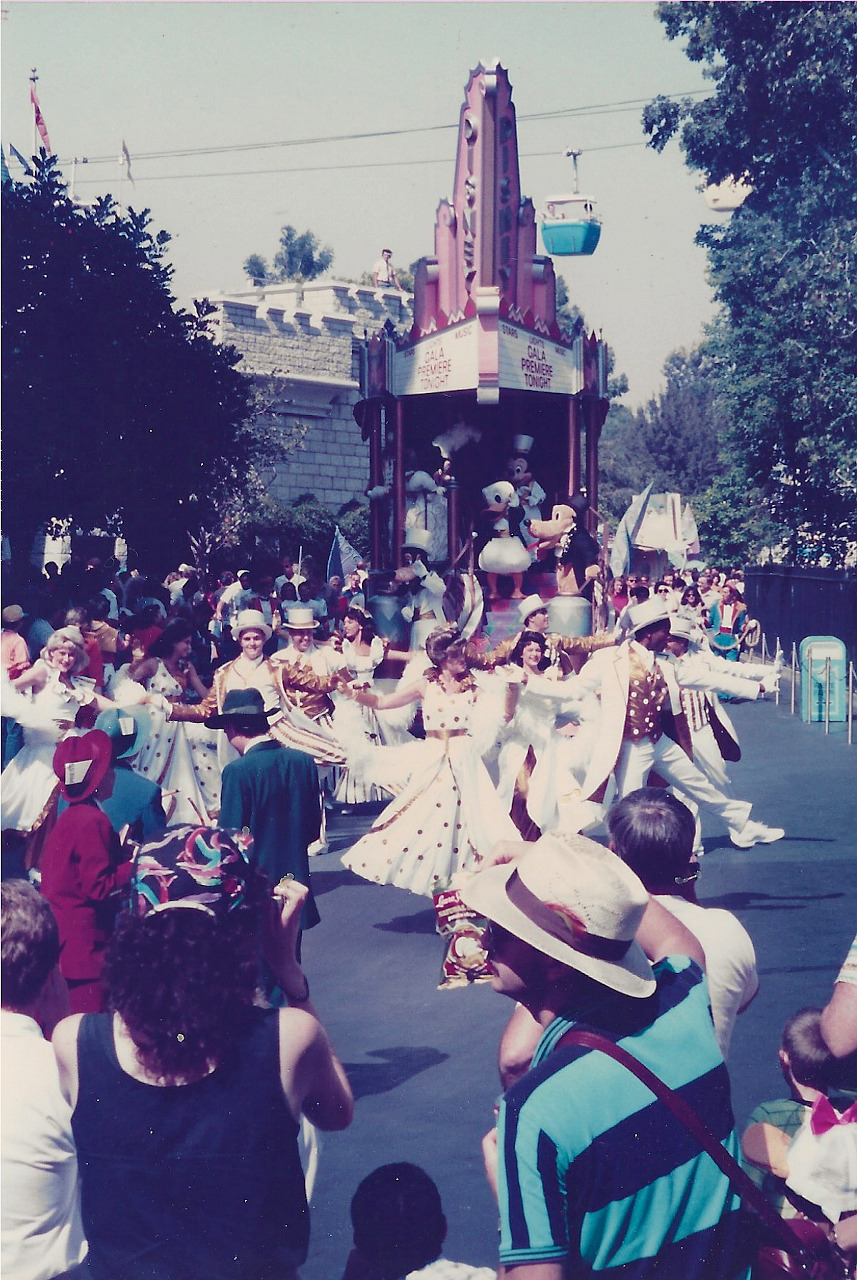 Glamorous dancers strutted their stuff for eager paparazzi, as the Disney Theater came into view.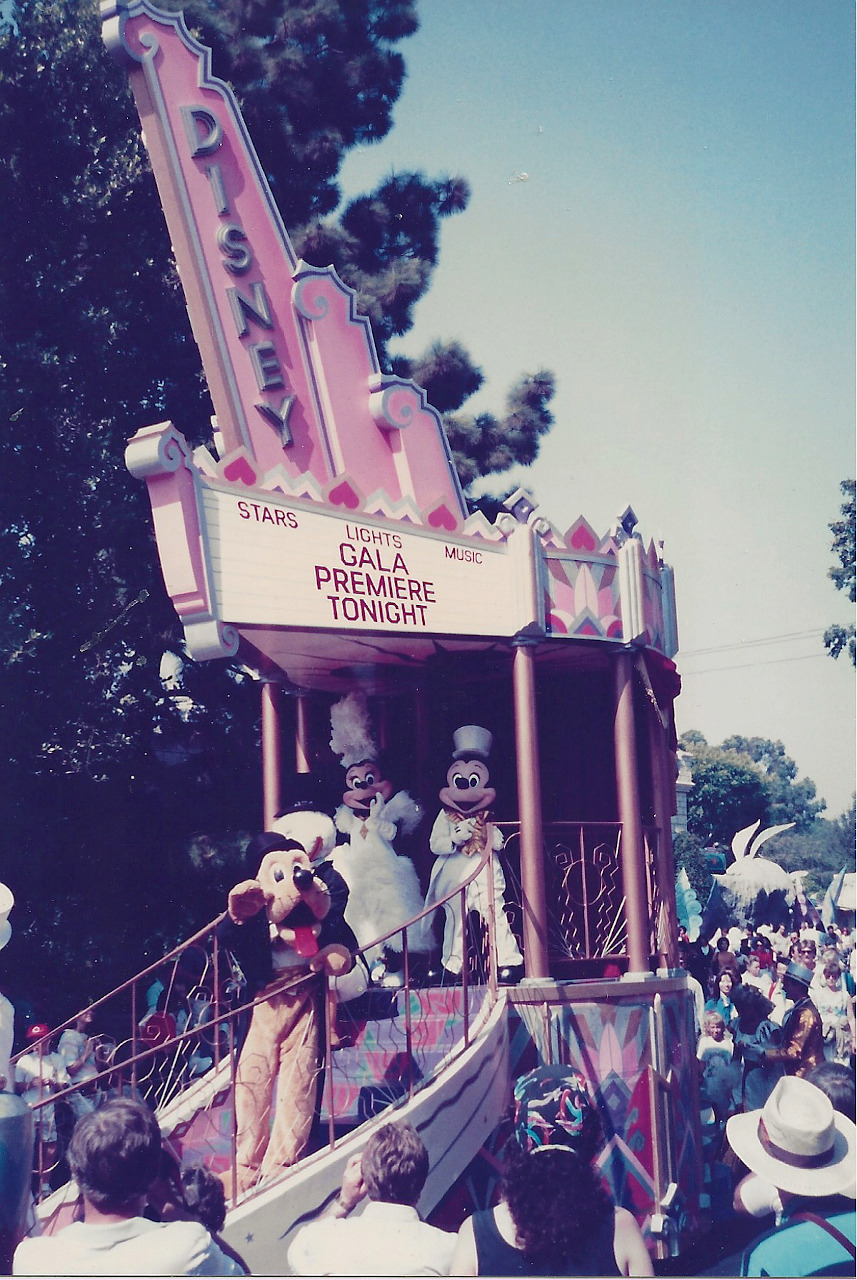 And you know you've arrived if the biggest stars are there. Mickey and Minnie Mouse, along with their friends Donald, Goofy, and Pluto, were on hand, decked out in the finest, formal array. (And yes, that's Pluto in top hat and tails!)

The "Hooray for Disney Stars" parade ended its run on November 12, 1989. It was never seen again, even in any other Disney theme park. But that is the way it was done then. A new parade was offered for a year, and then… gone.

But this was about to change in the early 1990s. Stay tuned.

Oh! And one last image from 1989. If you happen to take the Disneyland Railroad through the north side of the park during a parade, you may find yourself passing the performers as they are waiting "backstage" by the gate next to it's a small world. And you will find that everyone in the parade will turn their attention to you as you pass slowly by. And here we have one of this parade's many paparazzi, begging for an interview as Fat Cat mugs for other guests. And that… is the end.