Jump to recipe
One unique place to visit and eat at Disney's Animal Kingdom in the Kiani Village is Sanaa. This dining location shows off African cooking with Indiana flavors and includes slow-cooked meats, salads, and also plant-based dishes. There also are some wonderful views of some of the animals roaming the Sunset Savanna.
There are many wonderful dishes on the menu but a favorite of many is the bread service. This comes with five different types of bread that include traditional naan, garlic-ginger naan, spiced naan, onion kulcha, or paneer paratha. All of these are made in the restaurant's tandoor ovens. They are accompanied by cucumber raita, roasted red pepper hummus, mango chutney, tomato-date jam, tamarind chutney, coriander chutney, garlic pickle, red chile sambal, and spicy jalapeño-lime pickle.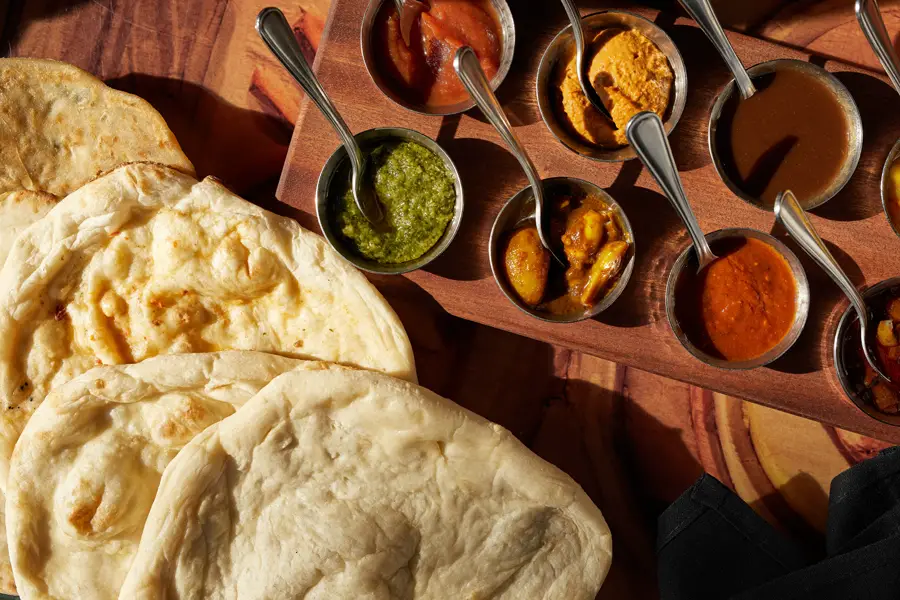 For those who can't quickly make their way over to Sanaa, or want to recreate the experience there, Disney chefs have shared a recipe for Naan Bread and also an accompanying Cucumber Raita. Check out the recipe below and then give it a try. Af
Naan Bread with Cucumber Raita - GEEK EATS Disney Recipe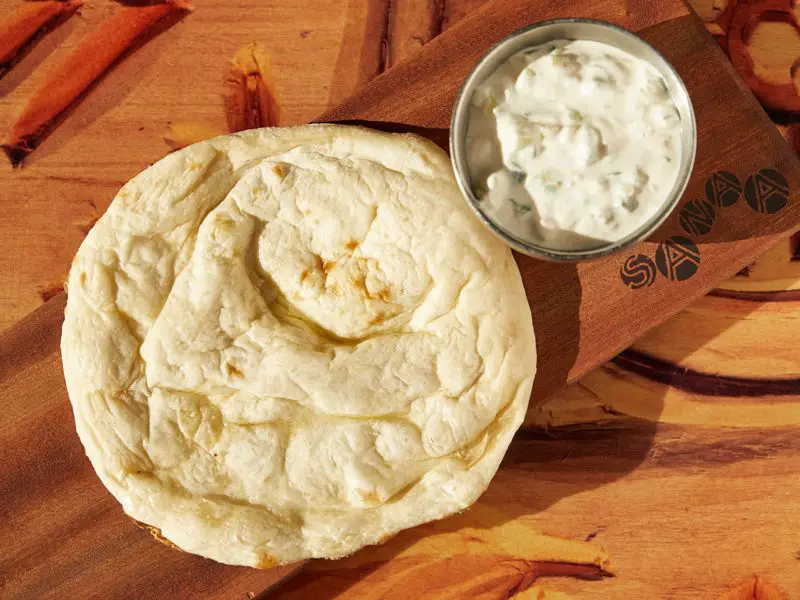 Notes
Always use caution when handling sharp objects and hot contents. Please supervise children who are helping or nearby. This recipe has been converted from a larger quantity in the restaurant kitchens. The flavor profile may vary from the restaurant's version.

Ingredients
Naan Bread
3 2/3 cups all-purpose flour
1 tablespoon sugar
1 tablespoon coarse salt
1/2 tablespoon baking soda
1/2 cup milk
2/3 cup warm water
1 tablespoon canola oil
4 tablespoons butter, melted
Cucumber Raita
1 1/2 cups Greek-style plain yogurt
1 cup cucumber, peeled, seeded, and diced into small pieces
1/2 small jalapeño pepper, seeds and stem removed, minced
1/2 teaspoon cumin seeds, toasted and freshly ground
1/8 teaspoon cayenne pepper
1 teaspoon coarse salt
Instructions
Naan Bread
Combine flour, sugar, salt, and baking soda in the bowl of an electric mixer fitted with the paddle attachment; stir to combine.
Combine milk, water, and oil in a medium bowl; whisk to combine.
With mixer running, pour wet ingredients into dry ingredients. As soon as mixture comes together, switch attachment to a dough hook and mix until dough is smooth and no longer sticky. Do not over-mix.
Cover bowl with plastic wrap and set aside at room temperature for 1 hour.
Place a pizza stone on a top rack of oven, positioned approximately 6 inches below the broiler. Preheat oven to 500°F for at least 30 minutes.
Divide dough evenly into 5 pieces. On a lightly floured surface, roll each piece into an 8-inch circle.
Turn oven to broil. Carefully slide one circle of dough onto the preheated pizza stone, and broil until bread is bubbled and golden brown, about 2 to 3 minutes. Watch carefully, as the bread can burn very quickly. Repeat with remaining dough rounds.
Brush the warm bread with melted butter and serve immediately.
Cucumber Raita
Combine all ingredients in medium bowl. Chill before serving.
© 2023 dapsmagic.com
How did it turn out? Share your experience, thoughts, and opinions in the comments below! Also share any tips you might have!