Can you recall, precisely, where you were in the early morning hours of February 8, 2001? I certainly recall where I was. I was at the Happiest Place on Earth, trying to get some sleep on the freezing cold pavement of the parade route between Sleeping Beauty Castle and the Matterhorn. As I shifted from one aching shoulder to another, I never doubted that this discomfort would be worth every moment. And why was I there? Read on to find out.
Throughout the 1990s Disney fans had been enthralled with a series of announcements concerning the imminent construction of a new theme park in Anaheim. "The Disney Decade" first promised a West Coast version of EPCOT, to be called WESTCOT. When opposition threatened to derail these ambitious plans, a Port Disney theme park was announced for Long Beach. Disney then promoted a competition between Long Beach and Anaheim, which Anaheim "won" with the announcement that Disney's California Adventure would open in 2001. (And yes, in those days it was Disney's California Adventure, complete with the possessive "s.")
As construction progressed through the end of the 90s and into the year 2000, Disney theme park fans, of which I was an avid member, began watching for the announcement of the grand opening. When February 8, 2001 was declared the Big Day, we all marked our calendars and began planning. Based on recent openings of other parks, we were pretty certain we would need to get in place early— perhaps even the day before.
At the newly christened Disneyland Resort planners were already busy trying to anticipate the crowds. They had spent months publicizing the new park and its many wonders. They were certain they had a hit on their hands; they just wanted to be sure they could accommodate the thousands they knew were destined to show up on opening day. Over at Disneyland park, cast members were counseled on ways to soothe angry visitors who would have to be turned away from Disney's California Adventure and "settle for" the older park.
As the date approached, a new message was added to the DCA promotion: Maybe it would be best to stay away for a few weeks, until the crowds thinned out. The media dutifully reported that Disney was making every possible plan to ensure that opening day would go well, but that they could not guarantee that everyone who wanted to get in would be able. They even noted that the City of Anaheim would be adding special patrols to area freeways to handle the inevitable traffic jam that would ensue.
My own plans were much simpler. I would simply arrive the day before near the start of the day, keep tabs on the line that would start forming for entry, and join it as soon as Disney would allow. As it turned out, one local, Steven W. Smith, a friend of mine, actually got in line at 8am on February 7, a full 24 hours before the scheduled opening time. Cast members explained that the line would not officially start forming until 4pm, which is the time my other friends and I arrived.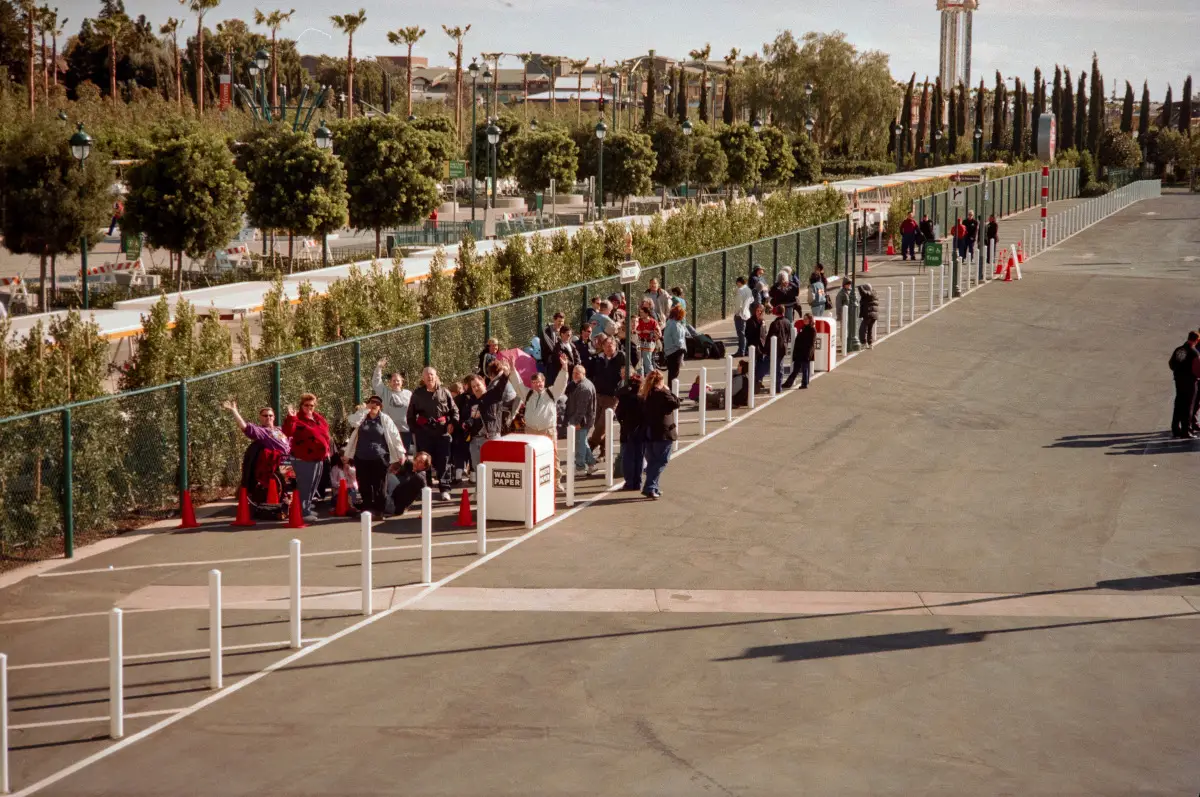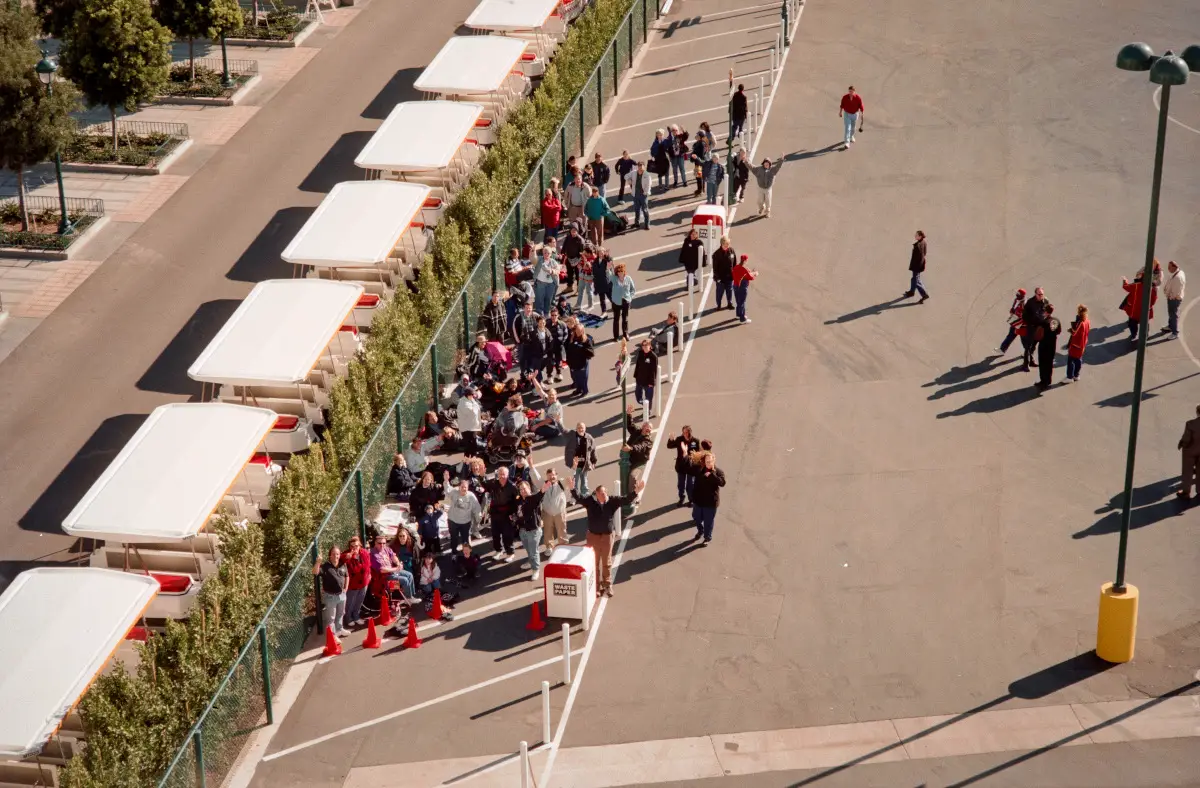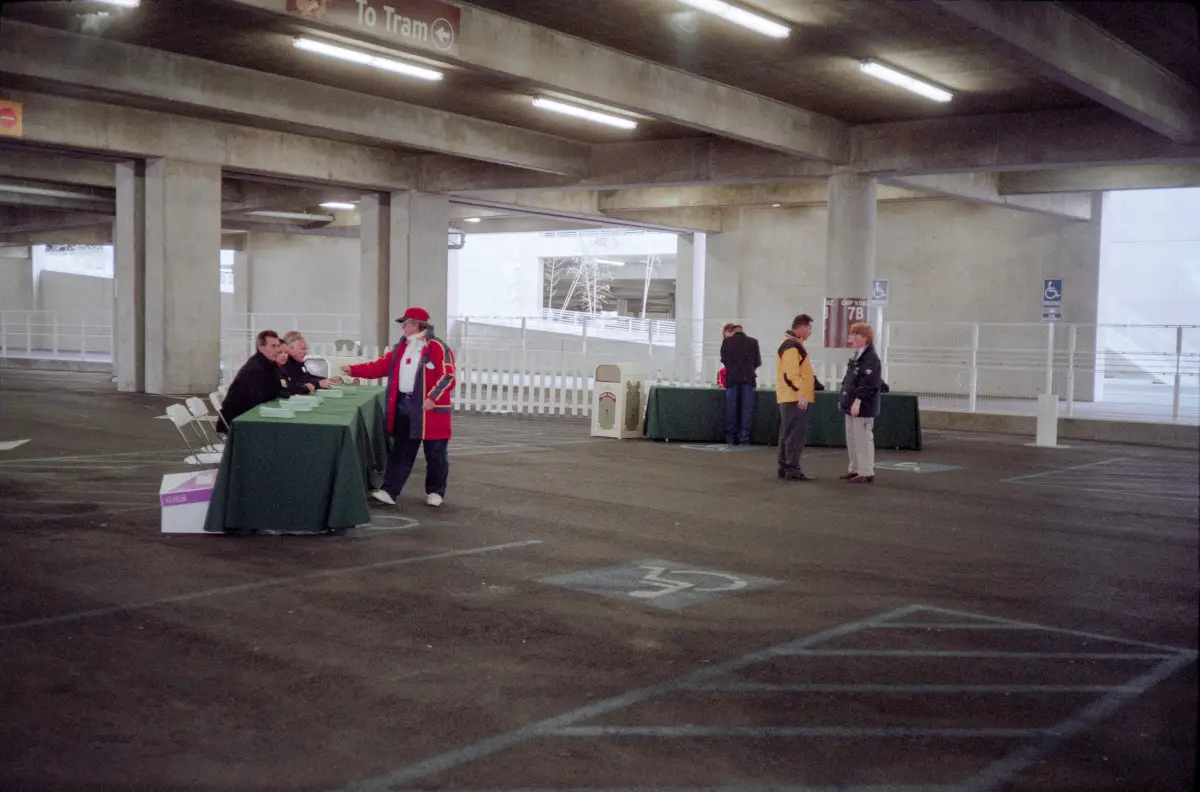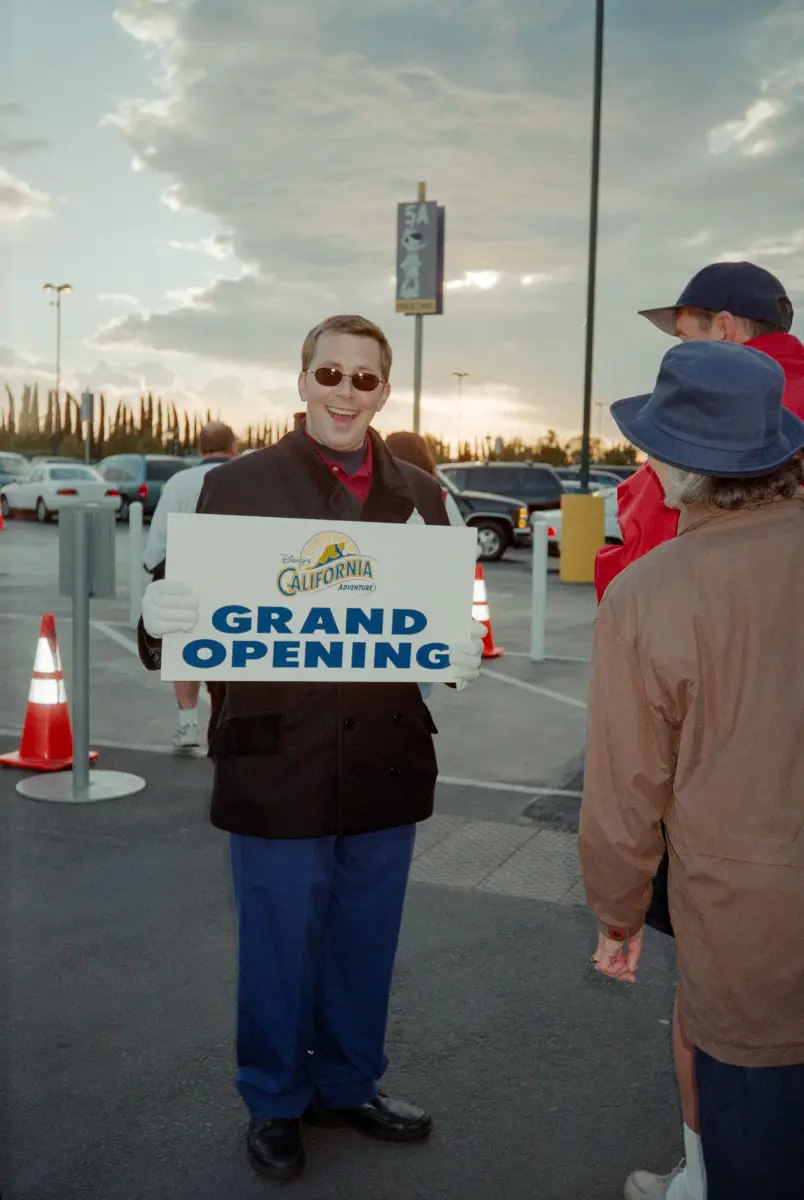 As a precursor to the events that would follow, we found that there was a bit of confusion, and no discernible crowd. When a cast member finally showed up with an official sign to mark the front of the line, less than hundred people had assembled, although more were trickling in. Disney had prepared for an onslaught of over 10,000 eager opening day visitors that were expected by morning. The line for DCA was set for the open parking area next to the newly opened Mickey and Friends parking structure. Inside, large areas had been taped out and color coded. Tables were set up to distribute color coded wrist bands, to ensure that as we were moved across the street and nearer to the entrance, there would be no question which section was ours, based on the time we had arrived.
Wrist band distribution went off without a hitch. Steve received the first band, and made his way to his section. In short order everyone was processed and then… we waited. We waited for Disneyland Park to close. We waited for more guests to arrive. The park closed at 8pm (this was, after all, a Wednesday in February), but our crowd did not get much larger. After a couple hours of waiting in the now chilly parking garage, we were finally told we would be taken across the street to wait inside Disneyland Park.
By now there were several hundred guests, but still not the thousands for which the Resort had planned. We were ushered into a waiting area along the Rivers of America, and marveled at how neatly organized Disneyland was. There were more taped out areas, color coded, ready for each wave of visitors. Further, despite the lateness of the hour (it was now well after closing time), the park was teeming with cast members. We later learned that hundreds had been kept on for extra hours, in anticipation of the massive crowd control that would be needed during the night.
Well after dark, word spread that there was some sort of event happening across the new Esplanade at Disney's California Adventure. Several of us received permission to go take a look at what was happening, although we were warned not to take too long, lest we lose our place in line.
California Adventure was brightly lit, with searchlights raking the sky. A red carpet was spread and music was playing. A set of barricades had been put in place, and as our eyes adjusted to the darkness we realized guests were arriving— celebrity guests! It was a private party, and we just happened to be witnesses to the arrivals. As I was carrying my camera, I tried getting photos, but everyone was being hurried past. A few people on "our" side of the barricade began calling out as they saw familiar faces. It was an unusual assemblage of Hollywood stars, Disney fan favorites, and late-90s personalities. I did manage to get a lot of pretty terrible photos.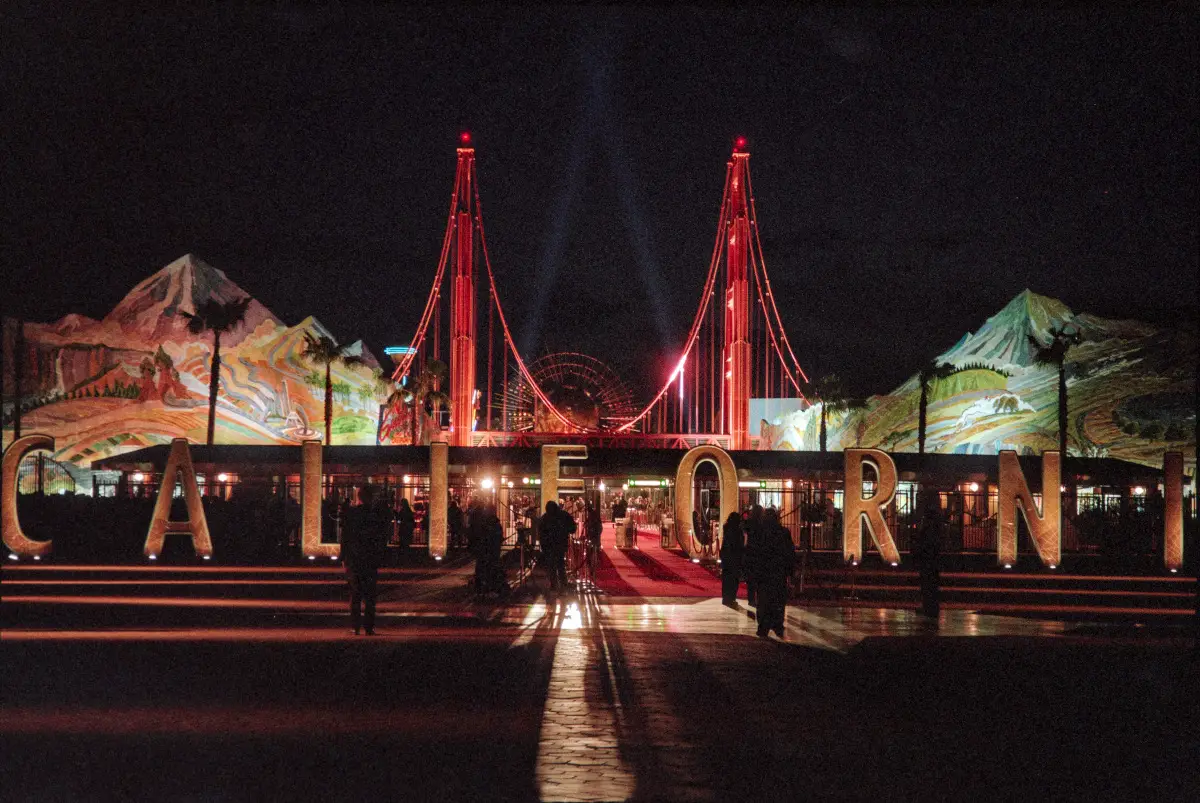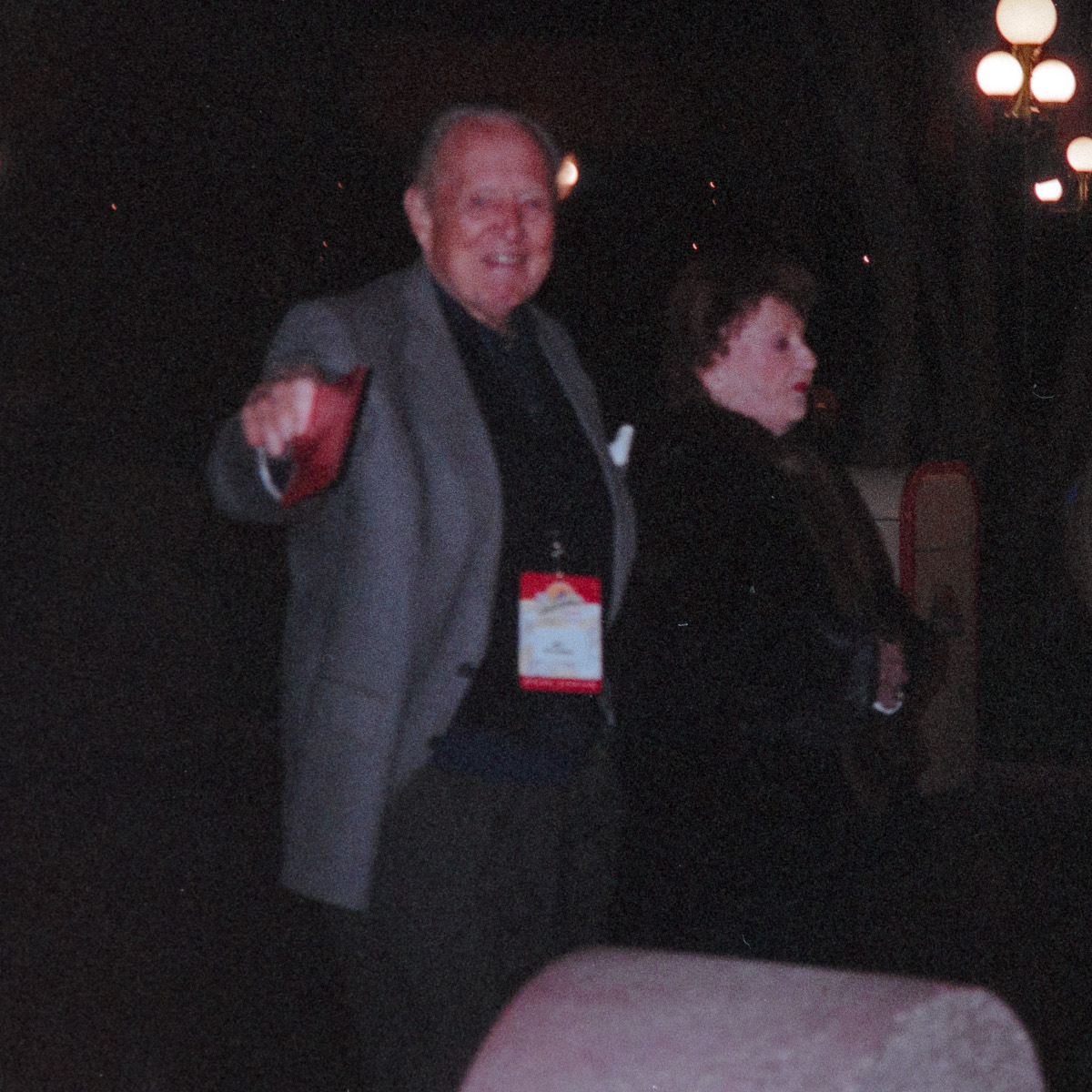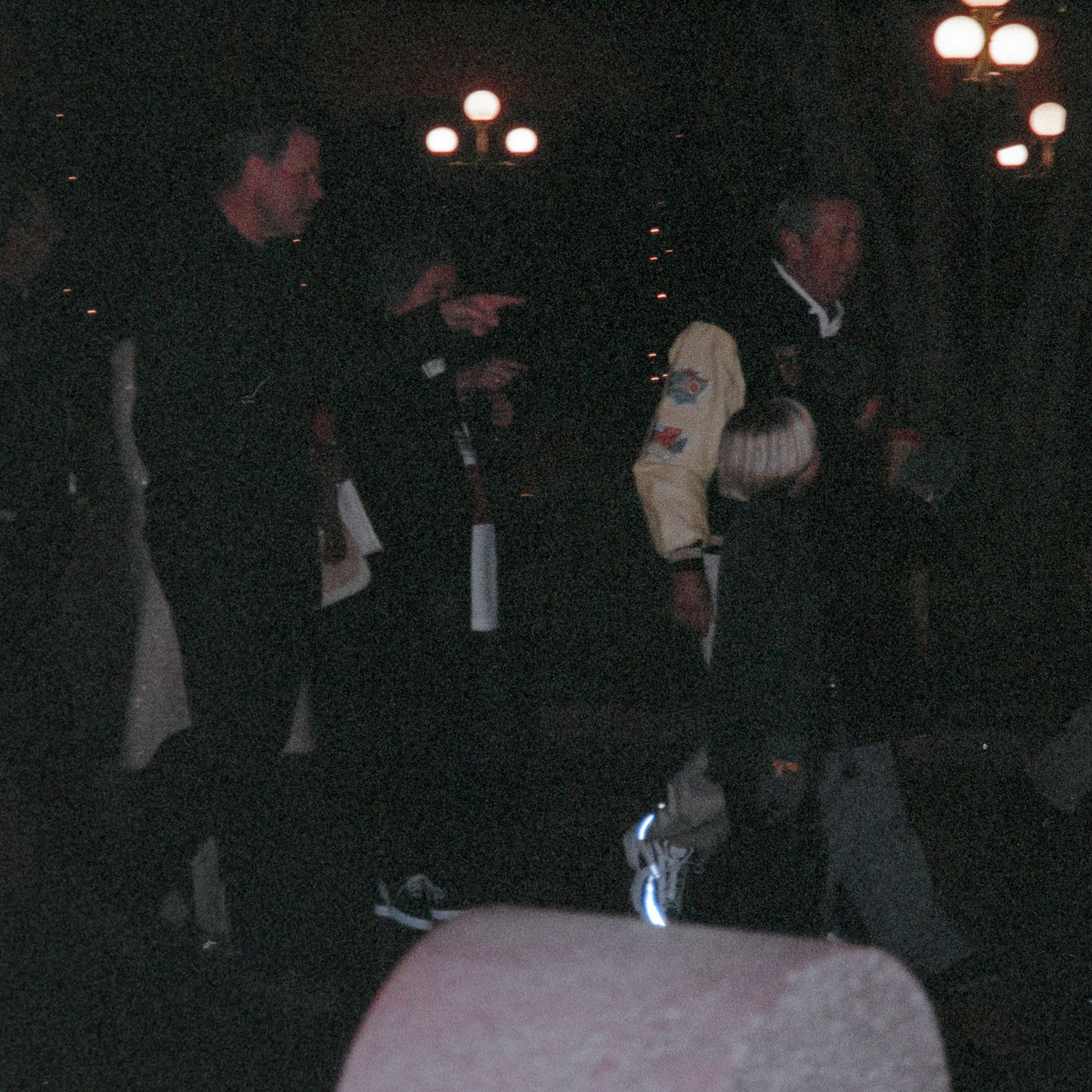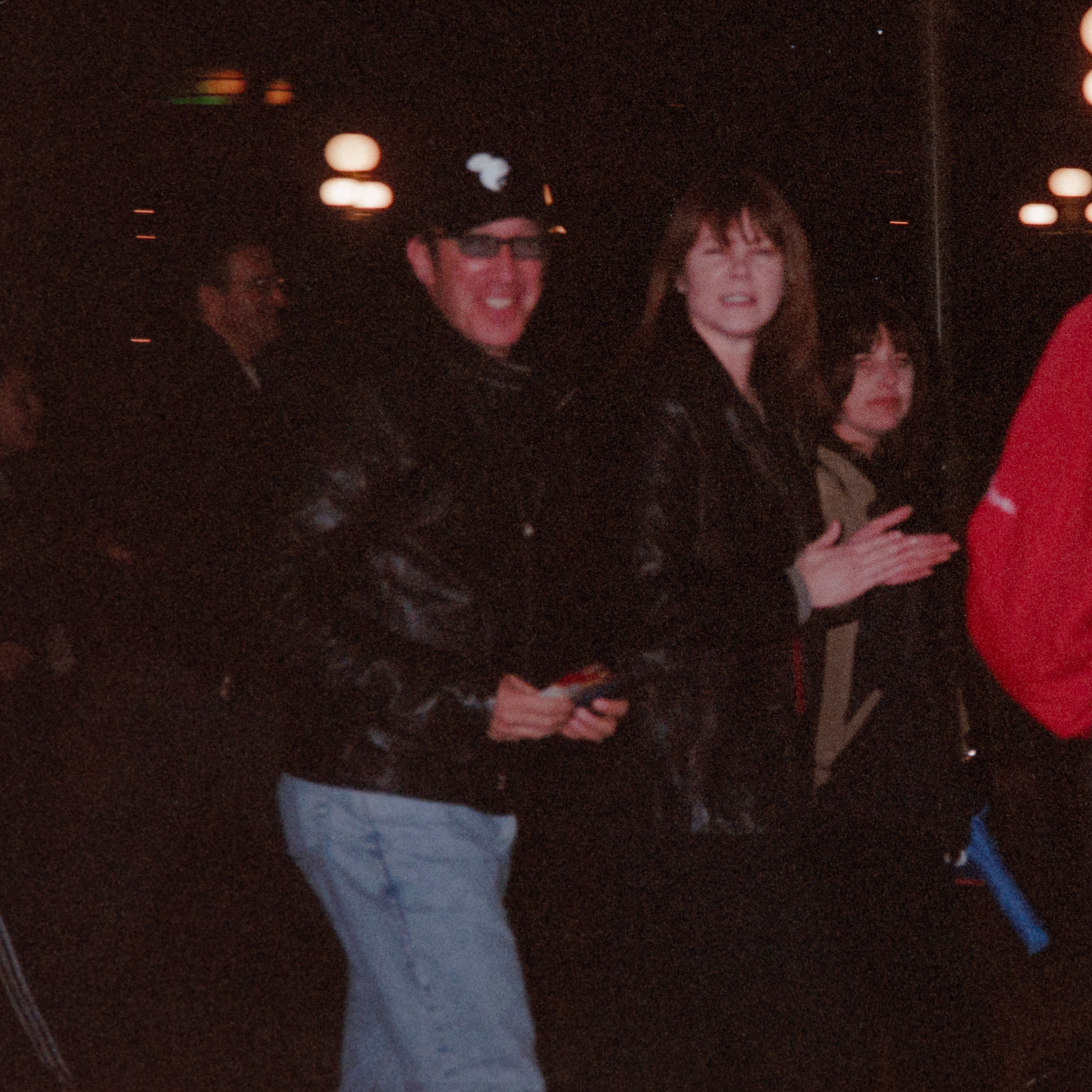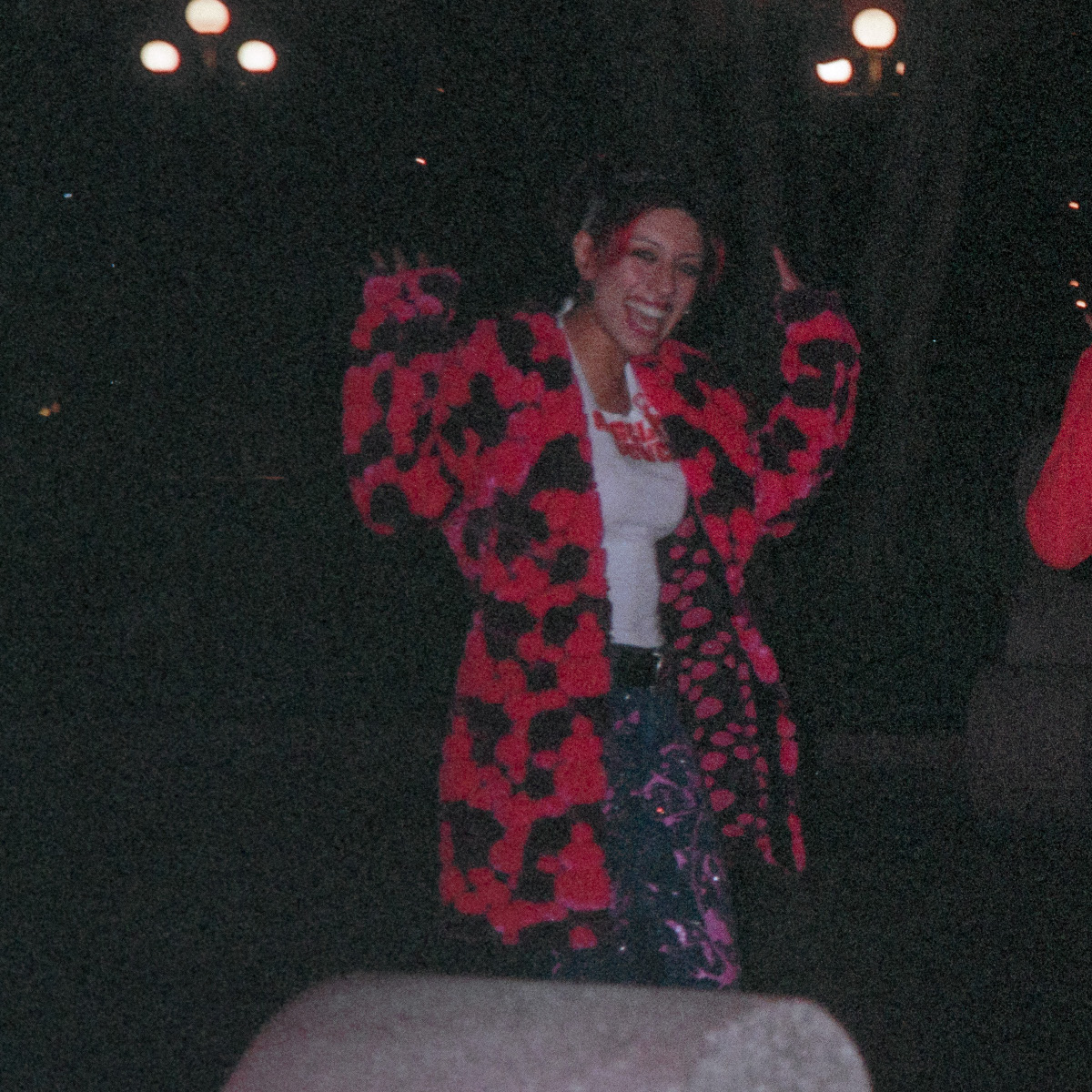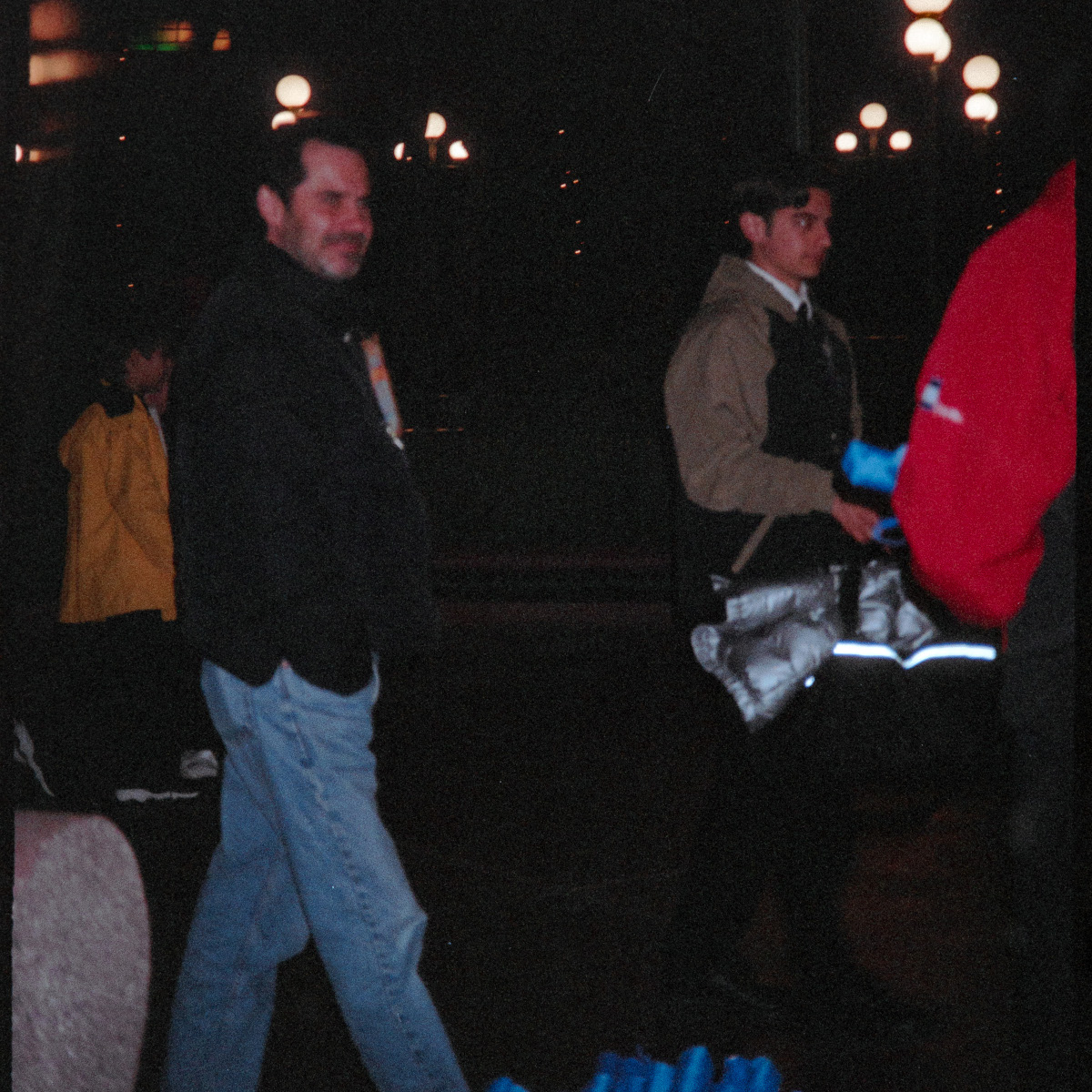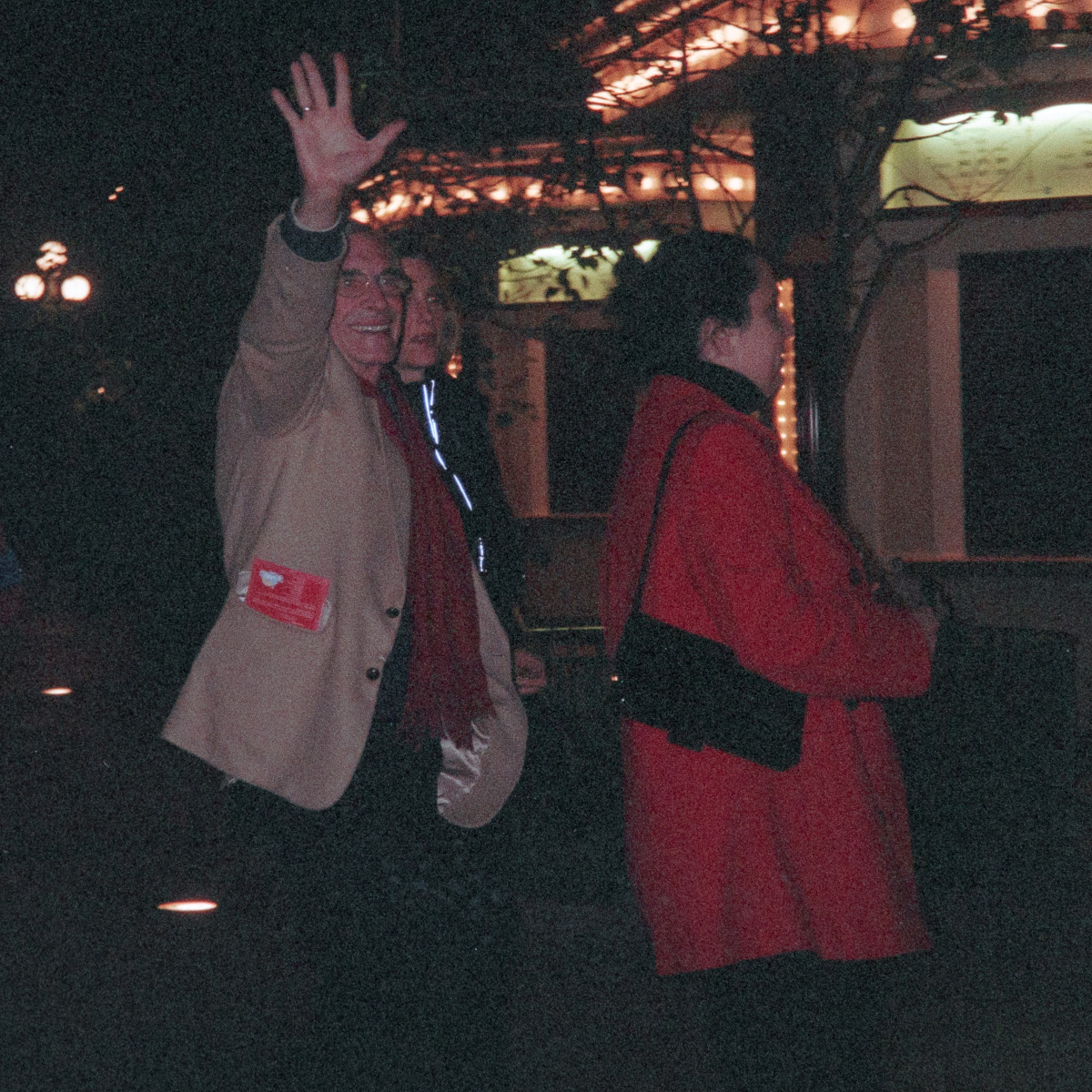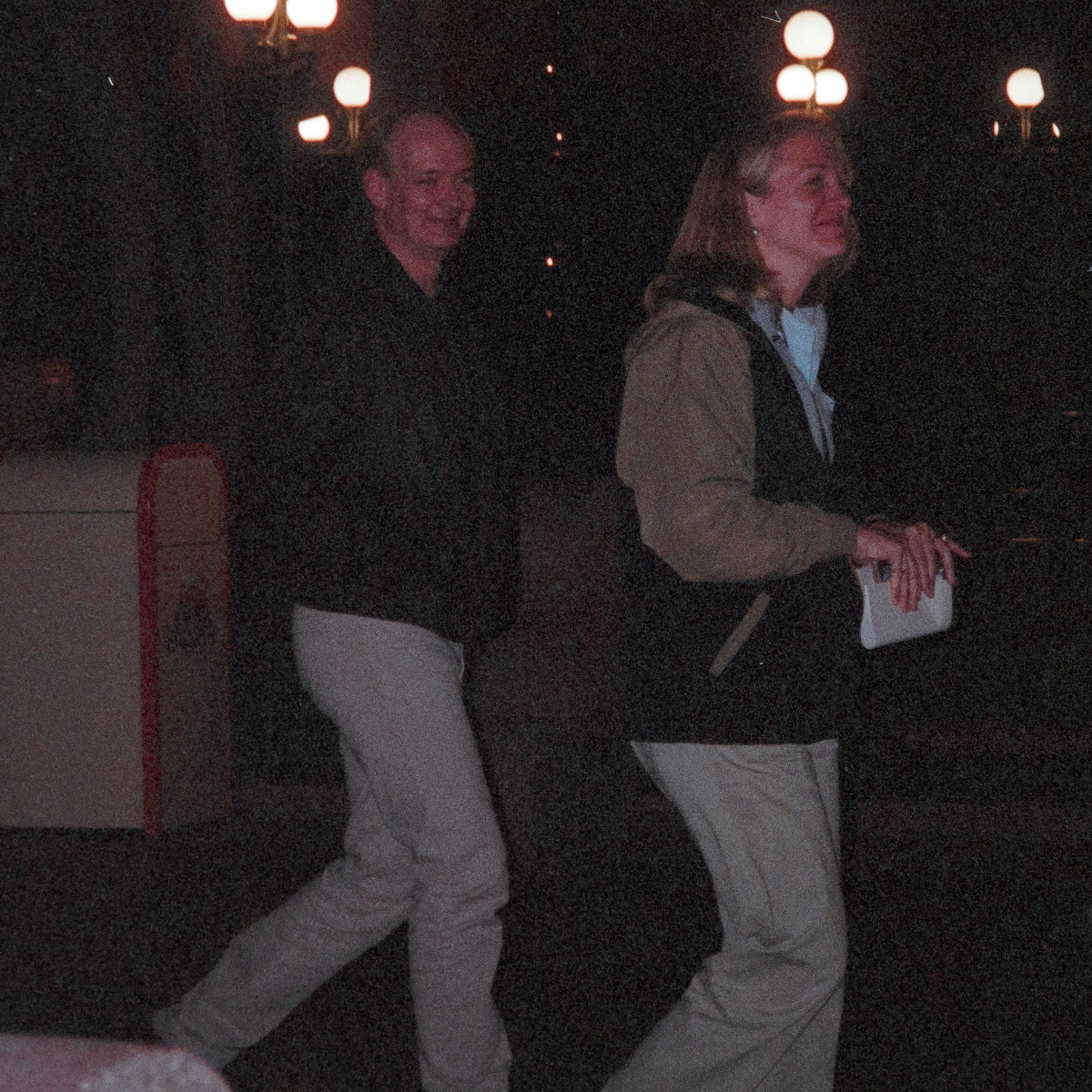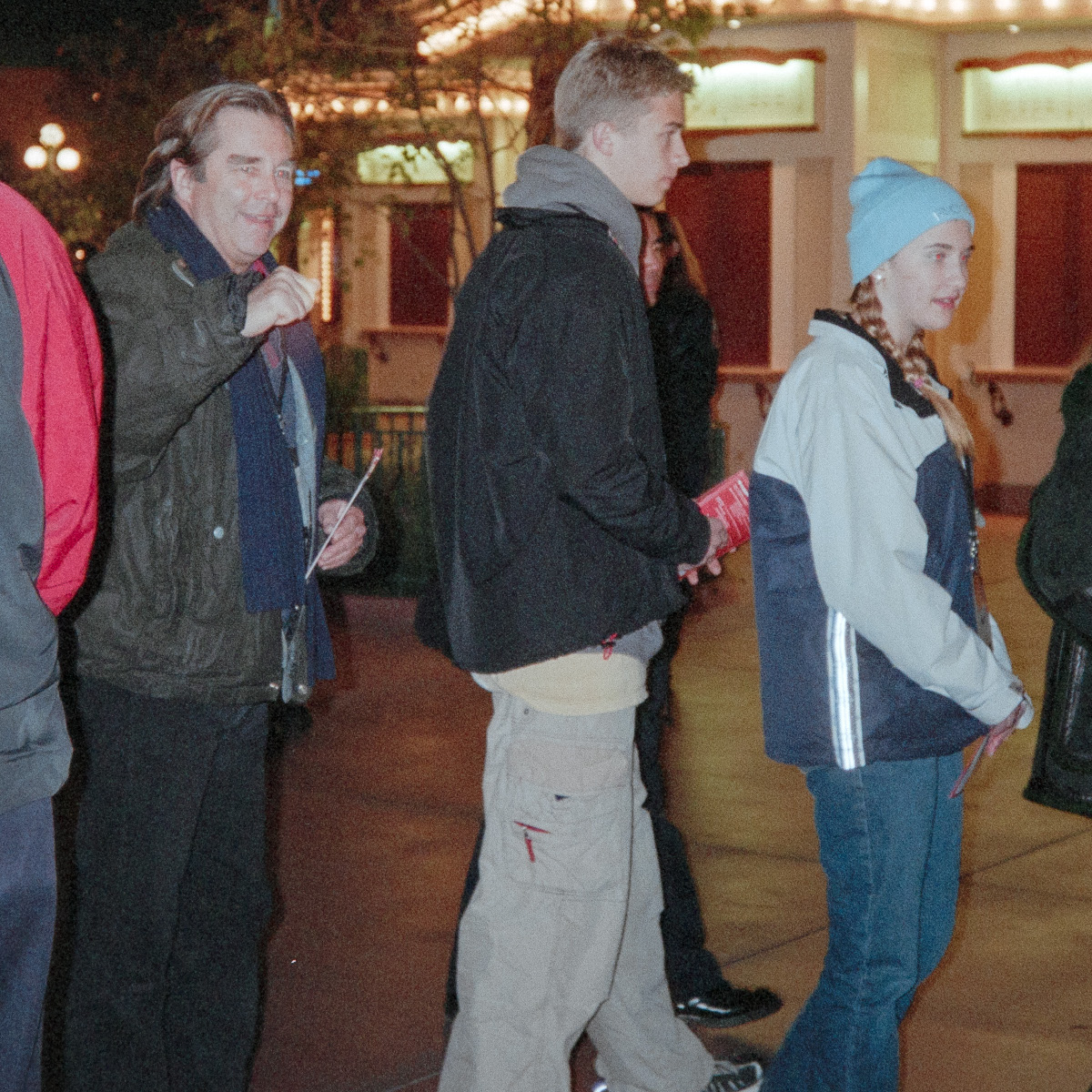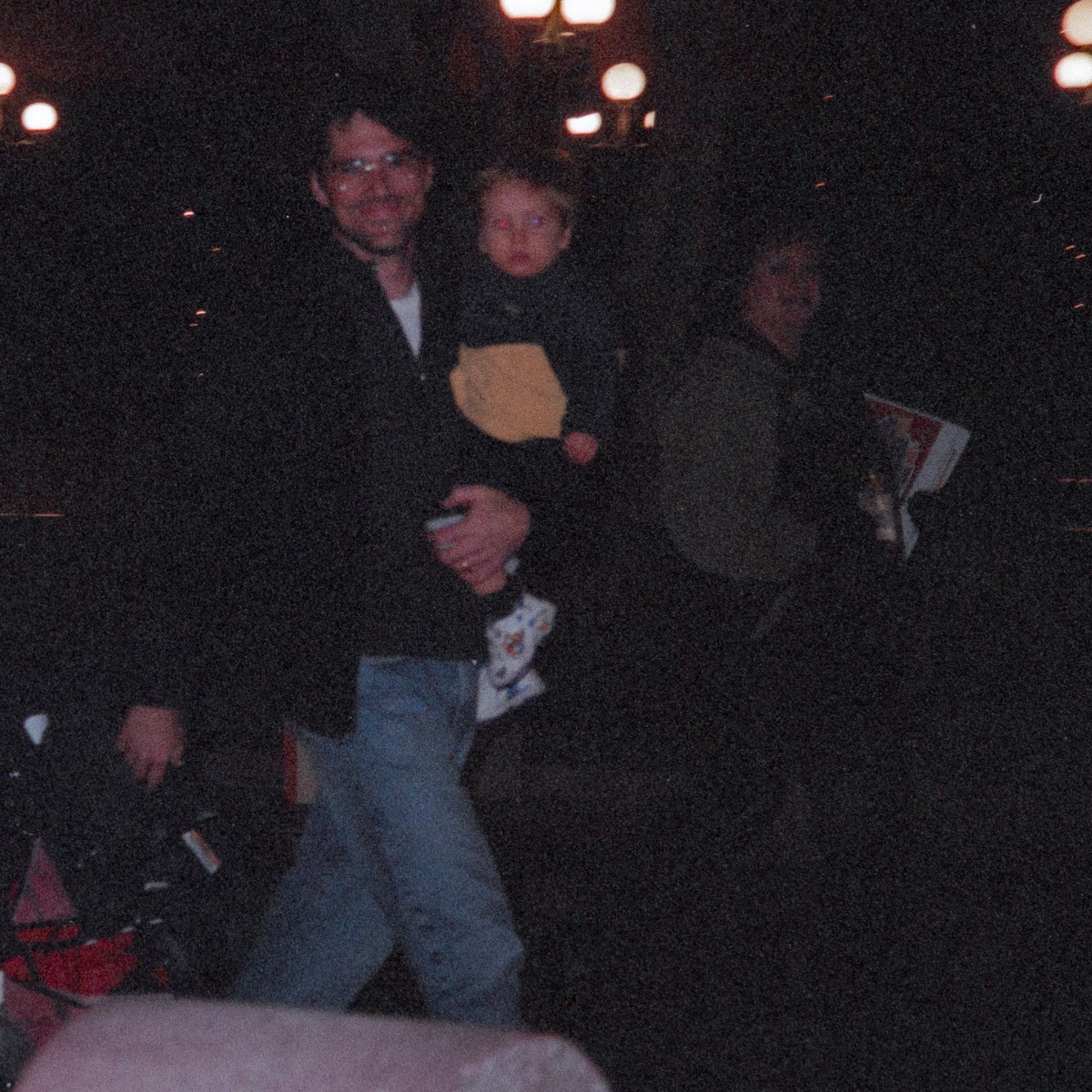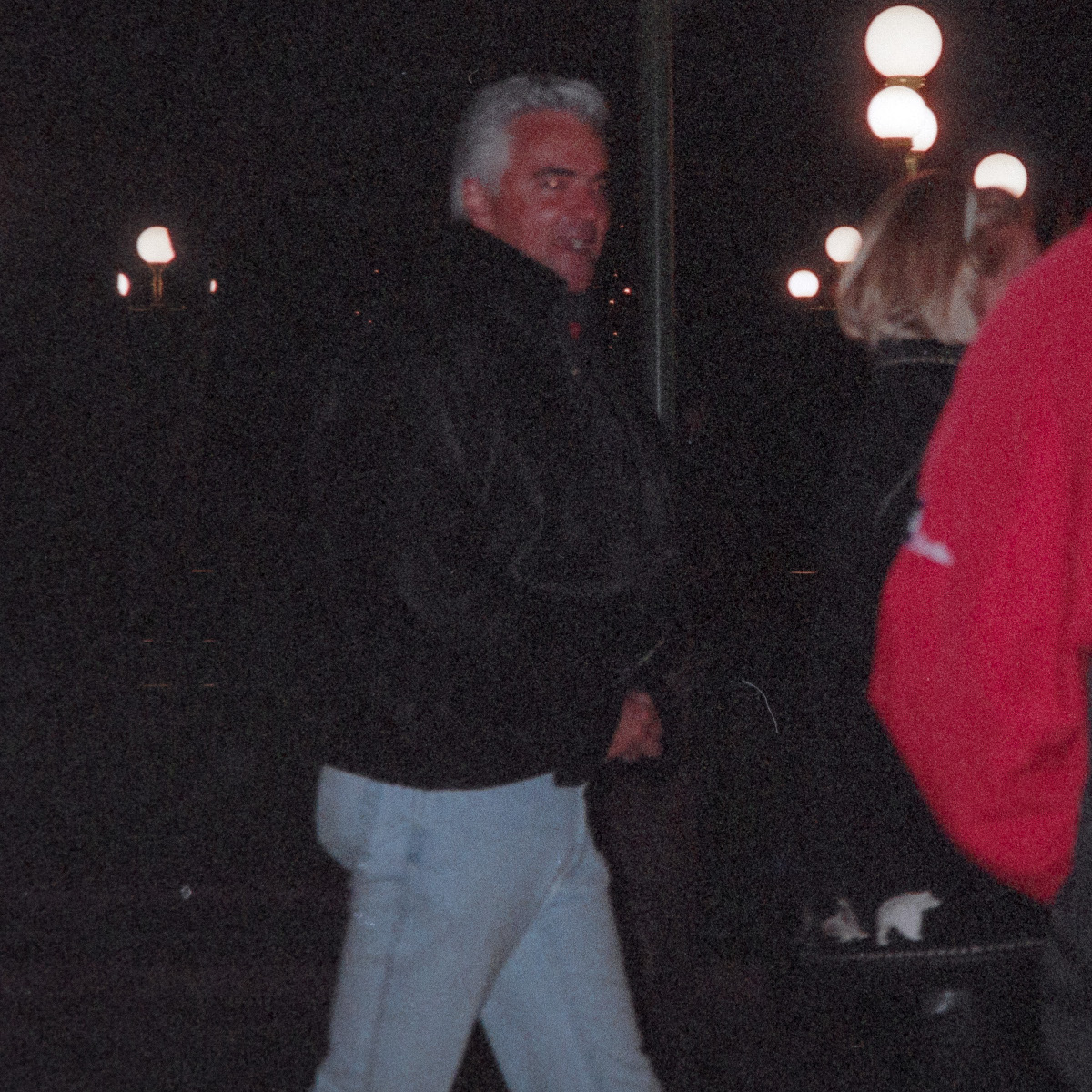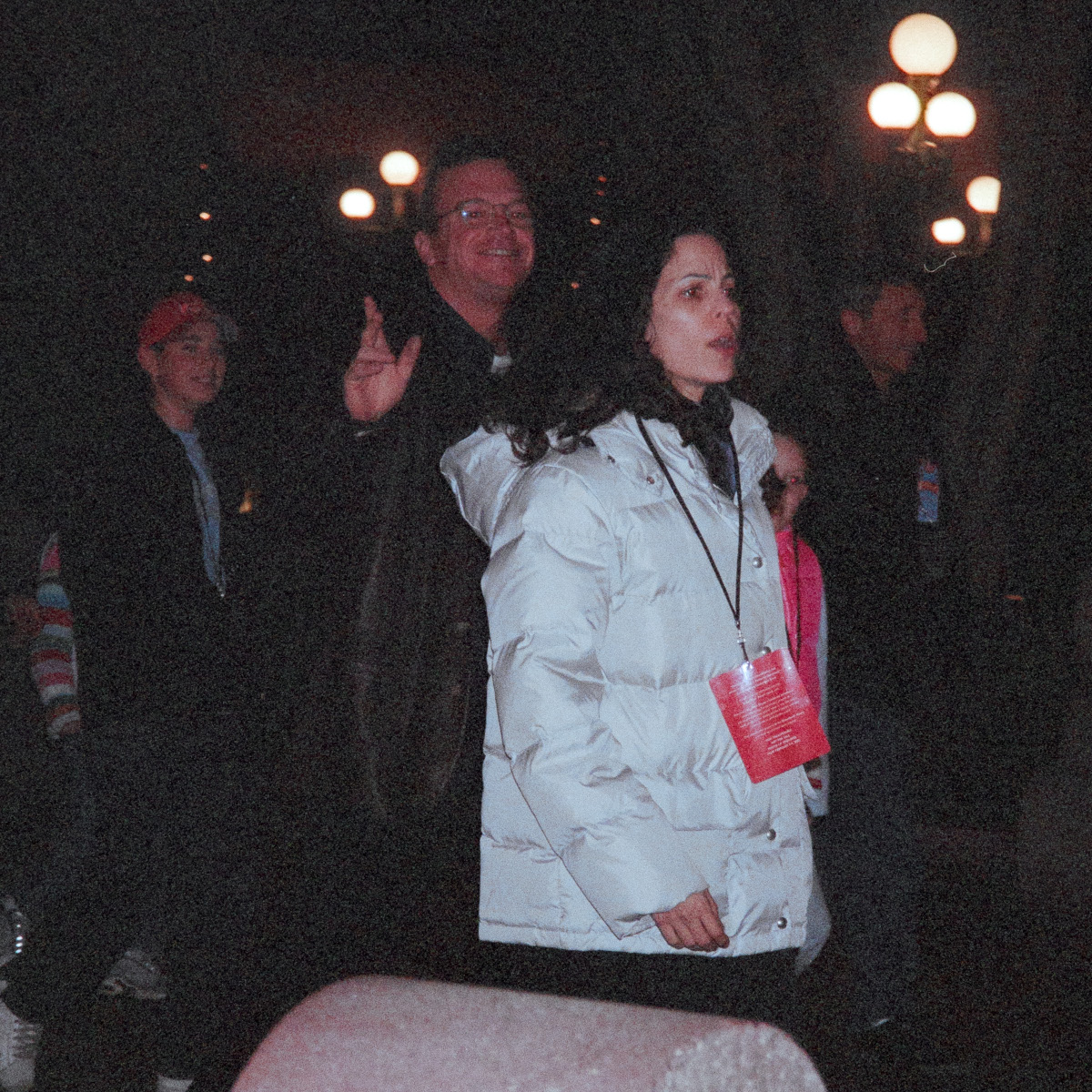 One of the partygoers, Drew Carey, did stop to sign a few autographs and take pictures with fans. At the time he was best known as the star of The Drew Carey Show and the American version of Whose Line Is It, Anyway. Disney theme park fans would have also seen him in Sounds Dangerous at the Disney-MGM Studios in Florida.
Too soon it was time to get back to our group in Disneyland. By now we were moved up to the very "front" of the line, on the parade route between the Matterhorn and Sleeping Beauty Castle. This is where we would spend the rest of the night. Temperatures were falling and many of the guests began regretting not bringing warmer coats or blankets, especially when the temperature dropped to 38 degrees. For their part, Disneyland brought out rolling carts with free coffee, cocoa, and doughnuts. At one point a friend and I sneaked down Main Street to the cinema and let ourselves in to try and get warm. A cast member found us there and gently shooed us out.
I don't know if I actually managed to get any sleep that night. I do know that eventually, the dawn arrived, and word spread that the huge crowd had not materialized. There were, in fact, less than a thousand guests waiting in line. According to traffic reports, the freeways were operating normally and no traffic jams had formed on the surface streets around Disneyland. Bleary eyed cast members were being sent home, first taking care to pull up the miles of carefully placed color-coded  tape.
As 8am approached our crowd began to grow alarmed. We knew the opening ceremony was to take place at or near that time, and we were still back in Disneyland. It was with great jubilance that we were finally told to prepare to move out and over to DCA. After gathering our belongings and stretching our legs, we were marched down Main Street, out the front gates and… off to the west end of the new Esplanade.
We could not see the entrance to California Adventure. During the night a massive bleacher had been erected directly in front of the letters spelling out "CALIFORNIA" It was filled with camera equipment and operators. On each side a large crowd was packed in tightly. And we were now cooling our heels far off to the right, nowhere near the grand opening.
A few of the more vocal members of the group at the front of the line began asking cast members when we would be taken over to the grand opening. We could hear music playing, and countdown announcements. And when the ceremony actually began, several guests began demanding to know why we were being held off to the side.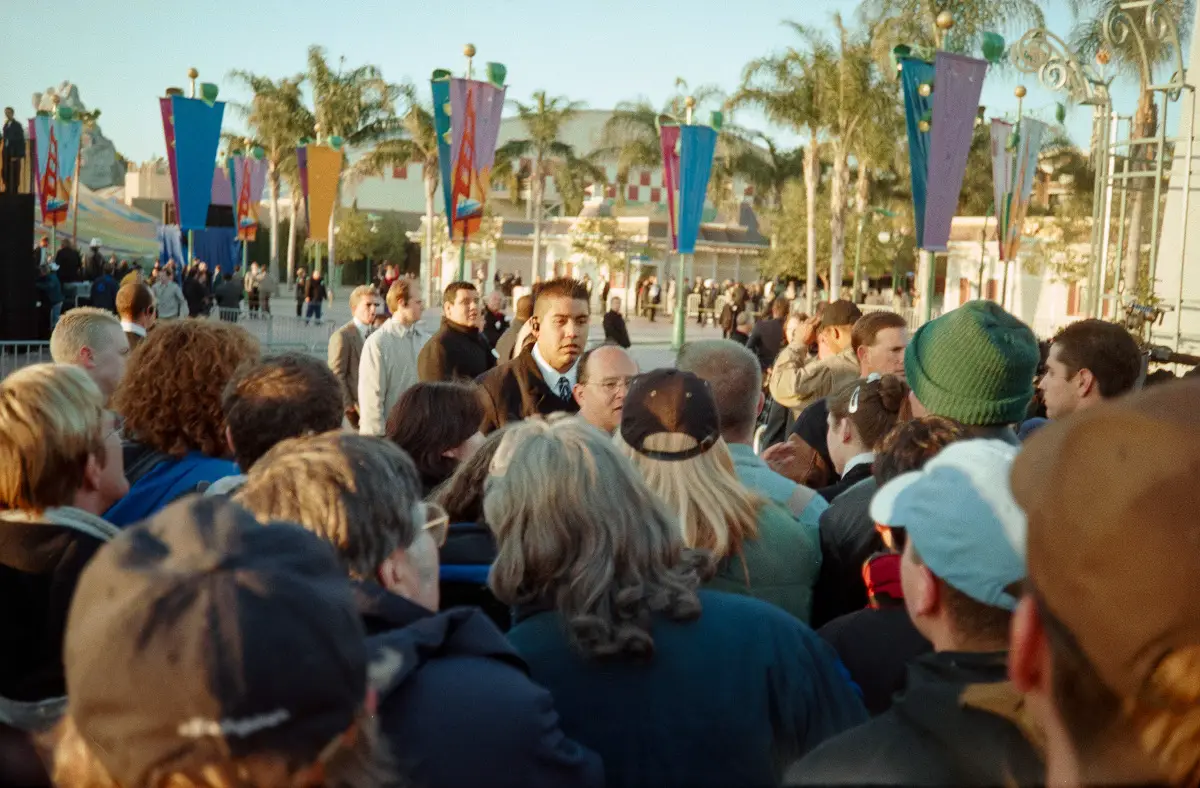 A senior member of the staff was summoned, and smoothly explained that we would be taken over to the entrance after the opening ceremony had concluded, and all of the invited guests had made their way in. This did not set well with certain members of the group, who pointed out that they had waited all night to attend the grand opening, and it was their intention to do so. After a hasty consultation, it was agreed that the first fifty guests in line could fill in behind the crowd that had already formed to the right of the media platform. I was one of the fifty, and soon found myself standing behind a rope behind a crowd in front of the entrance.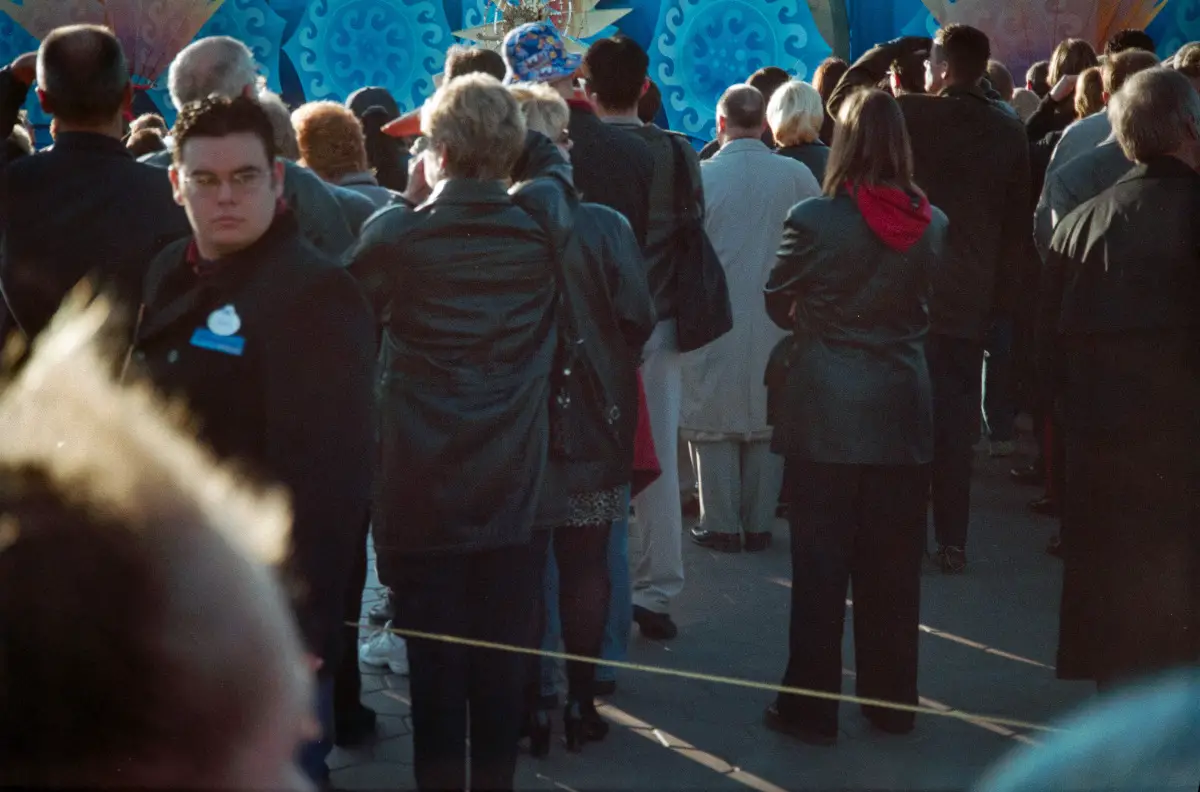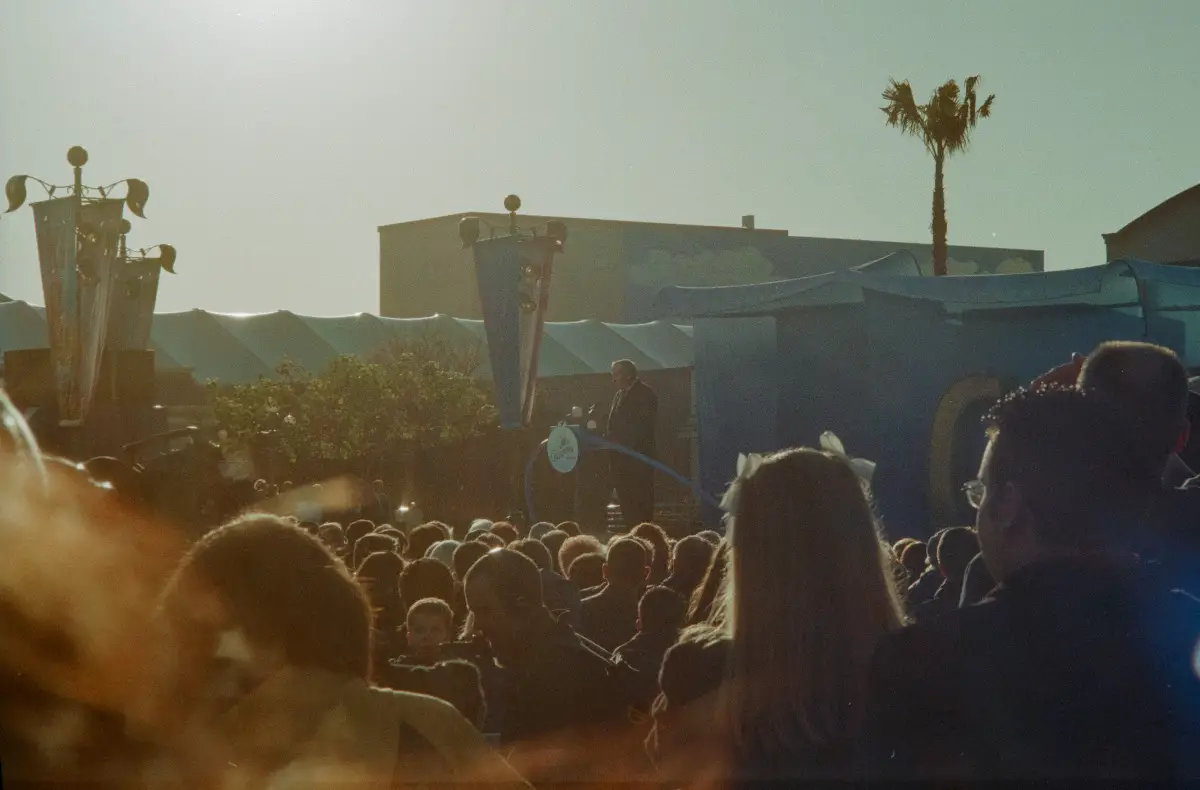 I would love to tell you all about the ceremony that opened Disney's California Adventure. Unfortunately, all I saw was the backs of people's heads, some daytime fireworks, and a large golden woman who mysteriously appeared above the rooftops. After that there was a speech by Roy E. Disney (we could catch glimpses of him through the crowd), and introductions of several people, none of whom we could see. I later learned that they had arranged to have several guests who had been at the opening of Disneyland, including host Art Linkletter, performer Buddy Ebsen, Mouseketeers Bobby Burgess, Sharon Baird and Tommy Cole, and (ironically) the first two public visitors, Michael Schwartner and Christine Vess.
The announcer then said that they would now be welcoming the "very first official guests of Disney's California Adventure." As we looked around at each other, we wondered if Steven W. Smith had somehow been spirited up to the front of the crowd. But no, he was in the back with us. And then we all heard the announcement that the first official guests were… an invited family from Murrieta, California. We later learned that they had been at the party the night before, and had spent the night at the Grand Californian Hotel. The Resort had chosen to honor them for their daughter's participation in Special Olympics; in fact she could be seen in the film presentation in Golden Dreams.
Although somewhat deflated at what had transpired, we still knew that once the opening ceremony crowd was cleared, we would be the first actual paying guests to enter Disney's California Adventure. Yes, as we were lined up (again) and ushered through the turnstiles, we did show show our ticket media. Most of us near the front had newly issued two-park annual passes. Smiling cast members greeted us, and gave us free souvenirs to commemorate the day. Steven W. Smith had been carefully positioned to enter first, where he was pulled aside for interviews and photos by some of the media.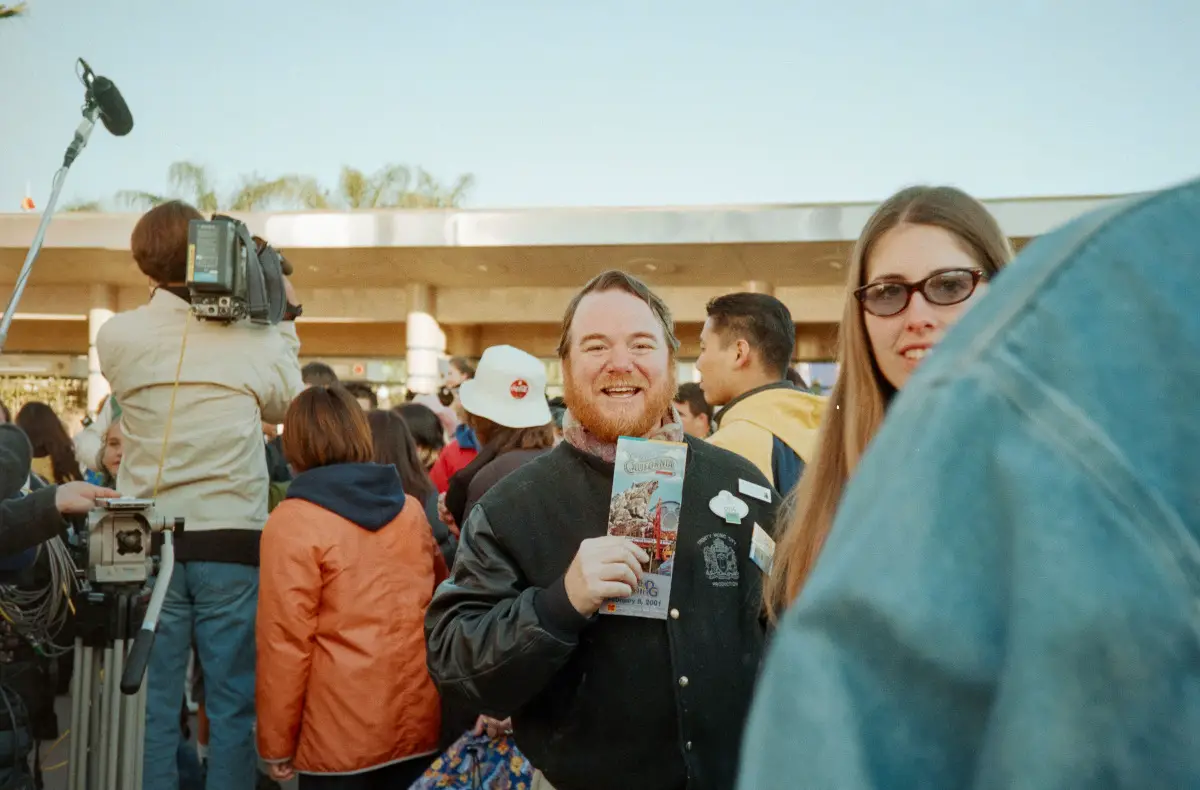 As for me, I was just happy to be there. It is not often that one had the opportunity to open a Disney theme park, and now I had. I did not take a lot of photographs that day, as I was very, very tired and (truth to tell), I had taken quite a few photos during some previews I managed to get into.
There was one particularly striking aspect of opening day. Once we got past the crush at the front entry, the park was eerily uncrowded. During previews they had loaded the park up, and lines were long for the popular attractions. On Thursday, February 8 it was possible to walk onto virtually everything. Camera crews, assigned to get shots of the massive crowds, looked for them in vain. At one point, as I was waiting in line at a shop, a crew rushed up, began setting up a shot, and asked, "What ride are you waiting for here." We had to tell them it was a line for a limited edition pin release. They broke down their equipment and moved on.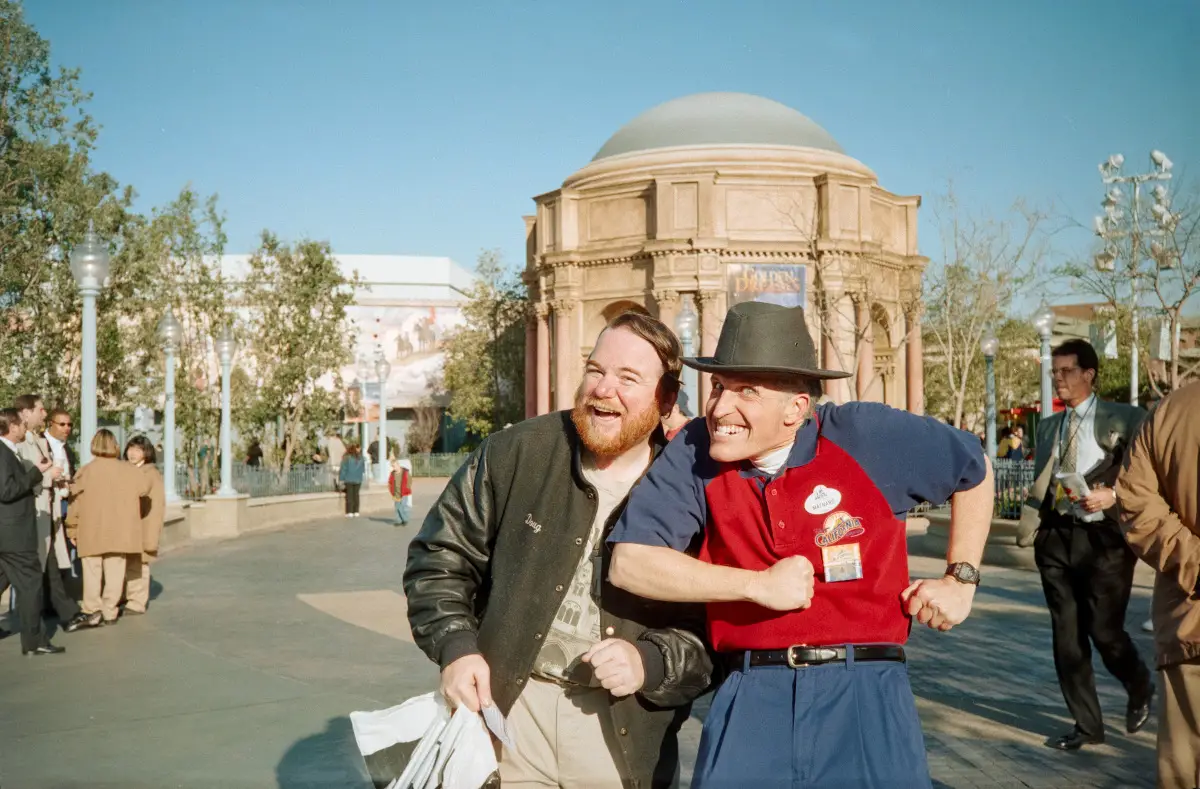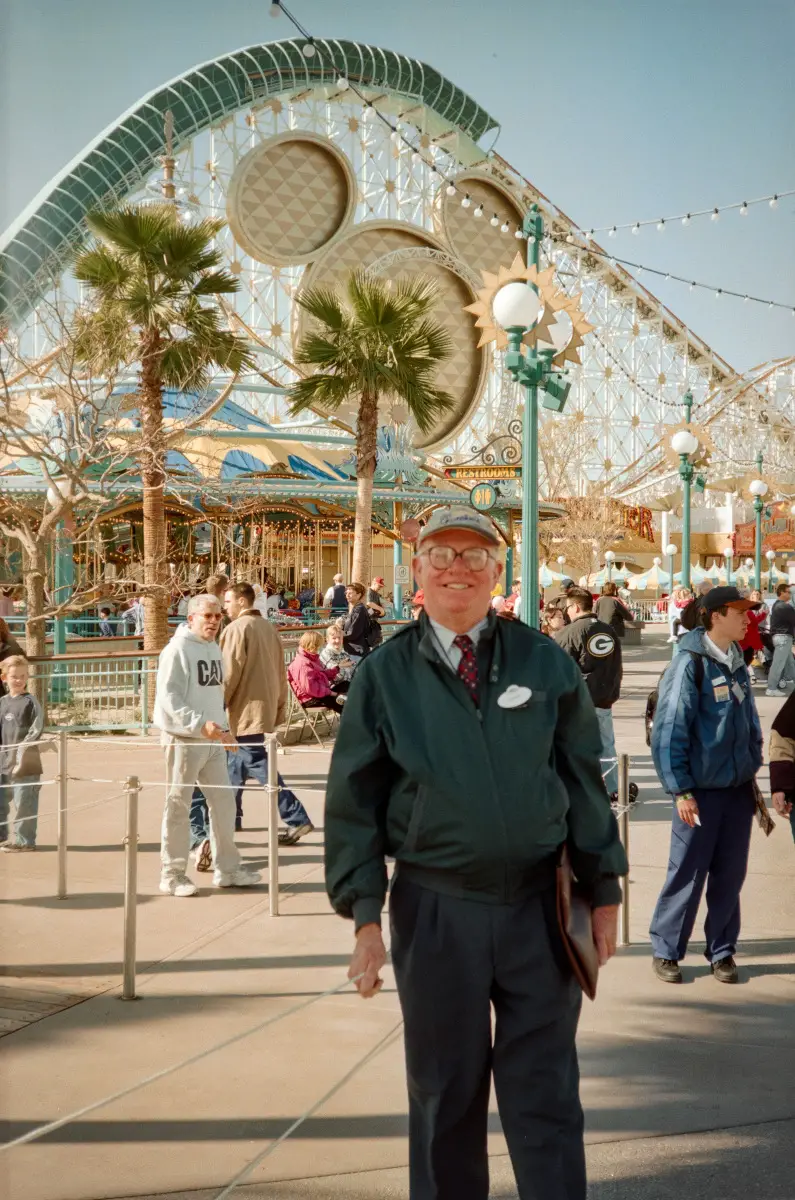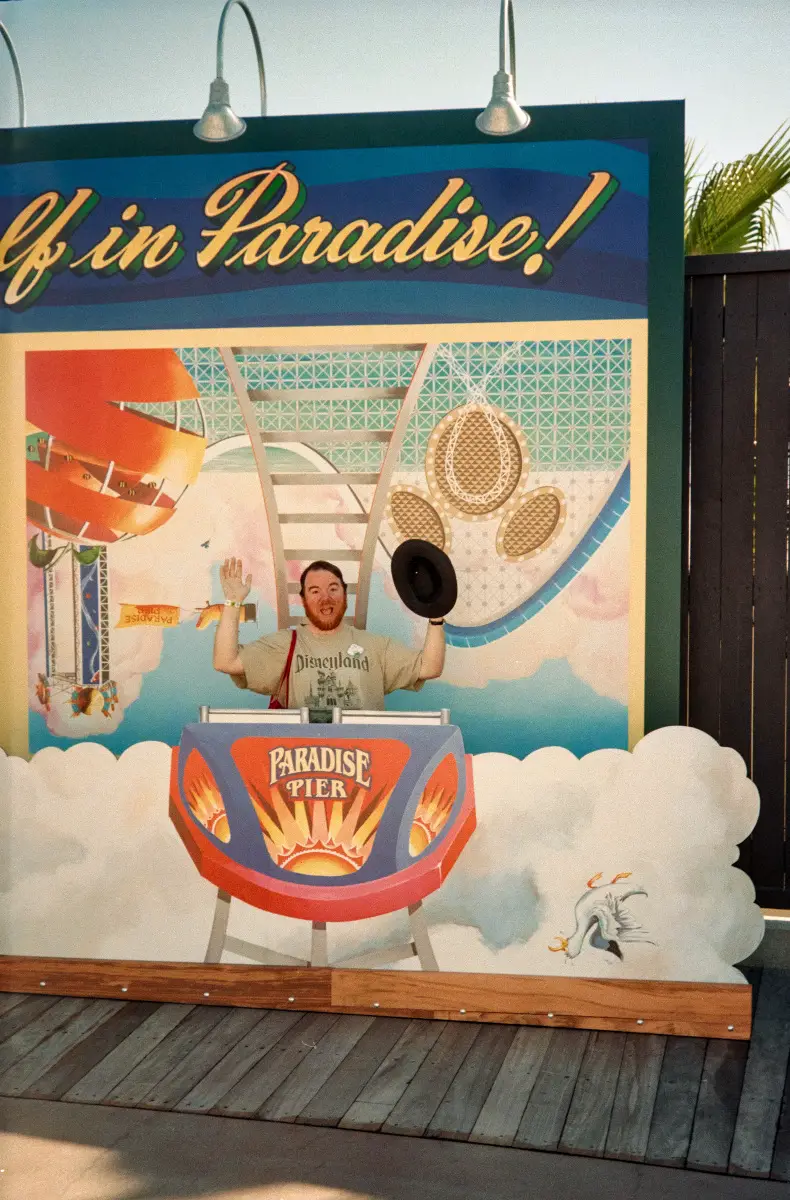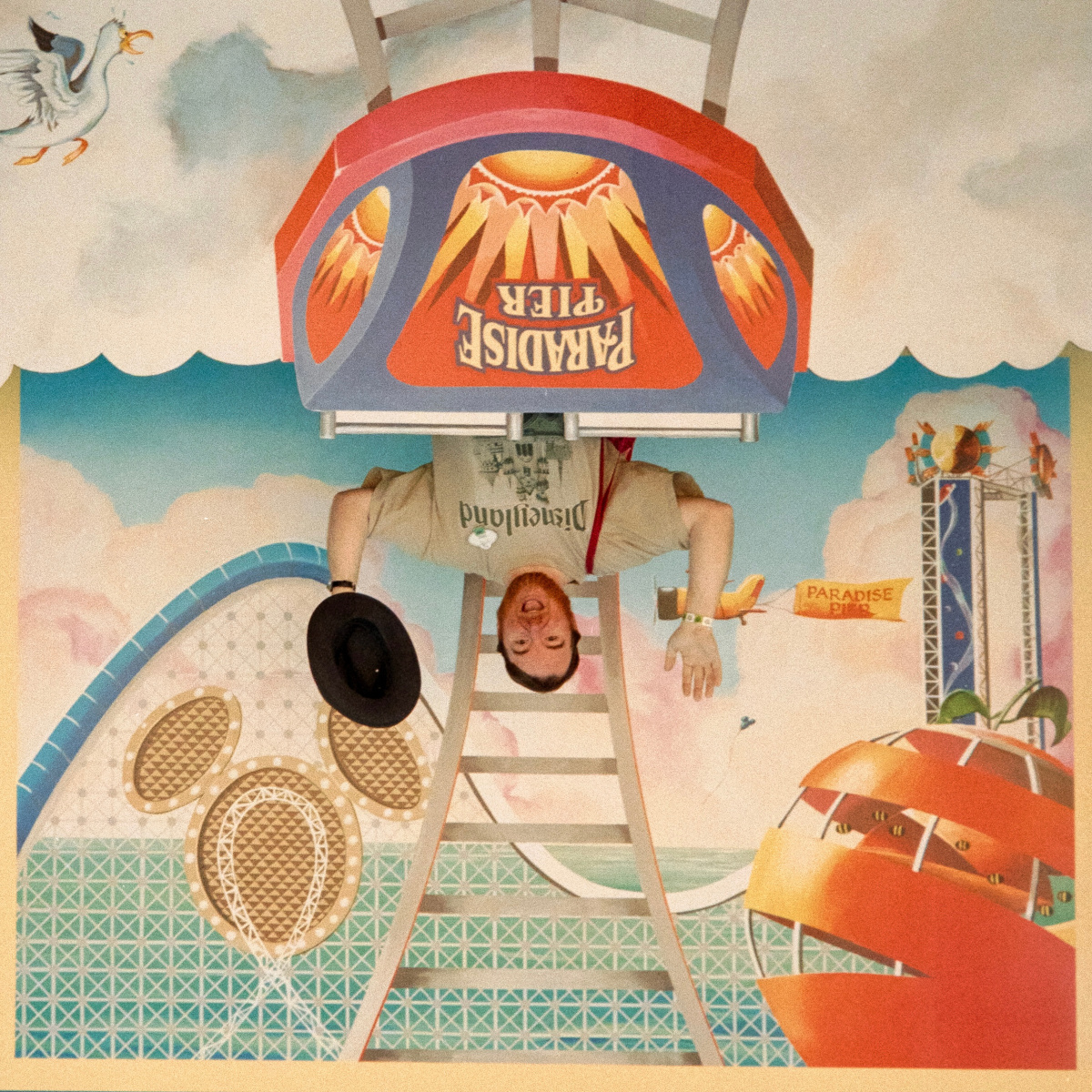 While it was exhilarating to enjoy the relatively uncrowded park, the long day and night that preceded my entry took its toll. I had run into a few people I knew: cast member Maynard, Disney Archivist Dave Smith and Resort President Cynthia Harriss. I had been on any attraction that I wanted, multiple times. I had managed to get a few pieces of limited edition merchandise. But by 3:00 I was, frankly, nearly dead on my feet. Making my way through Sunshine Plaza, I noted the wait times posted on the schedule board. Only one attraction (Soarin' Over California) was at 30 minutes. The rest were either "See Now" or under 15 minutes. I was even too tired to stay for the parade, scheduled to kick off at 4:30.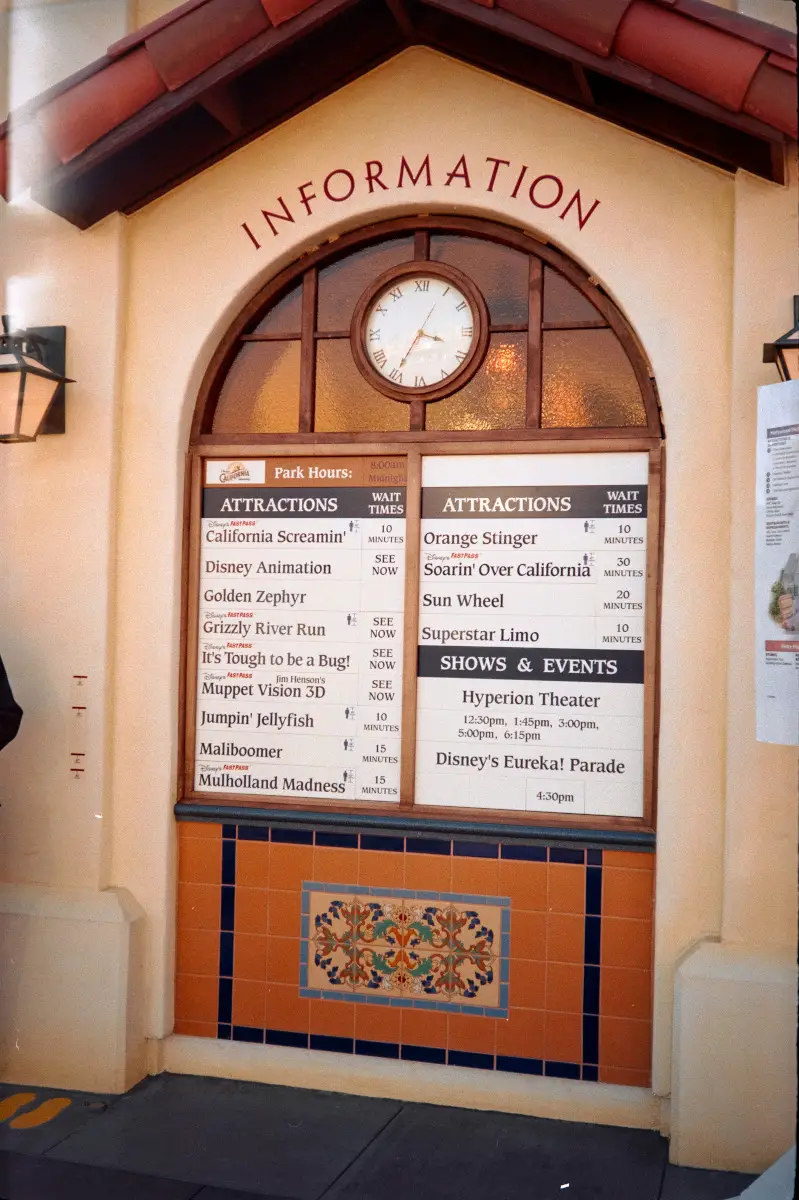 Heading through the exit gates, I found there was a final little "kiss goodnight" waiting for me. That morning, as we had made our way in, smiling cast members had pressed a great big piece of colorful folded paper into our hands. It was a large souvenir wall map for the new park, and one that we were assured was a very, very special collectible. You see, it was the only map that was printed with the opening date right under the name. Each guest was admonished  to take special care of their bulky gift. Further, we were warned not to even ask for an additional map. Due to the large crowds that were anticipated, there would be only one map for each lucky guest, until supplies ran out.
As I unsteadily made my way out the front gates, my eye fell on a sight that was both astonishing and forlorn. Tables had been placed at the exits, and spread across them were hundreds of the souvenir maps, without a single cast member to assure they were equitably distributed. Most of the bleary-eyed visitors simply walked past the sight, although a few guests stopped to scoop up an armful. After all, it was a free souvenir of a truly memorable day!
Acknowledgements:
I would like to thank friends and park veterans Steven W. Smith and Roger Morgan for help with recollections for this article.
Former cast member Jason Schultz provided timely help with ancient negatives.
Former cast member David Marquez time-traveled twenty years to help identify the celebrities in the dark.
Thank you!