It was yet another fun Sunday adventure at Disneyland, but this time, I traveled to a Galaxy far, far away. I had an 11am reservation to experience Star Wars: Galaxy's Edge. I got to the Toy Story Parking Lot around 8:35am. Security lines were very short and quick. Signs were located in the Main Entry Plaza that Disneyland would close at 6pm. A private event for the travel industry was being held that night. Of course, the big focus was Star Wars: Galaxy's Edge!
After entering Disneyland around 9am, I took some photos and enjoyed the low crowds. I then headed to Market House because it was coffee time! It was a cloudy, cool, and misty morning so a toffee nut soy latte was perfect to start the day! This drink came under recommendation by Mr. DAPs a few weeks ago, and it's been my go-to cool morning drink!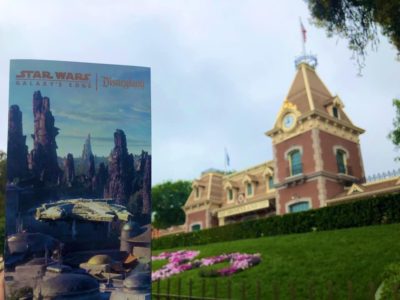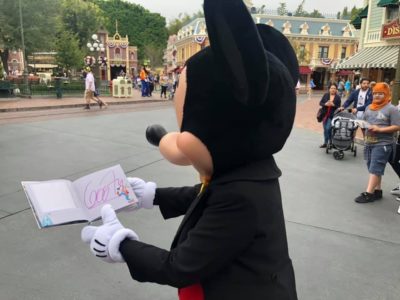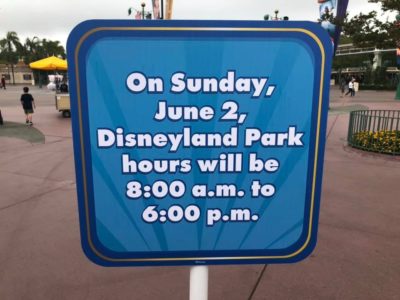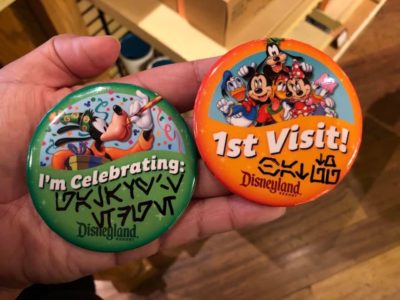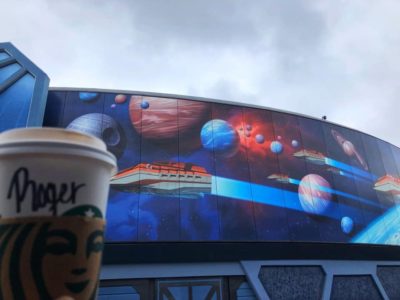 Around 9:30am, I checked in for my Galaxy's Edge reservation inside Star Wars Launch Bay. Check in was quick and easy. I was given my wristband, as well as some information about Galaxy's Edge. As I left the check in area, I headed upstairs to see some of the merchandise available. There is plenty, and there's even some merchandise for Annual Passholders. There is a limit of one item, per person, per day. I also opened the Star Wars: Galaxy's Edge themed Disneyland Park Map. It's glossy and thick paper, so it is definitely a souvenir to keep. And I had to take the obligatory wristband photo!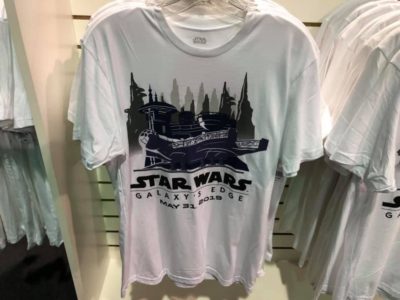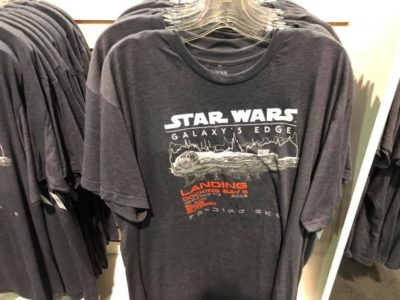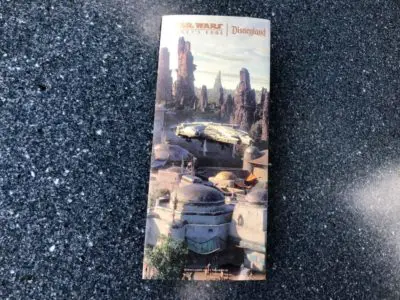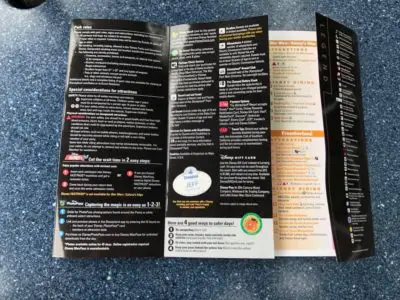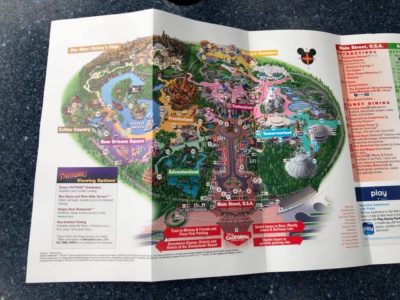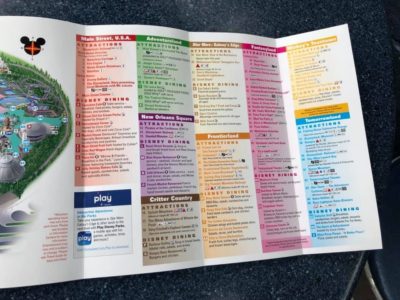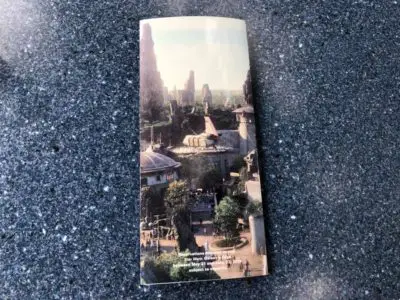 I had time to explore the Park before it was time or my reservation, so I took some more photos. I like to get different views than we are used to seeing as it makes for a more fun photo! The 'it's a small world' photo was taken from the former Motor Boat Cruise area. I even got a photo of the breakfast menu at Red Rose Tavern in Fantasyland. I'm rarely at Disneyland early enough for breakfast, so it was nice to get a photo of the menu. There was even a new sign at Hungry Bear Restaurant in Critter Country.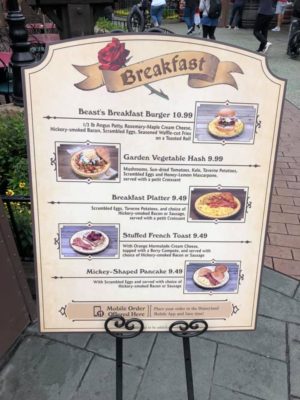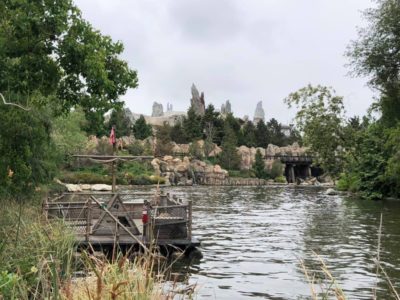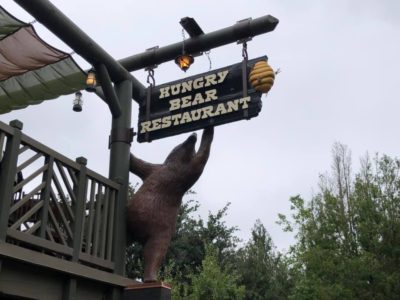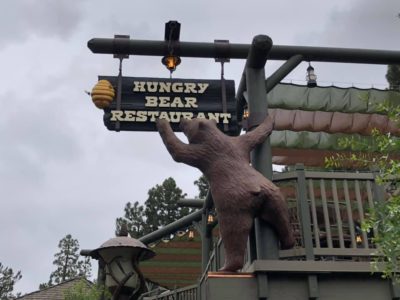 It was now 10:45am, and I joined the crowd waiting to enter Galaxy's Edge. We entered through the Critter Country entrance/exit. You could hear the area music for Galaxy's Edge playing as we waited to be let inside. You felt at that moment like you were in another world. It was getting very real! Then at 10:50am, we were let inside the Black Spire Outpost! You could feel an energy that I hadn't felt at Disneyland in quite awhile! A new World was waiting to be discovered, and it was quite amazing! Ships, transports, and so much more was seen as you entered the Outpost!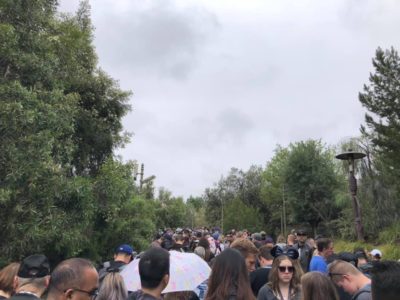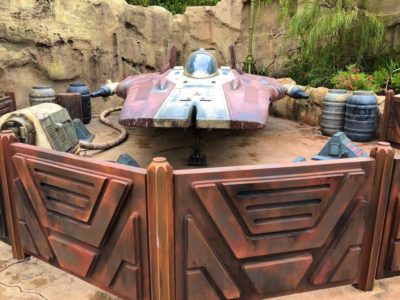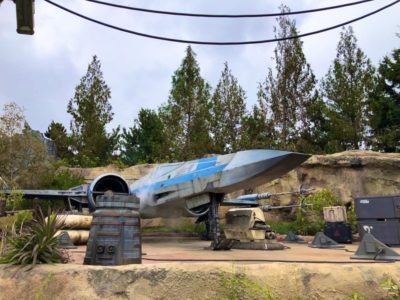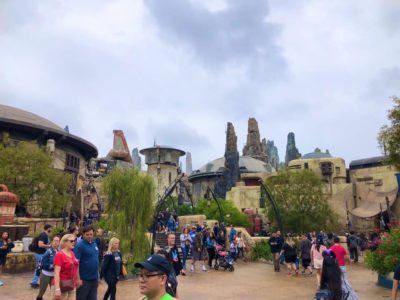 As I walked around the Black Spire Outpost, I couldn't help but to look at the details of the area! And of course, something caught my eye as I was looking around! The Galaxy's Edge themed Coca-Cola products. Coke, Diet Coke, Sprite, and Dasani water are available for purchase. Water is $4.50, while soda is $5.50. Citizens of Batuu, aka the Cast Members, refer to payment as 'credits.' It's fun theming, and a great way to keep the theme going as well. I bought a coke bottle, and then continued on my journey to the Millennium Falcon. And when I found the Falcon, I got it line because I wanted my photo in front of that 'hunk of junk!'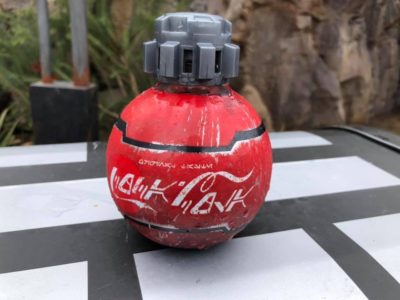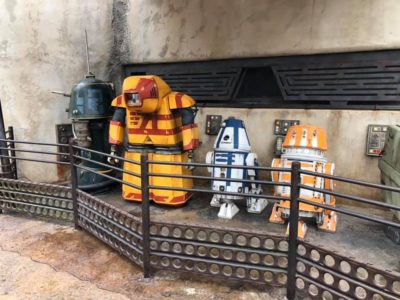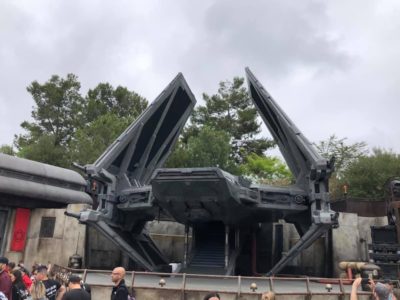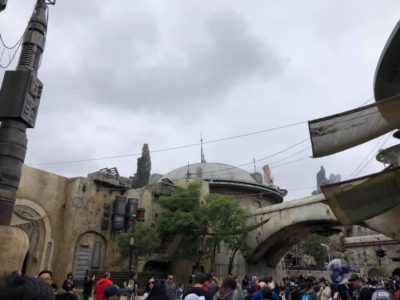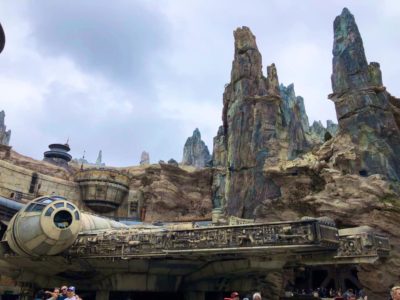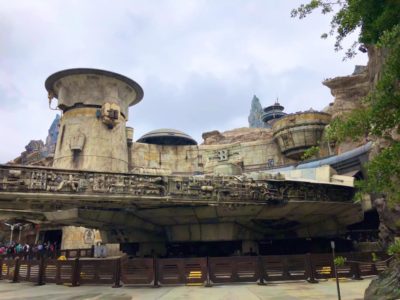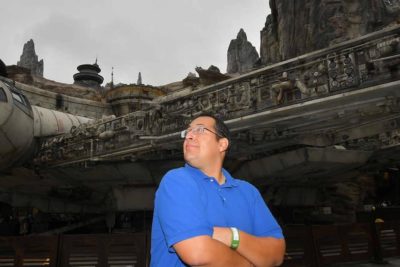 I then got in line to ride Millennium Falcon: Smugglers Run. I went through the Single Rider line. That was a mistake! You enter through a hallway, and see nothing of the queue. (I would later fix that!) Once I got to the loading area, I was given my assignment. I would be an engineer. I basically had to keep the Falcon going. It was quite fun! Pressing buttons is what I do for a living, so this was easy! And the pilots and gunners did their job, which was great! Overall, it's a fun experience, and it's even better when others in your flight crew are into as well!
After my ride on the Falcon, it was time for food! I had Mobile Ordered food from Ronto Roasters while I waited in line at Smugglers Run. Mobile Order is currently open to those with reservations to Galaxy's Edge, and during their reservation window. I ordered the Ronto Wrap and the Meiloorun Juice. The Ronto Wrap has roasted pork, grilled pork sausage, peppercorn sauce, and tangy slaw wrapped in pita. It's $12.99, and discounts apply. The Meiloorun Juice has Barrilitos Aguas Frescas Pineapple, Simply Lemonade with Blueberry, White Cranberry Juice, Lemon Juice, and Desert Pear. This is $5.49, and discounts apply. I found the Ronto Wrap to be very flavorful, while the Meiloorun Juice was very refreshing!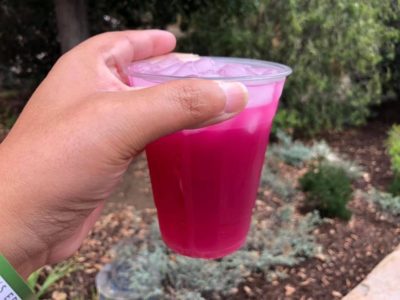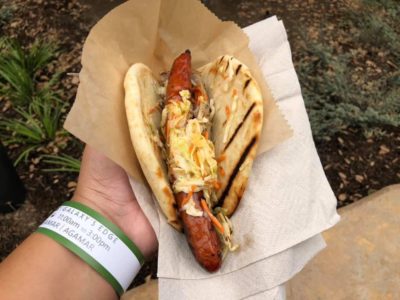 After eating, I took some more time to explore the Outpost. I walked around the Market to see what would interest me, and I made a few acquisitions. I even got to explore Dok-Ondar's Den of Antiquities. There was a line outside this shop since it's small, but I was able to get in thanks to help from a Citizen of Batuu. Dok-Ondar himself was in the store working on some things. And even while still exploring the Outpost, Stormtroopers were out and about keeping order.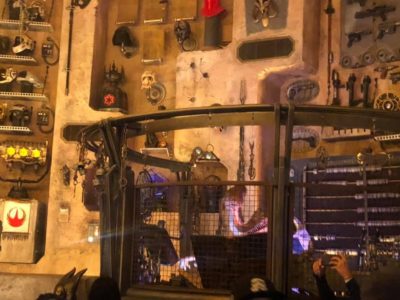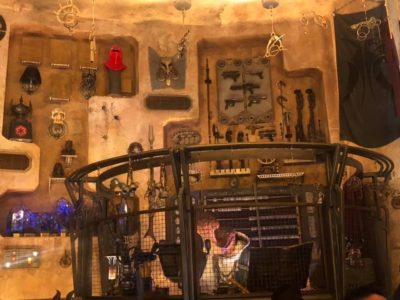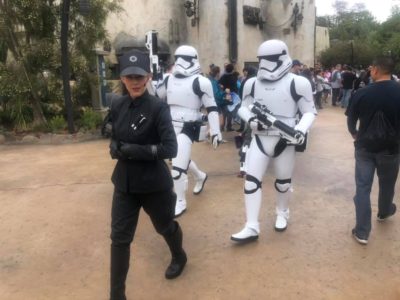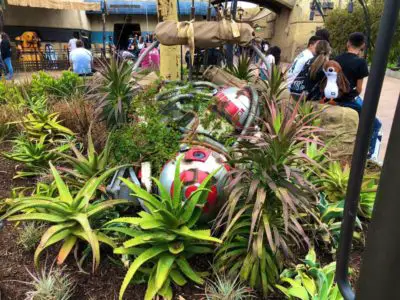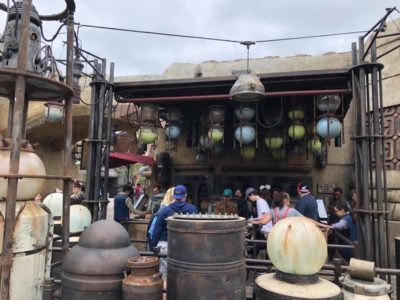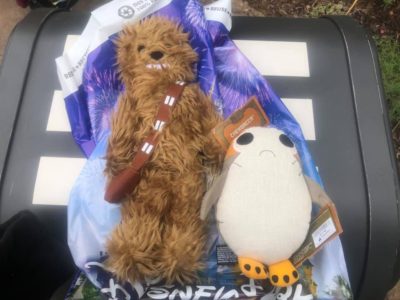 After a walk around the Outpost, it was time for some Blue Milk from the Milk Stand. It's $7.99 plus tax, which comes out to $8.61. No discounts apply here, but Mobile Order is available here. The Blue Milk had a fruity/berry flavor. I really liked it!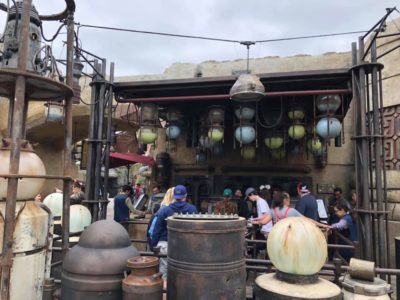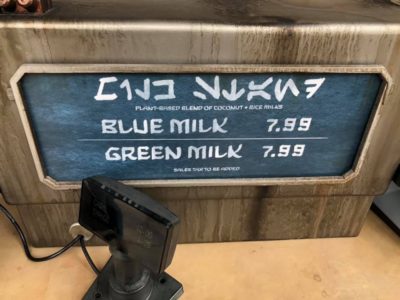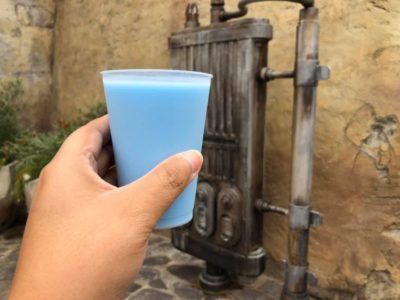 After having some Blue Milk, I continued to journey through the Outpost. I decided to do a walking tour video of the Black Spire Outpost, and it was nice to just walk the area. Soon after, it was time for another ride on Smugglers Run. There was a very short line, so I went through standby so I could actually see the queue. There is so much detail here, and you even get a 'backside of Millennium Falcon' view! I was an engineer yet again, but the crew wasn't as great as the first time. We crashed, which was interesting. But I do like how each ride can vary depending on how your flight crew does, which definitely adds to the experience.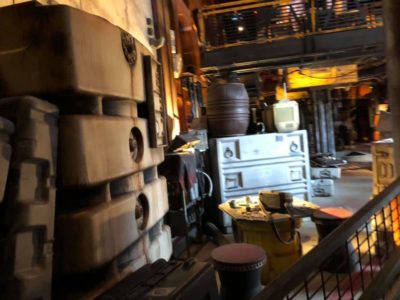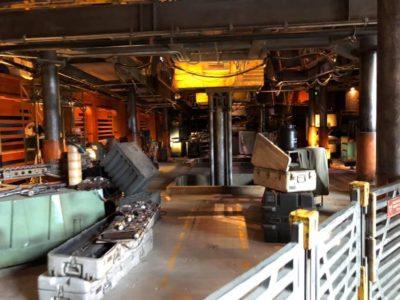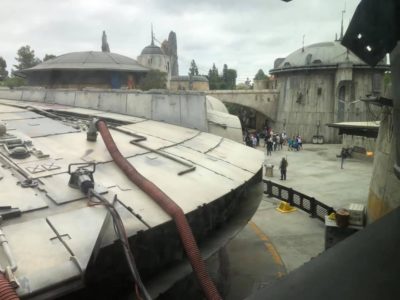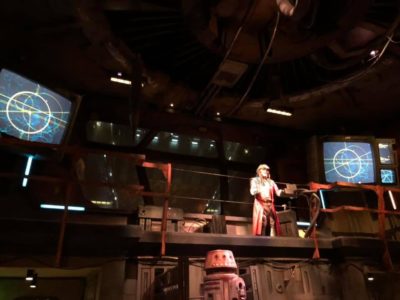 It was now after 3pm, and time for my 'On Planet' journey to end and head 'Off Planet.' I am definitely looking forward to returning to the Black Spire Outpost in the future! Thank you to the Citizens of Batuu for making my first experience in the Outpost a memorable one! Til the Spire!
I was now 'Off Planet' and shortly after, I met up with the DAPS MAGIC crew and our friend Jenny! It was a Jenny's birthday, and Jenny got to choose what we did for her special day! We headed off to Tropical Hideaway for some Dole Whip floats! Then it was off to the Emporium so Jenny could find one of her theatre kids! We then park hopped to Disney California Adventure. There was a fun candy art creation at the window of Trolley Treats celebrating our favorite droids – R2-D2 and BB-8! We then walked by Soarin', which had just changed over to Soarin' Over California the day before. It will be here until June 30. We got a FastPass for it, as we had plans that Jenny has no idea about!
We then headed under the sea for a journey with Ariel and her friends. Jenny got a green clamshell, and because Jenny loves green, it was perfect for her! Next up was a walk around Pixar Pier. We got to see some progress at Inside Out Emotional Whirlwind, which should open very soon.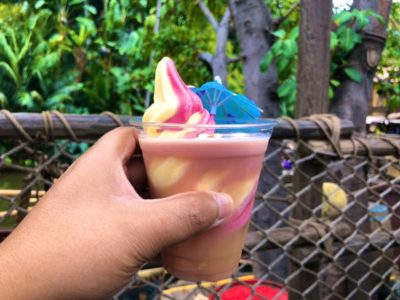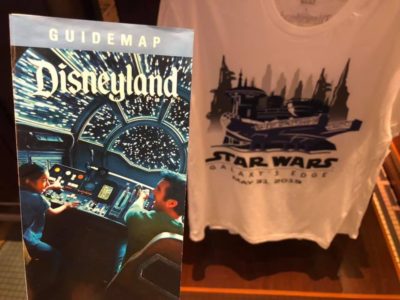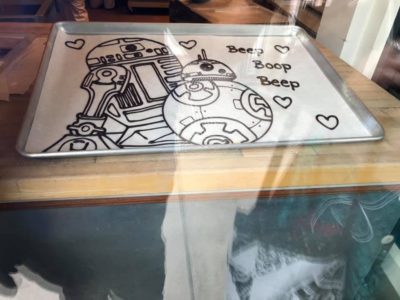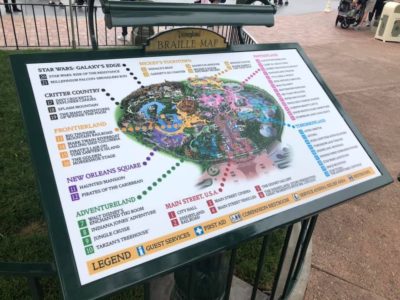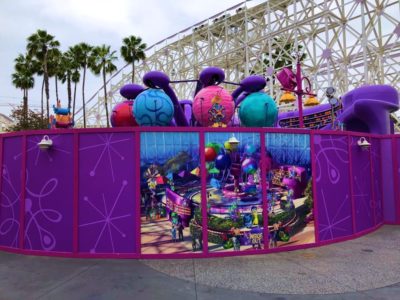 We kept distracting Jenny because we had plans but didn't tell her where we were going or what we were doing. Soon after, we found ourselves at Splitsville in Downtown Disney. Most of us had never been to or had ever eaten at Splitsville so this was definitely something different and fun! I ordered the Loaded Fries, which have queso blanco, bacon, and scallions. They were so big, and so good! Plus there is still cheese at the bottom of the loaded fries, which was great! We also got cake to celebrate Jenny's birthday, which we all shared! Overall, Splitsville is a fun place especially if you are looking for good food with generous portions!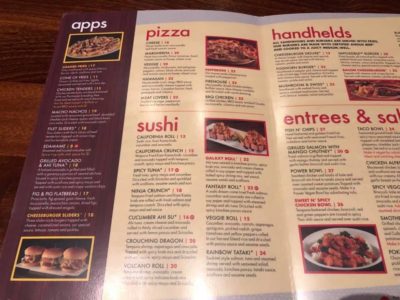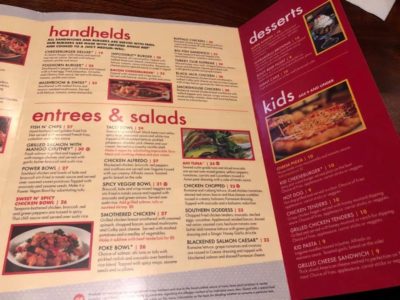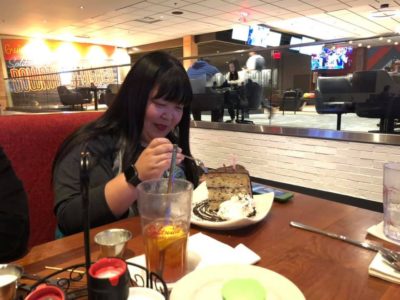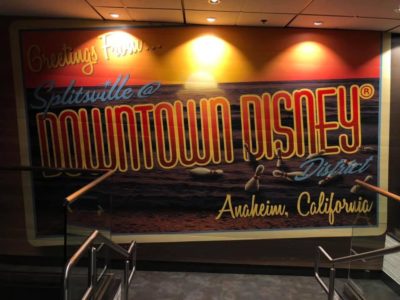 After dinner at Splitsville, we headed back to Disney California Adventure for a ride on Soarin' Over California and a concert at Mickey's PhilharMagic! Overall, it was a great and fun-filled Disney day at with great friends!