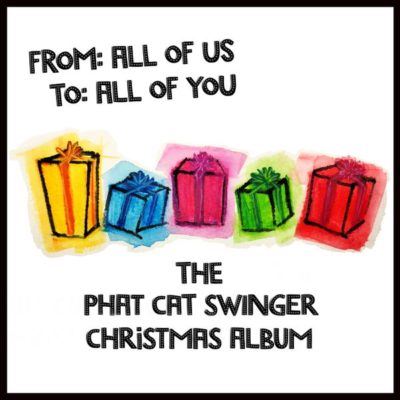 Phat Cat Swinger, the band currently headlining the Festival of Holidays at Disney California Adventure, has a Christmas album coming out! This "little-big band" is lighting up each night with its spirited jazzy sets! While they are all excellent musicians, their performances are just fun and filled with heart. It is hard to find a nicer band that loves what they do and who they play for. This is a band dedicated to their music and to their fans.
Now, just in time for Christmas, the band has released its Christmas album. FROM: ALL OF US TO: ALL OF YOU (THE PHAT CAT SWINGER CHRISTMAS ALBUM) is the Christmas album that every Christmas music lover will be tapping their feet too as they swing into the season!
The songs included on this album is a solid collection of what is heard in their live performances during the Festival of Holidays at the Disneyland Resort. The addition of the stellar guest singers adds a fun variety of personalities to the various songs. Through the course of the album, there are moments of beauty, Disney magic, and Christmas spirit. It also includes Marco Palos singing You're A Mean One, Mr. Grinch! This is a fantastic rendition and easily my favorite on this album! Other highlights (although really, all of the tracks are great) include Run, Rudolph, Run, Rudolph the Red-Nosed Reindeer, and Sleigh Ride (especially with the Tiki Room addition!).
FROM: ALL OF US TO: ALL OF YOU (THE PHAT CAT SWINGER CHRISTMAS ALBUM) Track Listing:
It's Beginning to Look a Lot Like Christmas (feat. Tim Shirah)
Frosty The Snowman (feat. Lucy Woodward)
Sleigh Ride (feat. The San Andreas Sisters)
Bella Notte (feat. Olivia Kuper Harris)
It's The Most Wonderful Time of The Year (feat. Val Martinez)
Santa Claus Is Comin' To Town (feat. Ty Taylor) [Nouveau Mid-Century Romance Songbook]
Rudolph The Red-Nosed Reindeer (Mambo)
Have Yourself a Merry Little Christmas (feat. Douglas Roegiers)
You're a Mean One, Mr. Grinch (feat. Marco Palos)
Pure Imagination (feat. Louis Prima Jr.)
I'll Be Home For Christmas (feat. Blake Lewis)
Run, Rudolph, Run (feat. Lance Lipinsky)
Phat Cat Swinger is quite simply one of the most fun bands to listen to. Their musicianship is on point. Their personality is infectiously happy. Their music choice is spot on! This is a fantastic album to enjoy during the Christmas season! Stop by PhatCatSwinger.com to check them out of go to the following link to pre-order this album today: https://distrokid.com/hyperfollow/phatcatswinger/fsAh