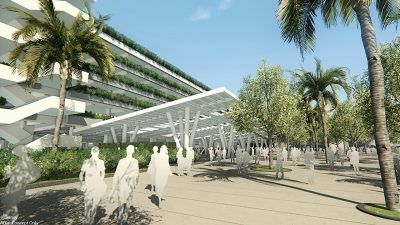 Disney Parks Blog announced a new Disneyland parking structure that will sit beside the Mickey and Friends parking structure.  This new facility will be on top of the current Pinocchio parking lot.  6,500 spaces will be added to the current parking situations.
In addition to the increase in parking, efficiency of guest parking will increase by 60%.  An updated tram loading area will also be part of the plan.  Traffic lanes will be updated to feed guests into the structures.  From the concept art, it also looks to have a nice plaza for guests to start their time at the parks.
Previous Plans
There has been rumblings that the parking structure that was supposed to be built on the Pumbaa parking lot has hit some snags.  This is perhaps a remedy to any snags coming.  In any case, it is to help increase the amount of guest parking that the resort can accommodate and in time for Star Wars: Galaxy's Edge to open.  Construction on the structure will begin February 2018.