Summer Specials Hit Bengal Barbecue
I recently discovered and shared my love for the Bengal Barbecue in Adventureland. This location has been consistently serving up fresh, nutritious food. This week, they added two awesome seasonal items to the menu!
Ahi Poke Spring Roll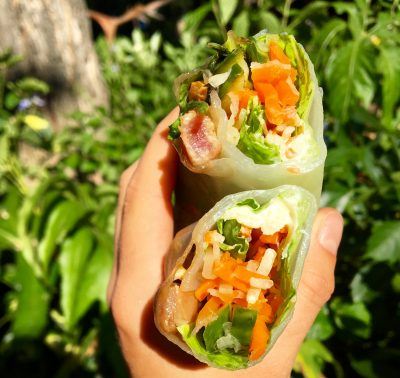 This delicious spring roll is made up of a slice of raw ahi, marinated cucumber, lettuce, carrot slices, daikon radish, jalapeno, fresh herbs, and wasabi rolled in rice paper. The alternating flavors of Thai basil, cilantro, and mint taste extremely fresh. The pickled cucumber really stood out, pleasantly reminiscent of cucumber salads found in many sushi restaurants.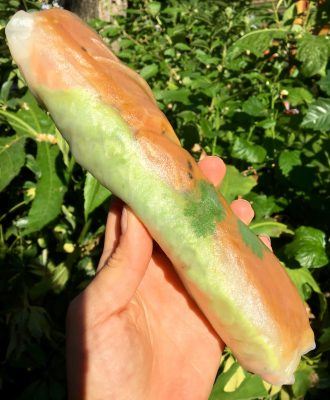 The roll is quite large, making a sizable addition to any Bengal Barbecue meal you put together. I was honestly wary of ordering raw fish in the parks, but this tuna was fresh and tasty. The spice brought on by the presence of both jalapeño and wasabi was perfect. The included ginger dipping sauce added another tangy flavor element.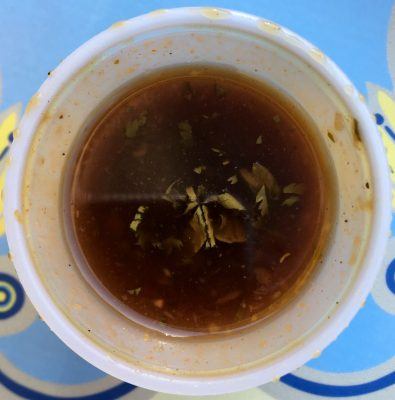 Overall I really loved this spring roll! I found it perfect for the hot day. The fresh vegetables and fish make it a unique addition to the Disneyland Resort. If you find yourself craving sushi at Disneyland, this is the perfect snack to hit the spot.
Flavorful Hummus Trio
Another exciting new arrival to Bengal Barbecue is this trio of hummus paired with crunchy vegetables. In a bed of lettuce, black bean, red pepper feta, and jalapeño hummus are placed together. For dipping, cherry tomatoes, broccoli, carrot chips, and cucumber slices are provided.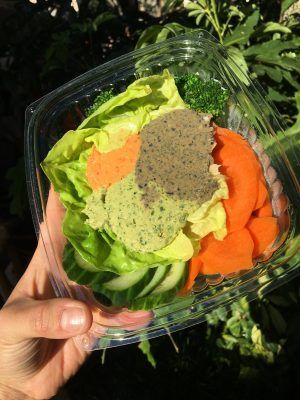 As a hummus fiend, I have carrots and hummus as a snack nearly every day, so when I saw this addition to the menu I was very excited!
I really love this veggie snack plate! It's definitely meant to be shared, and my mom and I had fun discussing the different hummus flavors and combinations.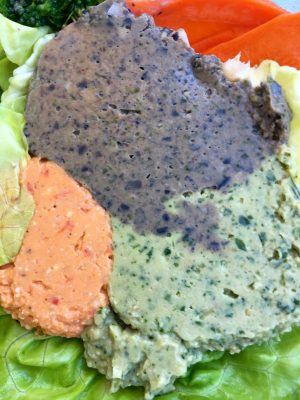 The green, jalapeño hummus actually tasted the most like plain hummus to me. The red pepper and feta hummus was very unique. The feta added a flavor I did not expect, and I really enjoyed it. My absolute favorite was the black bean hummus, so I was glad that this was the largest portion on the plate. The black bean flavor came through strong and clear. I especially loved it paired with the sweet cherry tomatoes.
Construction of New Indoor Seating
You may notice the presence of new walls near Bengal Barbecue and the lack of any seating near the eatery. This is due to construction of new indoor seating for the restaurant. This is great news! Soon there will be a cool place to sit and enjoy these summery food items.
In the mean time, request a tray to carry your food over to Jolly Holiday Bakery Cafe outdoor seating. Just outside Adventureland, umbrellas protect you from the sun while you chow down.
Stop by Bengal Barbecue this summer to enjoy these cool, healthy snacks. I know I will make a point to enjoy these again!