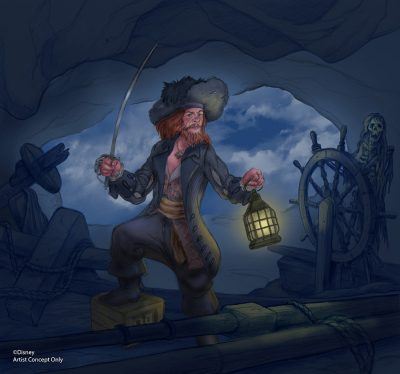 Disney Parks Blog has announced new scenes to existing attractions around the globe.
Disneyland Paris
July 24 will have Pirates of the Caribbean reopen at Disneyland Paris after a lengthy refurbishment.  When it opens, scenes and figures from the movie franchise will appear for the first time.  Davey Jones and Blackbeard projections will utter their famous "Dead men DO tell tales."
Captain Barbossa will appear in a unique scene among the skeletal pirates parts of the ride.  This is a first for the attraction to have a brand new movie franchise animatronic in a brand new scene.
Amidst the ride will be a new score that incorporates movie themes.  But, the classic "Pirate's Life For Me" will still be present.
There will be a change to a current scene that will spill over to other parks…
Disneyland and Walt Disney World
In 2018 the auctioneer scene will change over at Disneyland and Magic Kingdom, following the change in Disneyland Paris.  Much of it will be the same, except for the infamous Redhead.  She is now seen joining the pirates by taking valuables from various towns people.  It will tie together an earlier scene for Disneyland attraction goers, and enhance the Magic Kingdom version.
Paris' Restaurant
The Blue Lagoon restaurant will now become Captain Jack's.  The story goes that he won the restaurant in a wager and has opened it to everyone.  Pirates are the staff that wait on the tables.  And the interior is going to be redecorated to fit the theming overall.
Changes Are Coming
While some may not like the upcoming changes to the classic attractions, it's nice to have some more connections to the story as a whole.  It also means that this attraction continues to get care for being a favorite among guests.  Disneyland Paris sounds like it will have very exciting changes with new scenes and a "new" restaurant.  It will make it a fairly unique attraction within the world of Disney parks.
For a look at the way Disneyland's Pirates of the Caribbean is now, take a look here.
What do you think of the upcoming changes?  Let us know in the comments!