Though parts of the new Splitsville bowling alley have gone up at Downtown Disney, Disney Parks Blog has given an artist rendering and some details on the upcoming facility.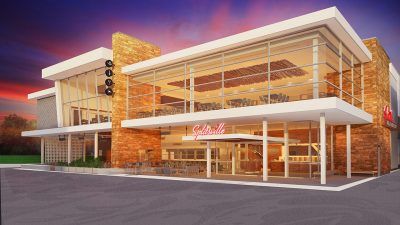 Here's the details from the site:
The 40,000-square-foot, two-story facility will be brightened with floor-to-ceiling windows, ample outdoor seating in an expansive patio overlooking Downtown Disney District, two state-of-the-art kitchens, and live entertainment daily.

Like its counterparts throughout the U.S.A., Splitsville Luxury Lanes at Downtown Disney District will be a dynamic recreation destination offering a unique combination of dining, drinks, bowling and entertainment. Features include 20 bowling lanes interspersed throughout the location, four dining areas (indoors and out), two billiards tables, more than 25 flat screen TVs, and the ability to host both live performers and DJs.
Food will be featured here as the chain's famous menu seems eclectic.  There will be burgers side by side with sushi here.
Bowling is, of course, the main attraction for this place.  It'll be a new activity to partake in at the Disneyland Resort.  This offers something that will expand guests' vacation stays at Disneyland.  Downtown Disney can be an almost full day experience much like Disney Springs is at Walt Disney World.
It'll be a very fun addition to the Resort!  No opening date has been announced yet except saying it'll open later this year.
What do you think of the new Splitsville?