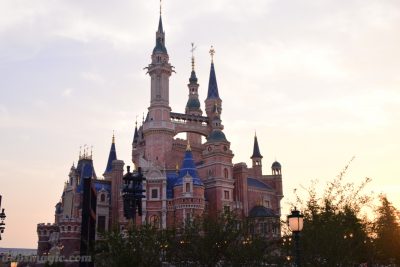 It's hard to believe that Shanghai Disneyland opened one year ago.  Out of many of the recent parks that have opened around the world, this has been one of the most anticipated.  As construction started it was looking like this would be the most state of the art Disney park.  The attractions would have amazing features not seen anywhere else in the world.  And, it would all be distinctly Chinese, yet with the Disney care and touch known the world over.
The Grand Opening
The opening for the Shanghai Disneyland Resort brought many to go through its gates.  A grand celebration took place the night before with a live orchestra and several Chinese dignitaries and celebrities.  The next day people started lining up in the morning to be some of the first through the turnstiles.
I was one of the few in the first group.  Going down Mickey Avenue was unlike anything I had ever experienced before.  There were cast members and there were many photographers, reporters, and just others who wanted to see the fanfare as much as I did.  I've been to opening of attractions, lands, shows, but there was nothing like this experience.
The park reached capacity on its first day, and though lines were full, it was a great day to be a part of and enjoy.
Since It Began
Since the opening of the park, there have been 10 million people to visit!  Without a doubt this is a popular park.  An expansion has already been announced: Toy Story Land.  And this also means that the park will continue to grow with great attractions, lands, and entertainment being built.
It has also sparked inspiration for Hong Kong Disneyland, who wants an equally grand castle as well as state of the art entertainment.  Its inspiration has reached the States as well where the music written for the grand opening was used during a special World of Color preshow at Disney California Adventure.  There is also an exhibit at Epcot's China Pavilion which showcases the behind the scenes making of the Resort.
Where To Go From Here
The distinctness of Shanghai Disneyland will continue to spark innovation for its grounds.  There is no doubt that this is a successful venture for the Disney company.  Attendance has not shrunk since that first few days of opening.  It's reaching a new audience in mainland China, and should help to form the future of Disney there.  Will it even inspire other Disney ventures?  It seems to already.  Like I mentioned before, there are touches of the park already in the States and overseas.  There are rumors of some of its popular attractions making their way to other places.  Whether or not anything like that will happen is yet to be seen.  But, it's clear that there will be influence from Shanghai Disneyland from here on out!
So, here's to the park and its first year anniversary!  May it have many more!
Check out the coverage we've had of Shanghai Disneyland from opening day and beyond:
A Look Back At Shanghai Disneyland's Opening Day
Shanghai Disneyland – Top 5 Disney Stories of 2016
Ground is Broken on Toy Story Land for Shanghai Disneyland
Pirates of the Caribbean: Battle for the Sunken Treasure at Shanghai Disneyland Receives Visual Effects Society Award
To celebrate, here's a couple of recordings from the grand opening day we haven't had before: