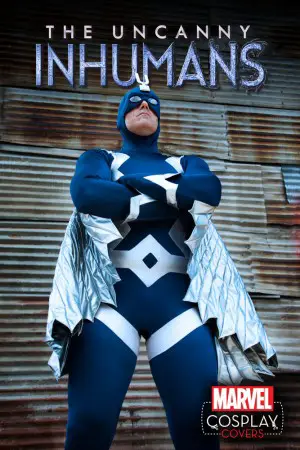 Marvel and ABC are producing an Inhumans television series that will first premier in IMAX in theaters.  At one point, an Inhumans film was set to be in the lineup of phase 3 of the cinematic universe.  It was taken out of the lineup, and this may have been why.
"Marvel's The Inhumans" will have its first two episodes filmed in IMAX digital cameras and shown on the giant screens in September of 2017.  Following the premier, the episodes will air on ABC with exclusive extra content.  The IMAX episodes will run for two weeks in theaters.
This venture is a joint production between ABC, Marvel, and IMAX.  It's the first of its kind for IMAX.
Though the Inhumans have been featured on ABC's Marvel's Agents of S.H.I.E.L.D., this series will explore the comics' Black Bolt and the royal Inhuman family.  In Marvel Comics, this royal family is the oldest Inhumans on earth.  They are the ones that cause terrigen mist to be spread throughout the world.  It's not yet known if this will crossover with Agents.